Business Process Mapping | A Step-By-Step Guide

The visualization of business procedures or methods is business process mapping. It enables and gives an extra top to down impression on how the business is functioning. One of the major advantages of business process mapping is the reflection feature and gives you a reasonable awareness of your business functions. Visualizing the procedures assists you in knowing the powers and shortcomings. This, in turn, supports you and makes your company more effective. There are many types of business process mapping examples.
Business process mapping is one of the portions of business process management (BPM). You can also describe this as a framework that is used to develop optical drawings of work procedures. Business process maps indicate the connection between the phases. Along with intakes to generate an end-product and a service.
This method of documentation shows concern about what a business performs. And also the standards, responsible people, occurring steps, and more. Business process mapping encourages translucency. It gives clear awareness to people in the firm and stakeholders, and other involved members.
Business Process Mapping Vs. Business Process Modelling

Most people think that both business process mapping and business process modeling are the same. But, to be precise, it is a big no. You can use business process mapping either on a board or sheet or any medium. The business process modeling often uses software for creating a digital model.
History of Business Process Mapping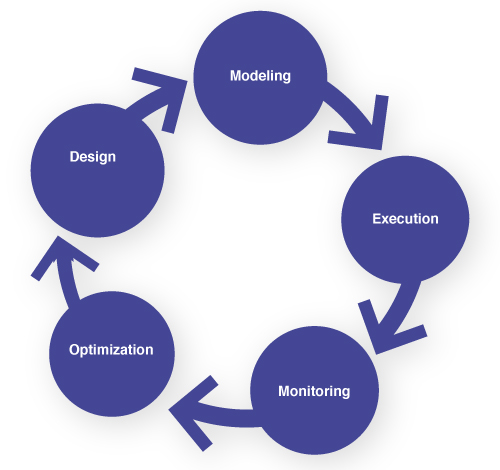 The soul of business process mapping is a procedure strategy for quality supervision. It also shows how every process connects with different procedures in a company. In 1921, engineer Frank Gilbreth introduced flow charts. This was the early structured technique for reporting procedure cycles.
These methods were again used by industrial engineering. In the 1930s, Allan H. Mogensen, an industrial engineer, began educating others using this technique. Art Spinanger, one of the graduates from Mogensen's lessons, put up this discipline to Procter and Gamble. Later he formulated a simple work policy in which deliberate methods change programs.
Ben. S. Graham, an executive theorist, is also one of the graduates from Mogensen. He obtained the flow procedure diagram for information processing and also created a multi-flow procedure chart. This shows many statements and their connections.
Types Of Business Process Maps
There are various kinds of business process maps. These range from scheduling actions, details, papers, products, positions, areas, methods, and intercourses. Moreover, many levels of factors are accessible for mapping. But you have to know that there are both pros and cons to each example. Below are a few business process mapping examples. They are:
1. Process Flowchart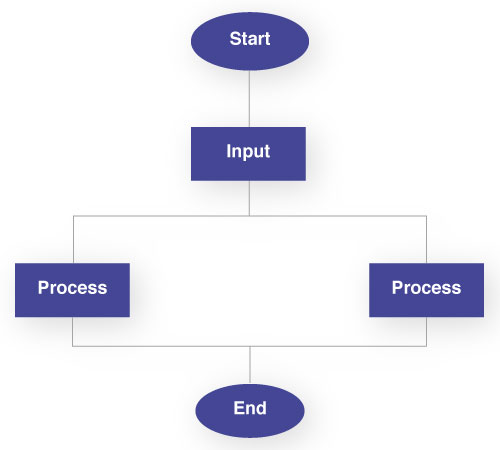 It is a common and widespread kind of business process mapping. You can create this kind of mapping either by hand or by using any software. The comfort, ease to use, and familiarity of this mapping are a few advantages. However, one of the shortcomings in this type of business process mapping is, this isn't flexible enough to withstand changes and adjustments.
2. Swimlane Diagram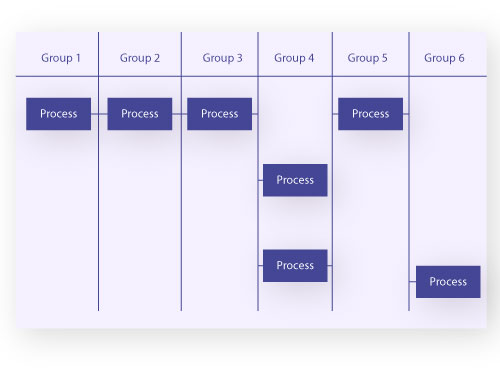 This type of mapping acts as a traditional flowchart. The difference is, you can divide every step among the teams in this swimlane diagram mapping. This mapping drawing resembles the lanes in a swimming pool, so, thus, the name swimlane. Moreover, you can call these kinds of diagrams cross-functional maps because it details the sub-process duties in a procedure.
3. Value Stream Map
Mostly, lean six sigma applications use this type of value stream map. It is a bit hard to get an overview in just a glance. Thus, this is more helpful for the people who want an in-depth view of the procedure. Value stream mapping is a part of lean manufacturing doctrines. It illustrates the new state and assists in constructing the future stage of a procedure. This mapping also concentrates on putting up with products or services from their outset to completion.
4. State Diagrams
The state diagrams model is also in use by a few people across departments. These tables reveal the behavior of networks in the Unified Modeling Language (UML) and help characterize the states of an element.
5. SIPOC Diagram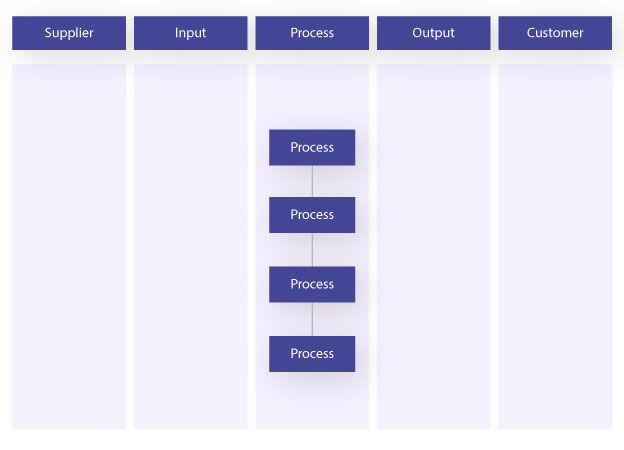 In a simple form, SIPOC stands for supplier input process output customer. This is also a simple version of procedure maps. It reduces the maximum amounts of data. SIPOC keeps the full emphasis on the necessities of the procedure and the community involved. This also gives a quick and easy summary.
Advantages of Business Process Mapping

Business process mapping gives a lot of benefits. Here are some of the best benefits. They are:
This procedure gives transparency to the procedure
You can have systematic supervision to check the functioning process
It comes with active and functional standards
This makes it easy to erase process tediums
Business process mapping upgrades procedure vision
It also helps in giving similar and extra staff activity
Steps To Create An Effective Process Map
Take a look at the step by step guide for creating an effective and productive process mapping.
Step 1: Amassing all the stakeholders
You will have to get a lot of opinions from people. Take the impressions of people who are accountable for a certain process. And also from those people who show active involvement in everyday tasks.
Step 2: Point out all the human chores.
The next thing you need to do is make a list of activities that require a human touch. So, list out everything that will be done by humans as a portion of this process. You can note it on sticky notes in the early stages, which is easy to move around.
Step 3: Listing out the system duties.
Just like making a list of human activities, you have to create another list. The system also performs many kinds of tasks. For example, data sharing, email delivery, information transfer, and more. So, establish all the systems performing tasks from small to big activities on the list.
Step 4: Observing redundancies
After creating all kinds of lists, once you get to the starting point and check all the lists' tasks. Thereupon, please search for the tasks which you can transfer into other lists or remove them. You can also restore a few tasks into messages.
Step 5: Determining each task
Now you have the list of every task, so it is time to decide who is responsible for which task. You can assign the tasks either to an individual or a team. Also, it is better to pick the sole person responsible for the entire work to get immediate completion of tasks. It would be best if you also kept someone as an in-charge of system tasks to prevent any mistakes.
Step 6: Outlining the task series
Everything is on track, like the task lists, the responsible people. So, develop a sequence in which the tasks need to be completed. Check if there are any cases of overlapping. And also the tasks that depend on each other. It is better to write all these on paper, but you will need software for future works. For example, to digitize the above procedure, you require software.
Best Business Process Mapping Software
Here is a look at the best software for business process mapping with top-notch functions. They are:
a) Best Overall – PeppyBiz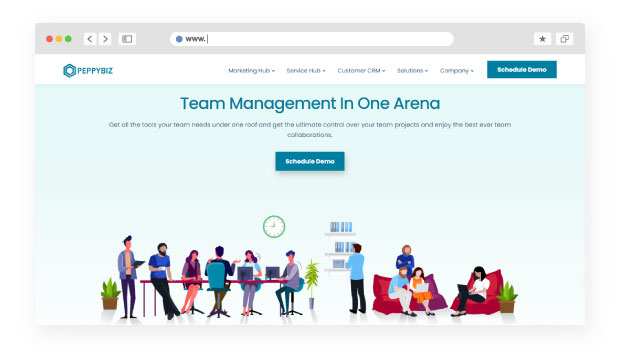 PeppyBiz is one of the finest software that has solutions for almost everything. Such as business process, workflow builder, project management, CRM, sales automation, marketing automation, and more. A whole of 12,000+ local and international customers are admiring these software services. You can create this kind of mapping either by hand or by using process mapping software. PeppyBiz offers its services to travel, businesses, healthcare, IT, e-commerce, software, and a few more industries. This software uses various automation solutions that help you to manage system tasks. 
b) Best Value – LucidChart
Most users use this software for generating various types of process maps. This software arrives with a bunch of helpful features that have an entire focus on process mapping. It also contains many templates for formulating any type of map. For example, the value stream, BPMN2, flowchart, SIPOC, and many more. This software enables you to share process maps with your staff or members. It means you don't need to use an internal server for transferring maps.
c) Easy To Use – Draw.io
This software is one of the best for creating business process mapping examples that are simple and on point. You are free to use any kind of solution for producing maps or tables. It also allows you to create simple maps like process flowcharts to complex maps such as SIPOC graphs. This software is very simple to use and install. Draw.io software also offers many integrations with other apps. The best part is you no need to pay as this is free for professional and personal usage.
d) Best Features – Tallyfy
Tallyfy software is one of the strong software with significant features. This software allows you to organize a digital procedure in an instant. It also communicates with the members regarding tasks in place of staff. This software assigns the following task in case of any task completion. All these methods give more efficiency to the task and complete it at a fast pace. It also gives process tracking tools to know real-time progress. You can stock the files and graphs on the software server.
Conclusion
As you know, the brief explanation on the business process mapping examples and a few benefits, history, best steps, and at last software. The time has come for you to start using this method in your workplace. You are free to pick any of the above business process mapping software as they are the best.