What is Business Impact Analysis & Why it is Crucial for your Business?

Imagine you are an ambitious project leader. You look forward to satisfying year-ending sales. But you are yet to start with the big rush. You put your plans into action. And with a remarkable team, you covered all complications. Unfortunately, a global pandemic strikes, and it ruins your entire project structure. This situation will have a drastic effect on your business.

What do you do to avoid such situations?

Business impact analysis is the process of analyzing such unpredictable circumstances beforehand. It is the ideal way to be ahead of potential threats that may have a holistic effect or damage your project's specific part.

Resource management, cost estimation, framing a budget may all work well as planned. But, an ambitious project must not look forward to an ideal scenario like this. Familiarising with Business impact analysis is a good start to overcome any issues on the way.
So let's not waste time and move on.

For an effective business impact analysis, it's crucial to know the key factors that reverberate the entire project. This demands a bottom-to-the-top analysis of various impacts. Now, going through an entire pre-planned project is neither exciting nor promising. With renowned methods, you can better configure Business impact analysis.

What is crucial for business impact analysis?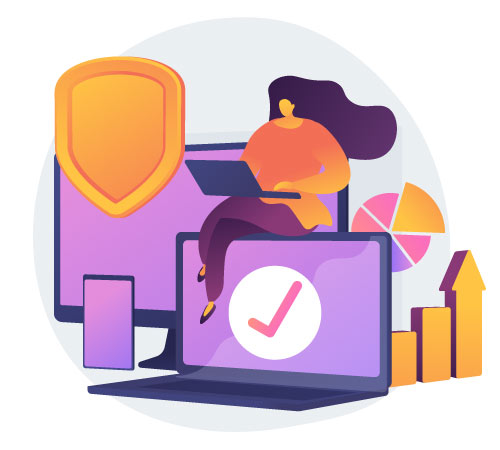 1. Complete cooperation from all departments:
The main idea is to be able to cover all possible areas of impact. And it may seem strenuous to speed up the process. So here are a few important points to note before initiating the analysis:
Make a list of the scope of products and services that needs to be immediately supplied once the production resumes after a disruption.


Within the list, highlight the key products that hold the majority of sales.


For a more convincing business impact analysis, inspect the structure of the project. Scan the important business activities that act as the driving force of your entire progress. And filter out every crucial process that needs replenishment after a sudden break.


To make it convenient, focus on the scopes depending upon their respective recovery timeframe. It refers to the period between the sudden disruption of your business to its recovery. Always prefer fixing the foundation of your company first.

Expect the worst damage to be able to draw a remarkable comeback strategy. Make a list of various hazardous situations that may occur.


It is hard to gather all possible risks and rank them based on the potential damage they may cause. Instead, create objectives and goals that are essential for your company's profit. And then list out obstacles that may come. Moreover, it is more accurate to categorize the possible risks.

Categories of risks
Earlier, projects implemented a more general approach to potential risks. Now we have a more defined concept called risk management.
A crisis may occur in any form;
an earthquake,
economic crisis,
resource depletion,
political issues,
accidental fires, etc.

We can categorize risks in a more precise way, rather than random assumptions:
External risks
Internal risks
External risks: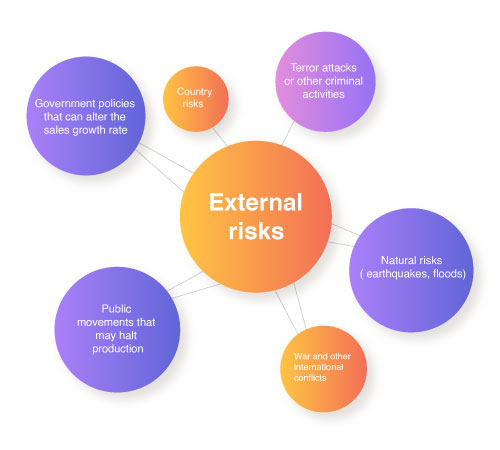 These risks have a broader range compared to internal risks. They can range from unpredictable disasters to predicted government decisions or public strikes. They have a larger impact, and it is unwise to ignore them. Revise strategies to suit such hazards. Example;
Government policies that can alter the sales growth rate
Public movements that may halt production
Natural risks( earthquakes, floods)
Terror attacks or other criminal activities
War and other international conflicts
Country risks:
These risks depend upon the country's government policies.

Internal risks: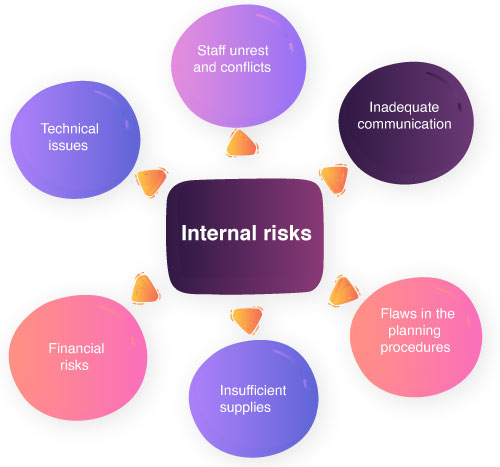 These are risks that arise within the company and affect internal progress. But, unlike external risks, these risks are manageable. You can predetermine the level of impact and control the outcome. Examples;
Technical issues
Staff unrest and conflicts
Inadequate communication
Flaws in the planning procedures
Insufficient supplies
Financial risks
Business impact analysis is the best way to stabilize your company's profits. This might seem like an overstatement, considering how lengthy and stressful the process might seem. But considering the implications of neglecting it, you will be able to appreciate the importance. Here are a few such implications;

After a crisis, the company will be under a dilemma on what scope of the product to consider recovering first. Without such a strategy, there will be an unnecessary lag in reframing the system.


There will be a pause to investments without a firm justification for the company's comeback. With no proper quantification of funds, you will not receive a continuity to your project.


It will disrupt the management of the team, with disoriented planning in all departments.

You will have to overlook all plans for short-term achievements.
Now that the purpose is clear, you must know how to conduct a perfect business impact analysis. There is no specific procedure to perform the analysis. But, you can follow a general method.

Steps to conduct a business impact analysis:
Proper organization
Projects tend to postpone business impact analysis assuming risk-free sales for a while. Avoid such issues whenever possible. But it is not easy to take the initiative to perform the analysis alone. Thus, you must earn the approval of your colleagues.


Arrange meetings to counsel about the need for a business impact analysis.


Form a business impact analysis team to secure the progress. Assign them the responsibility of drafting a report on the analysis.


Assign tasks of collecting data and performing check-ups on all business activities.


It is important to propose the analysis to higher authorities and gave their approval for the smooth analysis.


You must involve all personnel that will have a crucial responsibility towards the project.
Here are a few points to bring up while discussing the plan with your team members. These will help them plan and execute their tasks with a clear picture;
Clear aim – why are you conducting the analysis?


Expected results – what do you expect from the finalized analysis?


Benefits- how will it benefit the company?


Priorities- list out the major areas of focus.


This will wrap your first step and serve as the baseline for the remaining analysis. Let's get to the next step.

2. Data collection and handling
Creating a data flow is a faster way to collect and submit it to the business impact analysis team. Extract the data required for the analysis through a set of questions. These will include information on all impacts within a department. Allot these questions to the following personnel;
Managers
Department heads
Other superiors
Team members
Business partners outside the company( stakeholders)
The above individuals have a better insight into your company's priorities and marketing strategies. Business partners outside the company will be able to provide the perspective of all investors. These will form the fundamentals of your analysis.
Team members will be able to provide the defined structure of your marketing plans and the detailed process. Consider the data vital because of their direct involvement in the activities.

Another point about business impact analysis is the size of your analysis. You may be a start-up or a multinational company. Other than the need for business impact analysis for all projects, there is a limit to performing a thorough analysis.
For example, a multinational company might take more time to perform the analysis. They will limit their analysis, and to be effective, they are more focused on crucial impacts. But, a young project may complete the entire analysis in a shorter duration.

There are certain standardizations laid down for business impact analysis. For example, International Organization for Standardization (ISO) 22301. Referring to these before the analysis can make a huge difference;
Saves time
Improves the effectiveness of the analysis
Help cover all impacts
3. Review the data gathered
Assess the data, prioritizing the major impacts. Rank the impacts with more recovery time frame first. If you find irrelevance in the team's respective recovery time frames, discuss it once more to come to a clear term. So let's get started with that.
The points to expect when re-analyzing the data are as follows;
The major impact in all departments
A relevant recovery time depending on the scope of the product, services, or process.
Important records of sales
Alternative strategies required
Possible impacts on all resources
Technical impacts
Tip: sometimes, many impacts may seem to be of the same importance. It will lag the ranking process. You will find it difficult to decide your point of focus and struggle to keep up. Hence, for more clarity, assign a weighting factor( calculating how important an impact is). With a precise size, the task will seem lighter.

4. Frame a final report
This report will be the deciding factor for taking further actions. Based on this, the management will make the final priority list. Hence, you must state the most affirmative facts and draw relevant conclusions. Divide analysis into departments for easier assessment. You will need the following included in the report;
A brief draft of the analysis


The scope of products covered, and their ranking


Processes and plans used for the analysis – mention the various sources utilized for the analysis.


Suggest recovery strategies – this may include a revised marketing strategy/production plan.


Include new impact analysis methods for the future – each business impact analysis gives us a new direction to focus on. Involve those to draft a satisfying report.


Required funds for recovery – estimate the cost of replenishing damaged products/processes.


Plans – mention the suitable plans you would use for restoring the project crisis.
The approval of the report is not a pressing matter. But handling the aftermath of a crisis by focusing on essential impacts alone is important. And that alone will lead to the continuity of your enterprise.

Conclusion
Among all the points, revising the best business impact analysis determines the active, long span of the company's progress. Only your efforts can act as the limiting factor for your company.