7 Best Help Desk Software For Small Businesses In 2022

Help Desk is a popular resource or a tool that helps customers or purchasers to connect to the corporation and vice versa. Help Desk Software is a computer strategy that allows the Help Desk staffers to protect and deal with clients' problems, queries, and other issues. Let's get started on our journey of best help desk software for small businesses by learning about different types of help desk software first.
This software is a bunch of tools whose duty is to receive the tickets, compose them, and give the client a proper answer. For example, let's say that a client submitted tickets from several channels, which creates overlapping and chaos to other internal teams. So, to prohibit these kinds of incidents, Help Desk software is a decent solution.

Types Of Help Desk Software

Help Desk software types are normally divided depending on the company's size, difficulty, and quality of a corporation's consumer service needs. Below are the five categories of Help Desk software:
1. Open-source Help Desk Software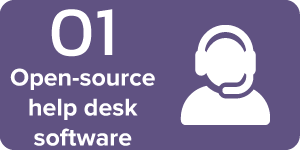 Users from Proprietary software were prohibited or required to get a license and permission to access source code. A great advantage of using open-source help desk software is that this software allows creators to approach its source code.
Open-source software can be altered, and innovators can expand features, adjust procedures, and also fix bugs in the whole system.
2. Web Help Desk Software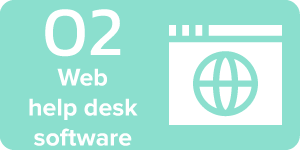 It is also known as software-as-a-service (SaaS) or cloud-hosted software. Web Help Desk is detailed management and IT help desk software designed to provide an easy and automatic procedure for managing and controlling alteration proposals.
With this software's help, one can automate the method for tracing, property spotting, and reporting of software and hardware assets. This type of software is leased to firms, and it contains system maintenance, data backup, technical support, and upgrading the system.
3. On-premise Help Desk Software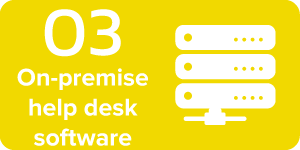 On-premise Help Desk software is authorized software that a particular organization acquires and inserts on its server to operate the company's system. The company which purchased the specific on-premise Help Desk software holds the responsibility of the software data backup and its maintenance.
The advantage of this type of software is, the owned company has full custody over the privacy and security of data stored in the software.
4. Cloud-based Help Desk Software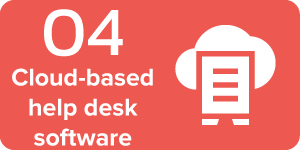 Cloud-based Help Desk software generally comprises all the features for Help Desk ticketing management. The massive benefit of possessing cloud software with ticket management is that the software secures the data with backup options, and the company can change the settings anytime they want.
However, cloud-based Help Desk software is arranged on private servers that permit the company to deal with packs that alter.
5. Enterprise Help Desk Software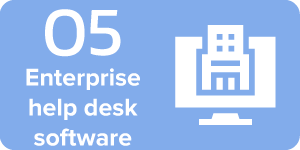 Enterprise Help Desk software is mostly used in or is beneficial to bigger businesses. Enterprise Help Desk software is the most complicated software among all the five types of Help Desk software because it contains account management, survey managing, IT asset administration, and survey supervision.
Enterprise software is targeted to fit in the team's workflow. Enterprise Help Desk software collects increased solution rates to resolve clients' problems.
This results in improving business productivity, expanding internal team communication, and resulting in the company's growth.
Benefits Of Help Desk Software for Small Businesses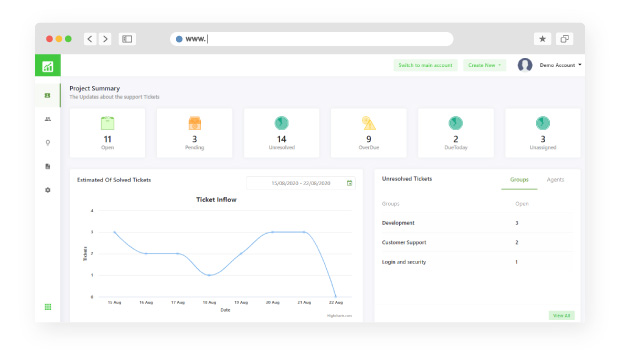 If installed suitably, Help Desk software benefits the business in many ways.

Permits the corporations to deal with IT emergency directly
Several automatic processes decrease service payments
Resolves the client's issues quickly, which leads to an increase in customer satisfaction.
Minimizes the previously piled up tech issues of the internal teams.
Helps in reducing the workforce by using automated methods.
Promotes knowledge sharing for both the employees and customers through sets of solutions and easily available reports.
Gives clarity from creation to solution for every service.
Help Desk software aids in observing and handling recurring cases and other related problems.
The Help Desk software offers 24/7 services for customers who don't need the workforce at unreasonable hours.
Help Desk software boosts the skills of workers by giving technical and manual data efficiently.
This is where issues and troubleshooting problems are discovered and thus act as the company's main point.
Help Desk software favors multi-channel platforms like social media, calls, live Chat, email, and many more.
This software has the potential to merge, split, assign, and escalate tickets and requests.
Stores the data and information related to customer's contact and internal team's tasks, reports, and logs.
Brings all channel tickets to a single platform, which makes it easy for team employees.
Best Help Desk Software For Small Business
1. PeppyBiz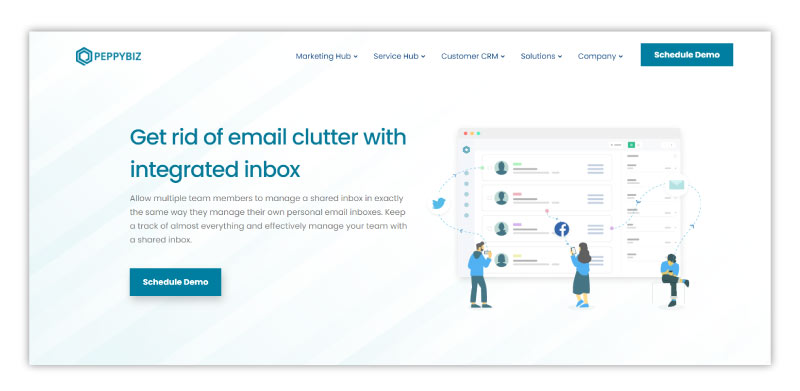 PeppyBiz offers a wide variety of marketing strategies. It has many functions, such as CRM email marketing, customer support, and list management. You can bring your business to a different level by using PeppyBiz as your absolute service.
PeppyBiz clears the customer's issues, tracks their activity, assigns automatic tickets. PeppyBiz makes both the customers and employees independent by providing great value-based knowledge statements. PeppyBiz gives the most automatic software solutions, and it is also pocket-friendly.
It is the perfect package for startup companies as it surpasses every need and requirement. PeppyBiz has active software solutions, and it is a proper basis for all your company escapades. PeppyBiz is promising for startup institutions and is trusted by many establishments.
It has multi factors such as email marketing CRM, list management, and sales and marketing hub. It has features like kanban boards, tasks with deadlines, time-specific Gantt projects, files and document integrations, various calendar views, quicker chats and interactions, and many more.
2. Zendesk Support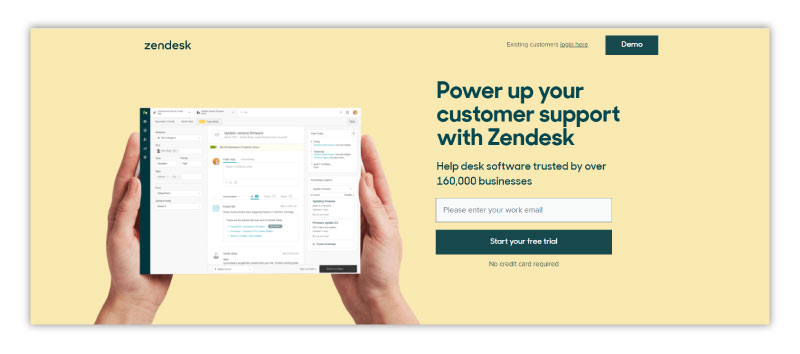 Zendesk is incredible for fresh and tiny industries to begin a CRM system. Zendesk is adequate for managing a small team. It processes well at the international level, and most of the unions function well.
It has a multiplatform support feature and automated, flexible ticket management, agent collision detection, and third-party entry. Zendesk gives strong software, but it's very easy to use. Zendesk Help Desk software merges with more than 500 diverse third-party applications.
Zendesk software supports some famous elements like custom ticketing, multi-channel supporting, team cooperation tools, multi-group support, and ticket forms.
3. Hubspot Service Hub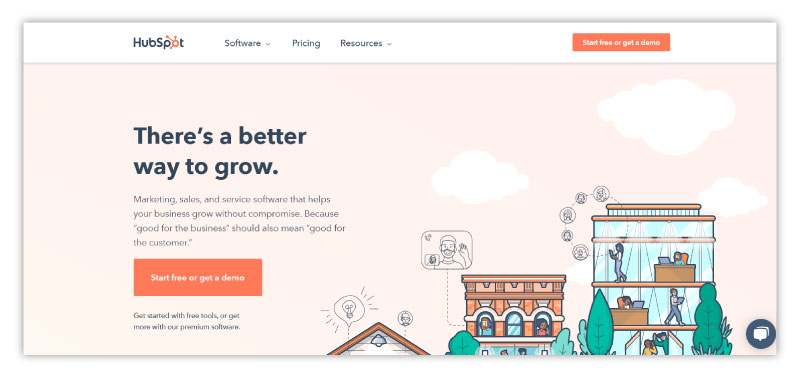 Hubspot service is a dominating development outlet. Hu spot contains very useful templates, and you can download them from the market. Websites aren't the only ones to get access to templates, but also HubSpot has templates for others like landing pages, sales emails, blog designs, and many more.
Through Hubspot CMS, one can effortlessly design a post with internal teams, create drafts, and include videos, pictures, and many more. The main focus of Hu Spot service Software is to attract, convert, close, and delight.
HubSpot has been active since 2006 and is increasing its customers rapidly. Hu Spot software contains free and powerful CRM, Service Hub, Sales Hub, Marketing Hub, and ticket management system.
By using HubSpot Help Desk software, one can build and share meeting links. One of the features of HubSpot is it can register the contacts in a sequence. The tools and strategies in HubSpot software benefit you to create good customer experiences and will truly encourage them to succeed.
As for now, Hubspot Help Desk software is home to around 68,800 customers based in 100 plus countries.
4. Freshdesk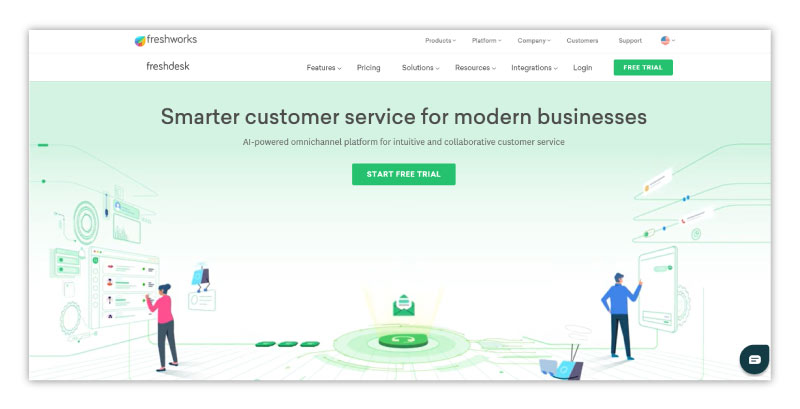 Freshdesk is a cloud-based software for customer service. It is an online platform. It helps minor businesses connect to customers quickly. Some of the features are identity detection, reasonable surveys, public and private notes in tickets, automatic time triggers, SLA for every response, many SLA reminders, many devices, multilingual tickets, and other elements.
More than 40,000 customers trust fresh Desk. Fresh Desk made the ticketing system easy, and resolved issues and problems quickly, and it organizes companies' workforce.

Increases team's productivity with methods like omniroute, time-triggered automation, ticket dispatch, and many more.
5. Liveagent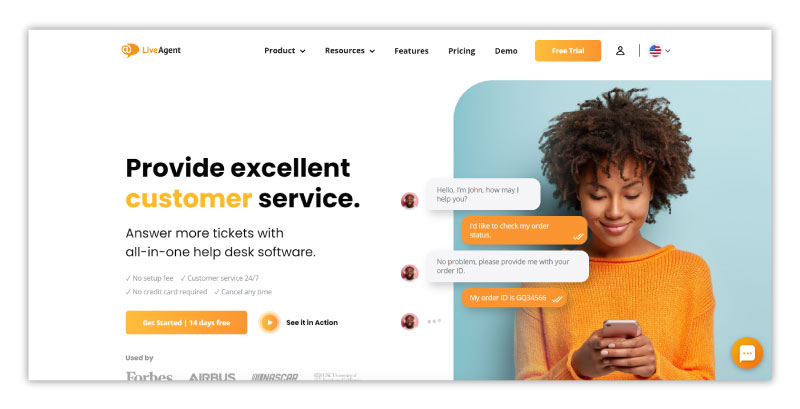 LiveAgent has this feature where you can assemble customer contacts into companies-contact groups. This allows storing more information about the customer along with their particular requests.
The stored data can be phone numbers, email address, country, time zone, language, and much more. Some of the features are a universal inbox, an internal ticketing system, splitting, and merging tickets.
In 2020, LiveAgent Software is ranked Number 1 for live Chat, and it is the most reviewed software in 2020.
LiveAgent Help Desk software has more than 175 Help Desk features and more than 40 integrations like Voice Integration, Feedback, and contacts Forms, Agent Rating, Email piping, Ticket Routing many more.
6. Zoho Desk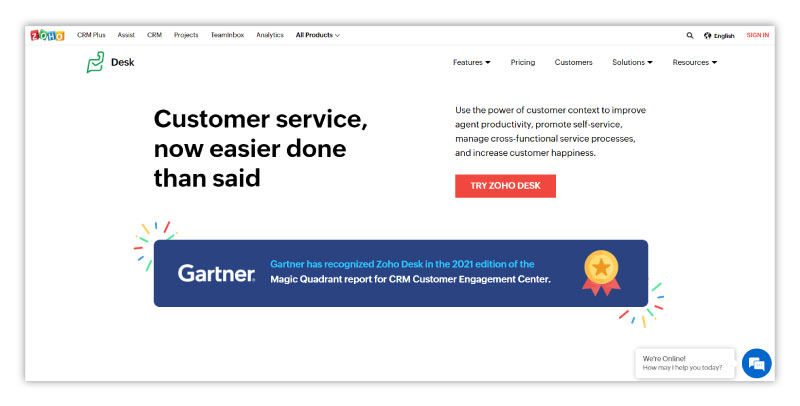 Zoho desk software is one of the best help desk software for small businesses. Zoho Desk software gives a large variety of solutions and procedures for small business firms. More than 50 million customers use Zoho Desk software.
With Zoho Desk software's help, you can manage tickets from different channels and departments like emails, phone calls, social media, chatbox, and Live Chat in one place.
Zoho Desk software has great AI, including Ask Zia, Zia Dashboard, Sentiment Analysis, Zia Notifications, Zia Voice, Reply Assistant, and Zia Skill Builder. It also manages tickets from clients when employers aren't present at the Desk.
7. Intercom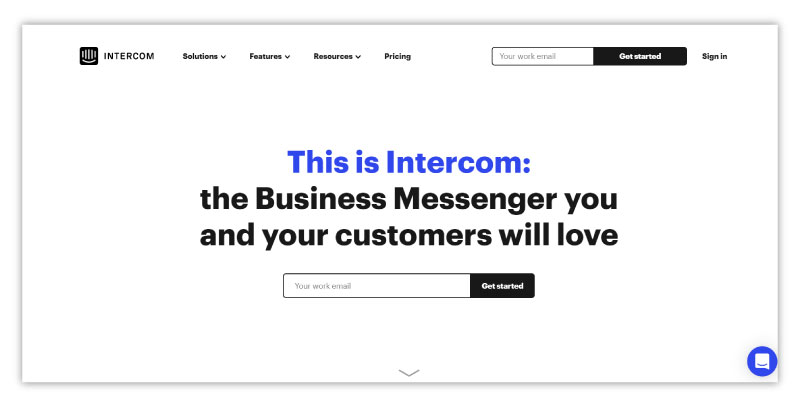 An American company produces intercom software. Intercom can be a contact setting between customers and internal teams of marketing, sales, and products. Intercom software is a CRP, i.e., Conversational Relationship Platform.
With this Intercom software, one can easily build an employee-client relationship through messenger-based and personalized experiences.
Conclusion
There are many help desk software for small businesses to choose from. So, these firms should select the software based on what they need and which will be most profitable.