eCommerce Business website heatmaps – What is different about them
Heatmaps play an essential role in optimizing conversion rates. You cannot apply similar heatmaps for all your websites. Read this blog to know the reasons. Your eCommerce business might be facing some challenges right now. You may be wondering why?
What could be the problems and solutions? Let us look at the root issues of why your eCommerce business is not able to pull-up conversions as you desired. You might be using the wrong tools all along your journey to get rid of the low conversion rates and optimizing your web pages.
It is a hardcore fact that the average conversion rate for an eCommerce business ranges from 2 to 4 %. You can only increase conversion rates by using an analytical tool that helps you understand visitor's behaviour and build trust amongst them alongside. Heatmaps are one such tool.
You cannot operate your eCommerce business without a heatmap as it provides an overview of what your customers are doing on your website. Heatmaps help you modify your eCommerce business decisions and boost sales.
What is different about the eCommerce business website heatmaps?
An eCommerce website is a dynamic website. In addition to it, it uses HTML scripts to load and has magnetic elements such as dropdowns, pop-ups, and sliders. You must understand a visitor's behaviour and response to all these dynamic elements. How are they engaging with them?
Regular websites v/s eCommerce Business websites :
Firstly, the loading time of the normal website is 11 seconds. On the other side, it is nine seconds for heatmap eCommerce business websites.
Secondly, there are lots of alternatives and choices available for users on such sites as compared to the normal ones.
Thirdly, there are more distractions and several links to eCommerce business websites.
Conclusion: You need to cut down the loading time on your website to attain more conversions.
What are the difficulties you can solve with heatmaps :
There may be many reasons, you are not able to turn your visitors into your customers through your eCommerce website :
Your website design might be distracting the users.
The conversion path is perplexing and confusing.
The checkout form is challenging to navigate.
CTA buttons are not clearly defined.
You might be giving all the relevant information above the fold.
These could be the reasons why your users might not feel comfortable with you and leaving your website right away. Thank god, we have heatmaps which can help us understand their behaviour.
What are the solutions for your eCommerce business website issues :
1.Segment your audience: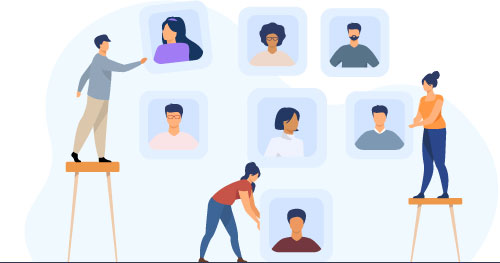 There are many heatmap software available in the market which comes with the segmenting feature. You can differentiate between the one-time buyers and your repeat purchasers with such heatmaps.
The main benefit of the heatmap software is, you can create and apply segments for your heatmaps. Simply, Segment the users based on criteria: New users vs the returning ones.
You need to create filters for the segments based on the geographical, behavioural and other factors. In this way, you can understand their behaviour much better.
2. Get real-time insights:
You must be knowing that your dynamic e-commerce business website loads as the user scrolls through it. Therefore, analyzing their behaviour on dynamic elements such as sliders and pop-ups becomes necessary.
It becomes difficult for many heatmap tools to take screenshots of the webpages which show you the scrolls and clicks of users on the dynamic elements. 
Dynamic heatmaps can help you deal with such situations. They give you real-time insights into the user's behaviour on the dynamic elements. Thereby, you can modify your campaigns and build a good trust with customers.
3. Analyze visitors from different devices:
Today, most of the people are browsing your eCommerce business website through mobile, tablets, or various devices. Many heatmaps might just be using the snapshot method to provide you data in standard resolutions only. But, dynamic heatmaps can dissolve this problem easily as they do not follow the snapshot method.
You can easily view device-specific data with a dynamic heatmap.
4.On-page heatmap loading:
Normal heatmaps might be loading slowly on your eCommerce business website. Sometimes they make the websites slow. Dynamic heatmaps quickly load on your web page and help you see the user activity on the dynamic elements or content.
5. Use one heatmap on all the pages:
You can implement a dynamic heatmap on all the webpages. There is no need to create different heatmaps on different pages as most of your webpages have similar URLs. Dynamic heatmaps work magically on your dynamic eCommerce business websites.
How to solve the issues of low conversion rates with heatmaps:
I guess by now, you have known the importance of dynamic heatmaps. Let us discuss how can you resolve the issues of low conversion rates for your sites with the help of heatmaps :
1. Examine how visitors purchase the products:
View and analyze as to why your visitors are purchasing or why they are not purchasing. First of all, identify the trends as to which elements are users usually ignoring. After that, run heatmaps on important pages to get essential insights:
Are people are clicking on non-clickable elements?
Do users ignore CTA buttons?.
Are people clicking on other elements except for CTA?
You can take a note of all these issues with Google analytics and other tools along with the heatmaps. Once you know the problems, you can easily attain conversions. You can AB test the elements and know which variation is attracting most of the traffic.
2. Optimize your eCommerce business pages:
Collect valuable data from your heatmaps. Put your focus on the areas which are generating traffic.
Use the scroll map or hover maps to know where you should place your CTAs, or are they placed at the wrong position in your webpages of heatmap eCommerce business website.
Adjust your pages according to the trends shown by the hover maps as to which areas are getting maximum attention. Scroll maps will help you see which parts are not engaging the users well.
Eliminate all such elements and place the content which engages well with the users. You can use ab testing to see to implement the changes in the elements.
For example – You can target your product descriptions as they contain all the elements such as images, specifications, prices, etc. to enable the users to strengthen their purchasing powers. You can optimize the product description more.
3.Recognize the CTAs which are not converting for eCommerce business:
CTAs are crucial elements that take a user towards the goal conversion. Analyze whether users are clicking on the non-clickable elements and neglecting the CTAs with the help of scroll maps and click maps. Consequently, they will help you recognize whether your CTAs are clear enough to catch the viewer's eye or are they generating user's interests.

Note: You can optimize the design and position of CTA elements on your webpage by using tools such as ab testing and click maps.
4. Reduce cart abandonment:
A confusing checkout process can complicate the process of purchase. It led to the higher cart abandonment rates. Your checkout process must be simple, clear, and intuitive. Place your checkout buttons properly and use the click maps to check out the clicks on them.
Allow your visitors to view the products by including the thumbnails for the products they added in the shopping cart. It will help them remember the product they added to the cart.
5. Make the checkout process simple:
See which areas of the checkout are problematic for the users. Maybe users are finding your checkout process too long. How can you improvise the process :
Put a back button: Make it easier for the users to navigate back and forth between the checkout process. To simplify the process, you can place a back button to enable users to use it.
Payment options: Be crystal clear about all the charges, including the shipping, delivery charges, and other payment options. Be transparent about them. You can provide options to the users to pay through alternate methods as well.
Automate the process: You can set the address settings to default to making it easy for the users to not to fill details time and again. It will simplify the checkout process.
Add a progress bar: Let your users know where they are in the process to purchase a specific product.
CONCLUSION
I hope the tips would help you in building a stable trust amongst your customers in their journey. Heatmaps are your guide throughout the customer journey to improve your campaigns.