The website heatmap tool could term as a data visualization technique that helps businesses understand how specific pages on their website are performing. In simpler terms, a website heatmap is a graphical representation of information via diagram or a map, with different colours denoting different data sets and values.
How Does The Website Heatmap Tool Work?
Heatmap works by gathering the data from a web page. It uses a dull-to-light colour shading scale to display which content of the online page is clicked more or which territory gets more consideration. The more attention of guests the component receives, the "more sizzling" it becomes. For instance, the realm where the viewer clicks the foremost gets a dark colour and light-weight colour where the viewer gives no attention. As we know, we present heat as a dark red colour that is warm, and blue represents fresh light intensity; a heat map uses that colour system. For this, it is named "Heatmap," This is how it is easily understandable because we know the warm to cool colour system.
Kinds of Heatmap Tool for Website Analytics and When to Use it?
Click map tool
As the name re[resents it shows all the areas on website pages where the user clicks and the number of associations on each element during the selected period. The most clicked area will be featured with dull shading and the other way around. The objective of a click map is to see and analyze visitor's conduct.
When to use it
Utilize this software to analyze the inclinations(preference) of your guests, i.e., on which web content they are particularly fascinated by, recognize the unclickable components which get client associations, and identify buttons that are left unnoticed (no one chooses them).
A click map is a powerful tool for analyzing the results of your email campaign. By knowing which your subscribers open links, you will create efficient and productive email campaigns. Click maps should be implemented carefully for sites whose content frequently changes,
Depending upon the website objective, in any case, click maps ought to be incorporated distinctively so that precisely those components can be analyzed that are essential for accomplishing the website objectively.
Scroll map tool
This tool shows the relationship between the size of a site page and the number of clients that saw it (in percentage). You can view the depth of the page or how far guests scroll it. This data is useful to see whether the guests locate your content exciting and what makes them jump off.
Given below heatmap plotted in one of our blogs – "Notify Visitors."
When to use it
The Scroll Map is broadly utilized by online advertisers to improve the presentation of their site. It permits them to distinguish and choose the best website page length; and simultaneously, encourages them to ideally put data on the webpage and deliberately organize content.
Mouseflow heatmap tool
Mouse heatmap is a kind of heatmap tool that encourages you to track movement from page to page on your site. It will record where your web visitors are hovering, clicking, looking over, scrolling, and delaying when browsing through your website. You can also track dropouts.
When to use it
Mouseflow heatmaps can help you to reveal bits of knowledge that help in predicting whether your online client experience (UX) is acceptable or not, to understand client attention on multiple pages, and to discover accessible pages that get the most consideration, with the goal that these components can be utilized to build and increase the conversion rate. 
Each sort of heatmap programming tool will assist you with adjusting your site or online store, get familiar with your clients, and increment income.
It is additionally worth referencing a screen recorder as one of the examination instruments that used to be well known. This device records recordings of client conduct for the UX examination.
Such recordings permit you to see a site with the eyes of its guests. This product records when individuals move a mouse, open pages, and so forth.
Confetti Map
It is a type of a plan which shows things like it is, i.e. what number of users clicked and where precisely they clicked. Subsequently, you can see all the mouse traps on the page as spots. Depending on how long you waited to aggregate the results, you'll see several multicoloured dots strewn about the screen (hence the name confetti).
When to use it?
Useful in case you want to understand your users more straightforwardly and conveniently.
Why Should You Use a Website Heatmap?
It provides a visual approach for understanding numeric values.
Their visual appeal turns website heatmaps into essential communication tools. They conceptualize designs and interpret information, making it more straightforward for fashioners and examination nerds to converse with financially engaged customers by giving them clear, justifiable outcomes. They additionally help the planners themselves by allowing them to encounter, through their clients' eyes, what exploring their site feels?
Heatmaps make it simpler to learn from users to create brilliant website composition.
The successful plan does not occur in a vacuum. Any individual who is good at craft will tell you they have devoted a long time working at it, but also learning along the way. Learning is not easy; it involves questioning your own choices and identifying areas that need improvement. In web design learning from users is especially significant. Heatmaps help you comprehend what your crowd does (and similarly as critically, what they don't do) as they react to your plan. The navigational examples of your clients as uncovered by heatmaps, then again, can be viewed as immediate, unfiltered feedback.
When heatmap tools surprise you, they become an opportunity to dig into a site's content or tricky design issues. That is why we've focused on the significance of using them with other tools. So use it with other tools. I would recommend combining heatmap with A/B testing.
Heatmaps give an instant overview of crucial web performance parameters.
We've written about the different types of web diagnostic heatmaps before, i.e. Click heatmaps, Scroll heatmaps, Mouse heatmap encourages you to visualize your website visitors' mouse development information. Movement heatmaps track mouse movements.
Heatmaps draw notice to significant issues on your website.
Overall web diagnostic heatmaps add critical speed to the issue solvers journey. For example, cold spots (areas that don't get much attention) and folds in the scroll heatmaps quickly identify problem areas and where they are not. The crux of the story, heatmaps tell you at a glance what's working and what's not.
Eight Ways to Use Website Heatmap to Increase Conversion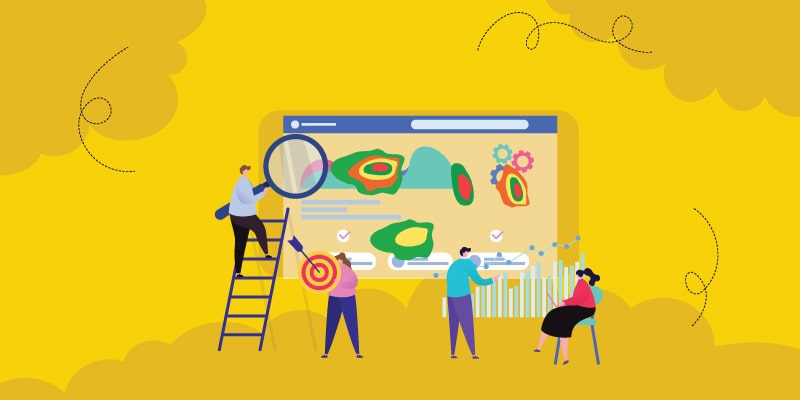 We have already discussed various heatmap tools, and each type is unique from the information they provide. There are many tools in the market that you can use to generate and read heatmaps. NotifyVisitors is one of them. It lets you create all these heatmaps based on the device used to browse the website.
The eight ways to optimize conversion rate are as follows –
Understanding user reaction
Understanding user reaction to the Content through Mouse tracking heatmap, which we have discussed earlier.
Determining Call to Action(CTA)
Determining Call to Action(CTA) through click map as it shows precisely on the web page where the user or the visitor clicked.
Optimizing CTA Position
Optimizing CTA position through Mouse following heatmaps, that can help find territories on a website page where the clients will, in general, drift their mouse cursor. These fixed territories of the site are regions that will require attention.
Optimize Content by Scroll Maps
You were optimizing Content through using scroll maps which will let you see where a client scrolled down on your website page. This heatmap empowers you to know where your client lost enthusiasm for the Content. You can optimize your Content dependent on this criticism.
Use Click Guides
Increasing conversion of your cart by using click guides to discover where your guests are tapping on the cart page is the method which is a must. For instance, if your clients are getting diverted by a standard on the shopping cart page they may tap on the standard and get taken off, coming back to the shopping cart page. This ought to be limited as you need your clients to have as essential an encounter as could reasonably be expected.
Call to Action(CTA)
Work on replacing dead ends with Call to Action(CTA). Dead ends are places where a customer clicks, but it is not meant to take them anywhere. Try to understand their desire where they are clicking and for what purpose?
By Setting CTA
Deliberately setting CTA where your clients tend to click will boost conversion rate.
Gathering information out of images. Have you seen big banners and carousel images on the top of different e-commerce websites.?
Yes, often I am sure.
How effective are they? Do people click on the next slide to see what the banner is? You can draw understanding from click heatmaps to check whether your clients are hitting the following slide button. If they are not in any fact, seeing the number 2 picture in the carousel slides, you realize you have to change your plan.
Putting a cloud of 2-3 banners on your site might be a superior structure for you in this situation.
Final thoughts
Heatmaps can help answer a ton of inquiries regarding the client experience on your site. When a heatmap is arranged, it gathers information out of sight and dishes out insightful data.
Heatmaps expect traffic to incorporate – if your truck is less. It might take a touch of effort to get to a position where the data provided becomes helpful.
Website Heatmaps make it conceivable to recognize what is and isn't dealing with your site. Heatmap age begins when you have a JavaScript tracking code on your website and permit data collection.
It is clear that having a site is one thing, having it be useful is something else inside and out. Checking and capturing client activities on your website will give you trust in whatever you convey to your customers. Heatmap generation tool may require to pay; the investment is essential. Get more information on the NotifyVisitors heatmap tool which focuses on building a basic and simple experience for your clients to guarantee that you are getting the best value for your money.