Marketing Automation Software For Small Business

Marketing automation software for small businesses can save up your drowning ship and sail it through the harsh waves so that you can achieve growth and success. Read this blog to know how small businesses can expand with the right tools.
A small business, unlike a large enterprise, can fall short of significant capital. But if they plan it mindfully, they can never fall short on resources. Small businesses have a lot more advantages to shoot up their growth and achieve a lot more. First of all, they have started anew so they can take risks and attain productivity if they manage effectively.
If you are also a small organization, remember you can achieve growth if you take up tools such as marketing automation. Not only it simplifies your regular tasks, but it also gives you sustainability in the long run.

WHAT IS MARKETING AUTOMATION SOFTWARE
What drives you every day- is it the revenues, conversions, productivity, or customer experience. The secret of running your business and surviving, in the long run, is the customer experience you are providing because all the above comes after that.
Your customers are your ultimate destination.. and providing them a consistent experience should be your motive and not just the "customer service." Regular customer experience will motivate leads and turn them into customers quickly.
Marketing automation refers to the use of software tools to optimize your marketing workflow. It makes your tasks easier and simpler to execute.
How does it simplify your work :
Automate your repetitive tasks such as sending email newsletters monthly or weekly.
Create customer lists and profiles based on their interests and preferences.
Evaluate the effectiveness of all your marketing campaigns. By measuring the effectiveness, you can achieve efficiency in operations and thus can earn higher revenues.
BENEFITS OF MARKETING AUTOMATION SOFTWARE FOR SMALL BUSINESSES :
Are you still wondering whether you need marketing automation or not? The marketing automation has already steered up its gear as a successful strategy, and many enterprises are investing in it. Why would you be left behind?
Increase in productivity: Customers will not pay much attention to your flashy offers and coupon codes that much as they put the focus on how much you care for them. Yes, personalization can very well add productivity to your business.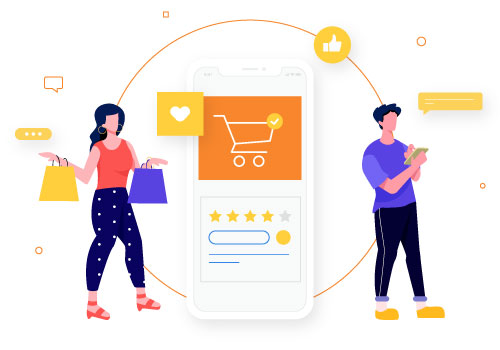 Creating relevant content and adding personalization to it can boost up your leads and conversions by up to 80 percent. On top of that, you can implement a content marketing automation solution. Segment your customers into groups and send relevant content to them.
You can also personalize your emails based on their interests. That's how you can earn more responses.
2. Access customer insights and data: A right marketing automation tool can help you dissolve the barriers between you and customers. You can collect data and statistics of your marketing campaigns( heatmaps). You can know more about your customers, and thereby knowing their expectations and interests, you can serve them better. That's how you can create a buyer persona and engage them effectively.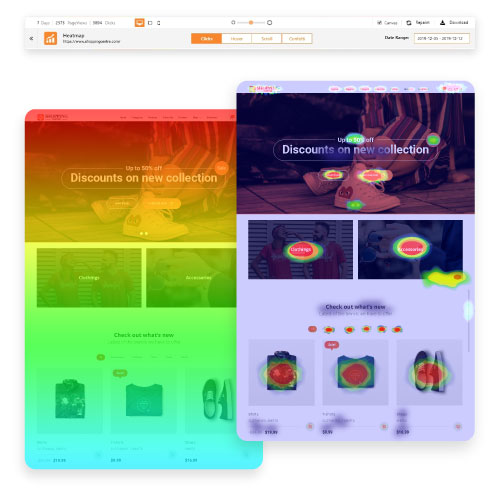 3. Enhance your customer experience: A customer experience goes beyond personalization. It's about the channels you are using to increase your customer engagement. Marketing automation platforms can come handy in such scenarios that help you build campaigns and send them across all mediums and channels such as social media, emails, mobile devices. You can launch and monitor webinars too. You can track interactions with your customers and a/b test to know what is resonating with your customers.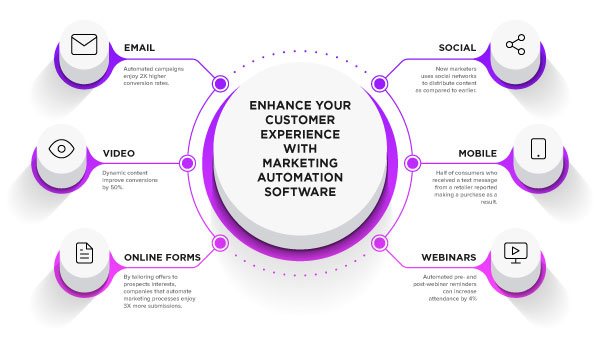 4. Nurture your leads: An efficient marketing automation platform allows you to identify the elements of your content marketing strategy as to what is driving more conversion rates and revenues and click through rates. Tools such as web banners, mobile banners can help you know how effective your campaigns are. By evaluating the click-through rates, you can surely notice what is to capture leads so that you can take further actions to convert them into visitors.

Note: You can also build a lead nurturing campaign with the marketing automation software. You can also analyze where your leads are stuck and where you are facing bottlenecks.
5. Increase your workflow efficiency: Most of all, the smaller organizations adopt marketing automation to get in more energy. Remember, if you have the right technology, you can streamline your workflows with fewer resources and cut on higher costs. Marketing automation software for small business is the best investment.
Smaller organizations have a tighter budget. So, they must first analyze every component minutely and determine which marketing automation software can pull in more benefits with the budget.
6. Track and monitor prospect activity: Blend your marketing automation software with CRM to track and monitor a prospect's activity. Also, you can analyze the real-time sales insights, ROI analytics, and track customer data with the help of enhanced key metrics.

HOW CAN YOU IMPLEMENT A STRATEGY WITH MARKETING AUTOMATION SOFTWARE :
Automate all your processes with the marketing automation software and create an effective marketing strategy. There are many tools out there for small and medium-sized enterprises. But the right implementation of tools is complete only with the correct elements

What are those elements :
Create and change content: Content is the real marketing king. Never underestimate this quote as it can bloom up your business to the next level. Customers, first of all, read content and then take initiatives to purchase. Therefore creating dynamic content is relevant for the customers. That means to change and create content according to the needs and demands of customers.
Plan out a drip campaign: Drip campaigns allow you to send an automated email over a specific period. With automated drip campaigns, you can send relevant campaigns to the different customers instead of sending the same content to every customer.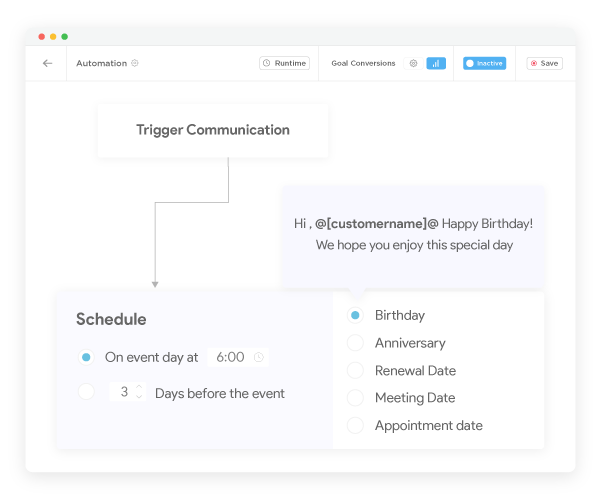 Note: Drip campaigns have 80 percent higher open rates and three times more click through rates.
Automate your teams: Communication is an essential element to prosper your organization's growth. Communication gaps can result in inefficiency and can create coordination chaos. You can extract out a lot of information about your customers through an automated marketing process. Simultaneously, it turns out the evil effects of the communication gaps.
Use email automation for follow-ups: Email marketing can trigger sales at a higher rate than any other medium. You can send personalized and targeted emails to your leads timely. Drip campaigns allow you to know how your leads are moving from one stage to another. Also, the significant benefits of email automation are automated follow-ups and measuring and tracking responses.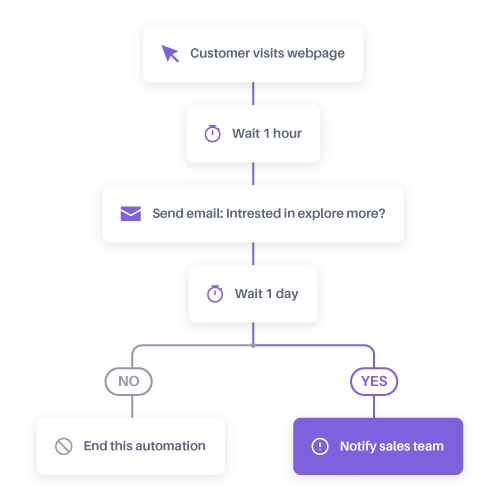 Use automation in list segmentation: You can segment your users based on different criteria such as geographical, demographic, and other factors. Know what your customers want and expect. Build a list based on their needs and requirements. Once you create your list, form a strategy accordingly.
CONCLUSION
The best benefit of marketing automation software for small businesses can leverage you to turn your prospects into loyal customers. Once your customers retain, your business can add sparks to the business. That's how you can grow and expand your business.