How to Create and Optimize Marketing Automation Strategy.

A healthy marketing automation strategy can help you pull in higher revenues if you know how to create it and deploy it in your sales process. Read this blog to know more about the marketing automation strategy.

Every marketer is adopting marketing automation tools in its business strategy to simplify their repetitive and time-consuming tasks. Marketing automation can open a lot of avenues for you in terms of personalization and attaining higher returns of investment.

No doubt, marketing automation doubles your growth potential. That means whatever you are spending on the marketing automation tools will give returns to you in the form of higher revenues.

Whether it's about adopting a cross-channel management software or using content marketing solutions or generating leads through lead to revenue management solutions. Everything can help us pull in a lot of money if we know how to use marketing automation while having a good marketing strategy.

With a good marketing strategy, you can take advantage of all the benefits of marketing automation and grow your business in the long run.

EMAIL MARKETING – AN EFFECTIVE EXAMPLE OF MARKETING AUTOMATION STRATEGY
Marketing automation involves using software and technology that allows marketing teams to execute their marketing activities across multiple channels. You can not only increase the efficiency of your marketing processes but also handle the multi-purpose campaigns with much ease.

The benefits of marketing automation are much known to everyone. It frees up your marketing team to shift their focus on other essential tasks, and also there are fewer chances of human errors with automation.

Let's take an example– Email marketing is one of the most prominent cases where you can use automation tools to reach your leads and quickly convert them into customers. Here you can use personalization as a marketing automation tool to customize your marketing campaigns. Also, customers will feel an affiliation with you.

How to use personalization for your marketing campaigns :
You can go through the subscriber's profile and look deeper into their interests and choices or past purchases.
You can create campaigns based on the above factors and engage your subscribers effectively.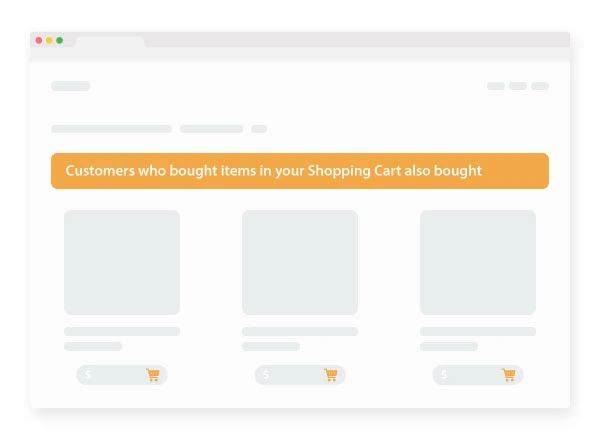 Apart from email, you can use automation for website optimization, social media management and text messaging.
Now that you have got a brief idea of how to use marketing automation tools. Let us know how you can achieve your goals, such as customer retention and higher revenues by creating a successful marketing automation strategy.

How to create and optimize marketing automation strategy :
Before creating a successful marketing automation strategy, one must have set their goals and objectives which they want to achieve.
Let us know in details, how to create an affluent marketing strategy with marketing automation:
1. Plan out a buyer's journey:
Your customer is the center of your attraction and is your ultimate destination. Therefore, you must first consider the steps which a customer takes before he finally makes a purchase. In addition to it, you can instill marketing automation during the whole sales process.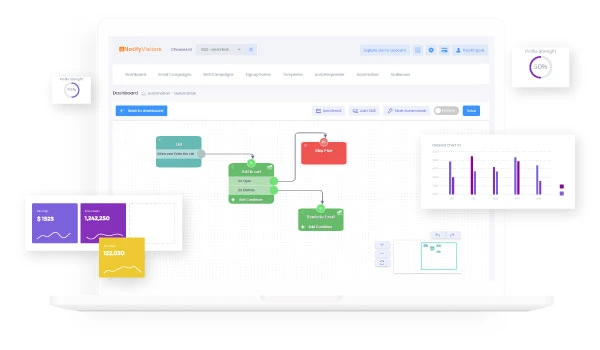 How can you revamp the sales process with marketing automation :
First of all, get some good ideas on how marketing automation can help you fetch more leads by making them aware of your product.
How can you enable potential customers to decide on a purchase
How can you use marketing automation to maintain the loyalty of existing customers?
Chalking out a plan will give you clarity. It will enable you to create a triggered workflow or a series of triggered emails that could help the leads to sail through the sales funnel smoothly. You can do all this with the help of marketing automation.

For example- If a visitor comes to your website and signs up or subscribe for your services. You can trigger him with an automated email consisting of free trial services to pull them up to climb the ladder of conversion. Or, you can educate him about your brand via blog posts and e-books.

2. Chalk out your goals :
Once you have designed a prospect's journey, it's time to introspect how you would measure and evaluate your efforts. i.e. in terms of conversion rates and revenues. That means you need to set up specific benchmarks for your objectives and goals so that you can achieve remarkable results in a specific period.
You can follow a SMART strategy for marketing automation which stands for Specific, measurable, achievable, Relevant and time-bound. Once you have set your benchmarks along with the past data, accordingly you can achieve a substantial amount of results in the future. Marketing automation is not about putting a once for all effort into all your strategies. It can evolve and change as per your goals.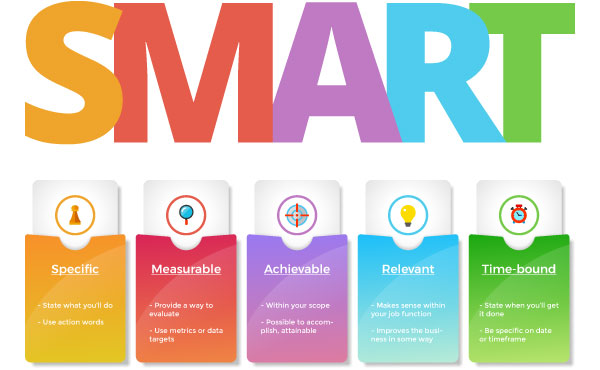 For example – You want to increase your conversion rates by 20 % by the end of the year, where your conversion rates were only 10 % at the beginning of the year. Therefore, you can reevaluate your strategy and achieve the set benchmarks in the future.

3. Optimize your results :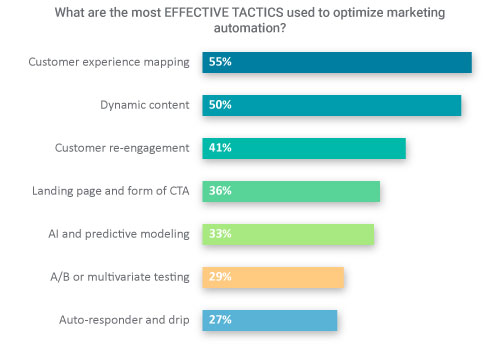 You can optimize strategy based on customer statistics. How would you analyze the data? Naturally, by mapping out the customer experience and their responses over your content.
How can you optimize your campaigns :
Access the performance of marketing automation tools: To get the promising results, you must keep a close check on your marketing automation solutions at regular intervals. It will help you reinvent the strategies to get maximum productive results.
For example,- You can set up a weekly meeting to discuss and evaluate the critical indicators around your marketing automation tools. This way, you can strategize what to do next to get astonishing results.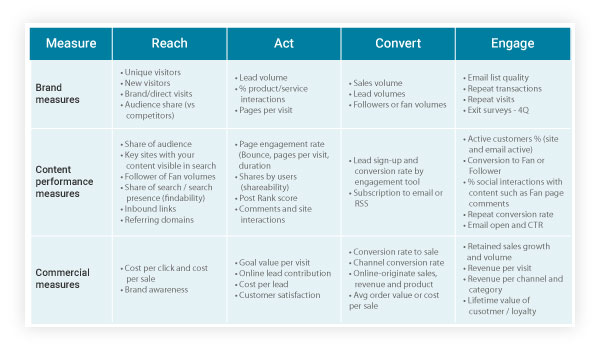 Ignore the misleading metrics: Delve deeper into the parameters to reinvent your strategies. But remember to focus on the stats related to the sales, that means the conversion rates, no. of leads and acquisition costs instead of focusing on the likes and comments you are getting on the blogs and posts.
Collect customer feedback: Gather customer feedback to know what's going on in their minds. You can conduct surveys and polls to ask your customer's feedback and frame strategies based on the reviews to give maximum satisfaction to the customers.
How to use a successful marketing automation strategy :
You can deploy marketing automation tools in any of your marketing campaigns. But here we are taking one marketing strategy and implying marketing automation tools to it.
Lead management
Content marketing
Lead management: The main goal of your business is to fetch leads and turn them into conversions. The main agenda of your sales and marketing process is to attract potential customers. So, how can you use marketing automation in it – by defining a lead based on geographical, demographics and other factors.

Developing the lead stages: You can create traditional lead stages or custom lead stages that will consist of steps that are different from the customer's purchasing process.
Along with lead stages, you must have engaging and attractive content to engage your leads at each sales funnel stage. Marketing automation helps you share this engaging content at all sales funnel stages.
NURTURING YOUR LEADS
The primary role of marketing automation comes into the fore, in the process of nurturing your leads and creating lead nurturing programs. How you automate the stages of your point nurturing program defines your success in terms of investment.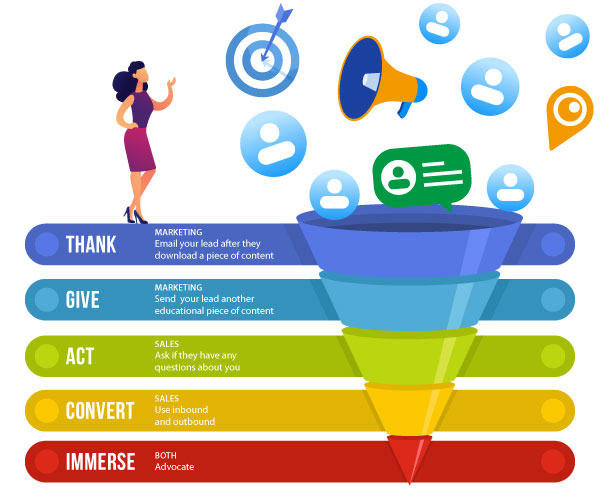 What are the prerequisites of lead nurturing program:
Create a flowchart for your lead nurturing programs. It will help you develop the nurturing paths, define the triggers, integrate all the sales and marketing processes. This way, you can create effective campaigns with predicting the conflicts as well as assigning the duties during the execution of the campaign.
Secondly, comes the part of creating and delivering the right content. Apart from creating engaging content, you need to frame strategies that will automatically send a lead, the relevant content based on their actions.
Note: The more you track the activities of your leads, the more you will be able to create lead nurturing programs. Because you can quickly analyze each of your leads based on their interests and finally you can segment them and send them relevant content accordingly.

You can also create the segmentation rules to simplify your lead generation and nurturing programs.

Also, as discussed above, you can analyze your productivity at regular intervals and simultaneously change your marketing automation strategies and get efficient results.
Conclusion
To create a successful marketing automation strategy, you must follow the above pointers and keep your eyes closer to the analytics. That is all you need to have a rock-building foundation for your brand.