Marketing strategies are usually a business's game plan to turn their website visitors into prospective customers. Marketers are always in search of a medium or a tool that helps them do the same. With the changing technologies and new marketing trends coming into existence, it has become difficult for them to decide what to choose and what to discard.
Running a business is not a spoon-feeding task. You have to handle trivial as well as huge issues – Looking after revenues, sales, creating and sending campaigns, and increasing your brand value. In such a hurried environment, we as a marketer need a tool that is easy to use and implement.
Web push notifications prove to be the core solution of all your Shopify marketing strategy and scenarios. Read this blog to know how you can use web push notifications to Shopify and enhance your sales.
Web push notifications for Shopify – A healthy marketing strategy
The first motive of an e-commerce website is to generate sales. But unfortunately, many sites face situations like abandoned carts, visitors search for the products but leave the website without purchasing. You can use emails for retargeting them, but unluckily, they either go into the trash or spam folders.
Shopify is one of the most excellent e-commerce platforms which allows you to sell your products. Every business size takes advantage of the platform. The site has superior rankings, and therefore, there would be lots of marketers making their mark on the site to embark on their business, how can you be different!
Suppose you have completed the whole process of becoming a user with Shopify. Now the issue is how to shine your light, amongst others. Consider the following points :
Acquire new customers.
Retain the existing ones.
Engage both and build loyalty.
These are some of the agendas on which you can build your strategy. Remember acquiring new customers is quite expensive and tricky as compared to retaining your existing customers. Therefore nurturing the current users by retargeting them is quite an essential task.
What unique you are providing to the customers and how you are doing it matters. It would be best if you built this connection from the first touchpoint, where customers can stick to you. Yes, building their loyalty is quite essential, and you can quickly achieve its web push notifications.
Web push notifications for e-commerce websites help in boosting their loyalty as well as driving new traffic becomes much more achievable with relevant and personalized content.
How to adopt web push notifications in your Shopify marketing strategy?
You can send push notifications of all kinds from your Shopify store by merely having an app by your side. Many apps are available for your convenience, and they help you reach your customers quite easily through engaging web push notifications.
You can create and send automated push notifications for all kinds of events :
1. Welcome notification:
Send the notification when a visitor turns into a subscriber.
2. Notification for Abandoned cart :
Engage users when they add the product and abandon the carts.
3. Sales and discount alerts:
Engage the users with catchy offers to pull them back to the sites.
4. Customized marketing campaigns :
You can create and customize campaigns as per your business requirements.
Note: Segment your subscribers based on various factors such as their product purchase history, their behavior, and demographic factors and send them customized notifications.
Elements of web push notifications :
Push title: The title of the notification shall prompt the users quickly and instantly to take action. Use lines such as "offer valid till tomorrow, grab soon."
Push message: Your push message must be the detailed info of your title. Describe more of what your offer is all about and how you can avail it.
Emojis: Evoke emotions amongst the users by putting emojis into it. Messages with emojis have an 85 % of chance to attract the attention of the visitors.
Images: The use of images can add a feel-good factor to your push campaigns. It should be aligned with your messages so that people look at them and click immediately.
Note: The functionality of the images is only available for the Google Chrome browser only.
CTA button: It is the most prominent and essential element in your messages as it redirects people straight towards your landing page. Use a catchy CTA text such as Buy now, Shop now, or pay now to get immediate action from the users.
What are the Shopify marketing strategies that help you attain conversions?
As we discussed above, you can target or retarget customers well with push notifications. But to grow your business, it is vital to retain your existing customers and boost their loyalty so that they can turn up as your brand ambassadors.
First of all, create campaigns that help you in attaining maximum conversions :
1. Retarget the customers :
Keep track of the activities of your Shopify web push notification subscribers. Send them relevant push notifications to let them know you care about them, such as sending them offers about the products in which they have shown interest.
Remind them about what they searched for on the Shopify store and what they left in the cart. You can show offers with limited stocks; it will turn into an immediate transaction.
2. Show the fresh arrivals:
A new collection or a new arrival always attracts people. Remember to provide them timely information about the offers so that they consider the suggestions and purchase them in one go.
3. New sale offers:
Nudge actions from your Shopify customers. Lure them with discounts and offers. Trigger them to visit your Shopify stores. This way, you can get more traffic and conversions.
4. Back in stock offers: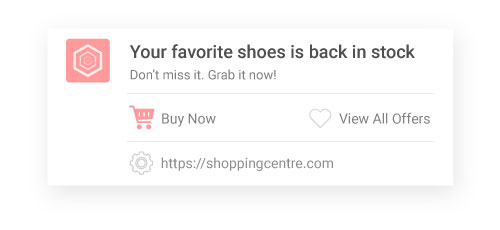 Suppose your users were looking for a product, and they were limited in stock or out of stock. Many websites have given them the option of "Notify me" to let them know that their favorite products are now back in stock. Send them a notification as soon as the products are back in stock to re-engage them further. Please show them your care and grab their loyalty.
5. Flash sales:
Create a limited edition urgency that will quickly pull in customers. Limited period offers have the power to generate more traffic than regular messages. Customers don't want to miss them. Therefore they never miss this opportunity of engaging them.
6. Price alert offers:
Tell the users about the drop in the price rates of your products. It would not only give a positive trigger to the users but also help the users to revisit the Shopify store.
CONCLUSION
Web push notifications are power-packed tools that can make your Shopify marketing strategy more robust and engaging. If you have not adopted them in your marketing strategies until now, it's time to take action.
Also Read: