A heatmap is a tool that depicts a map or an image. It utilizes data from your web page and informs you in the report about the user's activity graphically using various colours. A heat map gives you an image view of information.
A Detailed Guide on Heatmap
Let's get started with the very basic question.
What is Heatmap?
Heatmaps are employed to show visitors' activity on your websites or web pages; they are used to point out where users have clicked more on a page or how far the visitors have scrolled a page.
Want to know more?
Click Here to Find Out How Does a Heatmap Work?
Why Does Heatmap Work as a Diagnostic Tool for B2B Marketers?
B2B marketing is more robust than B2C marketing, as leads are pretty expensive, and they have to indulge in long accounting and legal processes. Therefore there is less traffic.
So, it would be better if you had Heatmaps to produce the traffic by analyzing what holds your leads for conversions.
Want to learn more about it?
Click Here to Learn Why Heatmap Works as a Diagnostic Tool for B2B marketers?
How Email Marketing Increases Customer Retention Using Heatmap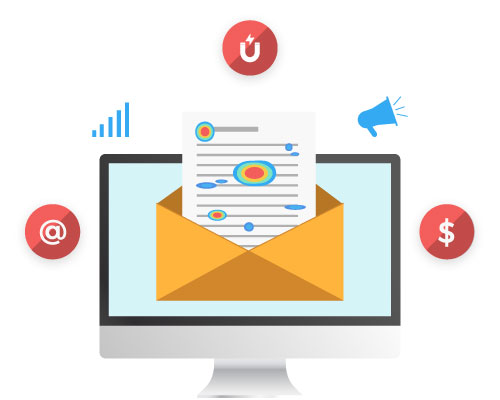 Email Marketing is the most fundamental yet cost-effective method of attracting potential customers.
But sometimes, as a marketer, we always attempt to attract new customers instead of focusing on the ones we have. So, you could view the results in the form of missing your existing customers.
Competition in the marketing sphere is soaring high, and that's why it's obvious to lose customers mid-way through a business process.
Retaining and re-engaging customers to purchase your products has become challenging and difficult. The phenomenon is called customer churn, usually when a customer stops purchasing products related to your Brand.
If you want to learn more about it.
Click Here to Know How Heatmap Can Help You in Email Marketing?
How Heatmap Optimize Website Conversion Rate
According to the stats, only 21% of the marketers can strongly implement the content marketing programs and receive the expected rate of investment (ROI).
So, this is a very low percentage related to marketers using various tactics and strategies. These statistics also make us realize the necessity for better heatmap website conversion.
Thus heatmaps are one such way to help you increase online conversion. They are not just restricted to statistics through big numbers, but they help you visualize the customer interaction with the site.
With colour-coding, you can know the pain points and strengths of the site for conversion optimization.
Do you want to know more about it?
Click Here For More The Optimization of The Website By Using Heatmap
How Heatmap Helps You Understand Customer Behaviour
You cannot implement every strategy across all platforms. Every tool has its potential pitfalls. So, you have to understand the market psychology and strategy for every system.
And so, to avoid exhausting your energy and efforts on the Heatmap, here is a list of considerations to make:
It is necessary to have a large amount of data for precise analysis and to avoid any anomalies. The lesser the traffic, the more challenging it will be to understand heatmap customer behaviour and find a pattern.
Heatmaps can trick analysts into making several assumptions. They provide only the number and not the reason for the actions taken on the page.
How To Work With Heatmaps?
Undoubtedly, this ultimate guide on heatmap gives you a lot of information. But, it is important to streamline all the data and put it to the right use. These are one of the well-proven strategies to optimize your website and for conversion rate optimization.
Still curious to know?
Click Here To Understand Different Customer Behaviour and How to Tackle Them
Tips On Building Trust in eCommerce Business With Heatmaps
Heatmaps play an indispensable role in optimizing conversion rates. You cannot utilize similar heatmaps to all your websites. Your eCommerce business might be facing some obstacles right now.
Now, You must be wondering why? How can you find the problems and solutions? So, look at the root issues of why your eCommerce business cannot pull up conversions as you desired.
You might be utilizing the wrong tools in your journey to get rid of the low conversion rates and optimizing your web pages.
Do you want to learn more?
Click Here For Effective Tips to Built Trust in eCommerce Websites With Heatmap
How to Optimize UX with Heatmap Software?
In this cutthroat era, User Experience (UX) in this digital world has become a necessity.
An online presence got hindered if the User Experience (UX) design is not up to the mark and visitors finding it difficult to manage your website.
Want to know more?
Click Here To Understand How Heatmap Can Optimize UX?
What is Real-time Data Visualization Through Heatmaps?
Heatmaps help you visualize data in real-time. Real-Time Data Visualization through heatmaps refers to data that is frequently updated without any lag.
Also, it tracks every movement that your user makes and shows you a real-time updated version of your user's interaction with your website.
Different Types of Heatmaps for Data Visualization
Heatmaps indicate the color-coded scheme as hot and cold spots that represent the warm to cool scheme depending upon your user's activity on the website. The warm section shows the most interacted section, and
Still curious?
Click here To Learn How To Do Real-Time Data Visualization With Heatmaps?
Heatmap Statistics From Different Industries
Various industries have improved user engagement rates through different types of heatmaps. Below are some of the heatmap statistics as evidence:
Want to learn more?
Click here To Know Heatmap Statistics: Insights For Better Conversion Rates
Website Heatmap Tool | NotifyVisitors
Heatmap works by accumulating all the data from a web page. It uses a dull-to-light color shading scale to display which content of the online page is clicked more or which territory gets more consideration. So, the more attention of guests the component receives, the "more sizzling" it becomes.
Ready to Get Started With Heatmaps?
Still, have doubts about Heatmaps? No worries, contact our expert today!