Marketing segmentation allows you to enhance your perception and vision to view the audience more broadly. Targeting the right market with the right messages is an essential part and aim of any marketing strategy.
Think of targeting your market more broadly; maybe you will end up having a lot of customers by your side. But if you see the other side of the coin, there would be many people who are still not interested in your products. Why? Because the foundation for targeting your market was all wrong. You didn't know whom to target specifically with what messages.
Here marketing segmentation comes into the spotlight.
If you had already segmented your market and engaged your audience accordingly, you would have saved a lot of time and resources. Nonetheless, let us know what marketing segmentation is.
What is Marketing Segmentation?
Marketing segmentation refers to dividing your market based on similar traits or characteristics and further targeting them with relevant messages. You can create segments based on one or more qualities. The valuable key to reaching your audience is by adding personalization to your content.
Let's take an example – Suppose you have launched a new cosmetic product. You could split up your audience into segments. A cosmetic brand usually fetches the attention of the female group of audiences ranging from 18 to above years of age.
When you are clear about a specific segment to whom you have to serve, the results you would achieve would also be crystal clear. Also, publishers would get the added advantage of personalized content to engage the audience (girls and women ) to show the content.
Therefore, instead of targeting the whole audience with generic messages, it's better to select the right audience with the right messages. You could reap innumerable benefits such as more furnished campaigns and higher returns on investment.
How is Market Segmentation Different From Customer Segmentation?
People often get confused between the two of them. Let's know briefly what they are.
Segmentation is dividing a market of potential customers into groups or segments on the basis of their purchasing behavior. The segments which are created out of it comprise customers who share similar traits such as age, location, and interests and respond to your strategies in a similar way, which is customer segmentation.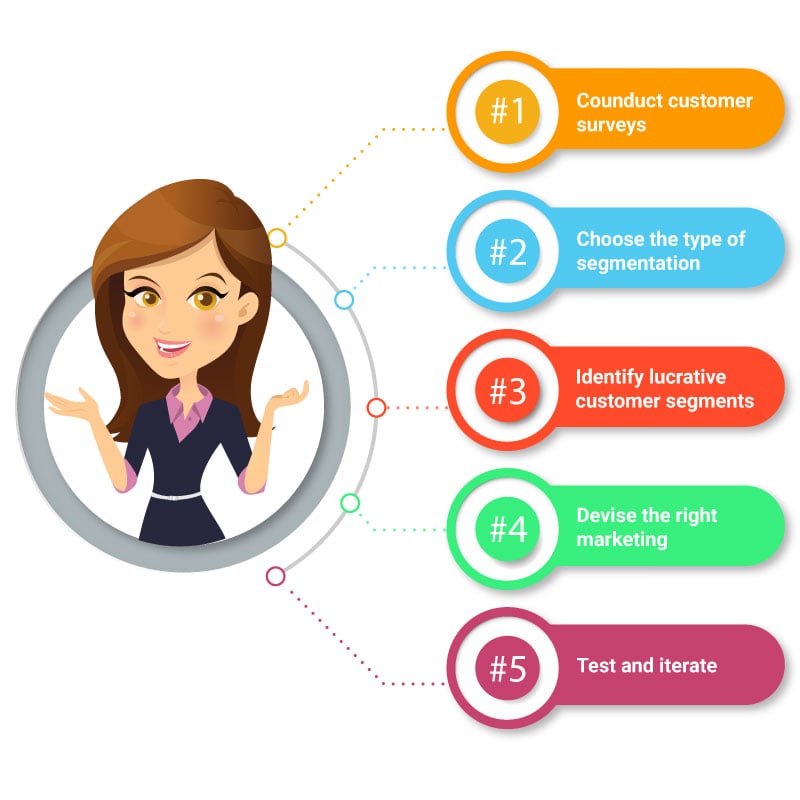 Why is Marketing Segmentation Essential?
It can save you time in engaging each user individually. Suppose you post great content on your website. Visitors are glued to your website. Consequently, they sign up and become subscribers.
Later on, you are sending them email campaigns, which half of the subscribers will ignore. Why? As you hovered them with unnecessary messages which wasted your as well subscriber's time and efforts.
Benefits Of Marketing Segmentation
There are countless benefits of Market Segmentation. Let's have a look at some of them.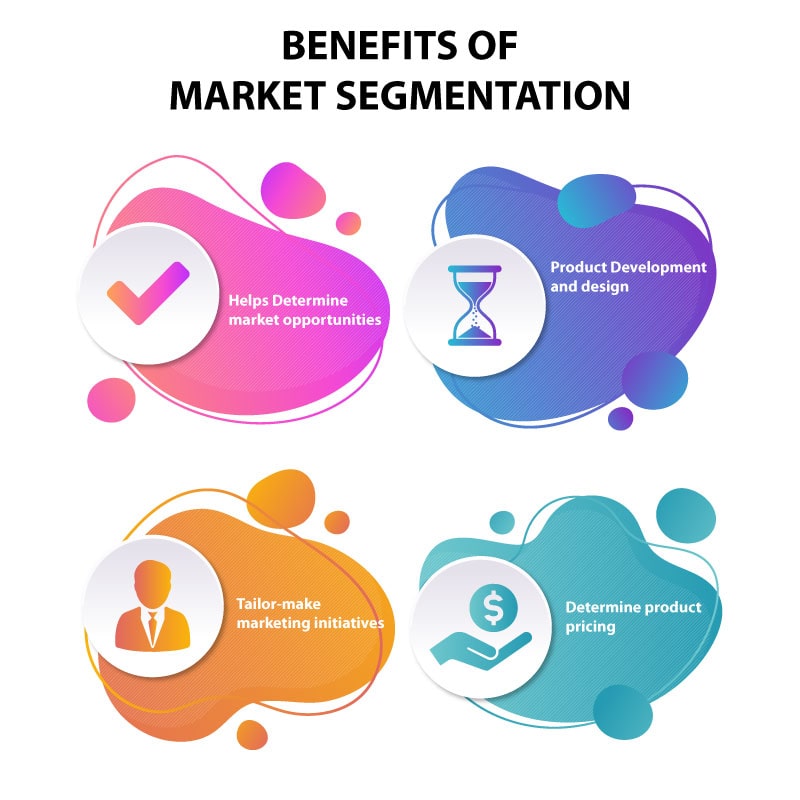 1. Know your customer's satisfaction :
Segment your market of potential customers and know what their expectations are. Serve them well by offering them better. Satisfy your segments so that you can vouch for some loyal customers.
Also, You can take opportunities to lower the satisfaction levels of your segments. Remember you can only grow in darkness and turn it into success by forming newer strategies.
2. Determine the price for products:
You can know how your segments are reacting to the prices of your products. Are they preferring at minimal prices or are they looking at quality despite the higher prices? How can you do that? By offering different prices for products in different markets.
3. Renew your distribution strategies:
It can help you in reviving your distribution strategies. You can easily identify the optimum distribution strategies for your new products or services.
For example – You can identify the right and apt distribution channels for products for your targeted segments.
How Can You Apply Marketing Segmentation to Your Email Campaigns?
Emails are the most primitive and receptive tools for engaging your audience or customers. But with the passing time, techniques and tools have changed through which we can hire a customer via email.
In a way, we can mold an email campaign in any method we want to.
Put the recipient's name in the subject line.
Offer your customer relevant suggestions based on his purchasing history.
Give them discounts or offers on special occasions.
The benefit of sending personalized email campaigns is customers themselves want an effective brand interaction. A brand that interacts with the customers as their acquaintances and loved ones do will survive in the long run. Also, you must not worry about the dip in the click rates of such campaigns.
What are the Types of Market Segmentation?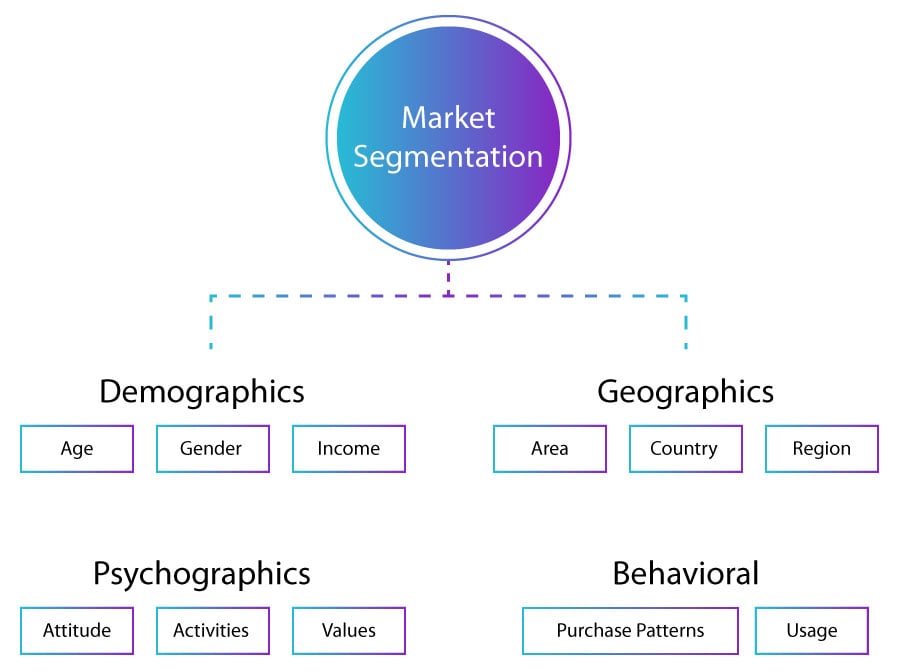 1. Demographic segmentation:
It is the most widely used segmentation type for classifying your market into groups or segments. i.e. on the basis of age, sex, and location.
For example– You won't be serving a men's product to a woman. Therefore, you created a segment for your product that would only be bought by men.
2. Behavioral segmentation:
It implies the way in which your potential customers behave in response to specific stimuli.
For example – The festive season is arriving and you know you can vouch out for your customers over this period. Therefore, you can give your users discounts and offers at this time.
3. Geographical segmentation:
Location too plays a major role in segmenting your market. Like age and gender, people's preferences differ from location to location.
For example – You can offer different deals on a product to your potential customers as per their geographical location.
Also, Sometimes a product can be called differently than other regions. So, you can adopt a different tone and language at different locations.
4. Psychographic segmentation:
The following type of segmentation implies segmenting your market on the basis of their social quotient, lifestyles, interests, and activities.
For example, A mobile industry can segment customers and offer them the mobile of a specific range that fits the pocket of that segment. Further, they can divide the users on the basis of their interests or activities.
Note : Segmenting your customers generally depends upon your business. For example- if you are providing online courses through your website. You cannot apply the segmentation rule.
How to Segment Your Audience for an Effective Marketing Segmentation?
Now that you know, you have to segment your market. It's time to think about the factors on what basis you must segment the market. How can you differentiate one customer from the other? It's quite inevitable that customers differ in their choices and beliefs. Apart from their demographic differences, it's essential to look at the emotional and psychological impulses of the customers.
The buyer's needs must be the top-notch priority on your checklist while segmenting your market.
Below are the factors to segment your market :
1. Geographic factors:
Targeting your audience based on location doesn't only mean you will group them based on the area, region, or country they belong to and send them personalized campaigns. There is more to your geographical segmentation.
Geographic insights give you a lot more opportunities to know the best times to engage your audience with social media posts. Suppose most of your target audience belongs to the USA. In such a scenario, the time factor plays a significant role in engaging your audience. It means you must publish all your content and trigger your engagement at the time when they wake up.
Geographical data also tells you about the hobbies and lifestyle of the people based on the climatic and weather conditions.
2. Demographic factors:
Demographic factors play a significant role in segmenting your audience as they depict the purchasing power of the customers.
Segment your audience based on their age, gender, and income. Specifically, the income and occupation factor plays a pivotal role as you can engage the customers with lots of discount offers once you know their purchasing power.
3. Psychographic factors:
They are the prominent considerable factors that can influence your brand value in today's age. Therefore, putting up your customers' emotions, beliefs, core values, behavior, and personality traits is quite vital.
You can know the behavioral traits of customers on your campaigns, such as what products they searched for, what pages they liked, and which products they have added to the cart. Their behavioral actions can help you out in accessing their personality. That's how you can segment your audience.
How to Create Segments with Marketing Segmentation?
It's easy to group your customers based on certain factors, but what is harder is to create marketing segments at first. Let's make the process of creating market segments much easier for you :
1. Evaluate Your Entire Market
You can know the whole market based on the above factors. i.e. demographic, psychographic, and geographical factors. Also, you can collect data from public sources and do some thorough research to build an accurate consumer ecosystem. Thereby, you can create your marketing campaigns and engage customers.
How can you extract facts about your customers from various sources :
Public resources: You can get a lot of demographic information about your customers through sources such as: Collecting facts and figures from the trade fairs, exhibitions, and annual reports. Getting information from the public resources is also free of cost, which would make your

marketing segmentation

cost-effective.
Marketing channels: Millions of people are using social media. You can search for your target audience from social media and other marketing channels. You can collect data from all these sources just by having a look at how the audiences are reacting to your Facebook ad posts and publications.
Original research: The most transparent way to know your target market is through conducting research and online surveys. This way, you can reach broader strata of the audience and form a customer base based on their priorities and interests.
2. Conjoin The Collected Information
Now that you have gathered information based on demographic, geographical, and other factors. It's time to conjoin them to create segments. Firstly, note down their geographic patterns and then connect them with their demographic factors.
For example – Say, you want to promote your winter apparel clothing for women. Therefore, you will create a campaign to engage only women based on the weather or geographical conditions of a specific region. Also, you can go more in-depth with analyzing the psychographic factors of the customers and engage them further with personalization based on their choices.
How to Use Created Segments with Marketing Segmentation?
The created segments can now set the foundation for creating effective marketing campaigns. Make sure your created segments can be useful for all your teams. i.e., to your sales team, to your publishers and other salespeople.
See how created segments can help you in various aspects of your marketing campaigns :
1. Create a Buyer Persona
Remember not to create a buyer persona simply based on assumptions. The demographic, psychographic, and geographic factors will usually help you create a better buyer persona. Creating a buyer persona on these factors basis will let you know the purchasing power, fears, challenges, and goals. After determining their buyer persona, you can create content to make the audience aware of the brand. Thereby you can engage them further and pitch sales based on their journey and past purchases.
Note: Keep on analyzing and monitoring your segments as the purchasing behaviors of the buyers keep on changing with the times.
2. Right Placement of Your Products
While creating a marketing campaign, many things play a pivotal role in catching the user's attention: Your tone, the positioning of your product in campaigns, and their images. You can figure out all the things, once you have created a buyer persona. Now see where your product fits according to the different buyer persona.
Suppose you own a fashion company. You would be dealing with different wearables for kids, women, and men. Many of your items would be suitable for men and maybe for women. Categorizing the items based on their purchasing power and choices, you can put them into different quadrants.
3. Create Personalized Messages:
Content marketing has always been marketers' favorite and critical component in fetching customers' attention. After creating a buyer persona based on their choices, beliefs, age, gender, and other factors, it would be much easier to trigger them with relevant personalized messages. Be very careful about the tone you use in your campaigns because it will trigger the psychological stimuli of the audience.
For example, – Suppose you have determined the emotional reactions of the audience on a marketing campaign. You can easily trigger them the next time by using the same tone you picked up. Your graphic designers would trigger the users with the visual images that will resonate with the users.
4. Push The Users to Buy
Now that you have created content. It's time to push them towards a sale. Create engaging content in your email campaigns.
Analyze the purchasing habits of the consumers and engage them with your Facebook and social media posts and ads from time to time. Also, you can engage your targeted audience with relevant blogs and information. Remember to target the appropriate segments with the right messages.
For example, – You are promoting a hair care product for women who have dry and rough hair. In such a situation, you cannot engage a section of women who have dandruff issues. Therefore you must be clear-cut about how to employ different segments with what content.
Use Cases of Top Companies
Many branded companies use marketing segmentation as their marketing strategy. Let's have a look at who are they and how they make it happen
1. Coca-cola:
Coca-cola is one of the leading brands in the soft drinks industry. It has a strong brand value and serves customers across 200 countries.
A brand achieves success through its marketing strategy. By offering a different niche of diet Coke to its customers. Health-conscious people love this brand immensely. No matter what you eat on your cheat day. It is the best soft drink one can binge on with their favorite pizza.
2. Microsoft:
Microsoft is another example of a successful leading brand across the world that adopted behavioral and demographic segmentation as its marketing strategies.
Demographic segmentation is usually used for products like operating systems and office products which are almost applicable to everyone. Similarly, behavioral segmentation is used for Windows operating systems and Windows mobile phones.
3. Himalaya:
It is the reigning and most lovable brand amongst cosmetic companies. Apart from delivering a huge range of products, it has used demographic segmentation as the core of its marketing strategy. Reassuring users of its quality for years, it has a wide range of products exclusively for women and babies.
Conclusion
If you follow all the above processes and take each of these steps considerably, you can achieve maximum revenues and higher profits on all your marketing campaigns. But if you still think your guesswork and assumptions would take you in the long run in targeting the audience without segmenting. Then you will inevitably face some hard setbacks and challenges.
Leverage the advanced segmentation with NotifyVisitors. To know more about our features and products visit our website.
Also Read: