Market Segmentation can simplify your process of targeting customers. Let's know via this blog, what is it and which of the top brands accomplished achievements through it.
The success of your Marketing strategies does not depend upon you but on your customers. Being the leaders of the market, your downfall and success are in their hands. So what do you choose today? Your success or failure.
Like all of our fingers are not equally aligned, so are your consumers not similar. They are different in thoughts, opinions, and above all their interests. In such a scenario, the process of market segmentation can help you ensure where you are leading towards your goals.
Click here to know what is segmentation?
What is Market Segmentation?
"MARKET SEGMENTATION IS THE RESULT OF VAST DIFFERENCES AMONG PEOPLE."
As the name itself evokes its meaning, segmentation is the process of dividing your market into different groups and segments on the basis of the products or services they purchase.
That is how Personalization also becomes an important aspect of Market Segmentation. You can send specific messages or campaigns to a segment or a group with similar purchases so that they can easily align with your campaigns. Also, you can achieve higher levels of user engagement.
How is Market Segmentation Different From Customer Segmentation?
People often get confused between the two of them. Let's know briefly what they are.
Segmentation is dividing a market of potential customers into groups or segments on the basis of their purchasing behavior. The segments which are created out of it comprises customers who share similar traits such as age, location, and interests and respond to your strategies in a similar way, is customer segmentation.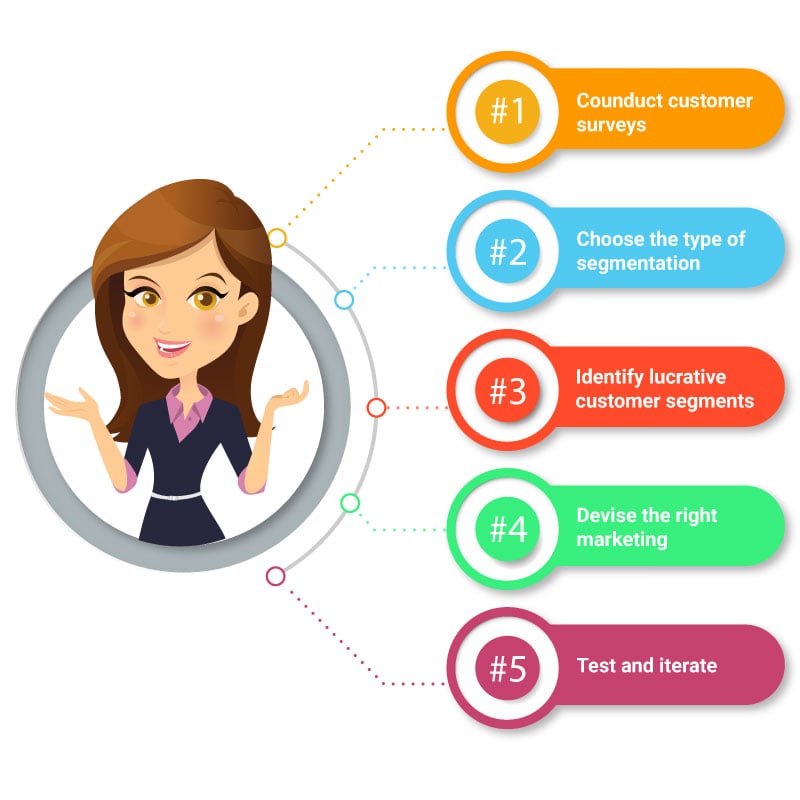 In a way, both are interrelated, and one is not complete without the other.
Why is Market Segmentation Essential?
It can save your time in engaging each user individually. Suppose you post great content on your website. Visitors are glued to your website. Consequently, they sign up and become your subscribers.
Later on, you are sending them email campaigns, which half of the subscribers will ignore. Why? As you hovered them with unnecessary messages which wasted your as well subscriber's time and efforts.
Consequence : Your subscribers moved on but who got affected is your product's "brand value". So, treat them like your family with the simplest process of segmentation.
Benefits of Market Segmentation
There are countless benefits of Market Segmentation. Let's have a look at some of them.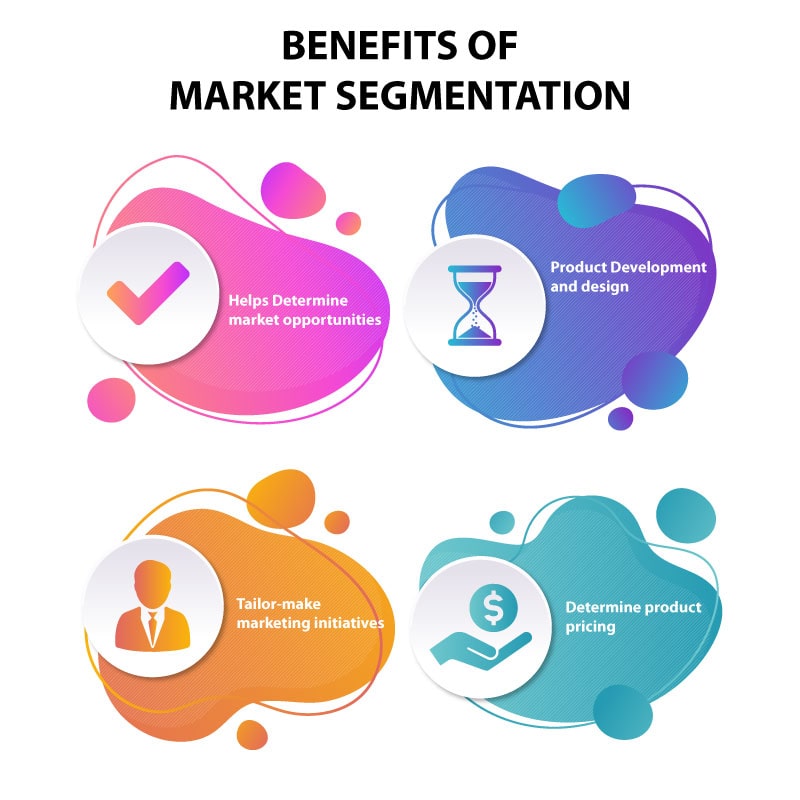 1. Know your customer's satisfaction :
Segment your market of potential customers and know what their expectations are. Serve them well by offering them better. Satisfy your segments so that you can vouch for some loyal customers.
Also, You can take opportunities to lower the satisfaction levels of your segments. Remember you can only grow in darkness and turn it into success by forming newer strategies.
2. Determine the price for products:
You can know how your segments are reacting to the prices of your products. Are they preferring at minimal prices or are they looking at quality despite the higher prices? How can you do that? By offering different prices for products in different markets.
3. Renew your distribution strategies:
It can help you in reviving your distribution strategies. You can easily identify the optimum distribution strategies for your new products or services.
For example – You can identify the right and apt distribution channels for products for your targeted segments.
What are the Types of Market Segmentation?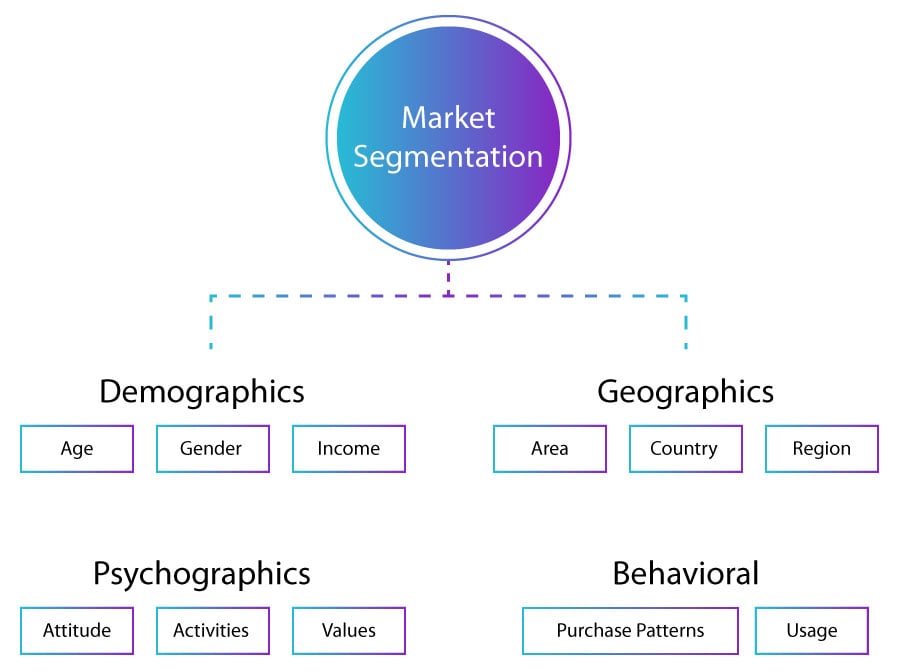 1. Demographic segmentation:
It is the most widely used segmentation type for classifying your market into groups or segments. i.e. on the basis of age, sex and location.
For example– You won't be serving a men's product to a woman. Therefore, you created a segment for your product that would only be bought by men.
2. Behavioral segmentation:
It implies the way in which your potential customers behave in response to specific stimuli.
For example – The festive season is arriving and you know you can vouch out for your customers over this period. Therefore, you can give your users discounts and offers at this time.
3. Geographical segmentation:
Location too plays a major role in segmenting your market. Like age and gender, people's preferences differ from location to location.
For example – You can offer different deals on a product to your potential customers as per their geographical location.
Also, Sometimes a product can be called differently than other regions. So, you can adopt a different tone and language as per different locations.
4. Psychographic segmentation:
The following type of segmentation implies segmenting your market on the basis of their social quotient, lifestyles, interests, and activities.
For example, A mobile industry can segment customers and offer them the mobile of a specific range that fits the pocket of that segment. Further, they can divide the users on the basis of their interests or activities.
Note : Segmenting your customers generally depends upon your business. For example- if you are providing online courses through your website. You cannot apply the segmentation rule.
Use Cases of Top Companies
Many branded companies use marketing segmentation as their marketing strategy. Let's have a look at who are they and how they make it happen
1. Coca-cola:
Coca-cola is one of the leading brands in the soft drinks industry. It has a strong brand value and serves customers across 200 countries.
A brand achieves success through its marketing strategy. By offering a different niche of diet coke to its customers. Health-conscious people love this brand immensely. No matter what you eat on your cheat day. It is the best soft drink one can binge on with their favorite pizza.
2. Microsoft:
Microsoft is another example of a successful leading brand across the world that adopted behavioral and demographic segmentation as its marketing strategies.
Demographic segmentation is usually used for products like operating systems and office products which are almost applicable to everyone. Similarly, behavioral segmentation is used for windows operating systems and windows mobile phones.
3. Himalaya:
It is the reigning and most lovable brand amongst cosmetic companies. Apart from delivering a huge range of products, it has used demographic segmentation as the core of its marketing strategy. Reassuring users of its quality for years, it has a wide range of products exclusively for women and babies.
CONCLUSION
These above-mentioned companies are still in the trending charts of the customers. Billions of customers are loyal to them. You can also become an essential part of a customer's life by adopting market segmentation as your key strategy.
Also Read: