In eCommerce marketing, companies want to grow their revenue; they have to focus and keep improving their marketing strategy. Converting audience/visitors into customers and leads isn't an easy task. A business needs to find the right campaign to grow revenue.
To increase your company's revenue, you need to do segmentation. Customer segmentation in eCommerce businesses makes you understand the customers better and target them.
It is an effective tool that groups your customers based on their characteristics like demographics, behavior, and others.
What is Customer Segmentation?
Customer segmentation is a method or process that divides customers into groups and sub-group having the same characteristics or patterns. These characteristics can be the customer's age, country, gender, climate, or activities.
Segmentation allows marketers to prepare better or more efficient strategies.
The segmentation process gives target-based opportunities to the marketers and growth to their business.
Customer Segmentation helps you target your customers in more personalized and meaningful ways, making it easier for you to convert them into paying clients.
With automated rules and integration with CRM, you can target customers with personalized messages that resonate with the right people.
Types of Customer Segmentation
The customer segmentation process starts with the gathered information from the customers. All the information or data of the customer you collected help for segmentation is used by the tool.
You have to divide customer data based on their characteristics. You can divide customers into many groups according to your customer. There are no set rules for that as companies and as well as customers vary.
The main features or characteristics of customers that help form groups for segmentation are four. Customer segmentation is usually divided into four parts. These are the following: –
1. Demographic segmentation:
Demographic segmentation divide customers based on their demographic information. It divides customers into groups that share the same characteristics. It is not specific to one individual.
These characteristics include:
Age
Sex
Education
Marital status
Race
Family income
Nationality
2. Geographic segmentation:
Geographic segmentation split customers based on their location, area, population, etc.
These characteristics include:
Country
Area
City
Population
Zipcode
3. Behavioral segmentation:
Behavioral segmentation divide customers based on their activity on the website.
These activities include:
Purchase history
Attitude toward product or brand
Buyers' journey
Timing
4. Psychographic segmentation: – Psychographic segmentation divide customers based on their psychographic traits like non-physical attributes.
These traits include:
Habits
Hobbies
Political views
Lifestyle
Social Status
Why Customer Segmentation is Necessary
Customer segmentation helps you connect with your customers more by targeting them individually and fulfilling their demands and requirements in a more personalized way. Companies can personalize their marketing while staying efficient by understanding their needs and requirements.
Benefits of Customer Segmentation
Increase Customer Retention: – Prioritizing your current existing customers is important. Customer segmentation helps you in personalized messages that will gain a feeling of being valued by your existing customers, and it will help you retain them easily.


Create brand awareness: – Segmenting your customers will make your customers well aware of your brand, and your efforts will increase your goodwill and create brand value as more personalized.


Improve Customer Relationship: – Customer segmentation will improve your relationship with your customers. Communicate with your customers more, it will make you aware of the new changes & opportunities.


Price Optimization: – Segmenting your customers according to their expenditure, you can analyze their spending limits, which will help you understand their social and financial status.


Improves Channel of Distribution: – It will improve your distribution channel. When you know the right number of customers you can direct the right distribution channel.


Improve the efficiency of advertisements: – Identifying the right customer for a particular campaign, you can align with the specific customer needs. This will increase conversion rates and improve the efficiency of advertisements.
Features of a Customer Segmentation Tool
Organized: – Good segmentation software holds all your customer information, from subscription information to sign-in dates. The right software must handle the information in an organized way to get a clear view of your customer's traits.


Customization: – A great customer segmentation tool will allow you to customize metrics, like customer satisfaction, across different customer segments. You need more flexibility in segmentation as you understand more and experience.


Visibility: – Customer segmentation software must have visibility. A good segmentation provides you with easy access to all the data. So that it can get all the information easily and you can improve marketing strategies.


Scalable: – Good segmentation software should be simple to use, and it should be perfect for both small-scale businesses and for large businesses. It should be robust enough to scale with you as your company grows.
Best Customer Segmentation Software & Tools
1. NotifyVisitors
NotifyVisitors segmentation tool segments users according to their behavior, geography, and technology. You can get the all valuable insight from users and make your strategies according to them.
It provides you with the user's detailed information like their personal information, devices they use, reachability, and user timeline. With all this detailed data it categorizes users into segments.
With the help of detailed analytics, you can understand your segment and plan your strategies. Notify visitors using Heatmaps, A/B testing, and other tools to track and analyze users' behavior.
Pricing: On request
2. Google Analytics
Google Analytics is a very good customer segmentation tool for companies as it is used to track website activity. It monitors consumer online behavior and action.
Google Analytics tracks website activity such as how long a customer is on-site, where the customer clicks on the web page, and individuals' bounce rate. It gives you information about the website traffic data.
These metrics will help you improve marketing campaigns, drive website traffic and retain visitors.
Pricing: Free
3. Mailchimp
Mailchimp has a segmentation tool for companies seeking to segment their email marketing campaigns. According to Mailchimp, with its tool, segmented mail marketing campaigns result in an average of 23% higher open rates and 49% higher click-through rates than unsegmented campaigns.
Mailchimp segmentation tool makes it easy for you to send the right messages to the right audience that matters to them.
Mailchimp uses options that you need to filter your audience data like:-
Sort contacts based on data you have collected, like location or signup source.
Target based on customer behavior
Use your unique insights info to create customer segments
Use predictive insights to better target customer purchase behavior.
Mailchimp has ready-made marketing segmentation based on campaign activity, purchase history, and more so that you can start targeting right away.
Pricing: On request
4. Adobe Analytics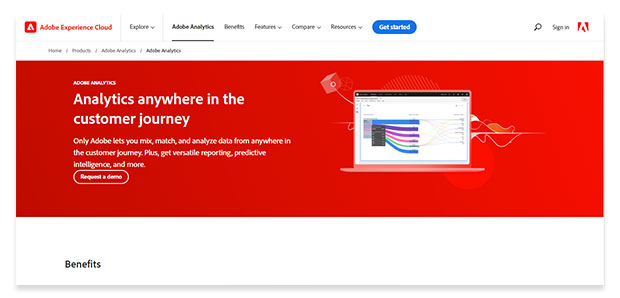 Adobe Analytics is perfect for providing an insights view of how customers and leads are interacting with your brand. It offers services like advanced reports and the ability to read data in real-time.
Adobe Analytics makes it easy to enter various data types to determine the optimal way to market and remarket to your audience segments.
Adobe Analytics lets you combine & match, and analyze data from anywhere in the customer journey, also get versatile reporting, predictive intelligence, and more.
Pricing: On request
5. Segment
The segment is the tool for customer data platform (CDP) that helps you collect, clean, and control your customer data. Combine your disparate data sources into segments and get a comprehensive view of your customers.
It is good at managing enterprise-scale clients and is an excellent choice for companies with numerous products or services. It breaks down data silos to help businesses make their customer engagement more personalized, timely, and impactful across channels.
Pricing: On request
6. Sprout Social
Sprout Social uses social media insight data to help your company focus on KPIs. Sprout's Analytics tools speed up data collection and distribution. It creates audience segments on social media based on:
Relationship status
Interests
Age
Location
Gender
Education
Business size
Industry
Sprout can also send out targeted ads to each segment you've created. It is the most helpful tool for companies who want to bring the advantages of audience segmentation to their social media campaigns.
Pricing: Start at $99 per user per month.
CONCLUSION
Segmentation is used to create targeted marketing strategies for the companies. The main goal of customer segmentation is to understand customers' traits, get an insightful view of customers, and analyze it to improve marketing.
The segmentation tools show you a clear picture of every customer from start to end to target your leads more efficiently, and these segmentation tools make it easy for you to do so.
Customer Segmentation is important for building your marketing strategies. NotifyVisitors offers segmentation tools that help you grow your business. To know more about our tool, schedule a demo.
FAQ's
1. What is customer segmentation?
Customer segmentation is dividing customers into groups and sub-group having the same characteristics or patterns. The segmentation process gives target-based opportunities to the marketers and growth to their business.

2. What are the types of customer segmentation?
Customer segmentation is usually divided into four parts.
1. Demographic segmentation
2. Geographic segmentation
3. Behavioral segmentation
4. Psychographic segmentation

3. What are the benefits of customer segmentation?
Here are the few benefits of customer segmentation:-
1. Increase Customer Retention
2. Create brand awareness
3. Improve Customer Relationship
4. Price Optimization
5. Improves Channel of Distribution
4. What are the best customer segmentation software and tools?
We have listed the 6 best Customer Segmentation software:
1. NotifyVisitors
2. Google Analytics
3. Mailchimp
4. Adobe Analytics
5. Segment
6. Sprout Social
5. What are the features of a good segmentation tool?
A good Segmentation tool must have these features that we listed below.
1. Organized
2. Customization
3. Visibility
4. Scalable