Whenever we want to make a perfect marketing strategy, we tend to invest our time and money; also, we ensure that our brand message goes well with our potential customers.
Today, communication is not just essential but also has become an art. Therefore, if your message is not creative enough in this competitive era, then there are higher chances that it will get lost, hidden, or avoided altogether as your audience size increases.
Unfortunately, the larger your audience becomes, the broader their choices, requirements, and opinions become, which can place your marketing message at risk of being inappropriate to the majority of people you're trying to reach.
Therefore, it becomes crucial to do segmentation of your target market. Now you must be wondering what is segmentation?
Segmentation enables you to focus your marketing efforts on particular customer segments to cater to their specific demands and needs in a more precise way.
Further, it gives your brand an edge over your competitors because you can show your potential customers that you know them and understand what they need best.
What is segmentation?
Segmentation is a business method that brands apply to cut their target market into smaller, more controllable groups of people based on the common ground to optimize their marketing, advertising, and sales efforts.
To put it simply, each market segment's customers will have the same characteristics that businesses can leverage to improve their business growth.
The segmentation aim is to offer a tailored message that will help them succeed. This is beneficial for companies with a product or service in the marketplace with multiple benefits or handles different customers.
When you decide to go with the market segmentation, keep in mind that you need to have a solid marketing mix. Therefore to make use of it, it is imperative to get yourself aware of the types of segmentation.
Top 3 benefits of using segmentation
Now that you have understood the segmentation definition, you're probably thinking about the benefits of implementing them. Here, look at the top benefits of segmentation.
1. Expand your business
Market segmentation can let you find new ways to reach your current customers and support you get new markets of possible customers that you haven't reached earlier.
In addition, analyzing your customers in-depth will let you open unknown requirements or problems that they encounter that your brand can solve.
2. Customer retention
For beginners, those cohesive customer segments will lead to excellent customer retention. Fascinating customers at the beginning of a tailored customer journey will provide an amazing brand experience and improve your brand's likelihood of staying loyal.
If each message and product shared with them resonates anyhow, they will have difficulty saying no to you.
3. Lower spend rate
If you understand how to talk to your customers correctly, you're further efficient with your efforts, implying you spend less money. It's as easy as that.
Gone are those days when your team is spinning its wheels trying to get something that will stick around. By segmenting your customers in a precise way, you'll make it right every single time.
Since we have seen what is segmentation? and its relevance It's time to look at the types of segmentation.
Different types of segmentation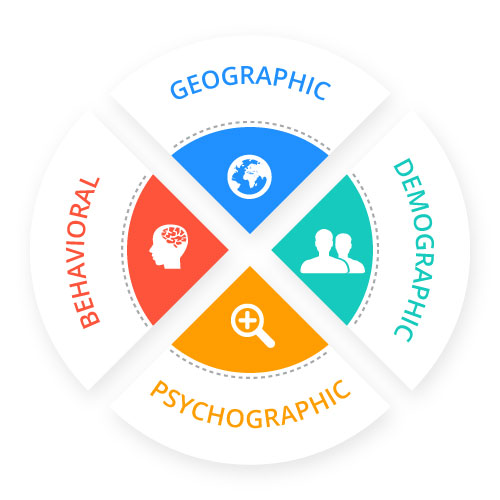 Every business tries to apply a different approach. Segmentation even allows marketers to use different approaches while segmenting their target market. Now, we will discuss all the four main types to help you get started.
1. Demographic segmentation
This segmentation divides a market on various parameters like age, gender, occupation, education level, income, family size, ethnicity, and more.
This kind of segmentation is extensively used because particular products cater to obvious individual requirements relating to at least one demographic element.
The most apparent variable is age, as marketers must understand that the fast-paced nature of choice changes within the different stages of life.
Media consumption differs significantly between each generation, so it's crucial to identify your target age range and which medium they use to get information to make sure that your custom message reaches them.
The most common example of demographic segmentation is when clothing businesses cater to various age groups.
By examining their current customer base, they see an opportunity to cater to a new market and grow their business. Many apparel companies cater to a mixture of age groups so that they can reach as many customers as possible.
Most companies serve the needs of men, women, and kids of all ages, and they also add different labels, advertising, and styles for every segment.
2. Geographic segmentation
This kind of segmentation targets consumers on the basis of a predefined geographic border. But, differences in interests, preferences, and decisions change dramatically throughout cities, states, and countries, so marketers must recognize these variations and advertise accordingly.
3. Psychographic segmentation
A psychographic segmentation concentrates on the intrinsic traits your target customer owns. Psychographic traits can differ in personalities, hobbies, values, beliefs, consciousness, and more.
To know your target audience on this level, techniques such as focus groups, interviews, surveys, audience testing, and case studies can strongly compile this kind of conclusion.
Just imagine the lifestyle of someone who resides in a small beach town and surfs for a living versus someone who resides in a big city working in corporate America. Both of them have incredibly diverse demands and requirements, and marketers must recognize those differences if they want to be successful.
For instance, Starbucks does a wonderful job of segmenting its consumers based on psychographic traits. Of course, we all understand that not everyone loves coffee or favours drinking it, but that doesn't prevent Starbucks from pleasing just about everyone.
Starbucks sells chocolate milk, granola bars, cake pops, cheese sticks, and much more for the little kids accompanying mom or dad on their morning coffee run.
Of course, those items aren't strictly for the kids, but those items are inevitably tempting when you have a fussy one. And for those sophisticated coffee drinkers who care about quality and bean sources?
Starbucks interests them by selling a mixture of exotic beans sourced from regions all over the world. Also, for those who don't like coffee, all of their friends do, and they enjoy an evening hanging out at Starbucks? Think of frappuccinos, lemonades, teas, and juices.
It's a wonderful way to sell products that can please everyone, but it's an interesting game when they make every person feel individually catered to.
4. Behavioural segmentation
Behavioural segmentation has almost the same measurements as psychographic segmentation but behavioural segmentation majorly focuses on particular reactions and how customers make decisions and buy.
How they perceive your brand, how they interact with it, and their information base in the cases of behavioural segmentation. Accumulating this kind of data is similar to the system you would obtain psychographic data.
An outstanding example of behavioural segmentation is brand loyalty. When you succeed in maintaining brand loyalty, it leads to a consistent buying pattern classified as a behavioural trait.
Therefore, marketers work vigorously to get customers to admire and stay loyal to their brand for a constant purchase cycle.
Thus, to target customers with significant brand loyalty, several companies will give launch rewards programs to improve this behaviour to capture new loyal customers.
For instance, makeup and beauty companies usually launch excellent rewards programs for their loyal customers.
The more you spend money at their store, the more points you earn, which can be redeemed for generous samples. In addition to that, they allow free services, exclusive access to sales, and more!
How to Get Started With Segmentation Strategy?
Now, it's time to learn how to implement your market strategy. Here are a few steps that will make the whole process smooth, plus the two most generally used methods to guide them.
Once you've learned these basics and have a strong foundation for your strategy, you must prepare your own strategy. Let's look at the widely accepted marketing strategy method first.
1. Concentrated strategy
In a concentrated marketing strategy, the company needs to consider only one market to direct its time, money, and efforts on. This strategy is typically chosen by smaller businesses or those just taking off and building a name for themselves in the marketplace.
Success is typically observed when targeting a smaller group of people since the approach pleases the whole segment. However, pleasing an entire segment becomes challenging when the segment is too extensive.
Therefore, you need to be conscious while using this strategy, and your growth opportunity is limited. Once you've capitalized on your market and are witnessing grand success, consider leveraging similar markets to continue to drive growth.
2. Differentiated strategy
In a differentiated marketing strategy, a company centers on two or more markets. Companies that make use of these strategies to sell their products with different segments; all they do is adjust their messages that appeal to all differences.
Although a differentiated marketing strategy demands more effort, time, and money than a concentrated marketing strategy, it typically generates more success since many more avenues exist to gain.
So, when you are ready to get started, consider employing marketing automation software to streamline and scale your efforts effectively.
Then, as your approach becomes more complicated and your campaigns grow significantly, you'll be satisfied with the amount of time and resources you were able to keep from having everything automated from the very beginning.
3. Determine your market
Where does your brand fit within the prevailing market landscape? Is there a requirement for the solution you agree to provide? How big is the market? These are all critical questions to contemplate when starting this step.
4. Segment your market
First, you need to decide which marketing segmentation techniques you will use, but don't get confined to one segmentation method.
It's fine for your brand to implement more segmentation methods and use a combination approach, so do along with each and every, get the ideal mix for your brand.
techniques you will use, but don't get confined to one segmentation method. It's fine for your brand to implement more segmentation methods and use a combination approach, so do along with each and every, get the ideal mix for your brand.
5. Know your market
Invite your target market to answer questions that relate to the segmentation categories you decided on.
It would help if you got to understand your target market thoroughly. You can utilize surveys, focus groups, polls, and more to get your answers.
6. Develop your customer segments
Analyze the responses you collected to build compelling customer segments that are unique to your brand. Make sure that you are concentrating on the purchasing ability of the segments and not building any that are very small. Lastly, look over the typical mistakes one last time to make sure that you're not committing any.
7. Test your strategy
Now, you have to interpret your responses carefully by examining them in your target market. Execute conversion tracking early. It's one of the most reliable ways to define the effectiveness of your strategy.
The most important thing you have to keep in mind is that you do not associate the customers with the segments you've designed, then you have to reconsider your survey methods and analysis.
Be positive about the strategy you have selected as it has unique characteristics so that you can stand out.
By implementing the strategy in a precise way and following the necessary steps outlined above, you can make sure that your market segmentation strategy is useful and successful.
8. Avoid making mistakes
Now that you know the market segmentation basics and have observed it in practice, it's time to concentrate on the primary mistakes marketers can make when segmenting their target market for the first time.
Building narrow segments: This can be relatively easy to do if you're striving to ensure that you have every last detail included. However, if the segment that you have developed is too narrow, you'll miss the purchasing power of that group and make this segment on non-quantifiable metrics. Every person is different. Therefore, you cannot please each aspect of every person.
Targeting the segment rather than money: You may have segmented a broad customer base that goes with your strategy, but if that segment doesn't have the purchasing power or a genuine need for your product, you won't have a positive ROI.
Updating strategies as the customer base changes: People adapt, and sometimes they adapt fast. So it's in your brand's favour to renew its strategy and resurvey its customers from time to time.
Select a cycle that makes sense for your business and adhere to it. It can be a quarterly refresh, yearly, or every couple of years; if you're noticing significant changes within your customers, do a refresh then, too.
Market segmentation can be an uphill and complex task, and errors in the beginning stages may seem unavoidable. However, being conscious of these common downfalls will fully prepare you and your team to avoid making them in the future.
Wrapping it up
Market segmentation is a compelling strategy for every marketing team. It makes your customer feel that you know them and for that, all you have to do is to share a tailored message that resonates with particular facets of their lives.
Understanding how to get a message across strongly will improve your brand to grow exponentially.
Also Read: