49 Marketing Automation Statistics to Know in 2022.

The main theme of this article is marketing automation statistics. It also focuses on the best software for marketing automation.

What is Marketing Automation?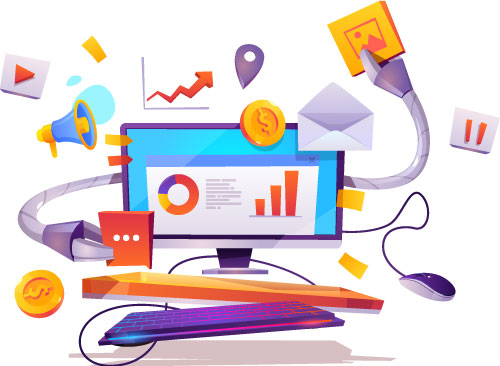 The definition of marketing automation is present in its name itself. In easy words, it is the use of automation solutions to manage all the marketing procedures in a company.

Explaining Marketing Automation
Marketing Automation utilizes data from various platforms. Such as web, email, social media, and live chat to find the right customers. All the tools help in distributing resources. These methods of automation create a cross-path connection between machines and humans. The marketing automation statistics reveal that 68% of marketers use this software.
Automating the work helps in saving the time and energy of the employees. It also uses several kinds of strategic, creative, and logical programs. To gain more revenue and profit for the company. Automation also manages and runs the marketing campaigns for the businesses. Automation has several items such as data lists, file sharing, charts, and a few more.

Marketing Automation Statistics
Here, in this section, we will be learning about marketing automation stats. These stats also show the benefits and advantages of using marketing automation software.

a) Usage & Growth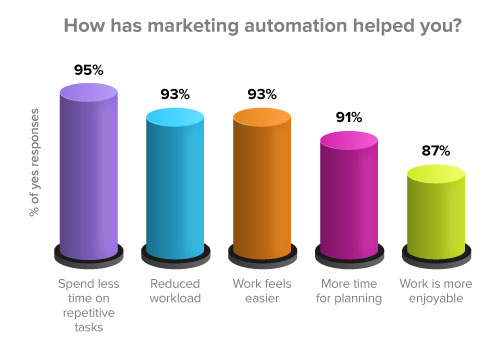 1. The market value of marketing automation software is 6.1 billion dollars (SharpSpring).
2. There are estimates that it may double its value by 2023 (SharpSpring).
3. Marketing automation software is a 7.25 billion dollar industry worldwide. It is measured to rise by 20% or more every year.
4. It is said in a report by Investor Presentation Jan 2019. There are almost 4,80,000 websites that use the services of marketing automation software (Bold Digital).
5. 75% of all businesses use marketing automation software.
6. A study by Dun & Bradstreet states that in 2020, Marketing automation is the second-highest preference for B2B experts.
7. Almost 14% of B2B expert marketers use advanced function automation software.
8. Another 43% of marketers use automation software with basic functions.
9. A set of 25% of marketers didn't use any marketing automation software and have a plan to use in the next year.
10. Salesforce's study reports that 68% of (ABM) account-based marketing programs use this software.
11. Emailmonday's study shows that almost 51% of businesses use automation software.
12. 58% of companies are planning to use this software soon.
b) Budget & productivity
13. 63% of business experts plan to increase the allowance on marketing automation software.
14. Nucleus survey shows that marketing automation increases productivity by 20%.
15. A survey by Invespcro said that 63% of parties are planning to increase their fund on this software.
c) Advertising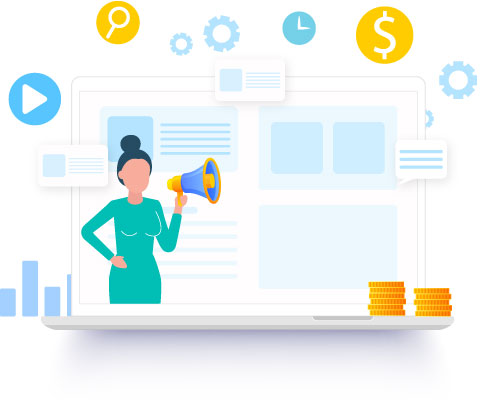 16. There are reports that 80% of the advertising procedure will be done by automation.
17. The term "marketing automation" search rate is increased. It increased by 3 times from the last 5 years (Google trends).
18. Christopher Lara, a marketing manager in WP digital. Lara says there are two best web developing trends for 2021. They are automation and personalization.
19. 83% of users say that social media scheduling is good for automation software (SocialMediaToday).
20. While another set of 75% of marketers prefers email marketing.
21. Marketing automation software assumes to be good for brand promotion and PR outer reach by 23% of professionals.
d) Leads & Conversions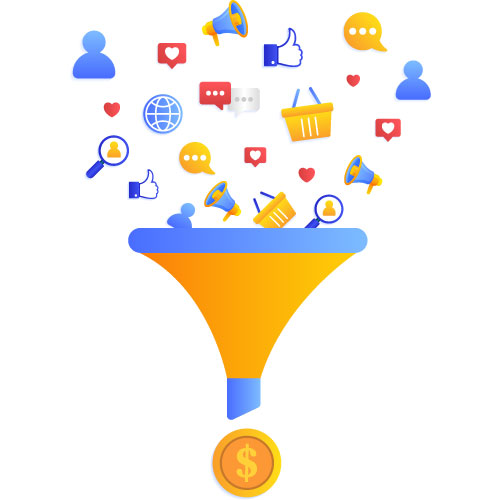 22. According to research by Lara, the companies that use marketing automation software have a 77% increase in conversion rates.
23. They also saw an 80% increase in the leads.
24. There is a 451% increase in qualified leads. In the companies that use marketing automation software (Business2Community).
25. 77% of businesses report that there is a huge increase in conversions (Invespcro survey).
26. Around 80% of organizations saw an increase in leads by using automation software.
27. The companies that use this software saw 15-20% of the conversion of potential buyers.
28. For 61% of people, the strategic goal of the software is improving lead generation (Protocol180 survey).
e) ROI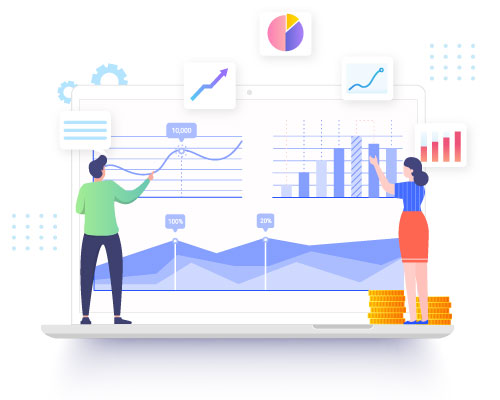 29. 76% of companies saw a high ROI within using this software for a year.
30. While 44% of businesses saw a high ROI rate in half a year.
31. The Pepper survey reveals the most-used metrics. These metrics are used in measuring ROI in marketing automation. They are click-through rate, open rate, and unsubscribe rate.
f) Performance
32. 91% of marketers told that marketing automation is essential for their campaign's success (Instapages survey).
33. Custom automation workflow is the best performing in marketing automation.
34. 9 out of 10 marketers use more than one software for daily purposes (Ledgeview Partners).
35. Variation in functions is the top factor that influences purchasing the software.
36. It is revealed by VentureBeat by using 243 users as participants.
37. Almost 4 out of 5 marketers give credit to marketing automation for their success (Lenskold Group).
38. Data-driven marketing automation is leading among content marketing companies. They use analytics and provide the details of the best time for promotion. This, in turn, gives maximum profits to the company (Marketo).
39. Upselling includes strategies that will make consumers buy extra things.
40. 58% of marketers say that upselling is the crucial benefit of marketing automation software (Moosend survey).
Others

As per the SocialMediaToday survey, the significant goal of marketing automation software is reported as:
Generating leads (61%)
Lead nurturing and educating (57%)
Sales income (47%)
Enhancing customer interactions (36%)
The productivity of the marketing process (29%)
Expanding and managing campaigns (28%)
The Email Marketing and Marketing Automation Excellence report, 2018 indicates the three ample marketing automation methods as
Automation of the emails (64%)
Targeting the right customers (26%)
Personalization content using dynamic strategies (23%)
Stats on Marketing Automation Challenges

Many people still don't use this automation software. So, here are some marketing automation statistics. These stats reveal the challenges faced by the software.
A report by Adestra reveals some biggest obstacles for marketing automation software. They are a shortage of skills, and integration of the data and information. One of the primary obstacles to purchasing marketing automation software is the expensive price.

41. While using marketing optimization, 55% of professionals said that customer experience mapping is a risky move. While AI and predictive modeling got 48% of the votes.
42. 44% of other votes are for personalized/dynamic content. It is revealed in Ascend2's 2018 report.
43. 44% of experts said that the greatest challenge of automation is optimizing marketing automation.
44. 43% of marketers say that the integration of marketing automation is a huge hurdle.

The number one obstacle while using automation software as per Automizy report from 2019:
Building quality automation as 16%,
14% reported as integrations
almost 10% as creating content.
45. Discovering the right tools is the biggest obstacle for 20% of companies while choosing automation software.
46. Almost 6% of experts battle with various functions. Such as optimizing, managing data, and contact segments.
47. As per research by Liana Technologies. Around 55.6% of organizations don't use automation software because of a lack of skills.
48. Another set of 48.1% of the businesses doesn't use this software due to the scarcity of human reserves.
49. The shortage of money is the reason for 32% of companies that don't have automation software.

Features of marketing automation software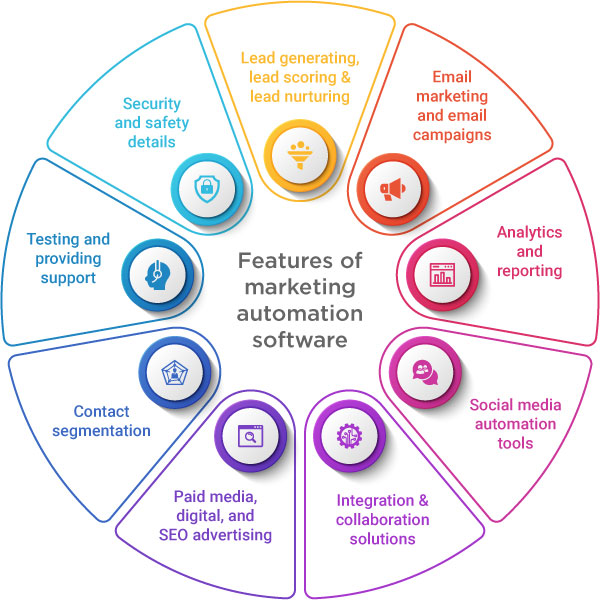 Few common features that every marketing automation software contains are listed below. They are:
Lead generating, lead scoring, and lead nurturing
Email marketing and email campaigns
Analytics and reporting
Social media automation tools
Integration and collaboration solutions
Paid media, digital, and SEO advertising
Contact segmentation
Testing and providing support
Security and safety details
Best Software For Marketing Automation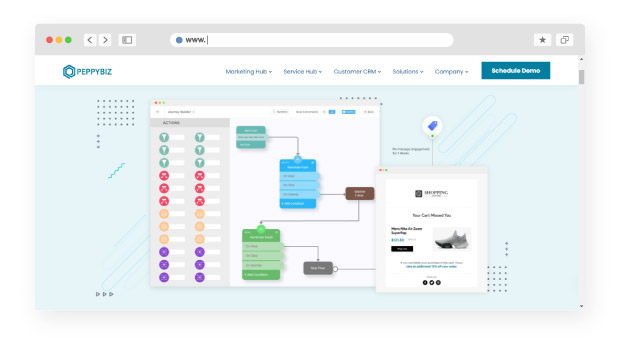 Out there, many software is present offering marketing automation solutions. To write down every software, mine and your energy will dry down. So, here's the best marketing automation software.

1. PeppyBiz
It has solutions that are best for various types of industries. They are healthcare, IT, software, travel, hospitality, and e-commerce. PeppyBiz's software has various good features. Such as marketing, sales, CRM email marketing, and many more. Their software is useful for startups, small, and also large companies. It has some of the best solutions for ticketing systems and customer tracking. Their software has a free trial for a certain time along with a free app version.

2. RD Station
This software is suitable for tiny startups and medium companies. RD Station software came into the market in 2010. It supports various languages like English, Spanish, and Portuguese. They offer good solutions for inbound marketing campaigns. This software regulates the marketing automation strategies in a company.

3. ActiveCampaign
This also offers one of the good solutions for marketing automation. It is suitable and also best for fresh businesses and tiny companies. Some of the features of this software are inbuilt CRM, visual builder, tracking, and many more. This has more than 90,000 companies that use their software. It is very flexible to have and also comes with a decent price. The active campaign is home to powerful and string automation solutions.

4. Drip
Drip is one of the best marketing solutions. It has powerful automation methods, sales funnels, and email segmentation. This is good for e-commerce websites, digital marketers, and bloggers. Drip software helps in sending bulk emails. It has various support systems. Such as live chat, webinar, free guides, tutorials, and automation activity.

5. Autopilot
A United States of America company owns this software. Autopilot came to the market in 2012. It is a SaaS, cloud-based, and web-based software. Some of the good features are ROI status, campaigns, tracking options, dynamics, and a few more. It has good marketing automation, multichannel, and CRM tools. They provide support 24×7 with the help of live chat, webinars, training, tutorials. Autopilot software provides a free trial.

6. Emarsys
This is a Vienna based software found in 2000. Emarsys offers the best solutions for multichannel marketing automation. It has a customer data platform with multichannel campaign integrations. Some of the features are segmentation, campaigns, dashboard, and analytics. Their software is available in many languages. They are English, Russian, German, Spanish, simplified Chinese, Turkish, and French.

Conclusion
We saw the benefits of automation through marketing automation statistics. In conclusion, marketing automation is growing rapidly. It is also one of the leading software in the market. But still, there are many people out there who don't even know about marketing automation. We also got to understand the limitations or challenges of automation software by discovering them through marketing automation stats. This proves that nonetheless, it has a longer route to go.