'Customers' are any business's biggest assets!
Why not widen your company's reach through different platforms your customers are available on – SMS and Email Marketing?
Email Marketing is the most picked option for companies to engage with their clients and customers because of its higher global accessibility and effectiveness. It serves as a channel to inform customers about your brand and keep them updated regarding new offers, new launches, policy updates, and promotions.
SMS Marketing, too, has extremely strong ingredients to engage with your customers. It is a robust engagement tool that helps your business send out short, crisp messages to your customers, enhancing its communication experience.
SMS and Email Marketing – 2 of the oldest forms of communication and marketing channels yet the most effective ones.
Don't believe what I have to say?
Below are a few facts that would open your eyes wide and would make you want to level up your SMS & Email Marketing Game for your company.
According to Oberlo, for every dollar you spend on Email Marketing, you get an average return of 42$!
Not just that, according to a study, the average open rate for text message marketing campaigns is as high as 98%, even when compared to Email Marketing!
In this ever-expanding and highly competitive field, you have to learn to stand out and make your marketing efforts count. Therefore, to make that happen and reap double-fold benefits, we are going to give you a few email marketing tips to level up your SMS & email marketing efforts!
SMS Marketing is Still ALIVE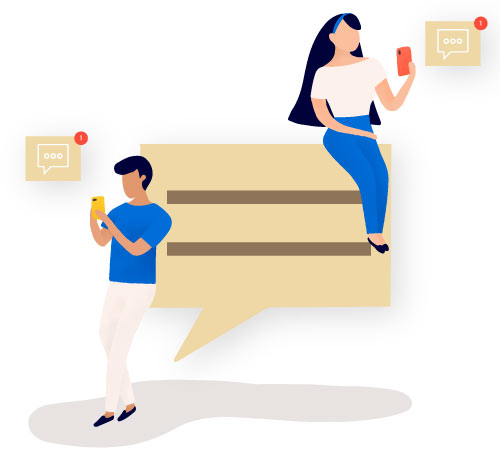 Before we begin, you need to understand that SMS Marketing is NOT dead!
SMS still has its charisma due to its beneficial features such as:
cost-effectiveness.
instant, crisp message delivery.
easy deliverability.
and no need to have the internet.
What more can you ask for in a communication channel?
Also, despite not having interesting elements such as those in emails, SMS still breaks the ground by having a sensational engagement rate with the customers!
Why are businesses not getting responses for their SMS Marketing efforts?
Most likely, they are not doing it right.
Here is how it will matter!
SMS Marketing Tips that will Grow Your Business
1. Make Your 160 Characters Count
This space of 160 characters is not for you to build a story or to just blabber on. This space allows you to directly reach your customer about whatever you want to tell them – Short, Crisp, Simple.
Here is how you can do that:
Nobody likes to get a notification on their phone regarding useless and baseless messages. Therefore, set a purpose for your SMS and make sure your text is reflective of it.
By no means should you settle for abbreviations like 'cmng' 'tmrw,' etc. This only lowers your brand image and is not understood right by your customers.
Don't clutter this space with unnecessary words and use easy language and focus on keeping your message as clear as you can.
Don't overuse unnecessary elements such as emoticons or links in your texts. They're good for emails, but SMS Marketing is usually kept simple and to the point.
2. Use Call To Action (CTA's) In Your SMS
Give them something of value and tell them the next actionable step they have to take in the process.
To get results, make sure you place the right Call To Action Words in your SMS.
Here are some of the ways you can do that:
Christmas is just around the corner! We want to give our exclusive members great discounts. Click 'Avail Now' to get directed!
Ask them to engage with you through texts. Tell them to have a say and ask them 'Click To Vote'
50% off on all products just for Exclusive members. 'Click here' to avail NOW!
3. Drop Out Unknown Sender & Give Out Your Business Name in Your SMS
Receiving an SMS from an unidentified number does not feel safe to anyone. Don't let your customers go through that.
Instead, make them feel secure and let them identify you somewhere in your SMS. This would help them feel secure and build trust.
4. Collect Customer Data and Use it to Enhance your SMS Marketing
SMS Marketing helps you collect customer insights such as their mobile responsiveness, their demographics, their behavioral pattern like no other communication platform. Strong Analytics tools such as SMS Analytics help you analyze it further and thereby help you to strengthen your strategies.
You can use this data and improve your marketing campaigns' performance by focusing on increasing your conversions.
You can do that by adjusting your SMS timings based on the responsiveness of customers.
Another way of doing that is by observing and then sending promotional messages if such text messages' engagement rate is higher.
5. Don't make it Too Formal, and Keep it Conversational.
An inbox is your customer's private space, so as a smart marketer, you can focus on crafting text messages that are similar to the ones your customers receive from their peers. It is an effective, attention-grabbing tactic that plays out well.
Try to keep the tone of your text message light and conversational. You can even experiment by using elements such as a GIF occasionally, light jokes, coupons or spin the wheel games, etc.
Use these few tricks in SMS Marketing and see the results yourself. It is all about experimenting and improving ways to engage with your customers, and these tips will get you there.
Let us now dive right into the other pillar that holds your empire together – Email Marketing Tips.
Email Marketing – Everyone is doing it, but you do it RIGHT!
Are you currently sending out emails but not getting any responses?
Don't even know if your subscribers are even opening them or straight up deleting them?
Believe it or not, most corporations have taken up Email Marketing as their go-to marketing strategy. Everyone in the industry seems to be doing it, but not everyone can see their desired results.
That is solely because, to stand out in your subscriber's overflowing inbox, you have to do something different to grab their attention, and that's not easy.
Fear not; this blog will get you started in the right direction with email marketing tips that will grow your business.
Email Marketing Tips that will Grow Your Business
1. Be Unique in your Strategies – Create Emails that are Mobile Optimized
Studies have discovered that 85% of your subscribers access their emails through their smartphones!
Imagine! All this while you have been doing this wrong by only optimizing your Emails just to fit their desktop needs.
Mobile-Friendly Emails – Make sure your content does not get lost while your emails are mobile optimized. Mobile Optimized Emails would increase your engagement rate, open rate, and even your conversion rates.
Designing Mobile Emails based on Trends – Design your Emails based on the ongoing trends! Opt for trends such as Dark Mode for Emails. This can be easily done for your promotional emails by having a darker background. This will make your content stand out and grab your reader's attention.
2. Don't forget to Personalize your Emails!
Personalization goes a long way in your Emails. The way to win over your readers is by personalizing your emails until your readers feel special enough and want to associate themselves as a member of your family.
Some of the ways you can do those are:
Personalize your Subject Lines – Grab their attention by adding their name in it or maybe by mentioning the problem they may be facing. See what might trigger them to opening your email and reading it. It is a great tactic for improving your Open rates and has a high probability of engaging your reader.
Send Behavioral Based Emails – Tell them you care by sending out emails after observing their behavior. Send them 'Cart Abandonment Emails' or maybe 'Recommended Products Emails.' Such Emails tend to get your customer back in the cycle and even build a relationship with them.
3. Create an 'Urgency' in your Emails!
Humans tend to take immediate action if they know that they have a limited time. So is the case with your subscribers.
Here's how you can add the 'urgency element' in your Emails:
One of the creative ways is by drafting emails that focus on telling your readers that the amazing exclusive offer they are getting from you is only valid for a few days.
You can even add 'countdowns' or 'triggering CTA's' such as Buy Now, to trigger some action.
4. Encourage Engagement in Creative Ways
The only way you can improve your conversions through email Marketing tips is by engaging your subscribers through your email campaigns series. Engagement is all that matters to build relationships with them and have them support you in the long run.
This can be done in 3 distinct ways:
Draft Irresistible Subject Lines – Ask them questions in the subject lines, or even promise them something unique from the rest of the emails in their inbox. Such subject lines push your readers to reply to your email or even buy your products if you draft them right.
Identify Yourself – Tell them that the email they have received is not automated and is not sent to all. You can do that by sending the email by the sales rep's name they may be in touch with. Make sure that your readers don't feel that they have received an email from a faceless machine.
Have a Targeted Audience – It is extremely important to segment your lists based on their demographics, interests, and other filters to improve your subscribers' engagement. Segmenting would help you better draft emails that would resonate with a group of targeted people who would be willing to respond to your emails.
5. Add fun Links and CTA's to encourage some action.
Again, make your emails actionable. Don't just send out bland emails with no interesting elements in them. No links or CTA's in your emails would mean no traffic generation on your website too. Emails are sent out for conversions and even getting more traffic and then generating more sales.
Always include striking actionable CTA's such as 'Watch More' 'Read More' "Download Now' or links that direct them to landing pages.
This will get you more traffic and also increase their engagement with your brand.
Conclusion
The marketing industry has revolutionized. From print ads and TV Ads to such cost-effective ways to market, becoming successful in these cost-effective marketing ways is no cakewalk either.
SMS and Email Marketing are a process and learning in themselves. The only way you can progress is by always experimenting, analyzing, and assessing what works for your audience, as there is no fixed path that promises huge sales.
So, it is time for you to get out of your comfort zone and prepare for applying these creative tips in your business to see yourself competing with the big boys in your industry.

With the help of NotifyVisitors, you can learn more about SMS email marketing tips. To get started consider using NotifyVisitors free plan.
Read more: