With advancing technologies and increasing competition, the e-commerce industry is constantly evolving. No matter what these changes are, the future of this robust and flourishing sector is bright and promising. It would be therefore good for e-commerce businesses to learn what the future holds for them and what trends are likely to occur.
Getting to know the scope of e-commerce will help e-commerce businesses in taking vital decisions in identifying and selecting apt e-commerce options, and implementing the anticipated trends before those become mainstream. This blog therefore would be of great use to those who are running e-stores and those who are planning to do so in the near future.

Statistics Related to the Bright Scope of E-Commerce
The e-commerce sector has undergone unprecedented growth in the recent few years. The worldwide epidemic fuelled this and made e-commerce an indispensable part of the global retail framework.
Consumers from all countries of the world now benefit from the advantages of online shopping. However, a lot of e-commerce outlets still miss out on a lot of opportunities.

Here are statistics to reinforce our statements-

The number of online shoppers became 900 million more in 2021 than in 2020. Currently, there are 2.14 billion global online buyers. That is, 27.6 percent of the world's population is shopping online. This number is expected to only rise (Source: Oberlo).
By 2040, in about some 18 years from now, almost 95% of all purchases will be through e-commerce (Source: 99Firms).
Way back in 2017, e-commerce sales accounted for only 10.4% of retail sales worldwide. Currently, it accounts for 18.1 percent. This percentage is expected to increase by 22 by 2023 (Source: Oberlo).
The foremost reason why people purchase from e-commerce outlets is free delivery. Discounts and offers, customer reviews, easy returns policy, and easy checkout process are other vital reasons (Source: Oberlo).
Only one in every 51 visitors to an e-commerce outlet converts. This means e-stores are missing out on a lot of opportunities. One vital area they are failing is customer experience. For a poor CX can avert 58% of consumers. Another area where they're leaving a loophole is adding extra costs during the checkout (Source: Oberlo).
70% of all e-commerce site visits were made through mobile phones in 2021. So, those sites that aren't optimized for mobiles will be losing potential sales through these channels (Source: Statista).
Scope of E-Commerce- The Upcoming Trends
Many technological advancements help e-commerce businesses to meet their shoppers' purchasing needs with speed and convenience. These help customers avail themselves of anything at the click of their mouse. So, if you miss out on these, you'll lose new business opportunities. So, here are the technology trends that you should monitor in 2023.
1. Omnichannel presence and support
Today, people carry out research, consideration, and purchase across multiple channels. So, they expect seamless across these channels and devices. E-commerce businesses should therefore make themselves omnichannel-ready. You need to provide customers with the content they want at the time they want, and the place they want it.
So, you need to adopt some of the latest technologies that perform well in an interconnected buyer or user journey to tap into the scope of e-commerce. Some of these include-
Video Chat that lets your brand converse face-to-face with customers.
Co-browsing- a visual engagement system that simultaneously brings together your customers and agents on the same page so that the agents can smoothly guide them through complicated procedures.
Screen Sharing- an interactive technique where your customers can share their screen with your agents so that their issues with completing transactions, filling forms, etc. can be resolved.
Document Interaction- a platform where your agents can safely and securely interact with your customers' documents.
2. Customer experience
Customer experience, both in-store and online, matters a lot for the success of your e-commerce business. No wonder it's increasingly becoming one of the best digital marketing trend.
You can ensure a good customer experience online in the following ways.
Ensure that your site loads fast. Today people expect sites to load within 3 seconds. If not, they lose patience and move on to a fast-loading site.


Take care that your site navigation is simple and easy. User testing your site can help you identify issues that people face in navigating your site. This will help you create a customer-friendly experience.


A/B test your messaging, product page flow, info asked for during the checkout, checkout process length, and call to action. You can also improve your SEO with A/B testing.


Post only high-quality product images. People seek high-resolution images to determine whether or not to make a purchase.


Provide apt and honest product descriptions. This will help build your customers' trust. One of the most common e-commerce marketing mistakes is relying on manufacturers' descriptions. So, avoid it and post your own clear, professional description for each product in your catalog.


Integrate educational content into your site. People make purchases based on blog content.


Provide ways for customers to share their product reviews and ratings. This not only improves your credibility but also allows other customers to make informed buying decisions.
3. High levels of personalization
The biggest trend in e-commerce now is personalization. People expect a shopping experience that is highly relevant to them based on their personal preferences. Studies say that over 78% of customers ignore impersonalized offers. So, personalize your customer interactions based on their browsing behavior, past purchases, and preferences specified.
Employing Artificial Intelligence (AI) and machine learning (ML) can capture almost all user actions online, store those, and derive valuable insights from those. This lets businesses know customer behavior patterns, expectations, desires, and more.
This in turn creates endless possibilities (like upselling, cross-selling, etc.) for e-commerce businesses. Such smart personalization can bring in a 20 fold return, says a study by Liveclicker, a digital marketing solutions provider.
4. Mobile-friendliness
Today, many people use their smartphones to shop online. Online purchases made using smartphones in 2021 are $345 billion (Source: Statista).
People increasingly resort to using their mobile phones for making purchases as these are more convenient than desktops. So, the scope of e-commerce businesses is largely a mobile-first approach. Those that haven't made their e-stores mobile-friendly would be losing a lot of business opportunities.
A big part of making your e-store website mobile-friendly is ensuring its responsiveness, especially when you're looking to build an ecommerce website. Responsiveness let users to view and interact with elements without having to manipulate the view.
They need not resize, scroll, zoom, or pan their screen. Your site's elements will automatically adjust and rearrange as per the screen of the device on which it is viewed. Hence, your customers will enjoy a good UX at your e-commerce site.
Another aspect of mobile-friendliness is synchronization between your mobile and desktop site. That is, the actions that your customer has taken on your desktop site should reflect on the mobile site, and vice versa.
For instance, if she has added some items to her cart on the desktop, the info should update on the mobile. This way, there should be a seamless shopping experience across devices.
5. Image recognition turned product recognition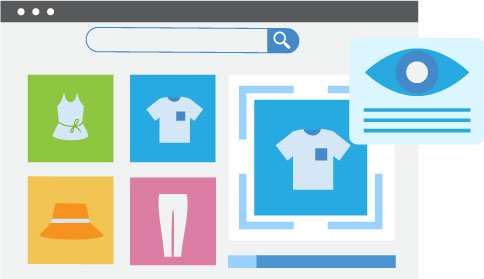 The recently introduced image recognition functionality in smartphones has been extended to e-commerce as well. Some of the well-performing e-commerce businesses are already tapping into its immense potential. It's used to recognize products and items in an image and pick them out from its vast catalogs.
People can now present the scanned image or photograph of the product they're looking for to an e-store. The image recognition functionality incorporated will immediately scan through all of its products to find matches. This is especially highly useful in the clothing sector.
So, this trend will soon become the mainstream as people are finding this useful technology an increasingly indispensable feature in their shopping.
Conclusion
In recent years, especially during and post the worldwide pandemic e-commerce businesses have proliferated. Statistics portray that there is a bright and promising future for these businesses. If you're someone owning or marketing an e-store, you need to know the scope of e-commerce. That is the current and future trends in this industry.

This will help you in identifying and selecting apt e-commerce options and implementing the anticipated trends before those become mainstream. This blog has discussed five of the current trends which will not retreat but only grow and intensify in the future.