eCommerce business is taking shape like never before in this world that's increasingly turning digital with every passing day. However, setting up an online store is not all; neither does it ensure revenue.
Add to this, other factors you've to consider- like making sure you come across as credible and trustworthy to your consumers for them to purchase your products or services.
Also, having a robust eCommerce marketing strategy is imperative to establishing your brand identity and awareness while also harnessing the power of boosted SEO results. A good strategy should also help you increase your customer base and create brand loyalty while also enjoying a higher conversion rate.
Unfortunately, many new businesses fail to understand the nuances of digital marketing. As a seller, you also might often end up making some eCommerce marketing mistakes which may seem insignificant in the beginning but may take a serious turn later and end up impacting your business. Here are the top 10 eCommerce marketing mistakes to avoid at all costs:
Top 10 eCommerce Marketing Mistakes to Avoid
1. Not knowing who your target audience is
This mistake is common among most kinds of businesses online, or otherwise. As a seller, apart from using a defined audience as a marker to design your products and services, you also need to understand that your consumers also influence the channels you use to market. Knowing the demographics of your audience and your direct competitors will help you gain insight into how you can make your business more appealing or unique. Spending the time and money to survey your audience while using various analytics tools to find in-depth information about the potential customers will define and direct your marketing strategy.
For example, if you're running a food delivery business for home-cooked meals, you cannot market to anyone and everyone. A homemaker will not be interested in such a service. However, your target audience will include young professionals who are living on their own and will find value in the service.
2. Improper product descriptions
Nothing is more frustrating to a customer than a product that does not have enough information on its page. A product description should contain all the relevant information presented in a simple and easy to understand language that appeals to their target audience. As a business owner, you might know all your products down to its base materials. But your potential customers do not have this knowledge. A good product description should be concise and appealing while having the relevant information a customer requires to make the decision of making the purchase. also, make sure you come across with credible and trustworthy products or services for your consumers.
For example, if you sell customized pots, you will need to include what material has been used and the dimensions. More importantly, the description should be used to create an aspirational pitch depending on the spending habits of the audience.
3. Not using social proof
Social proof can be the final push a customer needs in order to make a purchase. Knowing that peers or other industry experts use and recommend your product can prove to be a big boost for your sales. In a marketplace that is highly competitive, social proof can be a significant way to make your brand stand out. Whether you use influencers or peer reviews, you must make sure that the recommendation appears authentic and sincere. Audiences are savvier about picking out marketing gimmicks than ever before.
For example, a brand that sells cookware can make big inroads if their products are used or endorsed by a social media influencer.
4. Poor customer service
Another big mistake that is particularly observed in online retail stores is a poor customer service team. No matter how well you have thought out your product or its delivery, there will be a few people who are not happy. If you do not have a strong customer service team in place to take appropriate action, then you will face a backlash that will paint your brand in poor light.
Kylie Cosmetics is one of the largest online makeup brands in the world. However, with each passing launch of a new product, the clamor of disgruntled customers has been getting louder. While the actual issue with the products might not have been serious, a poor customer service team ensured that even potential customers were put off by the brand.
5. Poor user experience
You might know the ins and outs of your website or portal, but your customer does not. Having too many ads or pop-up menus will be a turn off for potential customers. Make sure that the interface is clean and free of any glitches. Many customers who are shopping online do not have the patience to come back to your site if they have had a negative experience there.
6. Poor experience in mobile devices
Online shopping is synonymous with a good mobile experience. Take the mobile out of shopping, and you'll find a significant drop in your user list.
Everything is mobile now
If you have an online store, then you have to be open to mobile devices. There are very few people now who wait to use a desktop in order to make a purchase online. Most potential customers find brands through social media advertisements through their mobile devices. From buying groceries to booking a doctor's appointment, these devices are becoming the default mode of consumption.
The website not optimized for mobile devices
While you do not need to create an app for your store, your site has to be optimized for mobile devices. No one likes a clunky site that is not easy to use. Make sure that your store is optimized for handheld devices in order to give your customers the best user experience.
7. Poor content marketing efforts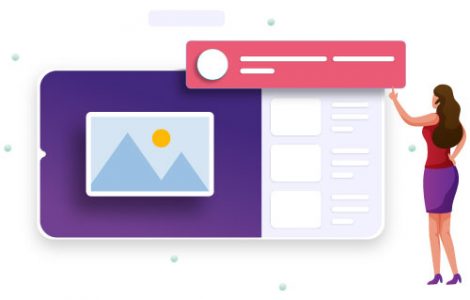 Just because you have your strategy mapped out, it doesn't mean that you can post just about anything. While you might not believe that there are rules for creating content, there is a huge difference between good and bad content.
Content is king – use it wisely
There are many basic eCommerce marketing mistakes you can make if you are trying digital marketing for the first time. Talking to the wrong audience or content that seems aggressively self-promoting is a big no-no. Do not stick to only one type of delivery and try to diversify across different mediums. For that, you should start creating create content at scale to get noticeable results across all platforms. You should also provide a call to action even if it is a simple click to read more about your services.

Video content
Video content might seem intimidating, but with just a few hours, you can create something that is engaging. You cannot overlook the power and reach of platforms like TikTok, particularly if your audience uses it regularly. The video content needs to be engaging and must give the overall ethos of your brand and its products.
8. Poor email marketing automation setup
One of the most powerful tools you have for digital marketing is email. It has one of the highest conversion rates if done correctly. Many first-time marketers struggle with automating their email marketing strategies and then swamped by the sheer amount of possibilities. The possibilities of this tool are many and can boost your sales especially for return customers.

Email marketing automation tools
Fortunately, there are many email marketing automation tools that you can employ to make your strategy a success. From email segmentation to shopping cart reminders, the tools create many opportunities to help convert visits into actual sales. You should definitely explore the various possibilities of email automation before using them.
Email marketing can be used to establish a personal connection with your customers. A simple discount code emailed to your customers on their birthday or anniversary can help forge brand loyalty in a way that other marketing ploys might fail at.
9. Poor social media management
A good eCommerce marketing strategy needs a good team in place that can handle the engagement. You will face customers contacting you on various platforms, and you might need to roll out different campaigns on separate platforms that need to be managed well. There are many eCommerce marketing mistakes newbies make when it comes to social media management. Here are some of the most common.
Not consistent
Your social media engagement needs to be consistent, whether it be the type of language you use or even the color scheme of your campaign. Consistency is key as audiences need to identify your brand as an entity on its own. Inconsistency will highlight that individuals are running the show behind the scenes, which removes the authenticity of your campaign.

Not knowing your target customers
This is where all the effort of the first step will pay off if you have done it well. Each social media platform has a different reach with its own possibilities. If you do not know your target audience, you might be tempted to send out the same messaging across all platforms. If your brand is catered to professionals above the age of 40, there is no point in using TikTok for your marketing. Not only are you going to waste your money, but you will also create the impression that your brand does not know what it is doing.
10. Not analyzing the results of your efforts
After creating a detailed multi-faceted campaign, do not throw away all your effort by overlooking the results. This is important if you are to see that your campaign is actually doing what it is supposed to do. Based on these results, you can decide to make any changes necessary for the health of your campaign. Some aspects might not be bringing the results you might want to see.
Setup analytics
The good news is that setting up analytics for your campaign is an easy enough task. You can get real-time results or periodical analysis, which will help you tweak your campaign. You might find that holidays that aren't traditionally celebrated in a big way are actually periods that see a high demand for your product. You can immediately create a small sale or engage the right SEO tools for your brand in order to drive up sales.
Conclusion
Working out an effective digital campaign for your eCommerce business is imperative for its growth. Like in traditional marketing campaigns, a digital campaign that is fraught with bad decisions will only harm your brand and business. If used properly, the tools of e-commerce marketing can give a brand a good boost with return customers and high conversion rates. At the other end of the spectrum are potential customers who are frustrated or simply unaware of your brand's existence.
Avoid these eCommerce marketing mistakes mentioned above to create a strategy that works for you and your customers. At the end of the day, a strong campaign based on common sense applications is your main tool to get your brand's message across. Do remember that any campaign you create has to be in line with the long-term goals of your brand. So, think big and stay away from the common pitfalls of digital marketing for eCommerce businesses.