Just imagine you've set up an extremely structured and beneficial online store but then too you're lacking sales. What can be the reason? And how can you drive more sales?
eCommerce Marketing is the answer!
Insufficient knowledge about advertising and eCommerce marketing strategy can be the reason behind not driving enough sales.
Building an online store is not always enough for driving more sales. Rather, a bunch of factors including enabling eCommerce advanced features, using eCommerce marketing channels, eCommerce campaigns, and marketing tools affect sales in eCommerce.
But, having a hold over all these things isn't as difficult as it sounds. We're here to your rescue! Here's a complete guide that'll help you to drive more sales in 2023. Read on!
What is eCommerce marketing?
eCommerce (i.e. Electronic Commerce) marketing is the practice of promoting your online store via various advertising and marketing strategies to generate sales.
eCommerce marketing is not only a tactic for buying and selling products online. Rather, online advertisements, collaboration with brands, staying active on social media platforms, etc are all parts of effective strategies made under eCommerce marketing.
In a nutshell, eCommerce marketing is a sum of below three prospects:
Spreading awareness about your online store and driving traffic to the store
Converting visitors into leads and paying customers
Retaining old clients for future purchases
Why is marketing necessary for an eCommerce business?
There's a famous quote from Henry Ford, "Stopping advertising to save money is like stopping your watch to save time". A study suggests that 90% of people get influenced to make purchases after seeing an advertisement. Marketing is the spine that supports the body of your entire business.
You might have a great business idea for which you might launch an equally great product in the market, but all of your efforts will nullify to zero if no one knows about it. That's where a planned marketing strategy comes into action.
Here are some of the factors that prove the importance of marketing for an eCommerce business:
1. Provides brand recognition
Brand recognition or awareness is the crucial foundation for acquiring customers. Today, creating brand recognition is entirely dependent on the eCommerce marketing strategy used by a business. Moreover, it can help you establish a brand image that further helps in customer retention.
2. Search engine friendly
Using marketing strategies including search engine marketing helps in making your business search engine friendly. Using an eCommerce content strategy ultimately leads to more traffic and higher sales. Search engine marketing and organic traffic generate more leads than any other marketing strategy, says 61% of B2B marketers.
3. Secured payment process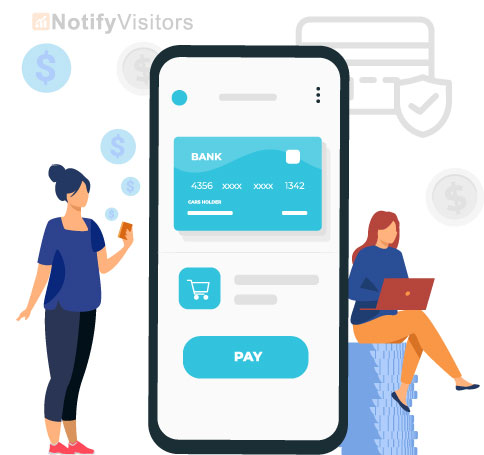 For the all-around development of an eCommerce store, a secure payment process is a must. One can find a bulk of marketing strategies in the market that are helpful in securing payment processes between businesses and clients.
4. High customer engagement
When combined with marketing on various platforms, eCommerce businesses can captivate users to increase customer engagement.
5. Low operational cost
Using apt low-cost marketing strategies can reduce your operational cost by many folds. And lowering operational costs and increasing revenue, in the end, will help your business grow faster.
Stages involved in eCommerce marketing
There are some stages involved in the journey of transforming your leads into customers and finally into satisfied regular shoppers. All the stages are well explained below:
1. Awareness stage
This is the stage when buyers interact and engage with your store. At this stage, your job is to introduce them to your brand, your policies, and your products. Building customer trust should be the ultimate goal while you traverse this stage of eCommerce marketing.
2. Interest stage
At this stage, you have successfully converted your customers to shoppers. As an eCommerce merchant, now you need to use an eCommerce marketing strategy including freebies, referrals, and newsletters to further engage your customers.
3. Purchase stage
You would have heard of increased cart abandonment rates for eCommerce merchants. To avoid these conditions, it's important for you to provide a frictionless advancement at the purchase stage. This is the stage when your customer is ready to make a purchase but a small inconvenience can break the deal.
4. Repeat stage
Customers who have once been shoppers are your targets at this stage of eCommerce marketing. These customers are the best targets that can bring repeat purchases. You can offer them additional purchases and incentives to accomplish this stage. Statistics say, there are 25-30% of repeat customers in most eCommerce businesses
Types of eCommerce marketing channels
You have a beautifully organized eCommerce store but how would you build a customer base? The answer to it is by using apt eCommerce marketing channels that will bring quality visitors to your site. Here are some of the channels that will help you grow.
1. eCommerce chatbots
80% of customers admit proceeding with a brand that offers a personalized customer experience. The better you interact with your customers, the more personalized experience they receive.
In synchronization to the statistics, eCommerce chatbots have gained much popularity in the world of eCommerce. These chatbots are fine ways of engaging with a wider range of customers without more human effort. You can use chatbots on your site as well as on social media platforms like WhatsApp and Facebook.
2. Influencer marketing
Influencer marketing is a form of social media marketing that uses influencers for brand endorsements and promotions. One popular platform for influencer collaborations is Instagram, where fashion influencers have gained significant popularity.
Statistics say, 49% of people trust influencer recommendations for product purchases. Businesses should look forward to influencers with matching target consumers. Luckily, it became much easier to find the perfect match for your campaign by browsing an influencer or micro-influencer network.
3. Text marketing
Text or SMS marketing has been one of the most used eCommerce marketing channels over time. Also, it is one of the most engaging marketing channels. This is because 45% of customers reply to the text messages of the brands they follow.
Include these SMS strategies in your business:
Send promotionally and discount code messages via SMS
Notify people about their product shipping and delivery
Message them about new offers and sales on your site
4. Push notification
Push notifications are yet another commonly used eCommerce marketing channel. You can use push notifications to send notifications and messages just like one does by using text messages.
But it's recommended to use either text marketing or both text and push notifications as a part of your eCommerce marketing strategy. You can use push notification software and tools for better performance.
11 most effective eCommerce marketing strategies to drive more sales
For generating more revenue, it's important for any eCommerce business to make use of a set of eCommerce marketing strategies. Utilizing these strategies will help your business reach an overall growth in sales, customer retention, and customer satisfaction.
1. Upsell your products
Many customers won't know whether a premium product is available in the store which makes it important for you to always ask for an upgrade. Upselling is a strategy used by most eCommerce merchants for selling a slightly more valued or premium product than the one customer was looking for.
This is a two-way benefit for the customer (if they get the desired product) as well as for the business as you can then earn a few extra pence. While upselling, you must be sensitive about the budget and product choice of your customer. You should avoid recommending an unrelated product or an upgrade that's too high in the budget.
2. Reduce abandonment cart
Statistics show that 60.7% of customers abandon their cart before placing an order. Clearly, cart abandonment rates are fairly high in the eCommerce market.
You can use strategies like email recovery campaigns, remainders on cart content, discounts on the final bill, smooth checkout forms, etc to reduce cart abandonment in your eCommerce store. These are some of the ways in which you can save your money.
3. Accept digital currency on your online store
It's a fact that the world of digital currency is increasing at an exponential rate. Amid this, evolving your payment methods should come under priority.
Accepting digital currency on your site can make the transaction process smoother and faster. It will be good if you can enable payments via third-party services and personal wallets.
4. Manage your affiliate marketing campaigns
Today, affiliate marketing is an industry worth 12 billion dollars. Also, a majority of advertisers today use affiliate marketing programs. You can make use of affiliate marketing software for effective management and tracking of your eCommerce campaigns.
Keep the below factors in mind while choosing the best affiliate marketing software:
Choose software with excellent reporting features
Take an overview of the software interface before finalizing one
Compare the features and pricing
Look forward to SaaS integrations
Also, check for an anti-fraud toolset
5. Automate your marketing campaign
Automation is ruling the market these days. Automating your eCommerce campaign especially, your email marketing campaign is one of the best ways for increasing engagement.
Automation sends emails and newsletters automatically as per the commands that are set beforehand. Automating email marketing campaigns also have great ROI (Return of Investment) so you don't need to worry much about profit and loss statements.
6. Engage visitors with live chat
Livestreaming is one of the finest ways to connect and engage with the existing audience as well as for attracting new ones. Staying active on social media platforms and using them for live streaming is one of the in-budget campaigns you can ever find with almost zero investment.
7. Engage the audience on various channels
The world today demands your omnichannel presence. Moreover, research says, companies using social media strategy for eCommerce including omnichannel presence mark an average of 89% customer retention.
Your seamless presence on social media platforms, websites, emails, or mobile apps is a must if you are targeting long-term goals. Omnichannel presence can also help you in taking customer data which will finally help you in building something that's loved by your customers.
Disney is a perfect example of understanding omnichannel presence. It can be clearly seen how Disney uses mobile apps, websites, and Magicbands to build engagement with its audience.
8. Reach out to local marketplaces
Since the pandemic and post-pandemic times, people have become more comfortable with shopping for goods online. Therefore, listing products on marketplaces has now become a necessity.
When considering marketplaces, thinking about global marketplaces like Amazon, eBay, and Etsy is no surprise. But, while growing a strong empire, it's important to expand oneself into local marketplaces. This will help you to expand your customer base by mitigating the competition.
9. Send wishlist reminder emails
People add multiple products to their wishlist while surfing an eCommerce store. But, they often forget to revisit the wishlist. That's where you need to fill the gap. Sending wishlist reminder emails is a trending eCommerce strategy that you should not miss using.
You can take an example of ModCloth which alerts shoppers every time when their products are nearly out of stock.
10. Optimize your store for mobile
57% of shoppers prefer mobile apps for shopping in comparison to any other channel. So, optimizing your store for mobile is a crucial eCommerce marketing strategy.
Using mobile apps is not a necessity, rather using a site that's mobile-friendly also works the same. Ensure easy navigation and add to cart buttons on your site for better results.
11. Evaluate your sales data with A/B testing
A/B testing or split testing is a technique for comparing two versions against each other to determine which is better. One can use this test for evaluating their sales so that they can get a better understanding of what is feasible and what's not.
Conclusion
Today, the eCommerce market has grown to a trillion-dollar industry. Clearly, the scope for you to become the next eCommerce giant is nowhere low. Succeeding in the eCommerce industry might become your cup of tea if you utilize every next opportunity knocking on your door.
If you are well aware of what your brand can bring into the market, keeping in mind and implementing all the above guidelines can work wonders for driving more sales. Take the first step ahead by finding the best eCommerce marketing strategy that suits your business today!
Author's bio:
Vineet Gupta is a SaaS marketing professional who helps businesses in improving their online presence and lead generation.