Ecommerce businesses today seek to deliver great customer experiences (CX) to retain their customers and drive repeat purchases. A post purchase survey can help e-stores discover their customers' needs, wants, feelings, thoughts, and overall experience with their brand. They can then feed this info into their marketing loop to help reduce friction, and thus, enhance their CX.
This blog tells you the importance of implementing post-purchase surveys and discusses the 9 steps involved in setting up your ecommerce post-purchase survey in 2023.
Why is Implementing Post-Purchase Surveys Important?
Ecommerce businesses and their marketers take efforts to attract customers from across different marketing channels. Their tedious marketing via emails, YouTube, Facebook, etc., drives purchases. However, post the purchase, they aren't quite sure about their customers' purchasing experience.
Getting to know how their purchase experience was can help you know your eCommerce marketing mistakes, eliminate friction points and ensure a great experience. This in turn will help in promoting repeat purchases, and over time, in brand loyalty. For, when shoppers get familiar with your brand and its buying process, they're encouraged to purchase from you again as compared to a new customer.
All these ensure that you make higher revenue and soon expand the horizons of your ecommerce business. So, setting up a post purchase survey is important for any ecommerce platform.
9 Steps for Setting Up your Ecommerce Post Purchase Survey in 2023
With a tool like NotifyVisitors online survey forms, creating a post-purchase survey is a breeze. It also facilitates the easy distribution, management, and analysis of your survey. Here are the 9 simple steps to do it.
1. Add a new survey and choose a survey template
Open the tool, get to its dashboard, and begin by adding a new survey on it. Now, go to the "Gallery". You'll find numerous ready-made, industry-specific as well as general survey templates to choose from. Select from the post-purchase survey templates of your choice. 
2. Customize your post-purchase survey
Now edit the post-purchase survey template as per your requirements. The tool allows you to customize every component of your survey, including the survey name, color, theme, and web survey questions.
3. Survey Setting
Create a multi-step survey. This helps extract all the info that you'd like to get from your customer. For, when you present all of your survey questions to the customer at one go, he/she may get overwhelmed and quit responding. But when you reveal your questions one after the other in an attractive manner, they're more likely to answer. This therefore would increase your survey response rates.
4. Add survey questions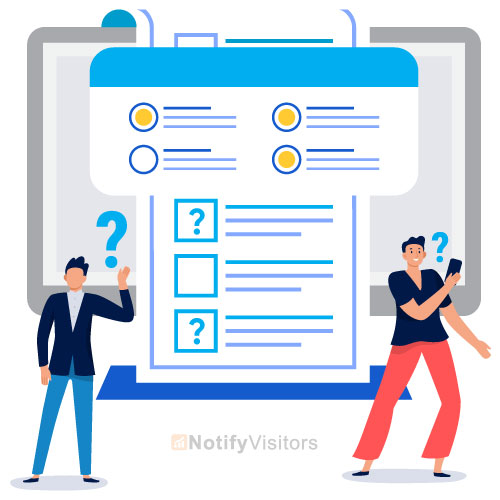 In each step of the survey add a question that you want to ask your survey participants (In the next section you'll find some of the questions you can ask to post an e-commerce purchase). Ensure that you ask relevant questions to each user. You can do this by employing the advanced skip logic that the online survey builder tool offers. The tool will show/hide questions based on the previous responses submitted by the respondent.
5. Set up targeting rules
Since this is a post-purchase survey, you'd want it to be automatically shown to those users who have completed a purchase from you. So, set the targeting rule accordingly. Your survey should be presented to the customer as soon as he or she completes buying something from you.
6. Set up your Exit Screen
In the exit screen, you can add a "Thank you!" message to show gratitude to the participants for the time and efforts they have taken to be a part of the survey. You can customize the exit screen to match your brand. With this, the steps required for launching your post-purchase survey end.
7. Analyze the survey responses
Now that you have launched your e-commerce post-purchase survey, the tool will give you in-depth analytical reporting on the performance of your survey. By going through these, you'll be able to understand what your customers prefer and what they do not, how you can improve CX, and more.
8. Modifications
If after launching a survey, you want any modification to be made in it, the tool will allow you to do it. You can simply make the change in the tool's dashboard, and it will reflect in real-time on your post purchase survey. It's this simple and easy!
9. A/B testing
You should perform AB testing when you aren't sure which web survey variant of yours compels buyers to respond. For instance, it may be one asking the buyer to spare a couple of minutes to submit a survey response or one asking them to help you serve them better. This tool allows you to A/B test two variants to identify the best performing variant.
Ecommerce Post Purchase Survey Questions to ask your Buyers
How did you hear about us?
Are you happy with our range of products?
Are our products as per your expectations?
Tell us one thing that you loved the most about the experience/ What did you particularly like about buying from us today?
How easy was it to find the info you were looking for while shopping with us?
Did you find any errors while shopping at our site? If yes, what was it?
How easy was our site's navigation?
How easy was the checkout experience?
Did you experience any frictions during the checkout?
What are the other products that you want to buy from our store?
What inspired you to purchase from us?
Was finalizing the purchase easy?
Would you like to purchase from us again?
Please rate your overall experience with us.
Please suggest a way for us to improve your purchase experience.
Compared to our competitors, how was your purchasing experience with us?
On a 0-10 scale, how likely are you to recommend our store to your circle?
Best Practices to Follow While Creating an Ecommerce Post Purchase Survey
1. Keep it short and sweet
Your customers don't have a lot of time at hand to spend at your store. So, let your survey be short and attractive. Ensure that most of the questions you ask are multiple-choice. This way, they won't have to do a lot of typing. And ask no more than 7 questions. This way, respondents wouldn't quit the survey the middle way.
2. Ask open-ended questions
Though multiple-choice questions allow customers to respond quickly, also ask open-ended questions. For, this helps gain insightful feedback. You may even get unexpected, but useful responses that give you a better idea of how people perceive your brand and how you can improve it.
3. Use a friendly tone
Ask the questions in your survey in a conversational manner. Ensure that they are easy to read and understand.
4. Keep your survey consistent with your brand
Your post-purchase survey is a part of your e-store experience. While customizing your survey, keep the visuals, tone of messaging, colors, and logos consistent with that of your brand.
5. Stress on how much you value customer feedback
While asking your customers to take up your post purchase survey, emphasize how much you value their feedback. Explain to them that you'll use it for improvising their experience. This will increase the response rates.
6. Personalize your post-purchase survey to different audiences
Repeat customers will get bored or even irritated when they're presented with identical post-purchase surveys every time they purchase from you. So, personalize the survey to be in accordance with the category of product they've currently bought.
Conclusion
As an e-commerce business, you'd like to ensure a great purchasing experience each time someone buys from you. Getting to know about your customers' purchase experience with you can help eliminate friction points, reduce churn, drive repeat purchases, and ensure a great experience. This in turn can help in boosting repeat purchases and brand affinity.
This blog has discussed how you can set up an e-commerce post-purchase survey, how to make modifications to a live survey, how to find the best survey variant, what questions to ask in a post-purchase survey, and what are best practices to follow to make your customers participate in it.