Marketing automation has been an important component that can save your company time and money.
Automation enables you to automate repetitive and simple processes and allows your team to invest time in more critical tasks. What strategy are you following for maximizing your efforts with marketing automation?
If you desire to make the most out of automating your marketing campaigns, you need to stay on top of marketing automation trends.
Today, Fresh thinking about marketing is essentially needed that centers B2B digital marketing strategy on long-term results along with three aspects:
Platform: Creating sustainable business platforms to promote interactive and collaborative marketing strategies.
Presence: Building deep customer relationships by omnichannel marketing to actively perform and engage with customers as a persistently significant presence in their lives.
Productivity: Employing processes and technologies to address the speed at which we can adjust to changing circumstances and give value to our customers and partners.
But now you must be wondering how marketing automation technology is integrated with each of these facets:
Platform directed brands and the omnichannel experience to rely on content to generate conversation. Marketing automation tools lets creating and administering relevant content possible at scale.
The customized, always-on experience people have come to expect runs on automation. Data-driven abilities and analytics are needed to deliver relevant content in real-time.
The technological effectiveness of marketing automation and AI are essential for delivering scalability. If you rely on manual processes, you cannot scale your operations.
And all marketing automation software is now an entry condition. If you desire to compete in today's dynamic marketing environment, you need to go for automation.
Top 8 Marketing Automation Trends in 2023
1. Machine learning and artificial intelligence
Machine learning (MI) and artificial intelligence (AI) are two crucial aspects of marketing automation. If you want to be ahead or at the top of your game, you have to invest in machine learning to build better marketing campaigns.
With the help of machine learning and AI, you can gather information about your audience that helps you develop better campaigns for them in the future. Machine learning allows you to get users' data and their online behaviours, and automation enables you to sort that data.
You can apply this information to improve future campaigns that captivate and fascinate your audience.
It empowers you to generate personalized content that engages your audience.
Suppose you desire to have success with marketing automation. In that case, you have to use machine learning and AI along with your automation software to increase the effectiveness of your campaign.
2. Leveraging the power of Chatbots
If you haven't started employing chatbots, you're blowing out on one of the top marketing trends for 2022. Chatbots are crucial for enhancing customer service and engagement. With chatbots, you can hold interactions with your customers and solve their questions without lifting a finger.
Chatbots are an indispensable part of marketing automation because they further save your business time. For example, instead of getting time to explain every question you get on your website or social media profiles, you can utilize bots to answer simple questions.
Take time to think of inquiries that you get many times a day. Now, think about having someone who can manage these questions for you, saving up your time to answer more intricate and complex problems. With chatbots, you make that situation a reality.
In 2022, chatbots are working as an integral part and helping your business boost engagement. As a result, you can help your customers thoroughly and develop better relationships with them.
3. Personalized content
One of the primary marketing automation trends is to customize the content. For example, it's not adequate to add someone's name to an email to give your users a personalized experience. Users desire more, and the future of marketing automation demands focus on personalized content.
Personalized content empowers you to focus on your audience's particular behaviours and product preferences. With machine learning and AI, you can learn about your audience and gather helpful information. With that information, you can generate automated customer profiles.
These profiles include information you collect from social listening, on-site behaviours, and more. Next, you can organize that information to identify your audience's preferences and purchasing habits. Then, you can present personalized content that matches user interests.
This marketing automation trend enables you to deliver content based on users' interests. Then, you'll present content to them at the right time to further nudge them towards conversion.
If you desire to stay on top of the future of marketing automation, you have to create personalized content that resonates with your audiences' concerns.
4. Conversational marketing
Conversational marketing is an indispensable marketing automation trend for 2022.
With automation, it becomes easy to communicate with your connections without sounding robotic and less human-like. If you desire to succeed with marketing automation, consider a conversational strategy with your content.
Make sure you pay close attention to how your brand interacts with customers. For instance, do your automated messages seem cold and stiff or warm and inviting? You don't desire your messages to come off as cold or emotionless, as it can drive leads away. On the other hand, people need to feel like they're communicating with humans, even when they're not.
With the help of conversational marketing, you can let your messages sound more authentic. Natural language processing (NLP) will assist you in creating more conversational responses in automation. NLP concentrates on technology that knows the way humans speak to deliver the best content or experience further.
You can enhance automation by using NLP to deliver more conversational communications to your audience.
5. Automated social media marketing
Automated social media marketing is one of the most reliable marketing automation trends for businesses that are looking to capitalize on social media's benefits.
Social media usage continues to increase every year. Last year, there were 3.4 billion people on social media, a 9% rise from the previous year. This number will only grow as more people get access to social media networks.
With more people connecting to social media, these platforms become a focal place for you to employ leads and become more intimate with your brand. If you desire to keep your company top of mind, you have to post content frequently.
With the help of automated social media marketing, you can get an edge over your competitors by posting content.
Automated social media marketing lets you plan posts weeks in advance and schedule them to publish at a particular date and time. Tools like Hootsuite and Buffer make it simple for you to schedule content for a month and see the complete range of your campaign.
If you automate your social media marketing process, you can save your company time and direct your energy on other significant projects.
If you want to start following top marketing automation trends, get started by automating your social media marketing campaign.
6. Mobile marketing automation
One of the most worthwhile marketing automation trends is mobile marketing automation. If you are not leveraging mobile marketing automation, you're dropping a precious opportunity to engage leads where they spend their time.
Do you know that around 70% of Internet time gets spent on mobile? Or that over 50% of Internet traffic comes from mobile?
As mobile usage remains high, you have to plan your reach and engage these mobile users.
Mobile marketing automation lets you gather information about your mobile users.
You can get information like:
Location
Browsing habits
Type of device
And more
After collecting information about your mobile audience, you can begin sending automated content to them.
Some automation options involve:
These options enable you to engage your audience on their mobile devices and keep your brand top of mind.
If you want to leverage marketing automation, build a strategy that supports you to reach mobile users.
7. User Retention is critical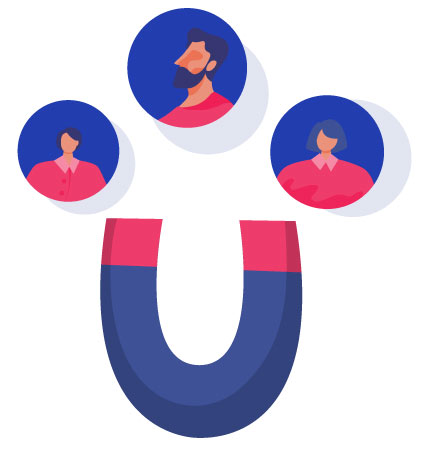 Perhaps 2022 will be the year we will all see a more profound and enhanced emphasis on retention than acquisition. The reason being, in 2022, customer experience will unfold to become a cross-function of marketing and direct future campaigns based on user engagement and response.
Brands will struggle hard to know the journey of anonymous users who haven't transacted on their site. However, tracking their journey from becoming an unknown to a known user will give real value in terms of growth. According to Bain & Company's report, a 5% rise in customer retention can surely influence profitability by over 75%.
Today, acquiring customers persists 5X more expensive than retaining existing ones, and the CLV of old customers is a lot higher than newly acquired customers.
According to Forrester, Brands that offer a better customer experience will have five times higher revenue growth than other brands. It will be the next big battleground as brands struggle to woo their users with a highly personalized experience to ensure their commitment and strengthen their loyalty count.
Happy users will serve as brand evangelists to their immediate circle of friends and family. Today, customers trust that reviews and recommendations from their friends are a lot more than advertisements. Therefore, it will be reason satisfactory for brands to keep their customers satisfied and retain them.
Therefore, Brands need to work fast and adjust their interests towards the 'Experience Economy'. A personalized customer encounter will be a significant differentiator in the market. It will be difficult for brands to continually innovate, execute and deliver maximum value to their users at scale.
8. Integrated Cross-Channel Marketing will dominate
Going ahead in 2022, Marketers will be more inclined to work with a multi-channel marketing strategy than working in individual silos.
According to research, using two or more communication channels improves engagement levels by over 166% compared to single-channel outreach models. As a result, marketers will be interested to exploit this factor to keep their customers involved at multiple touchpoints.
Over 53% of UK consumers consume their online browsing time on multiple devices. It has increased the phenomenon of Webrooming, where the user carries considerable research online before carrying out the purchase. Marketers will utilize this multi-screen approach to ensure engagement across all touchpoints where the user is active.
It will be exciting to see how marketers interpret data and determine the best possible mediums for their marketing campaigns.
A multi-channel campaign will have various user engagement layers and actions, which will require data intelligence to recognize key insights that positively influence conversion and engagement.
These factors will have to be seamlessly tailored to these multi-channel campaigns to ensure that the brand message continues fresh and attaches value to the end-user.
Marketing Automation Trends Infographic
Share this Infographic on your website
Summing it up
Your user no longer likes to wait and will jump to a better-suited contender without a second thought. Therefore, Marketing Automation trends will work a key part in business as brands will create a more engaging, targeted, and personalized experience for their users in 2022.
Further Read: