Social media marketing is one of the most prolific and crucial strategies to enhance your brand's online presence. The social media platforms have not gotten outworn, and their freshness is still alive with all the new features and functionalities. So, what's new this year? How are you forming your social media marketing strategy this year?
Every year social media undergoes certain evolutions, and with each shift, you need to evaluate the trends to instill the evolutions in your strategies.
For example – Instagram stories became a considerable trendsetter, and almost all other social media platforms began with the equivalent features. Marketers gained a lot of conversions by promoting their brands using the feature.
Read this blog to know the current ongoing trends for social media marketing strategies.
WHAT IS THE GOAL OF SOCIAL MEDIA MARKETING?
To uplevel your social media marketing game, you need to have a proper strategy. But before creating a strategy, define the goals you want to achieve out of it. Do you want to promote your brand or attain more conversions through social media platforms?
To create a great social media marketing strategy, you need to ask yourself specific questions :
Who is your target audience or whom you want to reach out to?
What will you be sharing with the audience?
What are the platforms you will use to share the stuff?
When will you share?
Before all the questions, ask why you want to be on social media.
Here are some of the great insights into the above questions :
1. Who is your target audience?
Understanding your target audience is the first step to reaching and engaging them on a social media platform. It will help you with what you can share, where you can transfer and how you can share the related content.
Segmentation is a great way to know the target audience. Create marketing personas based on their age, location, and other demographic factors. Then, learn the below things that are relevant in understanding how and when to engage with them.
What is your audience interested in? For example – the type of content you can provide them to engage them, such as the case studies, educational content, or information.
Which is the best platform to engage them? Such as Facebook, Instagram, or Twitter.
What is the best time to engage them with the relevant content? (weekends or their commuting time).
What are the reasons they look up to your content? ( to attain better health or to get a great job)
2. What content you will be sharing?
Once you know your target audience as per your market, understand the challenges they face or goals they want to achieve. Create the content accordingly by putting out the solutions that can resolve their queries.
For example – if you are into the travel and hospitality industry, post the essentials people shall carry on their tours and holidays. Also, you can share blog posts on your social media profiles regarding the best places they can visit with the best deals and offers.
3. Where you will be sharing the content?
Your understanding of your target audience will be beneficial to come out with the right solution. On the one hand, Instagram is quite popular amongst teens.
Also, you can use your photography skills by posting catchy images. If you are posting videos, then youtube is the best medium. All in all, social media platforms evolve continuously to use them as per your requirements.
4. When you are sharing the content?
The answer to this question depends upon your business or brand. Suppose you are in the travel industry, you can share your content during the weekends. It is the right time when people want to retreat from their daily routines and want to have a great time in a great place.
5. Why do you want to be on social media?
The first and most important question to ask yourself is: why do you need a social media marketing strategy?
Promote your brand.
Generate more leads.
Drive more traffic to your website.
Boost sales.
Enhance brand engagement.
know the popularity of your brand.
WHAT ARE THE TOP TEN TRENDS FOR SOCIAL MEDIA MARKETING STRATEGY?
Now that you are aware of the social media marketing strategy basics let us look at the top trends to build a sound strategy.
1. SMO enhances the visibility of your brand :
If we talk about the too-notch trends in social media marketing in 2022 is the usage of the relevant keywords and reels. In the context of Instagram marketing, it is slowly becoming more search-friendly. You might be using hashtags in your posts, but are they having the relevant keywords?
Use the relevant keywords to enhance the search for your posts. Avoid irrelevant content and post which aligns with your brand. Another popular feature of Instagram,i.e. Making the rounds, is Reels. It is a form of video content to fetch people's attention in a minimum of 15-20 seconds.
"Reels will stay on the topmost pedestal in 2022". Note down the popular sounds and create content accordingly on the Instagram reel.
Create a shorter reel so that people could easily view them in preview mode. Add text to the video to incite more value to the brand.
2. Short-form videos lead the way :
Instagram is revolutionizing with a lot of new features, including reels (short form videos). Also, the time for the post's visibility is up to 24 hrs, which is somehow delimiting the use of Instagram stories and leading to the enhanced usage of reels.
The feature is quite engaging as you can add text to the video and add music to you. It is similar to telling your story that too in an entertaining way.
Use the green screen effect in which you can add screenshots, images, and videos to the reels. It is a great feature for small businesses as they share the before and after transformation of their businesses. In Addition, There are lots of Instagram video maker that makes it easy to add transition, external music & text , stickers, trim video and lot more.
Note: There are endless features in the reels, and you can use them to get more leads and conversions.
3. The trends of contactless shopping :
Due to the current pandemic situation, the trends of contactless shopping have prompted marketers to come up with the best strategies for consumers' safety.
The upfront strategies, such as free zoom calls or live streams, are already becoming famous for brand awareness. Also, platforms such as Instagram and Facebook are integrating in-app purchasing to reduce the gap between scrolling and shopping. It will instantly turn a lead into a customer.
4. Add human touch to your brand :
Virtual reality is becoming more popular on social media. In today's world of contactless shopping and social distancing.
Marketers are interacting with the customers through virtual reality. Social media platforms are the best way to bridge the gap amongst people all over the world.
Being vulnerable and authentic with your brands is the new day's reality. In such a situation, you need to humanize your brand so that people can talk to your brand. Create more and more videos. Add Personalization and personification to it.
5. Run Facebook campaigns as per customer lifecycle :
Running campaigns on Facebook and Instagram will continue to be the trend in 2022, although it would incur many costs. If you want to make your campaigns successful, you need to access the customer lifecycle and average customer value.
Consequently, you can earn significant profits. You can incorporate CRM software to pull out the past interactions and purchase history of the customers. You can build a successful social media marketing strategy through the identification of qualifying leads.
6. Get more creative with the Facebook ads :
2022 will be the year of more creativity. You can achieve success for your Facebook ads with more experimentation :
Create GIF videos and get more views.
Create UGC content to promote your product which means you can use testimonials and instill them in your ads.
Collages are easy to create. Also, they quickly grab the attention of the customers.
Consider using Facebook storyboards to plan out your ad content and ensure a cohesive message across all your ads.
Remember that these are tried and tested ideas that are sure shot generators for ROI.
7. The personality of your brand is the key to success :
More and more marketers are creating their youtube channels. But what works is the way you dive into the concepts and how you speak to your audience. Youtube shorts are again a great way to propagate your brand to the audience.
8. The rise of Linked In culture :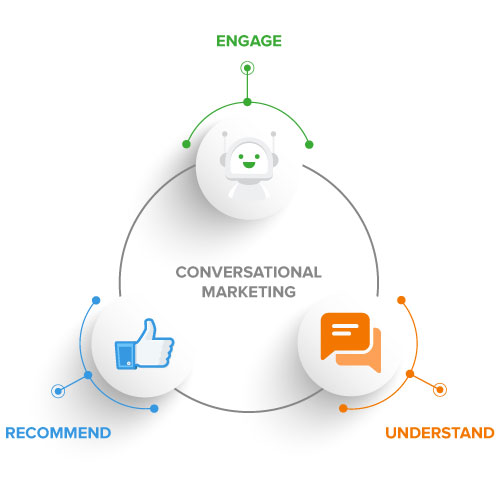 In the past year, linked in has come up with the linked In living, events, polls, and stories. These features will be in trend in the upcoming years. The working culture is also changing with the rise in remote working. Professionals are engaging more in conversational marketing.
You can create polls and ask open-ended questions and share "how you work" via photos in your stories.
9. Shift in building connections with the audience :
As the goals are changing within the marketing front, so do the customer relationships are changing.
Marketers will now focus more on building long-lasting relationships with the customers instead of merely connecting them to pitch a sale. Make your customers feel valued, and the key to it is creating long-lasting connections through Linked In.
10. Great customer services through social media :
With the emergence of AI and machine learning, brands are using Chatbots. Facebook and WhatsApp are famous platforms known for providing the best customer services to customers. A Facebook messenger came out with the bots for the first time, and then the rest of the social media followed it.
CONCLUSION
Introspect the above social media marketing trends to create a compelling and successful strategy. Are you missing something? It's time to evaluate and access deeply as social media platforms are a key to your success.