Businesses today carry out online market research to measure the effectiveness of their marketing decisions, monitoring customers' reactions to their products, and developing a loop for open communication with their customers. They use market research tools for this purpose.
Research tools are easy-to-use and come in various forms such as keyword research tools, customer feedback forms, online surveys, backlink checkers, and more. These are easily available over the net, and help you in collecting information regarding your customers, your market, and your future business prospects.
The info thus collected assists you in making informed business decisions such as which product should be launched, which one should be removed, whether or not to invest in particular marketing activity, etc.
Different Types of Market Research Tools
You will find the following categories of research tools available over the net for conducting market research.
1. Keyword Research Tools
Keywords are search phrases that people type on search engines to find the content of their interests. Keyword search tools generate a list of keywords that users specify while searching for the services or products in your niche.

Besides providing you with all the keywords, these tools also let you know the number of your competitors and the related product niches that would never have crossed your mind. So, these are of great utility to businesses, marketers, and bloggers.
2. Customer Feedback Forms
Customer feedback helps you to know how happy your customers are with your services/products, and the general experience they have with your firm.
These are valuable resources that help in altering your services or products to suit their needs, and in enhancing customer experience.
Customer feedback forms are internet monitoring tools that help receive prompt feedback on how clients perceive your brand.
3. Online Surveys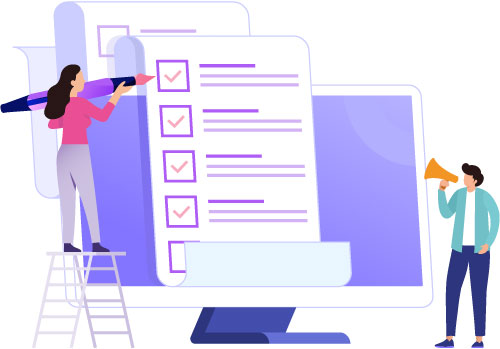 Online surveys are market research tools that help measure public opinion. These are low-cost alternatives to phone or in-person surveys and are not as specific as those.
Conducting online surveys gives you a general idea of the degree of the appeal of a product or concept to the consumers. These often consist of multiple-choice questions, short answers, and/or true or false.
You can distribute your online survey form through various digital channels, and get your consumers to respond by offering incentives such as freebies, coupons, discounts, etc.
4. Backlink Checkers
Also known as an incoming link, a backlink to your website is a link at another website linking back to your website. These are major metrics for your web ranking.
When a webpage has many backlinks, its search engine ranking gets higher. Backlink checkers are research tools that give you access to the backlink profile of any website you want to check.
This valuable tool lets you find those web pages linking back to you, and your best performing content with regards to backlinks. It also lets you obtain the backlink profile of your competitors, which can be your potential link opportunities as well.
5. Blogs and Social Networks
Customers often share their genuine feelings about products, services, brands, and concepts through blogs and social networks. Your business could benefit from this information.
While your website blogs and social media sites themselves are great tools to find potential customers, there are also tools to alert you when your brand is being mentioned in an online discussion. These let you know what your customers are talking about your brand and when they are doing it.
12 Market Research Tools that Your Business Could Benefit From
1. Google Keyword Tool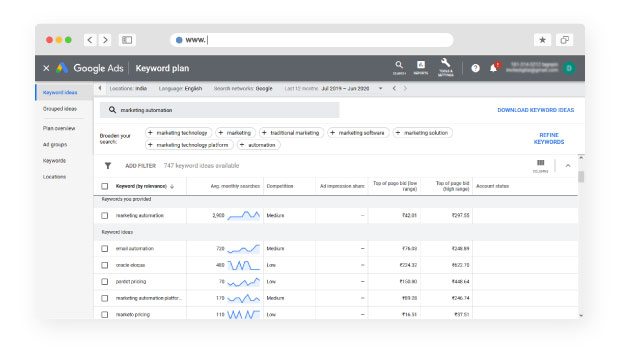 If you are looking to optimize your website for the search engines with the help of keywords search, the Google Keyword tool would be your best choice.
It lets you know all the keywords that relate to your niche. It also informs you of the competitiveness of each of those keywords, and the relation of those to one another.
Additionally, it gives an insight into the mental connection that consumers have between events, concepts, products, and services. To use this free tool, you need to create an AdWords account, which is also free.
2. NotifyVisitors Leadform
NotifyVisitors Leadform is an excellent form-builder market research tool for collecting feedback. It is an easy-to-use tool and mobile-optimized, and lets you add multiple choice image options.
It lets you create people-friendly forms and surveys by turning your list of questions into a friendly conversation. This in turn enables you to get genuine data.
While you can use the basic version of this tool for free, you would need to pay $35 per month for its Essentials and Professional versions, and $70 per month for its premium versions. The charges for the latter versions are owed to the interactive, powerful, and advanced features of those.
3. NotifyVisitors Survey Tool
If you are looking to understand your market and your consumer preferences, NotifyVisitors is a powerful research tool. It offers pre-written templates to help you create in-depth surveys in no time. Written by experts, these templates are professional and designed to match your needs.
There are survey templates for measuring customer loyalty, customer satisfaction, job satisfaction, employee engagement, and many more.
NotifyVisitors has been helping numerous businesses to understand trends, generate customer-focused strategies, tracking goals, and more. You can sign up and avail the basic version of this tool for free.
4. MakeMyPersona
MakeMyPersona is a research tool that helps you generate your buyer personas so that your business targets only the ideal prospects. You are asked a series of questions for this.
It interactively provides you with a lot of guidance throughout the process. This simplifies the information sorting through to find the right audience.
MakeMyPersona comes free of cost and is something that businesses should make use of at the earliest phase of their sales cycle.
5. Ubersuggest
Ubersuggest is another keyword search tool, which also offers content research. You just need to provide an input phrase, and it will generate a long list of other related keywords in alphabetical order.
It also provides you with key data related to each keyword. These include SEO competition, PPC (Pay-per-click) competition, average CPC (Cost-per-click), and monthly search volume.
Thus, with it, you can optimize the content that you post on your website and social media for the major search engines. This valuable research tool comes free of cost.
6. Tableau
Tableau is a powerful research tool that facilitates data visualization. It also helps you in comprehending market research data with business intelligence, visualization, and analytics.
With this tool, you can create and share an interactive dashboard with colorful tables and charts for representing variations and trends.
You do not need any technical or programming skills to operate Tableau. It is widely being used by various industries, businesses, researchers, etc. for collaboration of data, real-time analysis, and data blending.
7. Social Mention
Social Mention is a real-time social media search engine. You can use this free tool to get an idea of what your prospective customers are discussing on the net. It gathers user-generated content from all over the world into one single feed of information.
You just need to search for a keyword using it, and the tool will not only display all the recent social posts containing that keyword, but also a list of related keywords and other observations.
This way, you can get to know the extent to which a brand is being discussed online.
8. Google Trends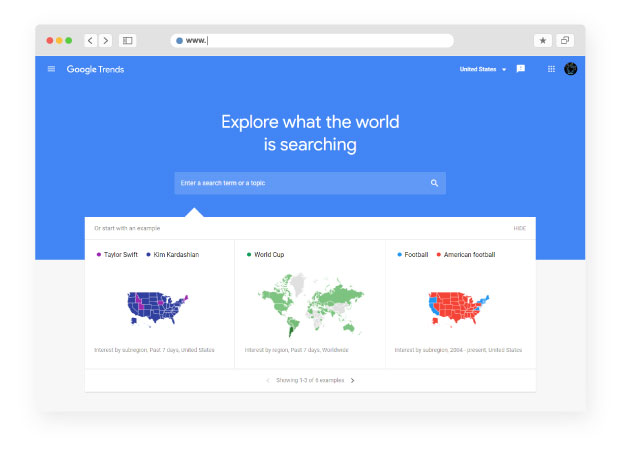 Google trends is a market research tool similar to Social Mention. However, in addition to social media searches, it also includes factoring in data from its search engine.
Thus, by using it you get a wider idea of the posts, opinions, news, and concepts that have an impact on your brand.
You can use Google Trends for different marketing purposes such as SEO and content marketing, paid searches for promoting seasonal campaigns, and for deriving inspirations for coming up with creative ads.
9. Think with Google: Marketer's Almanac
Think with Google's Marketer's Almanac is a great research tool to explore the online market. It would be of great benefit to you if you are in the e-commerce industry.
For, it gives you interesting insights on the latest trends in your niche, shopping and buying behaviors, and what your prospects are searching for over the net.
It is a free tool that you can use for generating information regarding the change in customer behavior associated with holidays, seasons, and festivals. This way, you can find ways to meaningfully connect with your customers.
10. Google Analytics
Google Analytics is a highly resourceful tool that tracks and reports website traffic. It provides you with quality info like who is visiting your site, how long they have been there, and what they have clicked through.
By using this tool, you can understand your customers better, collect demographic info, and then customize your new content to suit those visitors.
Since you get to know which blogs or site pages kindle the interests of your audience, you can add more content like those to increase your website traffic.
11. Stats iQ
Stats iQ is a powerful statistical analysis tool that doesn't require you to be an analyst. It automatically analyses data and puts it in a simple-to-understand form.
It also comprehends the structure of your data to generate the right visualizations. So, you can easily find meaning in data and recognize hidden trends.
Further, it also recognizes the issues with your data and results and offers solutions for those. All these enable you to take the right actions and come up with predictive models.
12. Ahref's Backlink Checker
The backlink checker from Ahref, the world's second most active web crawler next to Google, provides you with various helpful data related to backlinks.
It gives details like the number of backlinks to your page, and Domain Rating and URL Rating (useful metrics for judging a target's backlink popularity). It also helps in monitoring the growth and decline of backlink profiles.
Rounding it all up
Market research tools are useful online tools that help you in exploring your online market. There are many such tools found all over the web. By utilizing one or more of these, you can successfully promote your business online.
FAQ's
What are market research tools?
Market research tools are online tools that help businesses monitor customers' reactions to their products, gauge their marketing decisions' effectiveness, and facilitate a loop for open communication with their customers.
How do market research tools help businesses?
Market research tools help businesses understand their target audience's requirements, the key messages that should be communicated to them, and how the message should be conveyed.