In today's competitive e-commerce environment, a strong marketing strategy is essential to stand out and increase sales. By running an online store using Shopify, you have the advantage of a powerful platform to display your products and communicate effectively with customers. However, with so many marketing methods available, deciding what strategies work best for your Shopify store can take time and effort.
In this blog post, we'll look at 19 top Shopify marketing strategies that will help you increase your sales in 2023. Whether you're an experienced Shopify seller or just starting, these strategies will give you valuable insights and helpful tips to grow your business.
19 Best Shopify Marketing Strategies to Increase Sales
1. Social Media Advertising
Social media platforms like Facebook, Instagram and Twitter offer excellent advertising capabilities. Use advanced feedback to reach your ideal audience, create engaging creative ads, and drive traffic to your Shopify store. Experiment with different ad formats like images, videos, and carousel ads to determine what works best for your audience.
2. Influencer Marketing:
Connect with influencers with a strong niche following. Work with them to promote or showcase your products in marketing campaigns. This strategy will help you engage with their target audience and build loyalty for your brand.
3. Email marketing
Increase the power of email campaigns to strengthen customer engagement. For this, you can provide valuable content, special offers and personal recommendations to drive repeat sales. You can also use email list segmentation.
4. Content Marketing
Create high-quality, informative, engaging content to attract and retain customers. It can include blog posts, product guides, tutorials and videos helpful to your audience while promoting your products. Optimize your content for search engines to increase organic traffic.
5. Search Engine Optimization (SEO)

You can optimize your Shopify store for search engines to enhance visibility and organic rankings. Do keyword research, optimize product descriptions and titles, build high-quality backlinks, and make your website fast and mobile-friendly. It is always important to monitor your SEO performance and make changes.
6. Pay-Per-Ad (PPC) Advertising:
You may start your PPC campaigns on platforms like Google Ads or Bing Ads. Using relevant keywords and strong ad copy is also advisable to attract customers looking for similar products.
7. Conversion Rate Optimization (CRO)
Through CRO, you can improve the user experience of your website and, in turn, increase conversions. You can also use A/B testing for different images, layouts, colors, CTA, etc.
8. Social Brands and Customer Reviews
You can increase social brand status by featuring customer testimonials and reviews. It's good to show ratings and reviews on product pages to build trust and credibility. Encourage satisfied customers to leave feedback and offer discounts or rewards.
9. Up-Selling and Cross-Selling
One can increase average order value by implementing up-selling and cross-selling techniques. Recommend related or additional products to customers at the time of purchase. Also, use product recommendations based on navigation and purchase history to improve ecommerce customer journey and overall shopping experience.
10. Retargeting
Run retargeting campaigns to reach customers who have visited your Shopify store. Always show them ads reminding them of the products they like and keep them returning to buy. You can also use dynamic retargeting to show the specific products they see.
11. Participate on social media:
Connect with your audience by responding quickly to comments, messages and comments. Always try to build community and brand loyalty.
12. Collaborations
Consider working with other brands or influencers in your niche besides marketing. Create content together, run campaigns together or launch exclusive product collections to expand your reach and engage new users.
13. Affiliate Marketing

Create an affiliate program to encourage individuals or influencers to promote your products. This strategy permits you to leverage the networks of affiliates, extending your reach and pushing sales.
14. Social Media Contests and Giveaways
Run contests and giveaways on social media to generate buzz and engagement. You can encourage participants to follow your social media accounts, share your content, and tag their friends. Rewarding attractive products to attract relevant partners and brand visibility is also an excellent idea.
15. User-Generated Content (UGC):
Use the power of user-generated content to encourage consumers to interact with your products. Photos, testimonials and reviews on your website and social media. UGC adds credibility to your brand and helps build trust with customers.
16. Drive acquisition
Try to convince influencers to gain social media ownership for a particular event. It allows them to show your products naturally and emotionally. It also exposes your brand to a new set of potential customers.
17. Personalized Marketing:
Understand the target audience first, then use customer data and purchase history to personalize your marketing efforts. Send personalized emails, highlight products based on search behavior, and create special offers and discounts. Customization helps improve user experience, increase conversion rates and engagement.
18. Social Media Engagement
Retain and re-engage existing customers with targeted social media engagement. Offer special discounts, loyalty rewards or particular recommendations to encourage repeat purchases. These ads increase customer loyalty and promote your brand.
19. Influencer Affiliate Marketing Program
Work with influencers for content and affiliate marketing. Offer them affiliate links and commissions on sales made through their promotions. It encourages influencers to promote marketing activities and build collaborative relationships.
Brands using Shopify marketing strategies
Many brands in various industries have successfully implemented Shopify marketing strategies and grown their businesses. Here are notable examples:
1. Gymshark

Gymshark is a famous fashion brand with a strong advertising and social networks to drive its audience. They partner with active fitness influencers and athletes who promote their products on social media like Instagram to showcase the high standards of activewear.
2. MVMT

MVMT is a watch and accessory app that communicates with its customers through social media and user-generated content (UGC). They have their followers share photos of their MVMT products on social media with unique hashtags, creating a strong community and social proof.
3. Kylie Cosmetics

Kylie Cosmetics, the cosmetics brand founded by Kylie Jenner, has made good use of advertising and social media. They work with beauty leaders to create content that showcases their products, trends and sells to a large and engaging audience.
4. Allbirds

Allbirds, a sustainable shoe brand, implements content marketing and storytelling to promote the brand and engage with consumers. They emphasize using specialized materials and transparent production processes that are environmentally friendly to consumers.
5. Fashion Nova

Online retailer Fashion Nova has launched their products effectively on social media, especially Instagram. They have partnered with various leaders, including celebrities, to showcase their casual and expensive outfits. Their strategy focuses on creating a sense of exclusivity and urgency by collecting limited editions and regular newcomers.
6. Beardbrand

Beardbrand, a men's grooming brand, has built a strong brand using marketing tools and YouTube. They create courses in shaving and styling, establishing themselves as a trusted authority in the field. Videos drive traffic to their storefront and convert viewers into customers.
7. PopSockets

Popular with cell phones and accessories, PopSockets has been successful in advertising and social media. They partner with entrepreneurs who present their products innovatively and excitingly. PopSockets also encourages its customers to share their unique PopSockets designs on social media and promote user-generated content.
8. Gym+ Coffee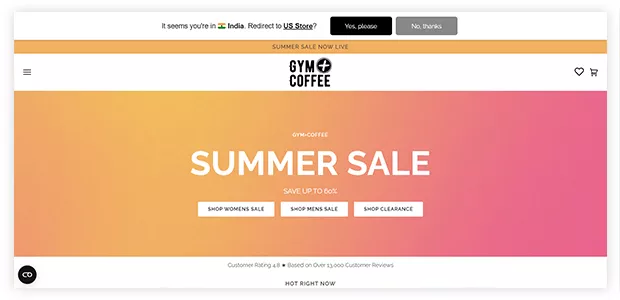 Gym+ Coffee, a fitness center, uses social media and strategy to build community. They encourage their clients to share their fitness journeys and use the hashtag #MakeLifeRicher to build a stronger community and inspire others to live healthier lives.
Wrapping Up
These products have successfully integrated Shopify operations to increase brand awareness, audience engagement, and sales. By staying innovative and tailoring their strategies to specific businesses and target markets, they have achieved remarkable success in e-commerce.
Using the above-listed shopify marketing strategies and staying attentive to your customers' needs, preferences, and feedback can cultivate a loyal customer base, increase conversions, and drive your Shopify store towards success in 2023 and beyond.
Executing these marketing strategies requires time, hard work, and experimentation, but the compensations can be significant. So, use these strategies in your Shopify store today and use their full potential for increasing sales and achieving your business goals.
FAQs
1. How much time does it take to get results from these Strategies?
The time depends upon various factors like the target audience, competition, and the strategy implemented. Specific strategies, like social media advertising, may generate more immediate results, while others, like SEO or content marketing, may need more time to render organic traffic and conversions.
2. Is there any requirement for a large budget to implement Shopify marketing Strategies? 
The budget varies depending on the strategy and the scale at which you choose to enforce it. Paid advertising may require a significant budget, but cost-effective options include leveraging user-generated content, social media engagement, and email marketing strategy. It's important to assign your budget tactfully and concentrate on strategies that align with your business goals and target market.
3. Which Shopify Marketing Strategies are most effective for small Businesses or Startups? 
Strategies like content marketing, social media engagement, email marketing, and influencer collaborations can be highly effective for small businesses and startups.