With the ever-increasing demand for customer communication, Shopify has emerged as an indispensable platform for businesses looking to expand their reach. With social media and messaging apps reaching all corners of the world, it's no surprise that WhatsApp is rising in popularity in terms of business communication.
Because more than two billion people use the app every month, accessing a range of WhatsApp applications can help take your store to the next level. In this article, we look at 8 of the best WhatsApp apps for Shopify in 2023 – offering comparisons and insights into each so you can decide which is right for you and your customers.
Best Whatsapp Apps For Shopify to Consider
1. NotifyVisitors
NotifyVisitors enables businesses to include WhatsApp in their marketing campaigns and send automated messages, notifications, and updates directly to the WhatsApp accounts of their customers. Moreover, companies can create a more direct and intimate line of communication with their target market.
Features
Broadcast messaging: Businesses can mass-message their WhatsApp contacts using NotifyVisitors. This is a fantastic way to inform customers of recent company news and advertise new goods, services, or offers.


Chatbots: NotifyVisitors enables businesses to develop chatbots that provide customer service, support, or lead generation. Chatbots can automate customer service, allowing your team to work on other projects.


Analytics: For your WhatsApp marketing campaigns, NotifyVisitors offers thorough analytics. You can use this information to monitor the effectiveness of your campaigns and make the necessary corrections to improve your outcomes
Pros:
Allows you to send personalized bulk messages to your customers.
A single step integration
Offer real-time engagement to engage your customers in real-time.
Directly send follow-up chat messages to abandoned cart customers or promotional offers with discounts
Pay only for the delivered messages, so you can be sure you're not wasting money on wasted messages.
Use advanced AI to make upsell and cross-sell product recommendations.
A/B your messages to improve the open rate.
Overall, NotifyVisitors offers powerful WhatsApp marketing that helps businesses of all sizes reach their target audience, build customer relationships, and increase sales.
Price: Free plan is available. Paid plan starts from Rs 5000/per month
2. DelightChat- WhatsApp Helpdesk + Marketing
With DelightChat WhatsApp Helpdesk & Marketing, you can do most things that any store does with live chat. It's a one-stop-shop app for WhatsApp, developed to offer convenience and more profitability for Shopify store owners. Numerous large enterprises use it to connect with customers through multiple channels and for multiple objectives.
The major benefit of using it is that you can manage all your support channels (WhatsApp, Facebook Messenger, Instagram, etc.) from one unified inbox.
Pros
Easy to handle all support channels from one unified inbox on your dashboard with paid plans
Controls WhatsApp, Instagram DMs, Facebook Messenger, and email support
Offers official WhatsApp business API for support and marketing
Can send WhatsApp broadcasts, abandoned cart recovery, order confirmation, and delivery notifications
Can view Shopify order data for customers alongside tickets
Quick reply templates for immediate answers to questions
Build your rich templates
Automatically assign, tag, and reply to tickets
Easy for the support team to cooperate on tickets
Self-service widget to help reduce order-tracking ticket numbers
Thorough reporting to analyze support performance
Cons
The free version only allows up to 100 support tickets
Higher monthly fees than competitors
Price: Free version is available. Paid plans start at $29/month with up to 500 support tickets.
3. SuperLemon – Whatsapp Support
WhatsApp Support by SuperLemon is one of the most demonstrated and best-reviewed chat apps in the Shopify app store. Thousands of Shopify and Shopify Plus stores rely on it.
This WhatsApp app for Shopify offers all-in-one services for automated cart recovery campaigns, chat and share, and notifications. There are numerous automated templates for abandoned cart recovery, order confirmation, shipment, delivery updates, etc.
A free version allows you to check out the app in detail before shifting to one of the paid plans.
Pros:
50+ customizable WhatsApp live chat and share buttons
Effortless for customers to initiate a chat
Manual WhatsApp messages and order tracking messages in one click using the Chrome extension.
Numerous automated WhatsApp message templates for abandoned cart recovery, order confirmation, order shipment, COD, etc. (Ultimate plan only)
Message templates available in 11 languages
Make your message templates.
Supports numerous WhatsApp numbers
No coding required
Setup in less than 30 seconds
Free version with unlimited WhatsApp chats
Reasonable paid plans
Priority support (Ultimate plan customers)
Cons
Abandoned cart recovery exclusively in the Ultimate plan
No advanced team collaboration features
No unified inbox for all support channels
Automated messages are chargeable if successfully delivered
Price: Free version available. Paid plans at $7.99/month (Pro) and $9.99/month (Ultimate)
4. Softpulse Infotech- WhatsApp Chat & Cart Recovery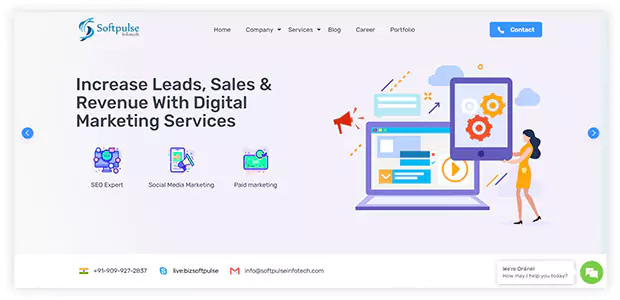 WhatsApp Chat & Cart Recovery offers automated abandoned recovery, WhatsApp chat, FAQs, order tracking, and more.
Another of the reliable WhatsApp apps for Shopify, this app has hundreds of five-star reviews—making life more comfortable for store owners with its automation features.
Like most competitors, this app presents free and paid versions.
Pros:
Automated WhatsApp messages/templates for abandoned carts, COD order confirmation, and COD verification (paid versions)
Confirm, fulfill, and COD order confirmation
Manual messaging available
Customizable WhatsApp chat button
WhatsApp live to chat support button with limitless chats and a share button
WhatsApp chat analytics to analyze the performance
Unlimited WhatsApp support contact numbers
Time setting for displaying the WhatsApp button when chat is available
Free widget features like FAQs, contact us, and order tracking
Long free trial (30 days)
Numerous support agents, even with the free version
Supports 7 different languages
The app is updated regularly

Cons
Automated messages are chargeable if successfully delivered
No advanced team collaboration features
No unified inbox for all support channels
Price: Free version available. Paid plans at $7.99/month (Advanced) and $9.99/month (Premium
5. Pushdaddy- WhatsApp Chat & Abandoned Cart
WhatsApp Chat & Abandoned Cart is an app from a well-established team of Shopify app providers with multiple well-reviewed and highly rated apps, including social media, marketing, upselling/cross-selling, image editing, and more.
This one is free to install, and there are no paid plans. However, automated messages are charged at rates depending on the location.
Pros:
Easy for customers to chat and share (customizable buttons available)
Supports marketing automation campaigns—abandoned cart recovery through WhatsApp, SMS, or email
Free—you only pay for automated messages
Single-click installation of the chat widget
7 built-in styles of chat with as many operators as you want
Can link Facebook Messenger, Instagram, etc., and merge into one chat
Bot available for automated responses about order status
Can send promotional WhatsApp messages to customers
Include images, videos, and PDFs to messages
Displays on desktop/mobile
Unlimited number of WhatsApp chats
Can add FAQs
Analytics
Thousands of positive reviews

Cons
A few support issues – but they should perhaps be expected for a free app.

Price: Free (Automated messages for cart recovery and order confirmation are chargeable)
6. Dondy- WhatsApp Chat+Marketing
Dondy is a popular WhatsApp Chat+Marketing tool that has gained widespread popularity among businesses of all sizes. It is an excellent platform for businesses to connect with their customers and tap into the vast audience surrounding WhatsApp. Many companies are turning to Dondy because of its easy-to-use interface and awesome features.
Pros:
Dondy has an intuitive user interface
It helps businesses connect with customers in real time.
It is a cost-effective way to market your products or services
Dondy allows businesses to respond to their customers in real-time, which helps to build a loyal customer base.
Cons:
Limited features are available.
Poor reporting features
No automation
Limited reach due to presence in limited countries.
Price: You need to contact the vendor for pricing.
7. Maxwell- WhatsApp & Messenger Marketing
WhatsApp & Messenger Marketing allows Shopify store owners to provide chat support, recover abandoned carts and expand their contact list through Facebook Messenger.
With an exhaustive free version, this app might include everything you require as a startup, though it is less feature-heavy than some other apps covered here.
The development team at Maxwell asserts that it is the "only free WhatsApp & Messenger Marketing app that delivers chat plugins, popups, checkboxes, and automated campaigns all in one app."
Though it is slightly less well-established than some other apps featured here, it should not discourage you from trying this one—especially if your target customers are serious Facebook users.
Pros:
Pre-designed Messenger & WhatsApp chat plugins for live support
Customizable settings to determine where and when to show the chat plugin
Create customer connections on your preferred platforms.
Expand contacts in Facebook Messenger via popup or checkbox.
Activate Facebook advertising and messaging campaigns.
Supports automatic abandoned cart recovery campaigns or coupon campaigns
Deliver order alerts and broadcast news via chat.
Simple forms permit you to tailor your message to your brand strategy.
Key stats available on the dashboard including track contacts, messages, orders, and sales
Regular updates to the app based on feedback and Facebook features
Integrates with apps for dropshipping, loyalty programs, product reviews, social media, and referral marketing translations for templates (paid version)
Free version and affordable paid plan available
Cons
No advanced team collaboration features
No unified inbox for all support channels
Price: Free plan available. Paid plan at $4.99/month
8. SweetHelp-WhatsApp Chat & Abandoned Cart
SweetHelp is an innovative Whatsapp abandoned cart solution that helps businesses tackle cart abandonment issues. It comes with its own pros and cons, making it essential for any online business owner to analyze it before opting for this solution.
Pros:
A hassle-free solution that can be integrated with your existing Whatsapp account within seconds.
Personalized Customer Engagement through automated follows ups
SweetHelp pricing is quite affordable and guarantees high ROI. The user interface of SweetHelp is super user-friendly.
Cons:
Limited Platform Availability
Limited Features are available.
Dependence On Whatsapp
Conclusion
WhatsApp and WhatsApp apps for Shopify can significantly benefit your shop, especially for customer support. Customers get real-time notifications reducing support tickets and increasing satisfaction.
We recommend you to explore multiple options for customer service, finding what works best for your business.
NotifyVisitors' Whatsapp business marketing is helping businesses to recover lost sales by sending abandonment campaign, letting them share updates with their customers and offer a sound customer support promptly. To know more about it, schedule a free demo
FAQs
1. What is WhatsApp marketing?
WhatsApp marketing involves leveraging the popular messaging platform, WhatsApp, to reach and engage with the target audience. WhatsApp lets businesses send promotional messages, information, reminders and automated customer service responses directly to their customers' smartphones. 
2. What is the best whatsapp marketing app for Shopify?
NotifyVisitors is one of the best whatsapp marketing app for shopify as it offers a wide range of features and helps you get started quickly.
3. What are the top 5 WhatsApp marketing apps for Shopify?
Here are the top 5 WhatsApp marketing apps for Shopify:
1. NotifyVisitors
2. DelightChat
3. Superlemon
4. Pushdaddy
5. SweetHelp