Do you want to increase your sales and reach more customers online? ECommerce platforms like Shopify are essential tools that help businesses build their online presence. But, with the right marketing apps, you can take your eCommerce business to new heights.
In this blog post, we'll discuss the 22 best Shopify apps to increase sales: from email automation software to mobile app creators – there's something for everyone.
Best Shopify apps to increase sales
NotifyVisitors is one of the best Shopify apps to increase sales, providing marketers with effective tools and resources to increase their marketing efficiency. The app allows users to create automated email campaigns, Sms campaigns, push notifications, and pop-ups across multiple channels effortlessly.
Leveraging its in-depth user segmentation capabilities, merchants can ensure that their customers receive highly targeted communication so they are always aware of new offers and product updates.
Additionally, the app provides detailed analytics, including conversion rates and real-time visitor insights, so users can easily track their campaign results. Ultimately, NotifyVisitors makes Shopify marketing simpler than ever before, allowing businesses to streamline their outreach processes and effectively engage customers for maximum ROI.
📣Get a cost-effective solution today🚀
Get 30% Discount For First 3 Months for all users who sign up directly from Shopify.
2. InviteReferrals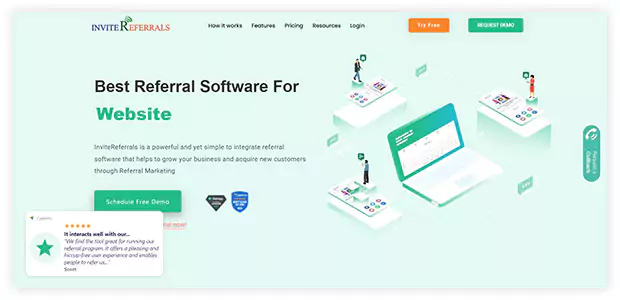 InviteReferrals is one of the best Shopify apps for businesses. This user-friendly referral program helps merchants grow their sales by incentivizing customers to refer new buyers through custom-branded campaigns.
With InviteReferrals, merchants can track referrals easily, reward customers with exclusive incentives, customize emails and even create automated notifications. All this and more makes InviteReferrals a must-have marketing app for any Shopify business striving to take its online presence to the next level.
3. Videowise
Videowise is a perfect choice of marketing app for Shopify stores. It makes creating and designing engaging videos easy and offers powerful analytics regarding customer engagement that can be used to refine video content and tailor campaigns.
The drag-and-drop development interface simplifies the creation of highly engaging video ads and other visuals. At the same time, the automated dashboard provides detailed insights into how customers engage with your videos so you can adjust your approach accordingly.
With innovative technology, Videowise allows you to reach more customers in less time and ensure your campaigns are as effective as possible.
4. SquidVision
SquidVision is landing page optimization software that helps you increase sales by showing you exactly which products on your Shopify store are performing well and which ones are struggling.
The app works by giving you a visual overlay of each of your high traffic pages and shows you not only the clicks on all of your buttons and links but also shows you how much revenue each button and link has generated.
So now you can know exactly which buttons are driving sales and which ones you need to change and improve. Shopify app plans start at $9/mo.
5. Ecomposer
Ecomposer is revolutionizing the way digital marketers develop content. It is an innovative marketing app developed specifically for Shopify users.
With Ecomposer, you can easily create stunning visuals from templates, write compelling copy that resonates with the audience, and optimize the campaign with user-friendly analytics.
The best part about Ecomposer is that it frees up valuable time for marketers by automating mundane tasks like product descriptions and tagging images.
Furthermore, this app enables shop owners to reach a larger customer base than ever through creative campaigns designed to engage customers meaningfully. Ecomposer promises to take digital marketing to a new level – where creativity reigns supreme!
6. InstaFeed
InstaFeed is one of the best marketing apps for Shopify users. It allows businesses to access, measure and promote their content on Instagram. This powerful app makes it easy to keep customers engaged with creative content posted on Instagram right from the Shopify dashboard.
Businesses can track insights and create campaigns that drive customer engagement by leveraging their smart analytics. Furthermore, the customizable design feature gives businesses an edge in creating compelling visuals that help launch effective campaigns.
InstaFeed is a top-notch marketing platform for any Shopify user looking to boost their online business presence and increase sales.
7. Gorgias
Gorgias is an innovative marketing app specifically designed for Shopify users that allows users to optimize their customer service process.
It provides convenient tools like message automation, ticketing, and live chat capabilities while providing personalized contact opportunities through integrated content such as website visits, sales data, and more.
Additionally, Gorgias integrates with third-party apps like Intercom and Salesforce, enabling customers to access support from any device and receive in-depth analytics about customer interactions.
Overall, Gorgias is an ideal solution for Shopify users who rely on efficient customer service solutions and are looking for an app to help manage their workflow.
8. Junip
Junip is an innovative marketing app for Shopify stores. It has been designed to provide more control over day-to-day operations and give businesses more flexibility.
The app allows users to create targeted campaigns and promotions, manage customer data, and access insights into customer behaviour.
With its range of features, Junip offers store owners a comprehensive yet easy-to-use solution that can help them maximize their limited time and resources.
As a result, they can drive sales growth, increase customer loyalty, and optimize store operations – all in one place.
9. Growave
Growave is one of the amazing Shopify apps to increase sales as it can help take your business to the next level. It provides tools and features like loyalty programs, reviews, wishlists and multiple discounts designed to convert more customers, increase customer engagement, and drive sales.
What's great about Growave is that you can customize it to fit your brand and set up desired parameters to ensure customers always have the best experience with you.
With Growave's extensive metrics tracking system, you can see at a glance how your efforts are doing and keep improving them easily. These powerful features and round-the-clock support make Growave an indispensable tool for any serious Shopify business owner.
10. Tidio
Tidio is an intuitive and innovative marketing app designed for Shopify store owners. It provides an easy-to-use communication platform connecting businesses to their customers, allowing them to answer real-time inquiries.
With Tidio, customers can start a chat with the business from any page and have their questions answered quickly.
This helps reduce customer frustration and boost customer experiences, which leads to more overall sales.
Tidio also offers features like automated messaging and Facebook chat integration so customers can get answers to their inquiries as quickly as possible.
So if you're looking for a reliable marketing app for your Shopify store, consider introducing yourself to the world of Tidio.
11. ShopPop
ShopPop is an innovative new marketing app for Shopify users. This one-stop-shop solution makes social media promotion easier and more streamlined than ever.
With easy setup and Integration with Shopify, this app makes it fast and easy to leverage social media's power for increased sales.
An intuitive dashboard lets users access various features to customize their campaigns, including automated post-scheduling and customizable templates. The app also includes powerful targeting capabilities to ensure that posts reach relevant customers.
ShopPop is an invaluable tool in today's digital marketplace, helping Shopify users gain a larger audience for their products and services.
12. Optimonk
As a digital marketing tool, Optimonk has been making waves in the industry. Its ability to personalize the customer experience and increase conversions has been a game-changer for businesses. Optimonk's sophisticated features allow companies to tailor pop-ups, forms, and messages to the individual user.
By delivering the right message to the right person, at the right time, Optimonk has helped businesses of all sizes boost engagement rates and optimize their digital strategies.
With its user-friendly interface, advanced analytics, and expert support team, Optimonk has become a trusted partner for companies looking to fine-tune their online campaigns.
13. Octane.Ai
Octane.Ai is among the best Shopify apps to increase sales. It has revolutionized how small businesses grow their customer base. It utilizes artificial intelligence and predictive analysis to build customers' profiles and create tailored campaigns targeting their needs.
Merchants can analyze customer behaviour, track sales history, optimize for the best possible ROI, and much more.
The capabilities provided by this application are virtually unmatched in the industry, making it a must-have for any retail business looking to tap into digital commerce success. Octane.Ai truly provides a game-changing solution for marketers who want to make a huge impact with their campaigns.
14. Automizely
The world of e-commerce has never been more vibrant than it is today. The growth of online shopping has resulted in intense competition among businesses, which means that every detail counts when trying to attract and retain customers.
This is where Automizely comes in. With its email and popup solutions, Automizely provides businesses with the tools they need to engage with customers in a meaningful way.
From cart abandonment emails to personalized popups, Automizely helps businesses build strong relationships that can lead to repeat business and increased revenue.
With its sleek and professional appearance, Automizely is the perfect tool for businesses that are looking to take their online presence to the next level.
15. Govalo
Govalo provides an easier path for small business owners to get into marketing. This app is designed for Shopify store owners, allowing them to track and optimize their online advertisements with the full suite of analytic tools.
With Govalo adding, sellers can quickly customize their ads or campaigns on popular social media platforms, Google search engine marketing or email campaigns – all from one platform.
Additionally, with key performance indicator dashboards built-in, small business operators no longer have to determine what works best through trial and error; they can use real data to gain an edge over the competition.
16. Gameball
Gameball is an innovative marketing app for Shopify that allows store owners to create amusing and exciting customer experiences. It is designed to reward shoppers' loyalty, creating an engaging and energizing environment that encourages spending.
With rewards such as extra points or discounts, customers will be more likely to shop and visit your store often. Using this app can significantly improve customer loyalty and nurture relationships with clients, allowing them to feel appreciated by your business.
This fun way to market and attract more customers will increase sales while creating a positive online presence.
17. Printify
Printify is a groundbreaking platform that empowers entrepreneurs and designers to bring their creative visions to life. By offering access to top-class printing facilities, customizable templates, and seamless integrations, Printify allows users to effortlessly design and sell products across a variety of channels.
With its extensive network of production partners spanning the globe, Printify has made it easier than ever to create and distribute high-quality, personalized merchandise on a global scale.
Whether you're a startup looking to build your brand or an established business seeking to expand your product line, Printify is the perfect solution for streamlining the entire process.
18. TrustPulse
TrustPulse is a valuable tool for businesses as it helps to build brand advocacy and credibility on the website. It provides notifications of recent website activity and builds trust between businesses and customers.
TrustPulse is a great way to keep track of potential customers' interests and show other potential customers that your website is trustworthy.
With its easy-to-use interface, TrustPulse is a great addition to your business's marketing and automation tools. It stimulates action and prevents abandoned click-throughs by encouraging trust in your website.
19. Pinterest
Pinterest is a platform that has increasingly gained popularity and relevance in the digital world. Considered a visual discovery engine, it allows users to share and find ideas on different topics such as fashion, food, home décor, and many more.
The site has a massive user base, with over 250 million monthly active users, further complemented by intricately designed algorithms that cater to individual preferences. The platform has proved to be an excellent marketing tool for business entities, enabling them to create and share content that resonates with their target audience.
With its unique features, such as rich pins, promoted pins, and Pinterest Lens, the platform offers numerous opportunities to brands and users alike. As Pinterest continues evolving through new features and updates, it has become a valuable resource for modern-day creatives, entrepreneurs, and marketers.
20. ViralSweep
ViralSweep is a comprehensive platform that streamlines the process of running and managing online giveaways, contests, and sweepstakes. It is one of the best Shopify apps to increase sales. Whether you are running a campaign for a small business or a multinational corporation,
ViralSweep provides a suite of tools designed to optimize engagement and deliver results. With powerful features like audience segmentation, custom entry methods, and automated winner selection, ViralSweep enables you to launch and track campaigns easily.
Moreover, its integration with popular social media platforms like Facebook, Twitter, and Instagram makes it easy to expand your reach and drive traffic to your site. By leveraging cutting-edge technology and an intuitive interface, ViralSweep equips you with the tools to craft successful online campaigns that resonate with your target audience.
21. UpPromote
The UpPromote platform provides businesses with an essential tool to help them reach new heights. With its advanced analytics capabilities, this platform can help you better understand your customers and create targeted, effective campaigns to drive growth and increase your bottom line.
By providing insights into consumer behaviour, UpPromote helps businesses more effectively reach and engage with their target audience.
Using the latest technology, this platform can help you identify trends and opportunities, allowing you to stay one step ahead of your competition. If you're serious about growing your Shopify store, UpPromote is the solution you need.
22. Goaffpro
Goaffpro is changing the world of e-commerce marketing. It's one of the best marketing apps for Shopify, allowing store owners to promote and advertise their products more easily.
With its user-friendly interface, anyone can start immediately without coding expertise or technical know-how.
In addition, it comes with powerful features like Smart Promotions, Dynamic Bit Payment acceptance, Conversion tracking and Integration with major platforms like Google Ads and Facebook.
With Goaffpro, Shopify stores can effectively reach cu
Conclusion
As you can see, many great marketing automation apps are available for Shopify. All of the 22 apps discussed today offer powerful and easy-to-use features that you can use to manage your marketing activities.
You may also find it helpful to research additional Automation tools not discussed in this post to decide which tool best meets your business needs. It may be a good idea to try out several apps before deciding on one – looking at product reviews, user ratings, and feature comparisons can help you make your final selection.
With the right Shopify apps to increase sales in place, it becomes simpler and more efficient to focus more time on designing outstanding content and striking campaigns.
FAQs
1. What are the benefits of using Shopify apps?
These apps help automate and simplify various processes and provide useful insights that enable store owners to make informed decisions. Additionally, they can help improve website speed, reduce cart abandonment, and offer various upselling and cross-selling opportunities.
2. What are the different types of Shopify apps to increase sales?
Several categories of Shopify apps can help increase sales. These include marketing apps, optimization apps, customer service apps, upsell and cross-sell apps, and social media apps. Each of these categories comprises several apps with different functionalities.
3. How do I choose the right Shopify app for my business?
Choosing the right Shopify app can be daunting, but it doesn't have to be. The first step is to identify your business's specific needs, depending on various factors, such as the type of products you sell, your target audience, and your marketing goals. Once you clearly understand your requirements, you can search for apps that match those needs.
Also Read: