It's no secret that WhatsApp is one of the most popular and successful messaging apps, with over 2 billion users around the world. What's more impressive is its potential for businesses to utilize as a marketing tool. Companies have been capitalizing on WhatsApp's innovative features since it launched in 2009, using the app to inspire loyal customers and generate more leads.
If you're considering leveraging WhatsApp for your business's promotions but aren't sure where to start—don't worry! In this article, we'll share nine of the best examples of successful WhatsApp marketing campaign examples. So read on if you want to learn how some of today's top brands are utilizing this powerful platform.

9 Whatsapp Marketing Campaign Examples To Follow In 2023

1. Saffola

The Saffola brand has been India's market leader in edible oils for over 30 years; it has stood for purity and trust among consumers with its advanced antioxidant system that helps improve immunity. 
Goal:
To increase the engagement of individuals with its healthcare brand, Saffola developed a campaign centered around combating the urge for unhealthy food, ultimately opting for a nutritious snack. This initiative was part of a broader marketing campaign to launch a new active slimming product.
Campaign:
Saffola developed a WhatsApp chatbot to promote healthier eating habits. When users felt the urge for comfort food, they could message the bot. In response, the chatbot aimed to divert attention with positive messages, puzzles, and even a rap song promoting Saffola's new active slimming drink.
The campaign, titled "Beat the Crave," enticed users to sign up by providing their WhatsApp number on Saffola's website, granting access to the brand's "digital audio buddy."
Functioning as a supportive friend or professional trainer, this buddy deterred users from consuming unhealthy snacks.
Each time users messaged the bot with cravings, they would receive a motivational text or an audio message encouraging them to overcome the urge.
2. Absolut Vodka

Absolut Vodka is a renowned premium vodka brand crafted by a distinguished company based in Southern Sweden.
Goal:
Absolut Vodka aimed to introduce their limited edition vodka in Argentina and generate brand awareness. They sought to explore conversational marketing, actively engaging with the audience. Despite not being traditionally conversational, they embraced creativity to achieve their goals.
Campaign:
Absolut Vodka initiated a campaign called "Unique Access" on WhatsApp, unveiling an extravagant celebrity party and offering two tickets to the winners of the campaign. To gain entry, individuals needed to contact Sven, the doorman, through WhatsApp and persuade him to extend an invitation to attend.

However, participants soon realized that convincing Sven was no easy task, prompting them to employ innovative approaches such as sending photos, videos, songs, and even voice notes to request the coveted tickets.
 3. Unilever

Unilever Plc (Unilever) is a distinguished multinational corporation and prominent provider of fast-moving consumer goods. The comprehensive product portfolio encompasses various key sectors including food, beauty, personal care, beverages, home care, and more.
Goal:
Unilever opted to utilize the WhatsApp channel to establish a familiar connection with consumers, as part of the launch of their new brand, Comfort, in Brazil, at a cost-effective rate. As a result, they sought a novel and distinctive marketing approach.
Campaign:‍
Unilever implemented a communication platform to engage with its audience and utilized the opportunity to raise awareness about its latest products. Through this campaign, individuals were able to send messages to the displayed number, and a chatbot named "MadameBot" provided clothing care tips in response.
Alongside these tips, the chatbot introduced people to new products using videos and images. Additionally, participants were offered a 50% discount on the new product with complimentary shipping upon concluding the chat.
To reinforce their message of "I'll bring you back your beloved clothes," the brand strategically displayed 10,000+ billboards across São Paulo, along with a dedicated WhatsApp number.
4. Adidas

As one of the leading sportswear manufacturers, Adidas excels in designing and producing a wide range of athletic footwear, apparel, and accessories. It goes beyond being a mere producer and possesses a unique brand personality characterized by positivity, courage, unwavering strength, and confidence. This distinct brand identity has contributed significantly to its substantial brand equity.
Goal:
In February 2020, as part of its shoe promotion campaign, sportswear brand Adidas took a targeted approach, focusing on amateur football players and assisting them in addressing their specific challenges.
Campaign:
As part of its new campaign, Adidas utilized WhatsApp to establish a dedicated hotline, assisting amateur football teams in promptly securing substitute players to fill last-minute gaps.
Football teams frequently encounter challenges when players drop out unexpectedly before a match, leaving no time for a replacement.
Through this campaign, Adidas offered a solution via WhatsApp, enabling teams to send a message to the designated hotline and provide essential match information. In response, Adidas ensured the provision of skilled football players to elevate their game.
5. Persil Kufua
Persil, a prominent laundry detergent brand manufactured by Henkel, is meticulously formulated to deliver exceptional whiteness and brightness across all water temperatures..
Goal:
Henkel's introduction of Persil aimed to foster consumer recognition, enhance brand-consumer engagement, and cultivate a devoted brand community..
Campaign:
The campaign requested individuals to submit 15-second videos of their top washing tips through WhatsApp. The most exceptional tips were subsequently acknowledged and recipients received Persil hampers. The concept and strategy were straightforward – to establish a sense of consumer involvement with the brand.
6. Maggi
Maggi is an international brand of seasonings, instant soups, stocks, and noodles that's popular worldwide and is one of Nestlé's billion-dollar brands. Its distinctive red and gold packaging has never failed to impress its customers.
Goal:
Maggi wanted to increase brand awareness – not by shouting its name from the top of buildings, but by being part of people's daily lives so they would remember the brand in their dreams.
Campaign:
Maggi created a free, virtual cooking curriculum entirely on WhatsApp. They wanted to connect with customers of all ages personally, support them throughout their culinary journeys and motivate them to prepare great dishes in just a few steps.
The curriculum was delivered via the WhatsApp-powered virtual assistant – Kim, who guided customers with step-by-step instructions, answered their questions, and shared videos for specific cooking techniques.
7. ADAC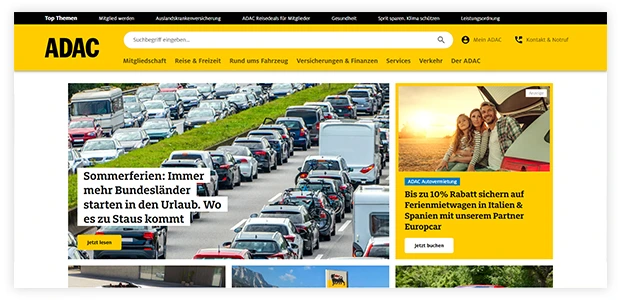 ADAC is a German automobile club that offers professional roadside assistance services to its esteemed members.
Goal:
ADAC had a base of 20 million loyal customers; however, the younger audience did not resonate with them to the same extent as the older generations. ADAC aimed to remain relevant among those who did not yet own a car. To achieve this, they initiated their inaugural digital campaign, in which WhatsApp played a fundamental role.
Campaign:
ADAC launched the 'Don't call mom — Call ADAC' campaign on WhatsApp. The objective was to establish a hotline for young individuals, offering them the opportunity to seek guidance from ADAC on any subject. This initiative allowed them to address questions that they may not feel comfortable asking their parents or find it unnecessary to bother them with.
Queries regarding topics such as coping with heartbreak or caring for a pet cat were received. For a period of 14 hours daily on WhatsApp, a team of 20 ADAC experts assumed the role of 'mom' and responded to all messages.
8. Hellmann

Hellmann's is a renowned American brand recognized for its exceptional line of high-quality food products, including mayonnaise, ketchup, mustard, sauce, salad dressing, and condiments. Hellmann's is widely regarded as a premier choice for mayonnaise, attributed to its consistent quality, delightful texture, and perfect balance of sweetness.
Goal:
Hellmann's recognized that individuals within their target audience frequently struggle with deciding what to cook with the ingredients in their refrigerator. As a result, the brand sought to actively engage with customers during this crucial moment and become an integral part of the solution, fostering a favorable brand association.
Campaign:
Hellmann utilized the messaging platform WhatsApp to engage with its consumers and provide them with a personalized experience through their "WhatsCook campaign." To participate in the campaign, individuals were required to register on the brand's website using their phone numbers, enabling direct interaction with the chefs. Users could share pictures of available ingredients, and in response, the chefs would suggest recipes incorporating Hellmann mayonnaise.
To address any confusion, chefs also shared images and videos. The campaign was launched in Brazil, leveraging the widespread usage of WhatsApp among the local population. Notably, the total expenditure on this initiative amounted to a modest $900. It is intriguing to assess the return on investment achieved from such a mere expenditure..
9. Flipkart

Flipkart Private Limited, an Indian e-commerce company, has diversified its business to encompass a wide range of products, including lifestyle items, electronics, home essentials, and groceries. Today, Flipkart stands as a prominent player in the Indian online market.
Goal:
Flipkart aimed to generate anticipation for its upcoming online sales event, "Big Billion Days," with a goal to effectively engage and convert a wider audience. Utilizing WhatsApp, a powerful channel amidst marketing clutter, proved to be the ideal strategy to capture maximum attention and yield meaningful results.
Campaign:
Flipkart implemented an engaging approach to instantly connect with consumers and enhance the campaign's appeal. They devised an interactive conversational flow inspired by India's renowned television quiz show, Kaun Banega Crorepati (KBC), featuring Bollywood legend Amitabh Bachchan as the host, personified as a chatbot.
Furthermore, they leveraged various communication formats offered by WhatsApp, including images, audio, videos, and emojis, to facilitate rich-media interactions. Additionally, customers had the opportunity to explore more about the sale through puzzles and emoji-enabled games available on WhatsApp.
Conclusion
As businesses increasingly harness WhatsApp's potential, it's crucial to seek inspiration from successful whatsapp marketing campaign examples . The nine cases above offer a glimpse of worldwide achievements. From engaging customers with rich media messages to facilitating conversations, these examples highlight the platform's promotional potential. With the widespread use of technology, the opportunities are endless.
NotifyVisitors offers whatsapp marketing and allows eCommerce stores to leverage for sending promotional messages, offers and discounts, updates and account information. Moreover, you can automate campaigns for recovering lost sales and remind customers to complete the purchase. To know more about it, schedule a free demo.
FAQs
1. What is a WhatsApp Marketing Campaign?
A WhatsApp marketing campaign involves using the messaging app to connect with customers, promote products or services, and generate leads.
2. What are the benefits of a WhatsApp Marketing Campaign?
A WhatsApp marketing campaign has several benefits, such as:
Direct communication with customers
Cost-effective
High engagement rates
3. What are some successful Whatsapp Marketing Campaign Examples?
Top 5 whatsapp marketing campaign examples are
Unilever
Adidas
Flipkart
Maggi
Absolut Vodka