Do you want to stand out from the competition with your Labor Day email campaigns in 2023? Creating memorable and engaging emails that will grab readers' attention might be challenging. That's why we've done the hard work for you and rounded up 9 professional Labor Day email examples,
each of which can offer some inspiration when it comes time to start writing your holiday message. We'll examine what makes these emails unique, from eye-catching design elements to clever copywriting tactics.
Labor Day Email Examples To Consider

1. Aurate
In this Labor Day email examples, Aurate sends an email that celebrates the artisans who work hard to create beautiful jewelry. Aurate honors its employees through this email to boost brand affinity with its audience. Simultaneously, the company promotes its products without making it sound too salesy. Moreover, Aurate, featuring its craftspeople, exhibits its product quality. 
2. Chobani
For some people, free time is about experimenting with new recipes and discovering new tastes. Chobani makes sure to keep that group of people busy during this holiday.This email makes sense as Chobani offers Greek yogurt, and their subscribers are likely interested in such an email.
In this labor day email examples, you will notice the colorful images of Chobani's recipes. Below that is a question that engages them in a conversation. If you answer those questions with a "yes," you're curious about the company's recipes.
3. Huckberry
Huckberry is an online store that sells gear for various activities. In this Labor Day email copy, it explains that its employees will be out of the office during the holidays, just like its customers. Therefore, the company invites customers to make their purchases early. It's a great tactic that leads to urgency and fear of missing out. For instance, If their customers don't order by Monday, they won't get their goods delivered for the Labor Day weekend.
Huckberry also makes a delivery guarantee for the holiday to facilitate more orders. Finally, the precise call to action button of "Shop now" also facilitates a sense of urgency.
4. Article
Article email is a short, to-the-point reminder email. This company doesn't have to reiterate everything from its original Labor Day offer.This Labor Day email examples aims to drive urgency and FOMO among the people who haven't shopped from the sale yet. The red CTA button is clear and benefit-driven, and the imagery represents the Article's products—modern, mid-century, and Scandinavian furniture.
5. Art Naturals
Art Naturals is an e-commerce store that offers essential oils, skincare, and body beauty products. Art Naturals conducts a selfie contest for women to celebrate Labor Day weekend.
Participants must click a selfie to join the competition, posing as Rosie the Riveter. Interestingly, Art Naturals shows images of women doing the challenge to make it easier for participants to join.
Moreover, Art Naturals also showcases a limited-time discount for its men's grooming products. This discount is only valid for a day, and the urgency may provoke shoppers to purchase the products.
6. Kate Spade
For some people, the Labor Day weekend is all about traveling and exploring a new location.
Kate Spade, an American luxury fashion brand, leveraged this opportunity and ran a giveaway campaign, offering a trip to Patagonia.
Kate Spade's email has a captivating design, with a map in the background and a location image in the giveaway. The orange color of the CTA button contrasts well with the white background, and the email copy demonstrates the prize and how you can get the Labor Day giveaway.
7. Casper
Offering discounts to customers before and during e-commerce holidays is a popular e-commerce marketing strategy, and there is no exception when it comes to email. However, in this email, Casper chooses a different approach.
Instead of offering a discount for its mattresses, Casper promises a free sailboat for everyone who purchases a mattress during the Labor Day weekend. This email copy takes the recipient's curiosity by storm.
This email makes you feel, "Who gives a sailboat for a mattress purchase?" That's until you find it's a paper sailboat. Casper tries to add a fun twist to the holiday through this email.
Moreover, Casper makes use of colors that fit its brand aesthetics. Moreover, the blue CTA button is highly contrasted with the white background, and the CTA button leads to urgency.
8. Studio DIY!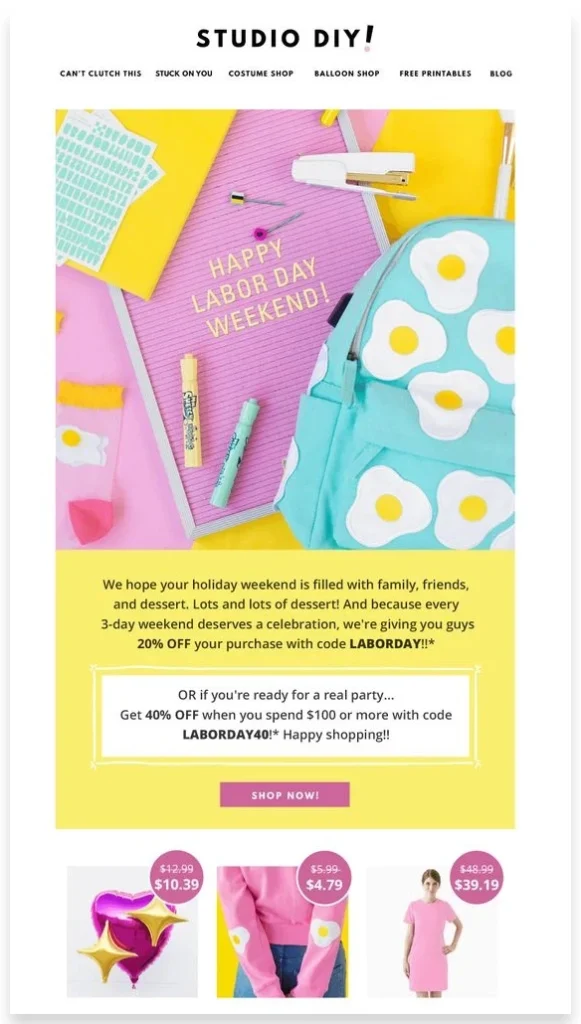 Studio DIY! offers information about DIY projects, recipes, and home improvement tips.
In its email copy, Studio DIY! first sends you its holiday greetings and then moves on to encourage its offer. For Labor Day, Studio DIY! comes up with two discount offers based on the amount customers spend on its website.
The CTA button is easily noticeable and contrasts nicely with the yellow background. Overall, Studio DIY! also shows some of the products shoppers can purchase (along with their discounted prices).
9. The Muse
The Muse, an online platform for job search and career advice, uses a different Labor Day email tactic. In the email, the platform doesn't promote any products or sales. Instead, they feature a few career articles they selected for their subscribers.
While some might consider career advice during a holiday a no-no, many of their subscribers won't mind it. The email copy is light-hearted and very precise about its message.
Although The Muse isn't necessarily trying to sell a product or service here, this email is a way to engage subscribers and foster relationships.
Conclusion
In this blog, we have discussed 9 best labor day email examples to take inspiration from. All these email examples have used different sorts of tactics when it comes to engaging their customers. So, keep experimenting with your email marketing strategies to deliver a unique experience to your customers.