Email communication has become a significant part of our lives. According to EarthWeb, approximately 347.3 billion emails are sent per day. Considering this humongous number, it is important that your email messages reach the intended subscribers and they engage with the same.
Email whitelisting is a tactic that ensures your emails skim through the spam filters and are delivered to the subscribers' inboxes without any hassles. Whitelisting can keep many cloud security issues at bay if implemented properly.
In this post, we will share some of the best practices that you can implement to optimize your email deliverability. We will also share few tool recommendations that you can leverage to strengthen your email marketing game while boosting productivity monitoring.
What is email whitelisting?
Email whitelisting means adding an email to an approved sender list so emails from that sender never land in the spam folder. Instead, when a recipient whitelists an email address, they ensure they know and trust the sender. It suggests an email server (like Gmail) to move messages directly to the inbox.
What is the importance of email whitelisting?
Email whitelisting is important for handling incoming emails and ensuring that only messages from trusted sources are received. Moreover, blocking messages from non-whitelisted sources helps safeguard against malicious spam, phishing attacks, and other email scams. Building and keeping an email whitelist also ensures that essential and genuine emails, such as newsletters, notifications, and welcome messages, are delivered to your inbox rather than in a spam folder.
10 Email Whitelisting Best Practices to Follow in 2023
1. Use a Legitimate Domain Name

The email address you use to send emails to your subscribers helps them identify your business as the sender. Imagine receiving an email from a domain that does not look like yours.
Wouldn't you mark it as spam and delete it permanently from your inbox? With the increasing rise in the number of domain spoofing incidents, it is crucial for brands to use a legitimate domain name for email marketing.
Choose a domain name that represents your brand the best and dedicate it solely to email communication. This will help you build trust and reputation with your email subscribers while improving the deliverability of your emails.
2. Ask Subscribers to Add You as a Contact

This is one of the most straightforward email whitelisting best practices you can implement to make your email marketing efforts fruitful. Request your email subscribers to add your email address to their contact list as emails from saved contacts are whitelisted by default.
As a result, these emails will be shown up in the subscriber's inbox thereby reducing its chances of being marked as spam.
By asking your subscribers to add your email as a contact, you increase the engagement you receive for your emails. Your subscribers are more likely to open and engage with your emails thereby boosting open rates and click-throughs, and improving the performance of your email marketing campaigns.
You can send a personalized email to your subscribers asking them to add your email address to their contacts directly. For example, The Hustle, a business and technology newsletter, sends newsletters every Sunday to its subscribers.
The brand crafted an exclusive email for its subscribers announcing this new newsletter series and requested them to add their email address to the contacts.
Alternatively, you can include it in your email footer like how SharkNinja does in its emails.
3. Segment Your Email List
Not every email subscriber would be interested in reading each of your emails. Most emails that brands send to their subscribers go unread as they are too generic to appeal to any single group. Hence, segmenting your email subscriber list is crucial.
Segmentation helps you build more targeted email campaigns based on the subscribers' interests, likes, behavior, and more.
This guarantees your recipients receive relevant emails that are tailored to their purchasing habits, demographics, and background while increasing the likelihood of adding you to their whitelist. It also helps save your team's time for undertaking other important tasks and with productivity monitoring.
Enhance the overall engagement of your campaigns by segmenting your audience into various lists and sending suitable content that your audience resonates with.
This will help you foster strong connections and develop more meaningful relationships with your subscribers. Targeted communication will also help you build an audience of dedicated subscribers and contribute to the success of email marketing campaigns.
4. Offer Quality and Engaging Content
The best way is to offering your subscribers a good reason to whitelist your brand. Provide high-quality and useful content to your subscribers and increase your chances of email whitelisting.
In fact, around 72% of subscribers sign up for email newsletters because they wish to learn more about a topic that interests them, expose them to new ideas, or simply stay updated on the latest trends.
Here are a few other reasons for email newsletter subscription.
Offering your email subscribers engaging content will make them look up to your newsletters as a reliable source of information and establish your brand as an industry expert. Devise an effective email marketing strategy to plan and implement serving useful content to subscribers via email messages.
Here are some email newsletter ideas for increased subscriber engagement.
Share your brand story or give them a gist of what happens behind the scenes
Share best practices or quick tips
Educate subscribers with how-to- guides, instructional articles, informative videos, and so on
Announce special offers, discounts, or giveaways
Ask for feedback from subscribers
Create a survey to capture subscribers' views
Share interviews with industry experts, influencers, and more
Send invites to attend online events
5. Personalize Your Email Messages

Email personalization is another best practice that can keep you out of your susbcriber's spam box. Prioritize your subscriber' needs by sending personalized emails and build a sense of trust and loyalty among them to make them feel special.
Tailor your email content for the subscribers based on their preferences, demographics, past interactions, or browsing behavior thus making it highly relevant for each of them. By sharing content that resonates with your subscribers on a personal level, you are indirectly increasing your email engagement rate.
Whether you share a personalized product recommendation, a discount coupon, or a how-to guide, personalization creates a sense of relevance that drives your subscribers to take desired action i.e. getting your email address whitelisted.
6. Pay Attention to Style and Design
Besides content, your email layout and design play a significant role in appealing to your subscribers. A well-designed email with a clean layout, captivating images or videos, and attractive colors can help capture the attention of your subscribers. It can also encourage them to explore your content further.
Further, it helps you craft a cohesive brand experience for your subscribers and build a strong brand reputation. It builds trust and your subscribers begin to recognize and associate with your brand. Here are a few tips to help you get started with your email design.
Incorporate unique design elements, impressive layouts, creative images and so on to tailor a visually-appealing design.
Use consistent brand colors, fonts, icons, and other visual elements to establish brand consistency.
Focus on enhancing the readability of your messages by using legible fonts, adding sufficient white spaces, and more.
Add fun design elements like emojis, animations, and GIFs to entice your subscribers.
7. Avoid Using Spam Trigger Words or Phrases
Did you know that most email providers have built-in spam filters that automatically flag certain emails as spam to protect user's email inboxes from malicious emails? This happens due to misleading subject lines, using spam words or phrases, targeting customers who haven't opted for emails, and more.
Avoiding spam words in your messages is one of the most effective tactics to prevent your emails from getting routed to spam folders.
Use clear and concise language to convey your message. Write compelling subject lines free of any technical jargon or misleading language. Ensure that your message content offers value to your subscribers.
Make sure your message is free of any spam words. This will improve the deliverability of your emails and decrease their chances of landing up in spam.
8. Provide an Unsubscribe Link

Subscribers may not always be interested in your content, might wish to reduce email clutter, or simply have changed their email addresses.
Providing an unsubscribe link in your email messages allows subscribers to easily opt out of receiving further emails from you. Having an unsubscribe link in your emails increases its likelihood of landing in the email inbox rather than the spam folder.
Invest in an email marketing software, such as Mailchimp, Campaign Monitor, or ActiveCampaign that offers built-in unsubscribe functionality to automatically generate unsubscribe links to your emails.
Place the unsubscribe link at the bottom of your email, for instance, the footer or other prominent location so that it is easily noticeable by the recipients.
Do not forget to test out the link to make sure it redirects to a dedicated page that allows recipients to manage their email preferences.
9. Remind Users to Update Their Email Preferences
As subscribers have complete control over the kind of emails they receive, it is advisable to request them to update their email preferences. By remaining subscribed to those emails that pique their interests, your subscribers are more likely to engage with your email content leading to high open rates and increased conversions.
A subtle reminder to subscribers asking them to update their email preferences can help in boosting email engagement and improve subscriber retention rates. Provide your subscribers with an option to choose the frequency at which they wish to hear from your brand and content type they wish to receive emails about.
Help them fine-tune their preferences to prevent email fatigue and unsubscriptions. This helps you maintain a better reputation and reduces the chances of your emails being flagged as spam.
10. Review Your Email Subscriber List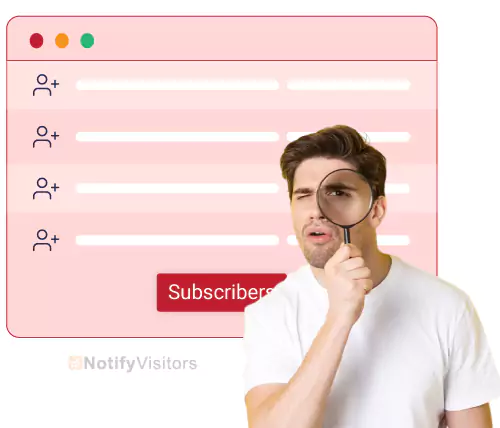 Review your email lists to identify the inactive or disengaged subscribers to avoid sending emails to unresponsive recipients.
This ensures that your email subscriber list remains relevant and accurate thus reducing the number of unsubscriptions or emails being marked as spam. It also reduces the costs associated with email marketing as you target a more responsive audience.
Further, by separating those subscribers who have not engaged with your emails for a long time from the active ones, you can devise a new strategy to regain their interest in your email messages. It helps you identify new opportunities for engaging your audience via enhanced targeting and effective personalization.
Email segmentation helps in increasing the overall deliverability of your emails while boosting the engagement rates and building a highly-hooked email audience. Reviewing email lists regularly also helps you stay compliant with the data protection and privacy regulations.
Wrapping Up
Email whitelisting ensures your emails reach your subscribers by bypassing the built-in spam filters. It promises improved email deliverability, increased email open rates, and builds an engaged subscriber community. We hope after reading this post, you can optimize your email marketing campaigns for better reach and engagement.
Author Bio:
Manas Chowdhury is a Digital Marketing enthusiast with a PG in Economics and a specialization in Finance. He is an entrepreneur who has a keen interest in stocks, bullions, gaming, and blockchain technology. While he runs his own startup, he also enjoys writing on a variety of topics. Being a philanthropist, he is also involved in various activities contributing to the betterment of the environment and society. You can connect with Manas on LinkedIn.