CRO Analytics enables your business to gear up for creating better marketing campaigns. They define and reflect the health and wealth of your business.
Being a marketer, you are always striving for better conversion rates, i.e., you create campaigns that turn your visitors into leads that finally turn into conversions.
CRO analytics are the crux of your marketing campaigns and also, they lay a strong foundation for your business. The customer insights you get help you to optimize your website to attain better conversions.
But if you want to better understand how these analytics work and how they can help you boost your conversion rates. Read this blog to get acquainted with the crucial aspects of CRO analytics.
BENEFITS OF CONVERSION RATE OPTIMIZATION :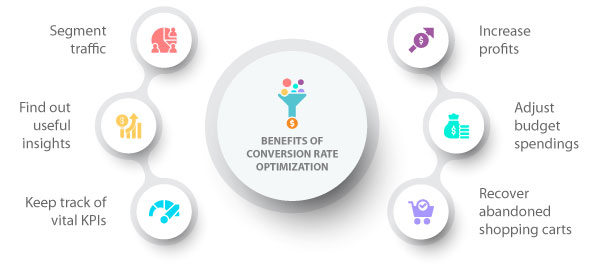 Before jumping on to the CRO analytics, let us have a basic understanding of the benefits of Conversion Rate Optimization. To optimize your business conversion rates, you need first to understand your websites' visitors' behavior.
You need to put your website under the scanner to reach potential growth. You can create a CRO program or run a CRO campaign to test the waters.
1. ENHANCE THE QUALITY OF YOUR EXPERIMENTS
Run tests on your sites by experimenting with different elements of your landing pages. Watch out for the areas that are giving you effective results. Also, you can set the benchmarks for further experiments.
For example – If you are an e-commerce store and desire to enhance the customer experience. You can run AB tests and optimize the conversion rates. If your conversion rates are improving, that means your sales and revenue will ultimately increase.
2. ADD PERSONALIZATION TO ENHANCE THE EXPERIENCE
Make the entire purchasing experience easier for your visitors by adding personalization. Personalize your site sections based on different factors such as geography, location, and history.
The CRO process begins with analyzing the customers' behavior. Various CRO tools such as Heatmaps and user session replays help you understand the overall customer experience.
Note: CRO tools help you know the friction areas, where your visitors are dropping off, and why they are abandoning your site. Also, lead form analytics and survey analytics help you lead the way in creating a better customer experience by changing the UI and UX of the site.
WHAT IS CRO ANALYTICS?
CRO analytics gives you the exact picture of how visitors behave on your site; otherwise, you would just be rooting certain assumptions and creating decisions out of it.
The analytical method for optimizing conversion rates is also known as quantitative data analysis. This analysis gives you figures and numbers about the customers' behavior.
Google Analytics is one such web analytics platform with which you can begin. It is a great tool to know about customer insights, pushing you further in the right direction.
The quantitative data analysis lets you know about the following key metrics :
The source of your website visitors.
What features they engage with.
On which sections of the page they spend most of their time.
What devices and browsers they use.
Did the visitors find the link to your site or any referrers who brought them to your site?
Who your customers are at the core.
Why users abandoned your site or the funnel analysis.
WHAT ARE MACRO AND MICRO CRO ANALYTICS?
CRO analytics can be divided into two categories: micro and macro metrics.
1. MACRO-METRICS
The macro metrics are the revenue-generating metrics, usually bringing money to your business such as the purchases, sign-ups for a demo, etc. You can set conversion goals to determine the macro-metrics. It will help you work in a specific direction.
For example – A SAAS company focuses on perceiving more free trials and demo requests that can lead them to attain their desired conversion goals.
2. MICRO-METRICS
You can track as many micro-conversion goals to achieve the macro conversion goals. For example- newsletters, subscriptions, adding products to the cart. You can ab test the CTAs for these micro-conversions to attain maximum revenues.
HOW TO COLLECT INSIGHTS FROM CRO ANALYTICS TOOLS?
As we stated above, Google Analytics tools help you gather healthy insights and data to look into every detail of your website. Let us know what type of reports you can dive into to optimize your website's conversion rates.
Standard reports: These reports are the preset reports which are further divided into real-time reports, audience reports, acquisition reports, and so on.
Custom reports: These reports are customizable as per your needs.
Let us know about the standard reports in brief :
1. REAL-TIME REPORTS
Real-time reports help you check the activities on your site in real-time. You can track the real-time responses on your campaigns and further optimize the elements or content to grow your business.
Real-time reports help you keep track of your active users, the users' locations, the traffic, content, and the top-custom events such as the ads, clicks, video plays, etc. Also, the conversion reports show you the conversions you have achieved in real-time.
2. AUDIENCE REPORTS
The audience reports display essential insights about your audience. It is not real-time data but gives you a snapshot of the audience in the overview section. You can view here the demographics, geographical location, devices, and source of the users.
3. ACQUISITION REPORTS
The acquisition reports give you valuable insights about the users' path, which takes your users to your website. View here the critical information about how your users landed at your website.
Know about the total no. of visits to your sites.
4. CONVERSIONS
Conversion reports show you the conversion goals, e-commerce reports, and multi-channel funnels. Ecommerce reports are the most effective one amongst the others, where you can view the most popular products and their revenue.
You can dive deeper into the analytics to know how users are behaving and the reasons for such behaviors, such as the drop-offs and abandoned carts.
HOW CRO ANALYTICS PLAY BEST ROLE FOR CONVERSION RATE OPTIMIZATION?
As we have discussed, the Google Analytics reports give you a panoramic view of the customers' behavior and a lot more.
If you want to ace up your conversion rate strategies, you can integrate GA with your conversion optimization tools such as AB Testing and heatmaps.
Simultaneously, you have to keep a keen eye on the below CRO analytics reports to get desired results :
1. LANDING PAGES PERFORMANCE
Your landing page is the most crucial web page whose elements define your website's success and conversion rates. Its design matters the most so that customers can click on the required CTAs that boost the conversion rates.
Therefore, evaluating the landing page performance report is necessary. Such reports give you a real picture of the pages that are not working to attain conversions. Your CRO tools help you find the insights.
2. BEHAVIORAL DATA ON CONTENT
Content is regarded as the king in the Marketing arenas. Collect insights about the behavior of the customers on your blog posts. You can evaluate how your content contributes to your revenue goals and further create useful content to get more conversions.
3. CONVERSION FUNNELS
To optimize your conversion rates, you need to analyze the traffic generated and dropped at each stage of the conversion funnel. Know the percentage of users at each stage who performed actions on your site. View the conversion data based on source and location.
4. CONVERSIONS BY BROWSERS AND OPERATING SYSTEMS
View which browsers and operating systems are users using. You can evaluate the browsers which are not driving substantial conversions. Dive deeper into the browser's report to know which versions are impacting the conversion rates.
CONCLUSION
Optimizing the conversion rates is not a one-day process; you need to have an overall understanding of Analytics to earn success for your marketing campaigns. With the help of CRO tools and analytics, you can optimize your business growth with patience and resilience.