Shopify stores can benefit from SMS marketing if done properly. It can help skyrocket your sales! Statistics say that more than half (54%) of consumers like to be contacted via text rather than email. This makes SMS marketing the best medium for customer communication. You can tap into the potential of SMS marketing by making use of an SMS marketing app.
Here are 15 of the best SMS marketing apps for Shopify to help Shopify stores build long-lasting relationships with customers.
15 Best Shopify SMS marketing apps you must try in 2023
Given below are some of the most reliable Shopify SMS marketing apps that can assist you in streamlining your Shopify store's text marketing efforts, and thereby, gaining ground.

Our SMS marketing app is one of the best shopify SMS marketing apps as it integrates SMS, email, Whatsapp, push notifications, ads, signup forms, and more. It has advanced targeting features that let you send the right message to the right person. Implementing personalization can boost customer engagement and conversions.
Features:
Omni-channel marketing
Advanced Targeting
Segmentation
Automated Triggered Campaigns
Personalization
Integrations
Pricing: There is no free plan available. The paid plans begin at $49 per month.
2. ONE

ONE is the next Shopify sms marketing app on this list. It lets you automate your SMS sending to a mass audience. It complies with the Telephone Consumer Protection Act (TCPA) and the General Data Protection Regulation (GDPR). It also lets you reach out to customers via pop-ups. It integrates with many tools and platforms for SMS marketing.
Features:
Email marketing
Real-time social proof
Gamification
Consumer loyalty program
Pricing: There's a free plan available. There are also three paid plans available at the pricing of $15, $29, and $70 per month. These come with a 30-day free trial.
3. SMSBump

The next candidate is SMSBump. It can be liked with your Point of Sales (POS) and has other resources needed to enlarge your SMS list. You can automate your SMS messages to retain existing customers, increase sales, and regain abandoned carts. It can also be integrated with numerous other applications to reduce your workload and facilitate seamless communication.
Features:
SMS templates
Automated text messages
Conversation flows
POS linking
Integrations
Pricing: SMSBump's plans range in cost between $19 and $199 per month.
4. Postscript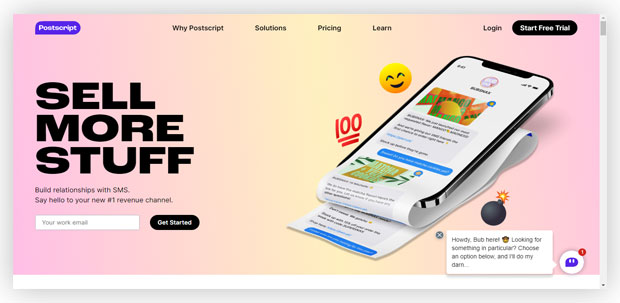 Postscript is an easy-to-navigate SMS marketing app for Shopify. It specializes in SMS marketing alone. It can come up with a TCPA-compliant SMS list, segment your contacts, and automate your SMS marketing. It also has a robust tracking feature that tracks and reports back on your texts, campaigns, automation, click-through rates, etc. However, it highly focuses on customers from the USA and no other country.
Features:
Integrations
Pop-ups
TCPA Compliance
Automation
Reporting
Pricing: It comes with a 30-day free trial. There are three paid plans, which are priced at
$25, $100 p/m, and $500 per month, respectively.
5. The ConvertWay

The ConvertWay (TCW) is an SMS cum Whatsapp marketing solution for Shopify stores. It allows you to connect and communicate with users from across the world and is accessible in 220 countries. You can automate your SMS follow-up communications with it. Since it allows one-on-one interaction with customers through Whatsapp, it's powerful.
Features:
SMS and Whatsapp marketing
Segmentation
Feedback/review collection
Automation
Win-back customer workflows
Pricing: TCW's least expensive package costs $29 per month. However, charges for Whatsapp and SMS may vary based on your country.
6. Klaviyo

Klaviyo is a secure, comprehensive, and easy-to-use SMS marketing, form builder, and social media ads tool. It allows you to segment users and also applies dynamic automation. It's secure too in terms of GDPR and TCPA compliance. It has an A/B testing feature to help you ascertain the best-performant forms.
Features:
Templates
Automation
SMS Marketing
Social Media Ads
Form Builder
Security
Integrations
Pricing: There is a free plan available. The paid plans start at $45 per month.
7. Automizely

Automizely is also GDPR and TCPA compliant and helps in effective SMS marketing. This is because of its enticing text messages and reaching out to customers in the right manner and at the right time with its automated trigger settings. The tool also offers detailed analytical reporting on the performance of your text campaigns.
Features:
Security
Automated Triggers
Detailed Reporting
SMS Templates
Pricing: There is a feature-rich free plan available. For knowing the pricing of the Enterprise plan, do get in touch with the vendor.
8. Textedly

Textedly is an internet-based SMS marketing app for Shopify. It has seamless scheduling and automation functionalities. Its built-in data gathering feature lets you personalize your texting campaigns and get higher conversions therefrom. It is secure and has an intuitive dashboard. Its only drawback is that it doesn't facilitate message forwarding.
Features:
Customized Auto-replies
Data collection
SMS marketing
Automation and Scheduling
Pricing: There's a free plan available. It allows 50 messages. The priced plans begin at $24 for 1,200 SMS. There's a 14-day free trial.
9. Firepush

Firepush is a comprehensive marketing app that encompasses email, SMS, and web push notifications. It's an easy-to-use platform with numerous templates for SMS marketing. Its segmentation allows you to deliver personalized and well-tailored campaigns. You'll also get detailed analytic reports to optimize the performance of campaigns.
Features:
Segmentation
Personalization
Templates
SMS Marketing
Email and Web Push marketing
Automation
Analytic Reporting
Pricing: The Basic and Pro plans are available for free. For the Enterprise plan, contact the vendor to know the pricing.
10. Cartloop

The next candidate on our list of the best Shopify SMS marketing apps is Cartloop. It has features for conversational flows that let you grab opportunities that you'd otherwise lose by engaging and converting shoppers. These two-way SMS campaigns include new product drops, discounts, sales, giveaways, etc. It's also known for its GDPR and TCPA compliance.
Features:
GDPR and TCPA Compliance
Two-way SMS campaigns
Conversational Flows
SMS Concierge Services
Conversational Inbox
Pricing: Cartloop comes under three plans viz., the Sales, the Full Conversational, and the Enterprise plan. Get in touch with the vendor to know the pricing of these.
11. Omnisend

Omnisend is an email and SMS marketing app. It has numerous templates and pre-built workflows such as new subscribers, product abandonment, cart abandonment, and more for Shopify stores. It has an easy-to-use, intuitive, and engaging user interface. The app also integrates with a lot of other tools and platforms. Its reporting is also quite detailed.
Features:
SMS Marketing
Email Marketing
Forms and Popups
Automation
Migration
Integrations
Data Syncing
Pricing: There's a free plan that allows up to 60 SMS per month. The paid plans start at $16 per month. The app comes with a 14-day free trial.
12. SlickText

SlickText is another effective SMS marketing app for Shopify. It is mobile-friendly and facilitates multiple integrations and text marketing automation. Its specialty is that you can have a one-on-one account approach. Another exclusivity is its library with educational resources on SMS marketing.
Features:
SMS and MMS marketing
Automation
Integrations
Library of educational resources
Scheduling and auto-replies
Two-way text messaging
Drip campaigns
Pricing: SlickText offers many priced plans to suit the varied needs of businesses. The starting price is $29. All the priced plans come with a 14-day free trial that allows 50 SMS.
13. Tobi

Tobi is a popular SMS marketing app for Shopify. It enables SMS marketing automation and re-targeting audience through SMS. It offers several pre-built templates to simplify your work. Besides, its analytic tracking and reporting are in-depth. You get valuable insights into gaining new customers, increasing your sales, and more.
Features:
SMS marketing
Templates
Analytic Reporting
Limited integrations
Pricing: There's a free plan available. The paid plans start at $29 per month.
14. Trumpia

Trumpia is a multi-layered marketing platform that encompasses SMS marketing, email marketing, voice messaging, and MMS. It has features for automated segmentation, smart targeting, automated workflows, personalization, and lead scoring. It also has drip campaigns and automated pre-written texts for subscriptions. Its only downside is that it doesn't offer a functioning mobile solution.
Features:
SMS and MMS marketing
Email marketing
Voice messaging
Segmentation
Smart targeting
Automated workflows
Personalization
Lead scoring
Pricing: There are a lot of options offered when it comes to paid plans. The starting price of these plans is $45 per month when billed monthly and $36 per month when billed yearly. All plans come with a 14-day free trial.
15. Message Launch

Message Launch is the final candidate on our list of the best SMS marketing apps for Shopify. It not only allows two-way texting but also combines email marketing. The app is easy to use and feature-rich. You can create and deliver highly personalized experiences with it. You can conduct SMS and text-to-vote surveys using it.
Features:
SMS marketing
Email marketing
Automated workflows
Two-way interaction
Scheduling
Analytics
Personalization
Pricing: Message Launch comes in four different paid plans. Their starting price is $9.99. They come with a 14-day free trial.
Wrapping up
In this blog, we've covered 15 of the most trusted Shopify SMS marketing apps. From them, choose an app that's easy to use, within your budget, and covers all the features and functionalities you need. We suggest you try NotifyVisitors for free! We're sure you'll never be disappointed with us!