"Gathering contact details from prospects is vital for growing your Shopify business".
Shopify stores can grow their customer base and sales by collecting email addresses and other details of store visitors and prospects. This is the most fundamental step in lead generation. Having lead forms positioned on your home page, checkout page, contact page, and more can help you generate more leads.
What you need is a lead form building software that seamlessly integrates with your e-store. The tool should also make the process of building appealing forms easy and quick. This blog lists and discusses the features and pricing of nine of the best shopify lead form apps.
9 Best Shopify Lead Form Apps to Help You Build and Install Forms
You can use Shopify lead form apps to build various kinds of high-performing forms such as subscription forms, registration forms, application forms, payment forms, contact forms, contest registration forms, pre-sale customer consultation forms, etc. Now let's walk you through some of the best lead form apps for Shopify.

Our lead form app comes first in our list of the best Shopify lead form apps. That's because our form builder not only facilitates gathering customer details but also tag individuals based on their interest. We offers a lot of themes and templates. There's an editor that lets you design attractive and elegant lead generation forms on your own.
Features:
Themes and templates
Customization
Email integration
Advanced Targeting
Analytics
Pricing: Contact us to know the pricing of NotifyVisitors lead form app.
2. FormBakery

This app is known as "FormBakery" to imply that it simplifies form building just like a piece of cake. Its drag-and-drop builder allows you to design professional-looking forms with ease. If building a form from scratch is time-taking, you can choose to customize one of the templates it offers. Embedding the form thus designed on your website is also simple.
Features:
Spam protection
Drag-and-drop builder
Templates
Integrations
Pricing: FormBakery offers a free plan that lets 50 submissions each month. The pricing of the paid plans begins from $4.99 per month.
3. Wufoo
Wufoo is the next app on our listing of reputed lead form apps for Shopify. It even allows you to create payment forms for securely collecting payments through Paypal, Authorize.Net, and Strike. It allows custom branding. And you can create your own theme or choose from one of its ready-to-go themes.
Features:
Themes and Templates
Customization
Cloud-based storage
Conditional logic
Integrations
Analytical Reporting
Social Sharing
Pricing: Wufoo offers a free plan that encompasses five forms with 100 entries per month. You can avail of the paid plans at $14 per month.
4. Jebbit

Jebbit is another popular Shopify lead form app. With it, you can not only create lead gen forms, but also simple surveys, personality quizzes, product match quizzes (shoppable quizzes), and more. It ensures better engagement to increase conversions and sales.
Its omnichannel distribution facilitates you to reach your shoppers wherever they're on your shop with personalized recommendations.

Features:
Visual builder
Omnichannel distribution
Personalization
Analytics and Reporting
Integrations
Pricing: Jebbit offers a free plan, which allows 500 lifetime engagements. The paid plans begin at $39 per month.
5. Beae

Beae is an app that allows you to build forms, pop ups, and pages on Shopify without any designing or coding expertise. Its user-friendly visual editor helps you create email subscription forms with ease. It's flexible and compatible with all recent Shopify themes. It's also compatible with translation apps like Weglot to make your site multi-lingual.
Features:
Themes
Customization
Integrations
Mobile Optimization
Pricing: Beae offers a free plan. The pricing of the paid plans starts at $14.9 per month.
6. 123FormBuilder

123FormBuilder is called so because it lets you create any kind of Shopify form in just three steps. It's mobile responsive and makes a large collection of over 2000 form templates available. You can customize them to match your branding and preferences.
The form builder also integrates seamlessly with many tools and platforms that you use regularly for the smooth running of your site.
Features:
Templates
Customization
Integrations
File uploading
Multi-lingual
Pricing: A free version of 123FormBuilder is available. The paid versions start at $19.99 per month.
7. Capture
Capture is a lead generation and automated remarketing tool that lets you capture and use information from forms that are left incomplete by users.
You can easily build forms with it, integrate them into your Shopify store, and capture real-time data from those. Its automated remarketing campaigns can be personalized and powerful to your high-intent website traffic.
Features:
Data capturing from abandoned forms
Real-time analytics
Automated Remarketing
Integrations
Pricing: There's a free plan that includes 100 form captures. The priced plans start at $149.99 per month.
8. Pify Form Builder

The last but one candidate on our list of the best Shopify lead form apps is Pify Form Builder. It allows you to present your forms as popups or floating buttons. It is also mobile responsive, so it automatically adapts to different screen resolutions. These forms support conditional logic. Therefore, you can come up with smart forms.
Features:
Mobile Responsive
Templates
Customization
Conditional logic
Pricing: Pify Form Builder offers a free version. The paid versions start at $4.99 per month.
9. Jotform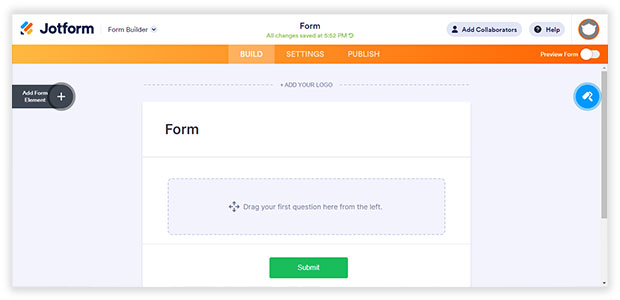 Jotform is the final candidate on our list of the best lead form apps for Shopify. It simplifies the process of creating appealing forms and collecting data therefrom.
You can choose from a variety of form templates such as order forms, registration forms, payment forms, contact forms, signup forms, and more. You can ensure a good user experience by choosing the right design and layout as well.
Features:
Templates
Customization
Mobile-friendly
Integrations
Multi-lingual
Pricing: A free plan is available. The starting price of the paid plans is $39 per month.
Conclusion
Lead generation is important for Shopify stores. For, it enables expanding your customer base, increasing your revenue, and growing your business. The app you choose to create lead forms and use on your e-store matters a lot.
This blog has discussed the features and pricing of some of the best Shopify lead form apps. You can pick the most suitable from among them. Try NotifyVisitors for free here. We're sure you'll never be disappointed!
FAQs
1. What is a form builder?
A form builder is software that you create, and manage forms online. It has features such as themes, templates, A/B testing, mobile responsiveness, and more.
2. How does a form builder help?
A form builder lets you create forms, embed them on your website, minimize manual work, capture leads, simplify sharing, test variations (A/B testing), and more.
3. What are the benefits of online forms?
Online forms are affordable, faster, convenient, well-tailored, save paper, facilitate easy data handling, and reduce biased results.