Push notifications are an amazing tool that allows you to connect with visitors after leaving your website. You can send personalised push notifications to your subscribed users or customers prompting more traffic, engagement and conversion.
Further, you can make use of push notifications for your app. They can show up on a lock screen or in the top section of a cell phone. They are exceptionally powerful at assisting clients in staying engaged with an application or reconnecting with an application they haven't opened in a while.
This is especially helpful as it allows you to re-engage customers with lower procurement costs. Since you can get pushes while you're browsing in-application or in any event, when your gadget is locked, this makes it an excellent method for passing on messages of urgency; for example, limited time offers special discounts, etc.
15 Best Push Notification Software & Tools in 2023
Here are the 15 best push notification software and tools that you can try.
Personalised messages, rich media support, and actionable insights. NotifyVisitors push notification tools engage and bring back users to your application.
With its impressive dashboard, NotifyVisitors has all the major features and metrics to engage customers for your business. It is best for all online businesses, so integrate NotifyVisitors push notification software with your organisation.
It also upholds Accelerated Mobile Page (AMP) locales and, using the drip feature, triggers a progression of automated push messages to engage your subscribers.
Features
Powerful segmentation and triggered notification option for better engagement
Advanced analytics for better insights
Personalise rich media support notification for every user
Geo-Fencing and Support for AMP pages
Customised subscription UX to convert maximum visitors into subscribers.
Pricing
For 15 days, it has a free trial plan
For paid once, it starts from $49/month- web and app push
Contact NotifyVisitor for more information.
2. Push engage
PushEngage is also one of the best push message tools available. You can set it up to send your new blog post notification or use it to send personalised messages manually. It is really simple to set up, which makes it ideal for beginners. Moreover, it deals with HTTP and HTTPs sites, supporting all gadgets/browsers.
Features
Dynamic segmentation and automatic drip campaigns
Goal tracking and analytics
Offline notification
Deep eCommerce integrations
Offering GDPR compliance for security purposes.
Pricing
PushEngage costs from $9/month, which gives you 1,000 subscribers and limitless notifications.
Likewise, there's a restricted free plan, which surrenders you to 500 subscribers and 30 campaigns/month.
3. Catapush
Catapush guarantees that your push notifications are delivered, and you can continuously follow your notifications in real-time. For each message sent, conveyed, and read, Catapush will send you timestamps. There is likewise end-to-end encryption support to keep your customers' information secured.
Data push permits you adequate personalisation in your push notifications. Clients can use SMS backup support as well. SMS backup support is to contact your audience offline.
Features
Text personalisation with variable sending
Leverage customer fallback to reach users offline.
Single message status tracking
Two-way communication via API
Advanced analytics
Pricing
A free year basic plan is accessible
The expert plan is €0.02 (approx. $0,024) per message each month
4. VWO engage
VWO Engage, which used to be called PushCrew, has a web push notification tool that deals with both desktop and mobile.
It's intended to allow you to create a push notification campaign with entry and exit triggers. That implies the mission can naturally begin because of the client's actions, for example, clicking a specific link.
Features
Suitable for both desktop and mobile
Easy to use and navigate
Campaign segmentation
A/B testing
Reporting and Analytics
Pricing
VWO Engage costs from $99/month. This surrenders you to 10,000 subscribers and unlimited warnings.
There's no free arrangement accessible. Nonetheless, you can take a free trial for 30 days, with no Mastercard required.
5. Webpushr
Web push offers an automatic and simple to use dashboard and a superior designed WordPress Plugin.
Web push is a web notification tool that supports almost all popular browsers. Moreover, it offers a scope of various brief templates that you can customise. It is the push vendor that serves all pictures related to push messages sent through third-party integration (like WordPress Plugin, REST API, and so forth) through its content delivery network(CDN).
Features
Event-triggered notification
Support both HTTP and HTTPs sites
Emoji and large image support
User segmentation
Supports all popular browsers
Pricing
Webpushr costs $29/month for up to 50,000 subscribers and limitless notifications.
There's likewise a free plan also accessible, which gives you up to 10,000 subscribers and unlimited notifications.
6. Onesignal
OneSignal is the market-driving client messaging and engagement solution, offering mobile and web push notifications, in-application messaging, SMS, and email. Fueled by prevalent engineering, OneSignal is intended to scale with your business and convey messages rapidly and dependably.
Features
Integrations with various platforms
Visual notifications and contextual targeting
Supports for both web browsers and mobile devices
Facilitated A/B testing
Campaign segmentation
Pricing
OneSignal's Growth plan begins at $12 each month for 1,000 subscribers, giving you their standard personalisation and key features.
Their expert plan begins at $114 each month for 5,000 subscribers and incorporates additional advanced functionality.
7. Beamer
Beamer's push notification engagement tool helps you announce your recent updates and get strong feedback with an in-application notification center, gadgets, and changelog. In addition, it helps share your important news and updates to create and schedule posts to keep your clients and website visitors up to date.
Features
Codeless installation
Eye-catching notification
User segmentation
Advanced reporting and analytics
Integration with third-party applications
Pricing
Free version available
The basic plan starts at $49/month.
8. iZooto
You can use web push notifications and mobile app notifications to reconnect and hold your audience. The pop-up web messages can be delivered easily, both on desktop and mobile browsers, in any event, when your visitors are not on your website.
Integrate iZooto with WordPress with a simple click. iZooto upholds Accelerated Mobile Page (AMP) locales and, using the drip feature, triggers a progression of automated push messages to draw in your subscribers.
Features
Contextual targeting and geotargeting
Visual notifications
Campaign segmentation
Notification scheduling
Reporting and Analytics
Pricing
iZooto costs from $85/month, which limits you to 30,000 subscribers and unlimited push notifications. There's no free arrangement accessible. In any case, you can require a 14-day free preliminary (no Visa required).
9. PushAssist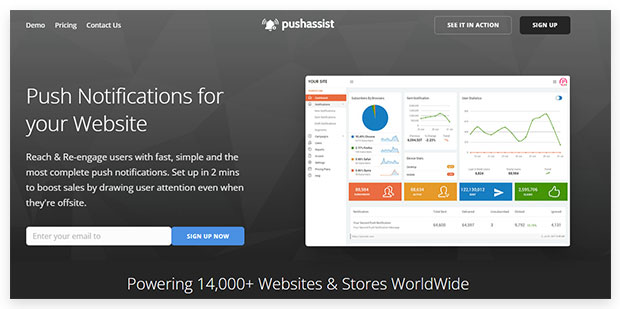 PushAssist is another instrument that supports Chrome, Firefox, and Safari programs. It's easy to install and deals with both mobile and desktop.
With PushAssist, you get crowd segmentation, personalisation, scheduling tools, and experiences into your client information.
You have the choice to monitor your traffic by allowing marketers to convey push messages to your audience.
Features
Easy to set up without any hassle
Support for popular web-browsers
Multi-channel messaging to engage users on their preferred channel
Multi-device support as per your campaign goal
Real-time tracking
Pricing
PushAssist costs range from $9/month for a maximum of 3,500 subscribers.
There's likewise a free arrangement accessible. It supports up to 3,000 subscribers.
10. WonderPush
WonderPush works like other push notification tools. It allows you to segment your audience, automate notifications based on behavior or time, real-time access analytics, and more.
WonderPush allows you to create different kinds of notifications. These incorporate eCommerce push notifications, like automated abandoned cart notifications.
Features
Subscription prompt customisation
Woo-commerce support
Advanced dashboard
Real-time analytics
Woocommerce and AMP support
Pricing
There is no free plan, but it gives 14 day free trial without mentioning card details.
WonderPush has an alternate valuing model from other devices we've featured. It costs from €1 each month for up to 1,000 subscribers. After that, it's an additional €1 for every 1,000 subscribers.
11. Sendpulse
Apart from push notifications service, Sendpulse facilitates many more services, for example, email marketing, Bulk SMS, SMTP server. It can provide personalised notification for explicit clients based on usage pattern and location. It upholds programs, for example, Chrome, Firefox, and Safari on desktop and mobile websites.
Features
Easy to set up
Offline notifications
Custom subscription requests
User personalisation and segmentation
API for developers
Pricing
Sendpulse web push notifications are free for up to 10000 subscribers and take just a couple of minutes to send.
For web push service – $19.85/month for 30,000 subscribers and $199.85/month for unlimited subscribers.

12. Adpush
AdPush is an easy-to-use notification service. Owners can send filtered push notifications utilising geolocation and time zone. They can likewise see their messages before sending them. And schedules the push messages and gets everyday insights reports of the marketing program. Basically, Adpush is a fully-featured push notification software.
Features
Geotargeting
Mobile alerts
Notification Scheduling
A/B testing
Advanced reporting and analytics
Pricing
Its pricing varies according to the requirements of the customer. So pricing is on a personalised basis, which varies from consumer to consumer. So contact Adpush for your personalised plan.
13. Aimtell
With Aimtell, organisations can use advanced segmenting, custom layouts, automated push warnings, and webhooks. Likewise, you can conduct A/B testing, track your metrics, and set your goals. In addition, Aimtell gives more features like lapsing notifications, emoticons, dynamic notifications, and custom branding.
Features
Expiring and dynamic notifications
Custom templated and automated webhook
Scheduled notifications and advanced segmenting
An extensive list of integrations
Facilitates A/B testing
Pricing
A free 14-day preliminary is accessible.
Its basic plan starts from $49 p/m
Furthermore plan is $99 p/m
The Pro plan is $199 p/m
14. Pushbots
Offering a push notification service for internet browsers and cell phones, PushBots principally centers around push notification functions. PushBots provide you with an outline of your crowd's demographics. You can send designated content as well.
Likewise, organisations can depend on PushBots' high-level AI to convey notifications with flawless timing. It also facilitates keeping tabs on your progress with intuitive statistics PushBots prepares.
Features
Suitable for both web browsers and mobile devices
Intuitive statistics
Smart scheduling
Transactional API
UserBase analysis
Pricing
It has a different price range –
The light plan is $29 p/m
The basic plan is $49 p/m
The advanced plan is $129 p/m
The Pro plan is $249 p/m
15. Pushwoosh
Pushwoosh is available for both cell phones and desktop browsers. You can use pictures, GIFs, videos, and different media types in your push notifications, and you can embed deep links in your messages. Clients can play out A/B testing for ideal outcomes and segment their consumers based on user data. Pushwoosh empowers you to stand apart from the crowd through unique content and in-depth analytics.
Features
Available for both mobile devices and website browsers
Facilitates many integrations options
Deep Links in push messages
Supports rich media such as GIFs, videos, and images
Dynamic content and in-depth analytics
Pricing
It has a custom price for every plan. So you have to contact them for your personalised pricing.
Conclusion
Push notifications are an incredible way to do business-to-consumer communication.
They go straightforwardly to the subscribers' internet browser or phone, which implies it has a much higher commitment rate and is much better than SMS messages.
On the off chance that you're not using this tool, then this is the time you should start now to get ahead of your competition.