Reconnecting with users after a radio silence can be awkward. However, one can do so subtly and effectively through a well-planned push notification strategy. Push notifications these days are one of the best ways to convey a message or advertise.
These small pop-up messages on the mobile inform the user, grab their attention, ignite interest, update, promote, and more. But most importantly, it connects a brand with the user, making it a fundamental part of the re-engagement strategy.
The re-engagement strategy aims to turn inactive users into active users. Investment in new users can be five times more than retaining the old customer. Hence, it is beneficial to invest in re-engagement.
User re-engagement can be done via email or push notification. Email can get lost in the pile of emails but push notification is directly sent on the mobile and if timed correctly, the user receives it at the most suitable moment.
However, over-the-top push notifications can backfire, and users might disable them. Therefore, it is crucial to have a proper push notification strategy. Keep reading to know the ten best push notification strategies to improve user re-engagement.
10 Best Push Notification Strategy to Improve User Re-engagement
1. Research and Planning
Every dormant user is a wasted asset but potential revenue. An active user becomes inactive due to various reasons. So, before creating the notifications, research and find out who these users are and why they have stopped using your website or app.
Once you know the reason, link the dots and create a plan on how to approach them. The first push notification for re-engagement is the most important. It must fill the gap because of which the user stopped visiting your website/app.
2. Use Rich Notifications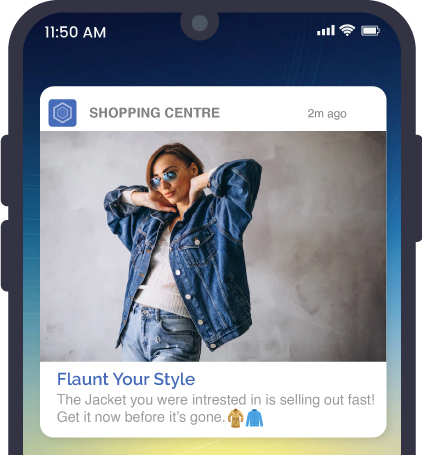 Instead of sending plain text push notifications, use rich content. To make your content rich, you may include images, carousels, or even emojis. A rich notification looks attractive.
As per reports, a push notification with emoji has 85% higher chances of open rates and 9% higher chances of conversion. Emoji is just a part of the rich text, you can use background colours, different types of text font, highlighter, etc. the more creative the text is, the more chances that it will grab the user's attention.
3. Correct Time is the Key
The most crucial aspect of the push notification strategy is time and relevance. Using the data of the user, the push should be sent at that duration when they are most active on the mobile.
As per sources, the best time for sending push notifications is between 12 to 1 PM and 7 to 8 PM. However, the best time to send the message will depend on the user. Intelligent push notification apps help design campaigns which target sending of notifications when the user is most active.
4. User Geolocation
During user re-engagement, segregates the user as per their geological location. The push notifications should then be prepared to target the audience as per their location.
For example, a news app trying re-engagement should send push notifications for the local news only to the people of that particular state and not everyone in the country. Doing so will reduce spamming and user friction.
5. Short and Crisp Message Works Better
User engagement time is usually only around 10 to 20 seconds. People today want to read less but gain more information. Keeping this in mind, push notifications must be crafted mindfully. It should be short and to the point but must creatively convey the message.
6. Personalize Messages
Sending generic notifications to all the users is easy but it does not add value. On the other hand, the personalization of push notifications makes users feel special and more relatable. The personalized message also increases user engagement and interest in your website or app.
If done correctly, this is probably one of the most effective push notification strategies. So, while sending the notification, especially for re-engagement, make sure to personalize the messages. To personalize your message, dig deep and understand the linking of your user, what their past actions have been on your platform, behaviour flow, etc.
7. Add Deep Links
A deep link directly leads users to the specified content and not on the website or sign-up page. This way, the user instantly gets the information the push notification promised. Showing certain information in push messages but leading users to an absolutely unrelated page creates a bad reputation. Deep links reduce the bonus rate and build trust.
8. Abandoned Shopping Cart
Re-engagement with users who added items to the cart but abandoned it can be best done via a push notification strategy. Cart abandonment campaign gently reminds users of the things they wish to purchase. It can also highlight the sales and offers and even remind them about restocking the out-of-the-stock product.
9. Multichannel Strategy
It has been noticed that more than 70% of users research multiple channels before buying a product. So, a push notification strategy can also include a follow-up email.
While a push notification can inform the user of a particular deal, an email sent a few hours later can give out more details. Using multiple channels serves as a reminder but without overloading the user with push notifications.
10. Provide CTA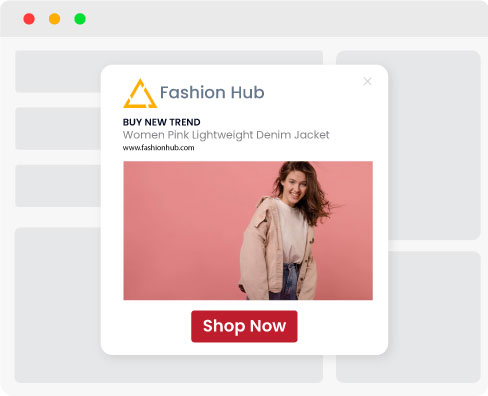 Call-to-action is an essential aspect of push notification strategy to improve user re-engagement. It gives users motivation to proceed further. Based on the response on CTA, create a trigger push notification to increase engagement.
An excellent example is that a study material website can create push notifications with 'download pdf' or 'download books. The user who will download the study material is an interested candidate. Based on this, the website can send users notifications for mock tests, video solutions, and other helpful material they offer.
An Extra Tip
An effective push notification strategy should intend to create a brand image. The push campaign should be designed in such a manner that it builds brand image as well.
A white tick on the black screen instantly reminds us of Nike. This is the power of branding. Similarly, a series of push notifications should be designed in such a manner that it creates brand awareness. To do so, you can add background colour, app layout, and more.
Top 5 Common Mistakes to Avoid While Sending Push Notification
A push notification can make it or break it. As fast as it can make the user open the app and make a purchase, it can also make them delete it. However, you can escape the negative by avoiding these five common mistakes.
1. Sending too Many Push
This is one of the most common reasons for users to disable push notifications or uninstall the app. Every day a user gets numerous push notifications from various apps.
In such a vast sea of notifications, one can stand by going quality over quantity. Sending less, but helpful push notifications are better than sending too many unnecessary messages.
2. Ineffective Targeting
Not all who visit your website or app are your target audience. To map the target audience for push notifications thoroughly see the previous actions of the user, their location, previous purchase, and their preference. Once these are clear, you can segregate the audience into groups and accordingly send push notifications.
3. Poor Timing
While sending the push notification, one must consider the time zone and location. Receiving push notifications at 4 AM is not a pleasant experience. Also, it will be of no use and will be swiped away as soon as the user opens their phone.
No one wants to open their phone in the morning and receive a push notification. So consider the time zone while sending the push message.
4. Text on Push Notification
Text-only push notifications are a thing of the past. These are not as effective as rich content push notifications. Using exceptional font, colour, images, etc highlight your push notification which text-only notifications cannot do.
5. Lack of Analyzing
Keeping track of the push notification performance is essential. If the CTR is too low, then the push notification strategy should be changed. One should also keep track of new users and inactive users, and users who left. This will help in analyzing the situation and taking better actions.
Conclusion
A well-prepared push notification strategy can effectively boost user re-engagement and increase profit. Understanding the user mentality is the key to achieving the goal, but with it, a correct methodology is also required.
Rich, timely, relevant, personalized messages bring a sense of importance and belongings to the inactive user and encourage them to use your website/app/product again.
However, the purpose of the push notification strategy is not only about making the user open the application again. Instead, it should focus on successfully engaging the user, regaining their trust, and building brand value.
Considering user re-engagement to swell your business? Book a demo with NotifyVisitors. From campaign optimization to rich content and multiple channel messaging, all facilities are available here.
Discover a reliable service that helps you improve engagement, revenue, and brand value from a common platform.
FAQs
1. How to engage users with push notifications?
Create a rich push notification with a crisp and self-exploratory message, along with the CTA. Use deep links to lead users directly to the content instead of landing or sign-up pages. 
2. What are really effective methods of sending push notifications?
The most effective methods to send push notifications are:
– Personalize push messages as per the need and demands of the user. 
– Aline the push notifications with your in-app marketing strategy. 
– Send notifications after a thorough analysis of time, location, and relevance.
3. What is a push notification strategy?
A push notification strategy is created to inform users about what is happening, what is new, and what is upcoming. It is also done to stay connected with the user and keep them engaged.