We're thrilled to unveil a multitude of fresh features and enhancements through our latest release notes. Our team has been dedicatedly refining your experience, enriching it with an array of valuable functionalities. So, let's embark on this journey of discovery and uncover the exciting additions awaiting you:
Preset your brand style using our new brand assets feature
Introducing our exciting new feature: Brand Assets! We are thrilled to announce that we have made significant improvements to the assets section in the brand assets category, providing you with a seamless way to customize your brand styles.
Gone are the days of manually changing colors, fonts, and buttons on each template to match your brand. With the new assets section, you can now define your brand styles in one central location. Simply add your brand logo, select your preferred colors, customize font, and even include your social media buttons with links.
The best part? Once you've set up your brand styles in the assets section, all prebuilt templates will automatically adopt your brand colors, font, and social media links. Imagine using our welcome email template and seeing it instantly transformed with your unique brand identity—no more repetitive tasks!
Rest assured, the changes you make in the assets section will not affect your existing templates. It will only apply to the new templates you use from now on. So, feel free to explore and create a consistent, professional look for your brand effortlessly.
Try this new feature today and make your brand shine across all your communication channels without any manual tweaks.
Seamless testing of your journey flows
Introducing an efficient way to test your Journey Flows!
We understand the frustration of having to wait for the actual scheduled time to test your campaigns in a journey. Waiting for days can be time-consuming and delay your progress. But worry no more, as we have the perfect solution for you – our new "Review" section!
Accessing the "Review" section is easy! Just click on the three-dotted button next to your journey and select "Transactional Activity." There, you'll find our recently added "Review" section.
To start testing any campaign in your journey, you need the NV UID of a test user. Click here to learn more about how to mark a user as a test user and get their NV UID.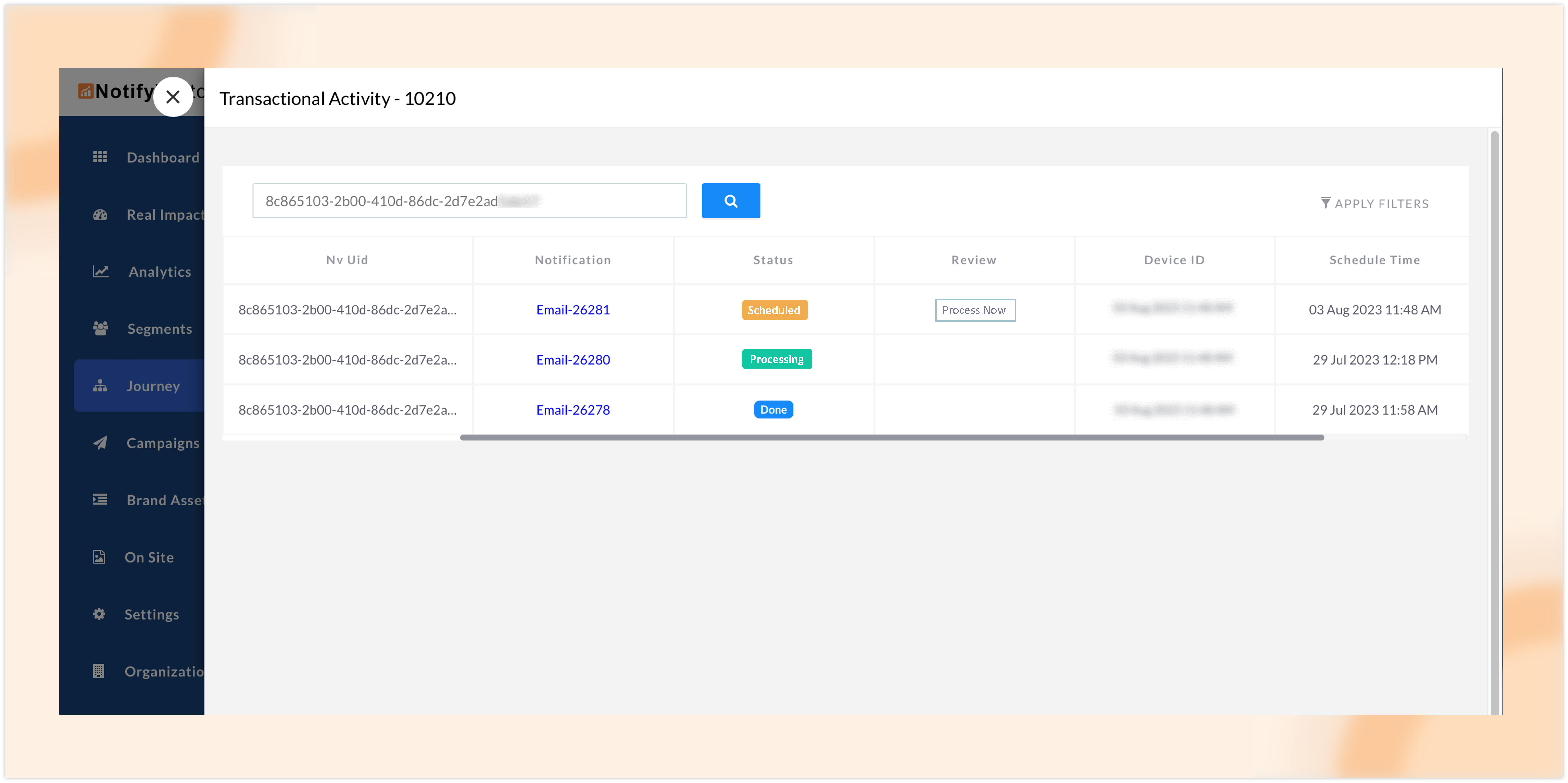 Once you have the test user's NV UID, enter it in the search box and in a snap, all your campaigns within the journey will be displayed. Now comes the exciting part – To test a campaign, click on the "Review Now" option, and the campaign will be scheduled to send in just 1 minute, regardless of its original scheduled time, even if it's days away. As soon as your test campaign is sent, the status will change to "Done."
Similarly you can repeat this process to test other campaigns in the journey. With this you can quickly and effectively test the entire journey flow without being held back by the actual scheduled days.
Try this and experience the convenience and time-saving benefits of our "Review" section.
Customizable error messages for signup forms
We're excited to introduce a user-friendly enhancement to our signup forms! Previously, when you marked a field as required, and a user skipped filling it, the field would turn red to indicate its mandatory nature. However, we recognized that this approach might cause confusion for some users or go unnoticed altogether.
To address this, we've now implemented a new feature that allows you to add custom messages alongside required fields. Ensuring clarity and guiding users effectively.
Adding a custom message is simple! Just click on the "required field" option for the specific field you want users to fill mandatorily. When you select this option, a value text box will appear, allowing you to add a message, such as "This field is required."
Now, when a user neglects to fill in this mandatory field and clicks on the call-to-action (CTA) button, not only will the field turn red as before, but a clear message will also appear at the bottom, stating "This field is required."
With this enhancement, we aim to eliminate any ambiguity and make it crystal clear to users which fields require their attention.
Synchronize facebook leads with NotifyVisitors segments
We've been working to enhance your experience with Facebook integration on NotifyVisitors. Previously, we introduced the ability to sync your NotifyVisitors segments with your Facebook audience, allowing you to efficiently run targeted ads on Facebook. To understand how this process works, be sure to refer to our detailed guide titled "Sync NotifyVisitors Segments with Facebook Audience."
However, we realized that the flow was unidirectional, catering to syncing audiences from NotifyVisitors to Facebook. But what about leads generated on Facebook? This is where our latest addition, the "Lead Ad Settings," comes into play.
To access this feature, navigate to your settings and click on the Facebook section. If your Facebook account isn't connected yet, you can easily follow our guide to establish the connection. Once connected, you'll notice the "Add Lead Connections" button at the bottom of the page. Click on this button and a popup window will appear.
Next, select the specific Facebook page whose audience you intend to sync. Then, choose the lead form you've set up on that page. Finally, pick a custom segment within NotifyVisitors where you want these leads to be added.
Once you've submitted these settings, every user who fills out the chosen lead form on Facebook will automatically become part of the custom segment you've designated within NotifyVisitors.
This bidirectional capability allows you to seamlessly manage and utilize leads generated on Facebook within the NotifyVisitors ecosystem. It's a powerful way to ensure no valuable leads slip through the cracks and to harness the full potential of your marketing efforts.
Introducing native SMS services for India
We are thrilled to announce that we've expanded NotifyVisitors SMS services from being exclusively available as an international service provider to now an Indian service provider as well.
Here's how it works: When you log in to your NotifyVisitors panel from India, our dedicated Indian SMS service provider will automatically be assigned to you. For users from other countries, our reliable international SMS service provider will be at your service.
To use NotifyVisitors' Indian SMS service, you'll need to set up a Sender ID. This is a straightforward process. Begin by navigating to settings and selecting the SMS section. From there, simply click on the "Add Sender ID" button. A popup window will appear, where you can input your Sender ID and Principal Entity ID. Both of these can be obtained from your DLT service provider.
Once you've filled in these details, click on "Save" to confirm your settings.
Additionally, remember to provide your DLT ID when creating an SMS campaign. This ID is received after your message has been whitelisted by your DLT service provider. Especially, when you're creating an SMS campaign using NotifyVisitors' SMS service provider, it's mandatory to enter your DLT ID. After adding, select your service provider and choose your Sender ID from the dropdown menu. Then, proceed with crafting your campaign, following the usual steps.
For those seeking guidance on creating SMS campaigns, we have a comprehensive guide titled "SMS Campaign" that you can refer to for a step-by-step walkthrough.
Redesigned onsite campaign interface for convenient user experience
In our last update, we're excited to announce a significant change in the appearance of our onsite campaigns interface. With this update, we've focused on providing a more visually appealing and cohesive interface that seamlessly integrates with our platform, enhancing both aesthetics and usability for our users.
As you explore the revamped interface, you'll find that all familiar options are still readily available, but now presented in a more elegant and organized manner.
This design transformation is evident across both the popup and signup forms interfaces.
Wrap-up
We're certain that these updates will enhance your NotifyVisitors experience significantly, providing you with more control, customization options, and seamless integrations.
If you have any questions, ideas, or if you'd like to see these new features in action with a free demo, don't hesitate to get in touch with us at support@notifyvisitors.com. Our team is here and excited to help you.
Also, subscribe to our newsletters for more exciting updates as we continue to innovate and improve our platform to match your changing needs. Thank you for choosing NotifyVisitors as your preferred way to engage and communicate with your customers.
---