Introducing the May Release Notes – a roundup of the top upgrades and enhancements we've made to our platform this month.
Let's delve into the details of each upgrade, explaining how they can benefit you and help you achieve your goals.
Send To Unsubscribe User
We are excited to introduce a new feature in our email campaign creation interface: the "send to unsubscribers" option, exclusively available when creating emails within journeys.
When crafting your email campaigns, you now have the choice to include or exclude unsubscribed users. It's as simple as clicking "yes" to include them or "no" to exclude them.
The default selection of this option depends on the type of journey you have created. For instance, in transactional journeys where delivering important information is crucial, the "send to unsubscribers" option will be enabled by default. This ensures that even if a user has previously unsubscribed, they will still receive essential transactional emails.
On the other hand, in journeys such as upsell or cross-sell campaigns, the "send to unsubscribe" user option will be disabled by default. This decision allows you to focus on engaging and nurturing existing subscribers without reaching out to those who have expressed a desire to unsubscribe.
Furthermore, when creating a new journey from scratch, this option will be disabled by default. This setting encourages you to consciously consider whether or not to include unsubscribed users based on the journey's purpose and audience.
By offering the "send to unsubscribe" option within journey-based email creation, we provide you with greater flexibility and control over your email campaigns, tailoring them to the specific needs and goals of each journey.
Discard Events
We are pleased to introduce a new feature called "Discard Events," which allows you to completely discard your custom events.
Previously, we provided the option to delete custom events. However, if you deleted an event and later recreated it with the same name, the previously deleted event would be accepted again and resume its functionality. This could potentially lead to unintended consequences, such as affecting journeys or segments that relied on that event.
To address this issue, we have implemented the discard event function. To discard an event, navigate to the settings menu and select "Events" under the Schema category.
In the Events section, you can easily discard any custom event by locating it in the list and clicking on the dropdown menu under the status column. Select the "Discard" option to initiate the process.
By discarding an event, you ensure that any new custom event created with the same name will not activate the previously discarded event. This means that any associated journeys, segments, or other functionalities linked to that event will not be affected.
Please note that if you wish to retain the event's data, it is essential to export it before discarding. After discarding an event, it will still appear in the events list for the next 30 days. And once the 30-day period, the event will be permanently removed from the system.
In case you need to reactivate a discarded event within the 30-day grace period, you can contact our dedicated support team for assistance.
Improved Revenue Metrics
We are thrilled to announce significant upgrades to the revenue section available under Real Impacts. We have expanded it into three distinct parts: Revenue, Campaign Revenue, and Onsite Revenue, offering you a more comprehensive view of your revenue metrics.
Revenue Tab:
In the Revenue tab, you can now access information about your total revenue generated and revenue generated through NotifyVisitors based on a particular event. Additionally, you'll find daily, weekly, monthly, and annual charts to visualize the revenue trends over time. The filter section allows you to customize the time period, event type, and graph type to suit your needs.
Scrolling down, you will encounter a breakdown of the revenue generated from campaigns. It includes divisions for revenue generated from broadcast and journey campaigns along with charts for easy comparisons.
Likewise, you can explore the revenue generated through onsite campaigns, which also includes divisions for revenue generated from broadcast campaigns and journey campaigns. The charts in this section facilitate comparisons and help you analyze the performance of your onsite campaigns.
To further enhance your analysis, you can view transactions in the Transactions tab at the right. Clicking on it allows you to view total transactions, transactions through NotifyVisitors, as well as transactions from campaigns and onsite campaigns. The accompanying charts provide valuable insights into transactional patterns.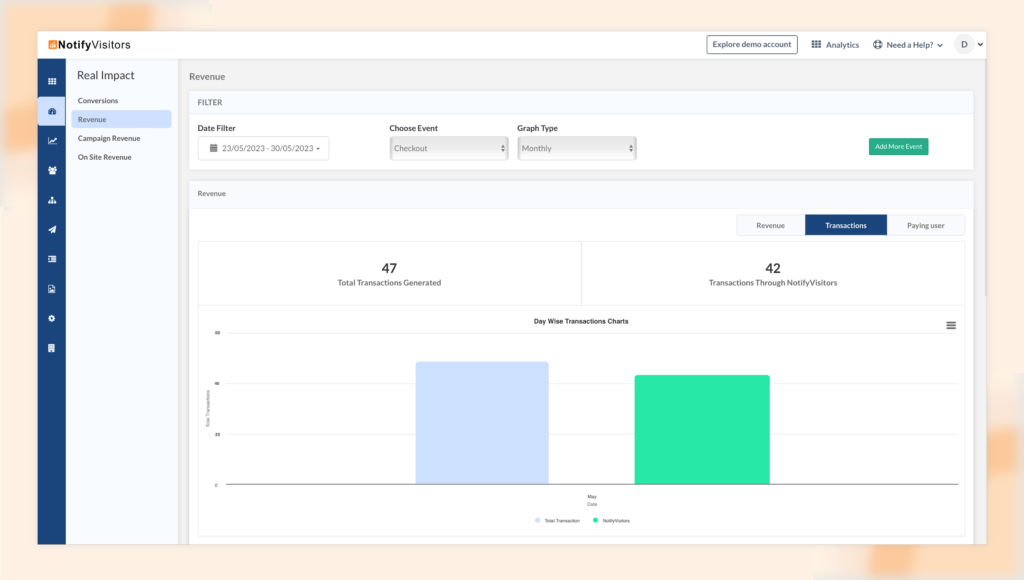 Lastly, by clicking on the Paying Users tab, you can access information on total unique paying users, unique paying users from NotifyVisitors, campaigns, and onsite campaigns. The charts in this section assist you in understanding user behavior and revenue generation trends.
If you wish to delve deeper into revenue generated from specific campaigns or onsite campaigns, you can easily navigate to the Campaign Revenue and Onsite Revenue tabs, respectively. These dedicated tabs provide a focused view of the revenue generated from individual campaigns, empowering you to track the performance and impact of each campaign effectively.
Campaign revenue Tab:
The Campaign Revenue tab offers you detailed insights into revenue, transactions, and paying users generated from specific campaigns, including App push, Web push, email, SMS, and WhatsApp. This data encompasses both broadcast campaigns and journeys.
To explore specific data for each campaign type, you can easily navigate to the dedicated Campaigns and Journey tabs located at the top of the interface. These tabs allow you to view campaign-specific information and analyze the performance of each campaign in terms of revenue, transactions, and paying users.
Furthermore, the Campaign Revenue tab provides you with the flexibility to analyze the data based on different attribution models. You can choose from attribution models such as simple, last interaction, first interaction, and linear interaction. This allows you to understand how different interactions contribute to revenue generation. Click here for more in-depth information about attribution models.
Onsite Revenue Tab:
Similarly, just like campaign revenue, the Onsite Revenue tab offers you insights into revenue, transactions, and paying users specifically generated from onsite campaigns, including test campaigns conducted through A/B testing. This tab enables you to assess the effectiveness of your onsite campaigns in driving revenue and engaging users.
Conclusion
In this month's release, we brought exciting upgrades to improve your marketing capabilities. With the inclusion of unsubscribed users for important messages, you can ensure critical communications reach their intended audience. The introduction of discard events provides better control over custom events. Furthermore, enhanced revenue tracking and advanced campaign analytics empower data-driven decision-making.
These upgrades empower you to optimize your marketing strategies, boost revenue, and achieve remarkable results. Stay tuned for more exciting updates as we continue to innovate and support your success.
---