Here are some of the latest upgrades made by our team of top-notch developers this month. We take pride in delivering the best quality upgrades to our clients, and our team has worked tirelessly to ensure that these upgrades meet the highest standards of performance, usability, and reliability.
These upgrades are aimed at enhancing the overall user experience and helping our customers to better engage with their audiences and achieve their marketing goals.
New Google / Custom Fonts
We've introduced a new "Add Font" feature this month, which allows users to add both Google and custom fonts to their campaigns. Once added, these fonts will be available in the font family options when creating templates for emails, pop-ups, sign-up forms, and more.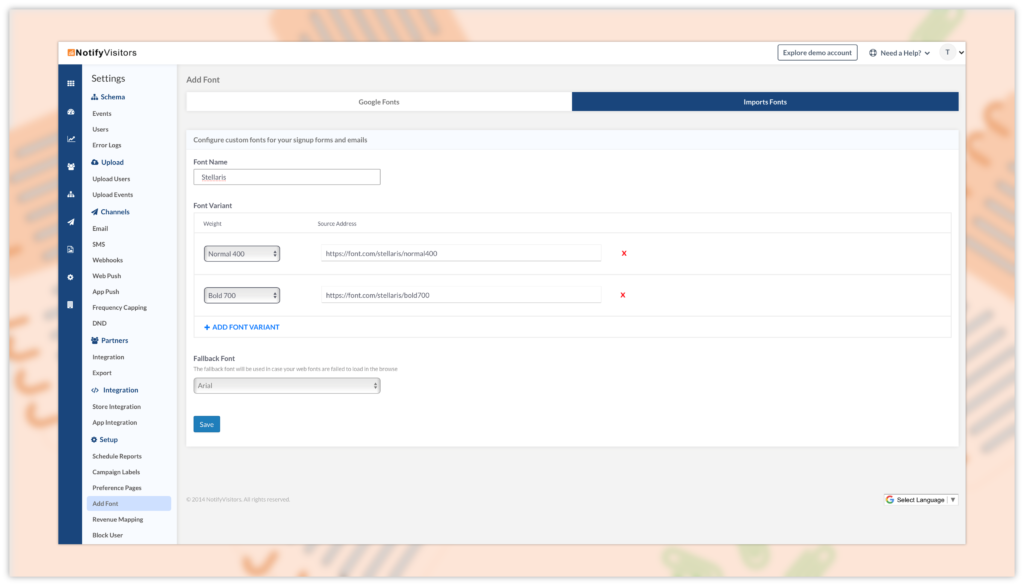 Additionally, our "Add Font" feature comes with the option to preview fonts before adding them to your list, and you can even add multiple variants of a custom font such as light, medium, bold, etc.
However, please note that certain platforms, such as Gmail and Yahoo, may not support custom fonts due to security concerns. To address this, we've introduced a fallback font feature. When adding a new font, you can also select a fallback font that will be automatically used in case the custom font is not supported on certain platforms.
Automated Save As Draft Feature
Our drag-&-drop tool now includes an "Auto Save" Draft Feature, allowing users to save their progress as they work. This helps prevent data loss in case of unexpected errors, session expiration, or accidental closure of the template editor or browser. This feature ensures that changes made to the template are saved automatically, providing a seamless and convenient experience for our users.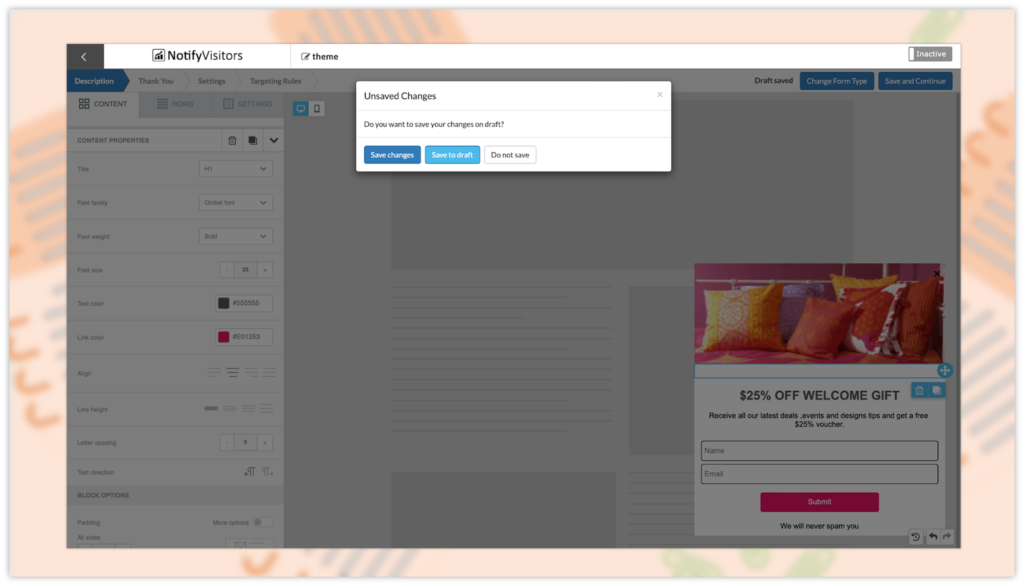 Users have the option to choose between "Save Changes," "Save As Draft," or "Do Not Save" based on their needs. These features are available while designing templates for Email Campaigns, Signup Forms, and Website Pop-ups.
For Signup Form, we have two screens, and the Draft Save Feature will work for both screens, ensuring that the user's progress is always saved.
Web Push Notification
We've made some updates to the "Call to Action URL" field when creating a web push notification. Now, you can use it not only for URLs but also for MailTo and tel options.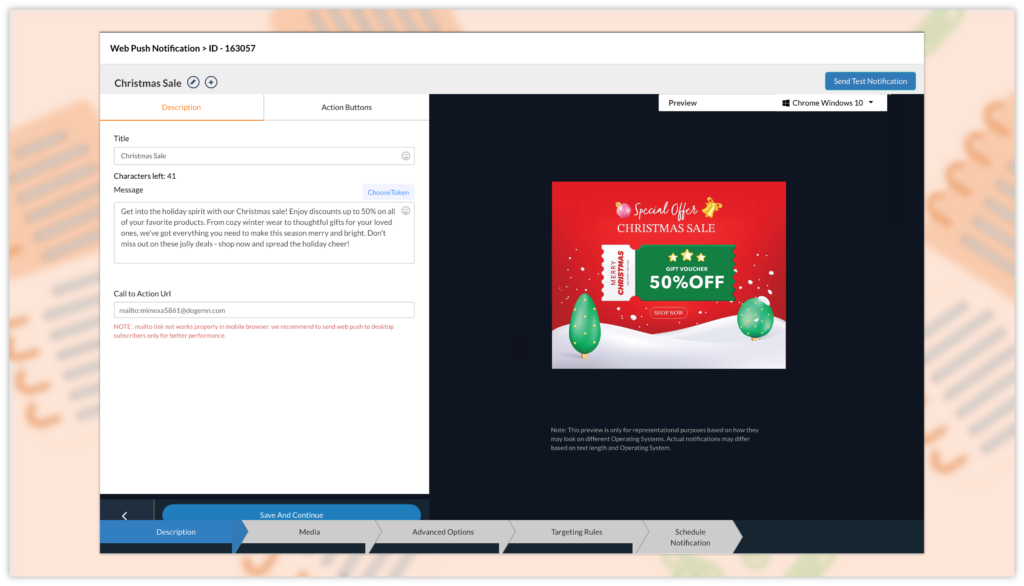 Please note that while the MailTo link works seamlessly on desktop browsers, it has certain limitations on IOS and Android devices.
Journey Filters And Categorization
We have added a new Journey Filter feature to our system, providing users with a more intuitive way to browse and create customer journeys.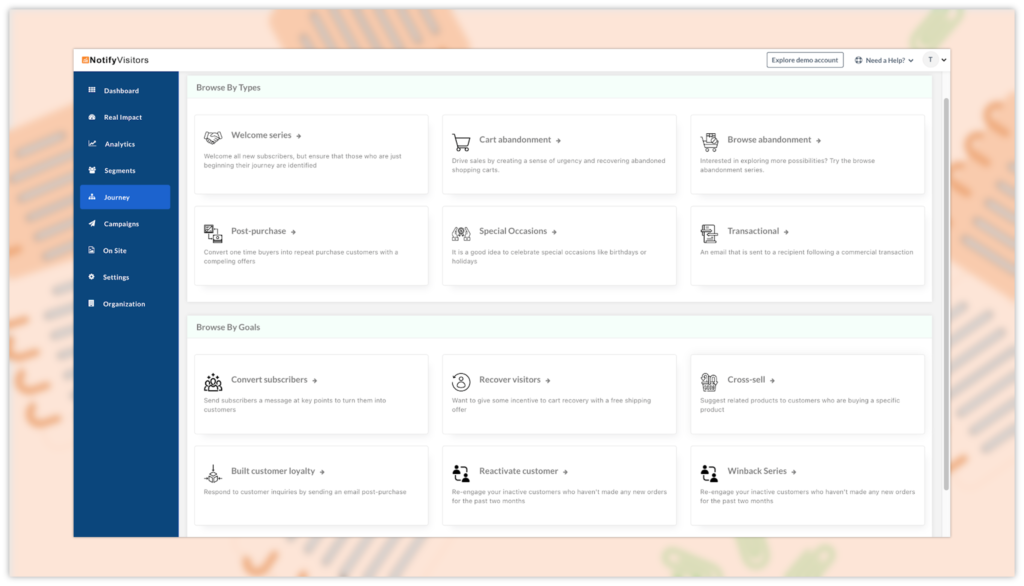 Users can browse predefined journeys in various categories, which is divided into two sections: "Browse By Type" and "Browse By Goals." These sections offer reference journeys for customers.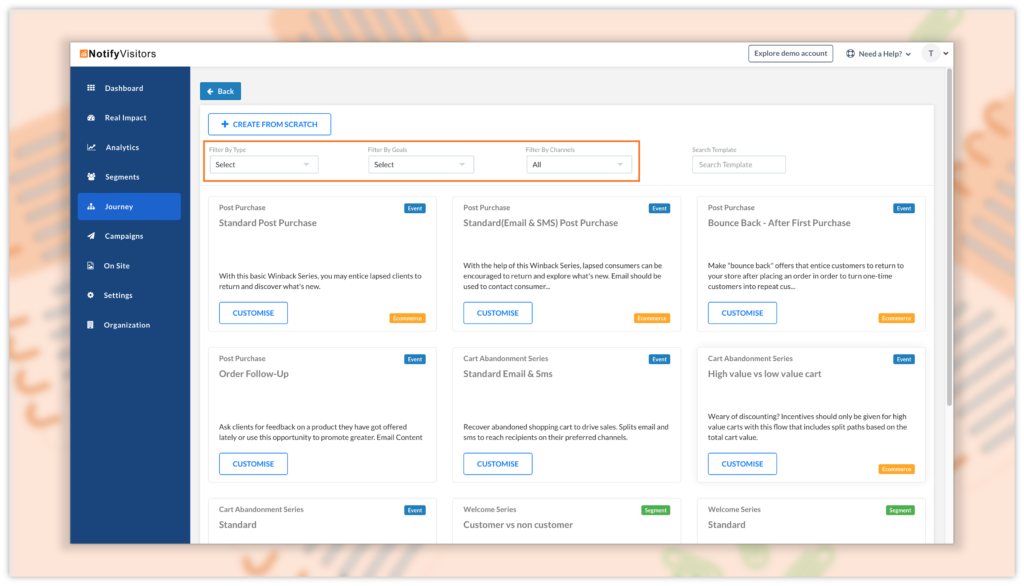 Additionally, multiple filters have been added for pre-build templates offered after clicking "Create New Journey," including "Filter By Type," "Filter By Goals," and "Filter By Channels." This allows customers to quickly fetch journeys based on specific filter criteria, streamlining the process of creating new journeys.
Pre-Computed Segments
We have made a change to precomputed segments by removing the option for manual time selection. Going forward, you only need to select the precomputed option, and the segments will automatically update when you send campaigns.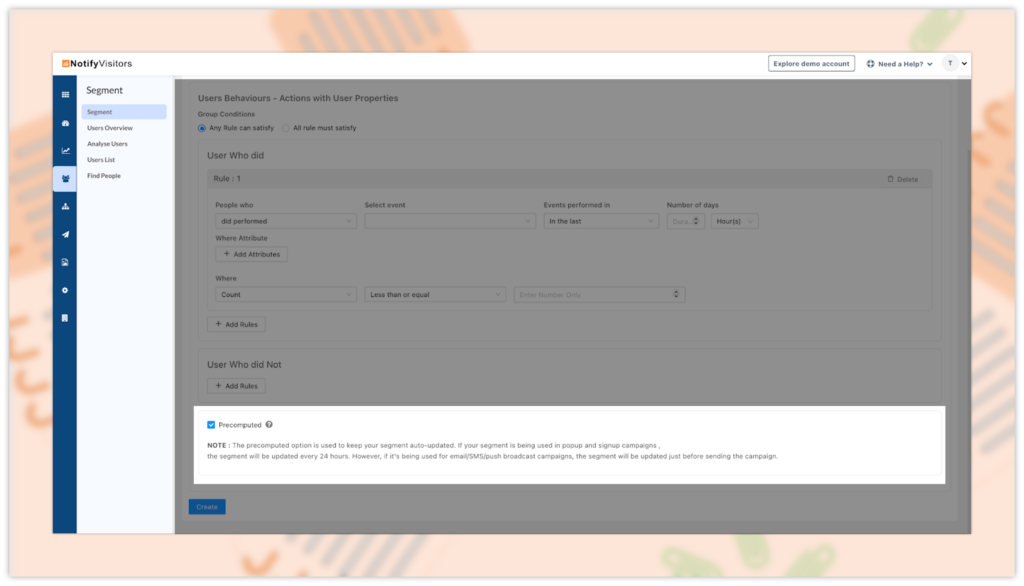 It's important to note that if you're sending multiple campaigns in a short period, the auto-updating of segments requires a 4-hour gap between two email/SMS/push broadcast campaigns and a 24-hour gap between two onsite campaigns.
Sender Domain
We have introduced a new section called "Sender Domain" for NotifyVisitors email service. This feature allows users to add new domains easily. By clicking on the "Add Domain" button, users can enter their domain and subdomain name, and continue the process.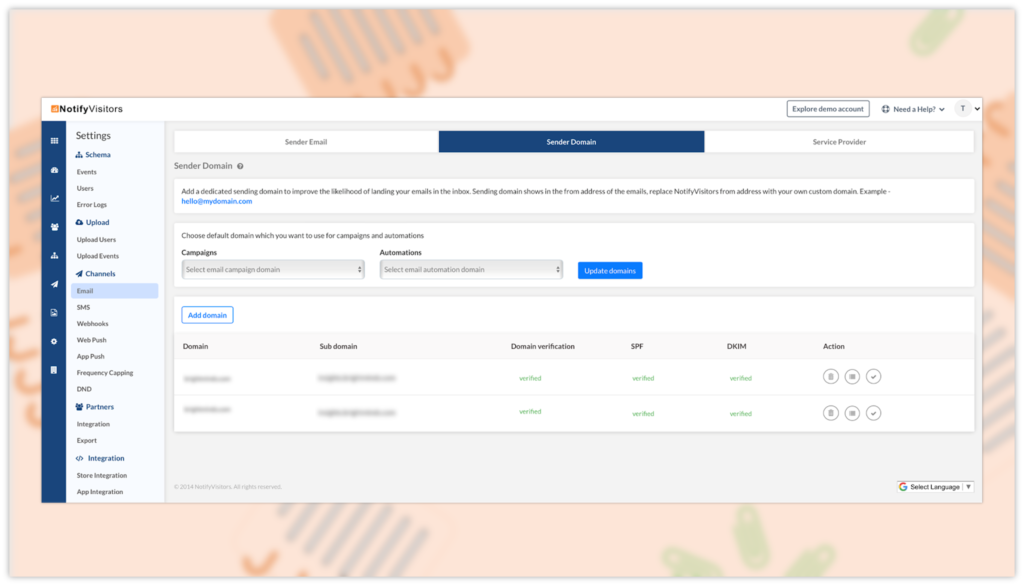 To verify the added domains, a window for domain verification records will appear. Users will need to verify these records at the DNS domain name server of their domain provider. Once the domains are verified, users can choose which domain they want to use for their campaigns and automations. This means that different domains can be used for campaigns and automations, as per the user's preference.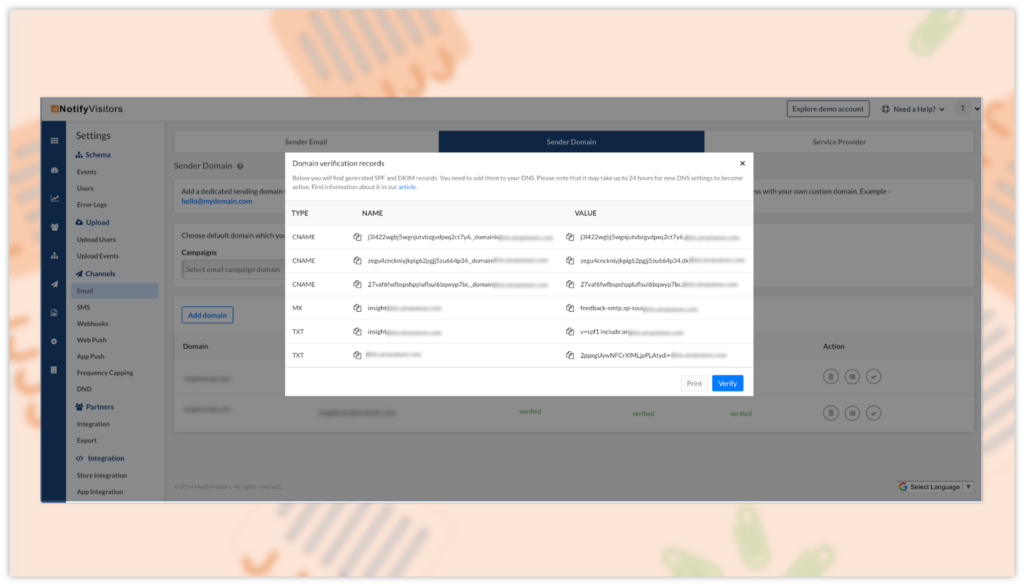 Moreover, when sender email addresses are added using verified domains, they will automatically be considered verified without requiring any additional verification process. Click here to learn more.
Email Campaigns' Review Page Changes
We have made the following updates on the review page that appears while creating an email campaign:
We have added a warning message, "Email Content is Missing," on this page to alert you in case some content is missing in your campaign.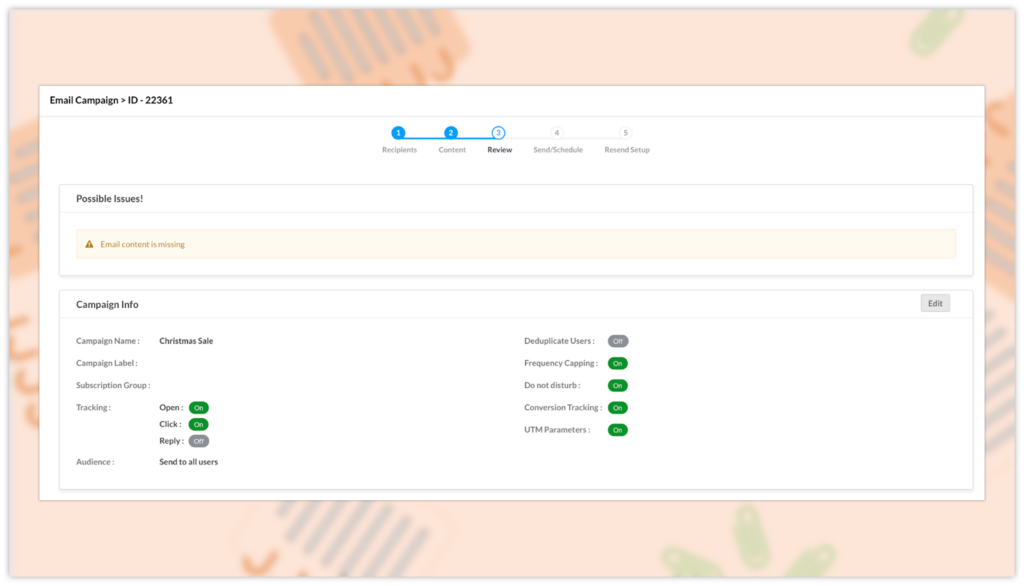 Earlier, when you scheduled a test email using test segments, a list of scheduled emails used to appear on the review page. However, we have now moved this list inside the test email window.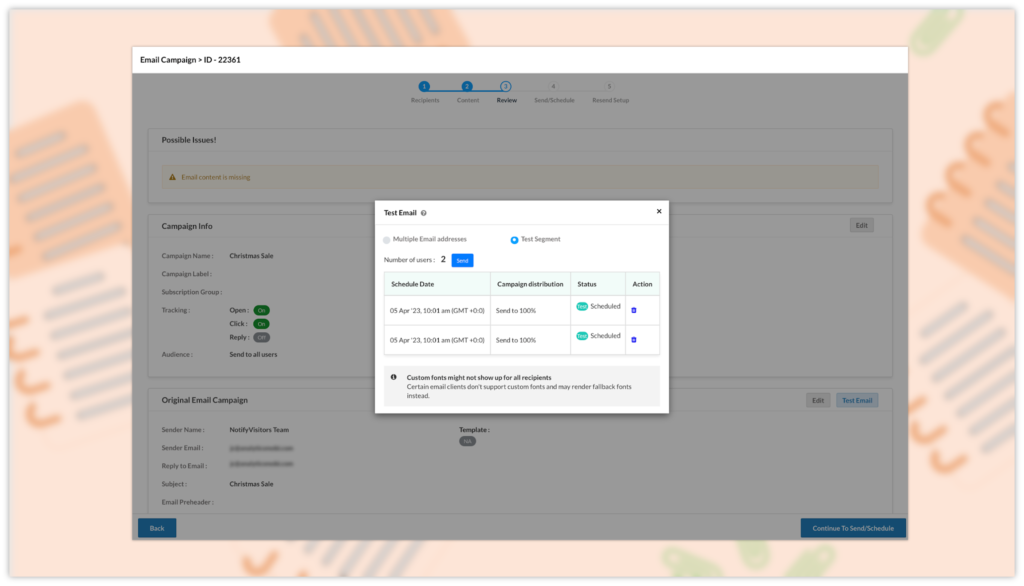 And, that's all!
We would love for you to try out our latest features!
Your feedback is important to us, and we're constantly striving to improve our products based on your input.
Please feel free to leave your thoughts and comments in the box below. We value your feedback and will use it to continuously improve and enhance our offerings to better meet your needs.
---