More than half of the global population are active internet users. Think with Google marketing insights reports that 48% of consumers use search engines to inquire about a product or service, 33% visit brand websites, and 26% lookup within the mobile app. These statistics make sense that marketers reach out to their audience through virtual marketing.
What is Virtual Marketing?
Virtual marketing, also known as digital marketing, refers to those marketing efforts carried out through the internet. Marketers use a variety of tools, channels, and data online to develop business relationships, attract new business opportunities, and create a brand identity. They do so by delivering tailored messages to a particular audience.
Why is Virtual Marketing Important?
With more than half of the world's population active on the worldwide web, it is wise to reach them where they are. Virtual marketing has become important for businesses across all verticals today because it connects them with their audience online.
It links businesses with their prospective customers when they're on social media through social media marketing, on Google through SEO and PPC, on email through email marketing, and so on.
What are the Benefits of Virtual Marketing?
Here is a list of the various advantages of virtual marketing.
Affordable than many other marketing techniques out there.
Makes your business available to them over their smartphones and other mobile devices.
Offers the flexibility of choosing from a variety of options likes SMM, email marketing, PPC, content marketing, influencer marketing, and more.
Helps expand your business' reach.
Allows your marketing to be more effective by letting you incorporate multimedia into it.
Facilitates you to communicate directly with your consumers.
Enables monitoring your marketing activities better.
Helps establish your authority in your niche.
Helps boost your reputation through influencer marketing.
Complements your print advertising.
What Are the Different Virtual Marketing Strategies?
A successful virtual marketing strategy includes some of the following elements-
1. Search Engine Marketing (SEM)

SEM is a form of virtual marketing that directly caters to what consumers are searching for online. It is done either in the organic ways (Search Engine Optimization) or the paid way (by buying ad space on the search engine page results). While this blog will discuss the former elaborately in the next section, here are more details on the latter.
Paid SEM involves paying Google or other search engines for ad space on specific pages. So, the search engine will visibly distinguish your webpage from the rest of those that appear in the regular search result. You can also apply this technique to social media searches.

2. Search Engine Optimization (SEO)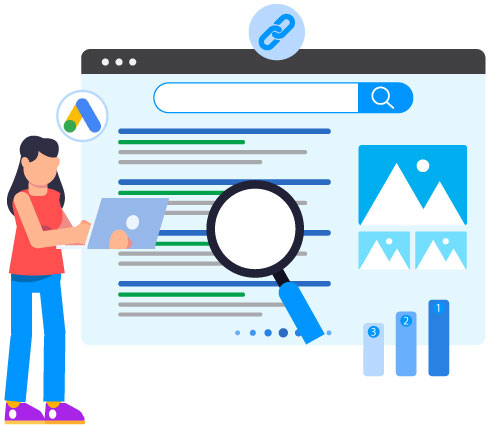 SEO is a crucial digital marketing strategy that helps you rank higher in search engine page results, increase leads and customers, and create brand authority. It is essential for the success of your online marketing efforts as 90% of Google users click on the search results that appear on the first page of the SERPs.

The techniques employed for SEO are optimal keyword usage, internal link building, external link building, easy site navigation, fast site loading, upgrading old blog posts, embedding long-tail keywords in title tags, writing compelling title and description tags, and more.

3. Social Media Marketing (SMM)

SMM is probably the most popular virtual marketing trend of this era. It's because the platform has 4.48 billion active users and provides a new level of engagement that it has grown enormously. Brands use it to promote brand awareness, build their reputation, sell their products and services, and even go viral!

There are several social media sites to choose from. There is Facebook, Instagram, LinkedIn, Snapchat, YouTube, Twitter, etc. Brands choose those networking sites where their audience are spending a lot of time to post content, respond to comments and queries, get their content shared, and thus engage their audience.

4. Effective Website Design

our website is your most vital digital marketing asset. When people who're looking for the products or services you offer to land on your site, it should be captivating enough to convert them. This involves hiring the right frontend development services to create a responsive and aesthetic web design. Here are some techniques employed for successful website conversion.
Improve your organic search engine ranking using SEO.
Offer value to your visitors.
Engage your visitors with rich media such as images, embedded videos, animations, GIFs, and more.
Keep your site navigation simple and clear.
Keep your site's content regularly updated.
Have a blog section and post there consistently.
Make your CTAs (Calls-To-Action) compelling and prominent.
Keep your branding consistent across your site.
5. Email Marketing
With 4 billion active email users across the world, email marketing never loses its luster. It brings unmatchable returns on investment when compared to other virtual marketing strategies.
Businesses and brands use it to attract, engage, and retain customers with personalized messages. Email marketing software come with a customer segmentation feature that facilitates this.

Additionally, these tools also allow businesses to automate the sending of marketing emails. You just need to set the triggers in the email autoresponder. The tool will automatically send the right campaigns to the right audience.
For instance, if a person signs up for your newsletter, immediately the tool with segment him/her under the new subscriber category and start sending him/her your series of welcome emails at scheduled intervals.

6. Content Marketing

Another sure-fire and cost-effective virtual marketing strategy is content marketing. It involves educating and engaging your market on the solution offered by your company by publishing a variety of content pieces. These can take shapes such as articles, blogs, press releases, videos, white papers, newsletters, infographics, quizzes, digital flipbooks, and more.
You can make use of a content workflow to keep track of your production and deliveries. To find success in content marketing, you need to post useful, relevant, informative, and valuable content consistently over the net.
This is important because stats say that 47% of consumers consume three to five pieces of content before making a purchasing decision. Further, brands with blogs gain 67% more leads than their counterparts.

7. Pay-Per-Click (PPC) Marketing
PPC marketing, which is better known as PPC advertising, helps in increasing search traffic for online businesses. In this technique, advertising of the brand is done on search engines. Highly targeted and valuable ads are presented before consumers. Their relevancy often increases the CTRs (click-through rates).
In this kind of advertising, you pay only when a user clicks on your ad. So, this method allows you to buy your site visits. It's advantageous in that it drives website traffic organically.
8. Influencer Marketing
Influencer marketing involves partnering with an influencer (an individual who influences your potential audience) in your niche to get endorsed by him/her. It is an effective form of digital marketing today as it instantly gains the entire following of the influencer for you. Here are a few tips to find success in influencer marketing.

Define your goals and target audience
Carry out thorough research of the influencers in your niche.
Go for influencers who have a 'high-quality' engaged audience.
Get comfortable handing over some control regarding your marketing approach to influencers.
Focus on building long-term influencer relationships.
9. Remarketing
Remarketing also referred to as retargeting, is another popular form of virtual marketing. In it, businesses serve ads to users who have visited their site, or a particular page, and who have or haven't taken a particular action. This method is effective as it gets your brand in front of people who've already expressed some interest in your brand.

Remarketing gives businesses a second chance to convert, retain, or up-sell customers. This works because first-time visitors rarely convert. Statistics say that the conversion rate is as low as 2.86%. So, re-targeting capitalizes on your lost website traffic. And the additional exposure to your brand increases their chances to convert.

10. Marketing Automation
Marketing automation refers to using software to automate monotonous tasks involved in marketing. It enables scaling your marketing efforts effortlessly. You can automate your marketing through different marketing channels such as email, social media, push notification, SMS, advertisements, and more.
Marketing automation not only increases its efficiency but also personalization. This is because it helps reach the right person with the right message at the right time by understanding the buyer persona and user's history.
Besides, it can also offer seamless, omnichannel marketing experiences to your audiences. That is, they get the same experience irrespective of the channel through which you engage with them.
Wrapping up
Virtual marketing is indispensable in this era of extensive internet usage. However, it isn't an easy thing as it encompasses a lot of strategies and techniques. You need to put in a lot of effort and strike the right balance between some of these to efficiently market your brand in the online world. If done properly, virtual marketing can usher in a lot of unmatchable benefits.