A PWA builder helps you build Progressive Web Apps (PWAs). These are apps that combine the features of web and mobile. These are built using web technologies yet have the feel and functionality of native apps- like light weightiness, lightning-fast loading, and personalized. These also provide an immersive user experience and perform seamlessly across devices and platforms.
Businesses are increasingly implementing PWAs nowadays. It has helped several leading firms like Google, Flipkart, Forbes, AliExpres, Twitter, etc. gain a significant increase in their retention and conversion rates. This is because PWAs have several features that can increase traffic, conversions, user engagement, and customer satisfaction for businesses.
Learn More About: What is PWA
Top 10 Features of PWA Builder
1. The mobile-first approach and browser compatibility
PWAs have a mobile-first approach. That is, the sites developed with a PWA builder will function seamlessly on mobile devices. This is because these are built according to the progressive enhancement web design strategy. 
Hence, it first stresses core webpage content. This means that it will provide the basic content and functionality to anyone, irrespective of their internet connection quality or browser. And those with bigger bandwidth or the most advanced browser software will get the page's enhanced version.
This feature is advantageous for businesses as it eliminates the need for additional configuration or installment. So, users can freely use the app regardless of their device or network connectivity. Thus, this enhances their user experience and increases your total engagement rates.
2. Offline work mode
Unlike many native apps, PWAs can work very well in offline mode. This is made possible through a technical component known as the "service worker"- a JavaScript file operating independently from the web page or app.
This service worker enables caching the interface, and so, it will instantly load on recurrent visits. For, your web app's dynamic content is refreshed each time the connection is regained, augmenting the available content offline in the meanwhile.
As a result, the user won't sense any difference between the offline and online mode concerning the historical data and interface. This feature is advantageous for your business as your audience will gain access to your content at any time. For instance, a user flying in an airplane wouldn't have a connection to internet access but still, would be able to consume your app.
3. App-like
PWA combines the advantages of the mobile web with the UX of a native app. So PWAs operate smoothly both as a native app and a web page. It is app-like with the feel and appearance of an app. It also has dynamic data, database access, responsiveness, and speed like that of websites. So it provides superior user experiences. The illusion of a traditional app is further ensured by the smooth navigation, scrolling, and animations.
This would enhance your users' experience and aid in their higher engagement rates, increased average sessions, and lowered bounce rates. Further, since search engines index them, the number of page views increases. All these can have a favorable effect on your business.
A PWA builder can design your PWA to appear and feel exactly like your current mobile app or website. You can let your developer know the extent to which you want to program the PWA. However, do make the most out of the available tools and frameworks. You can even seamlessly integrate the app into your current app/website design and structure.
4. Lightning fast
PWAs are fast. These are faster than websites and native apps. Studies show that the service worker enhances page load time. And the optimized web performance ensures that users are happy with your PWA. All credits of this lightning-fast speed go to the caching technology executed by the service workers.
PWAs cache and serve your website content, including text, images, etc. in a specific, effective manner. This facilitates them to function like websites and improves the operating speed significantly. So, PWAs operate faster and perform impeccably.
Businesses would, therefore benefit from the better user experience and conversions, which would also enhance customer loyalty and retention rates.
5. Lightweight
PWAs are lightweight. So, these consume less space on your user's device without compromising the app's functionality and quality. Further, these load the content faster and perform their tasks faster than the native apps. So, lightweight apps can work well even in those regions where the internet connection is quite slow.
This benefits both businesses and their users. For, users from anywhere can use it, regardless of the speed of their internet connection, and businesses can thus have a wider reach.
6. Cost-saving
Unlike websites that require different versions for different devices, PWAs do not. A single progressive app fulfills the demands of all endpoints on which it functions. This significantly lowers the amount of effort which has to be put in by the developer. This, in turn, reduces the cost of developing your PWA. You would have to pay a three or four times lower price for a PWA builder than for a traditional mobile app.
Further, app distribution services like Microsoft Store, Google Play, or App Store. To be included in their databases, these services have high software requirements, fulfilling which would be effort- and time-consuming. Since PWAs do not depend on these services, businesses adopting these save a significant amount of money further.
7. The app can be downloaded directly.
PWAs do not require a complex and time-taking installation process like regular mobile applications. This improves the user experience a lot. Your users need not go to the Google Play or App Store to download an app. They can directly and quickly download it to their devices from your PWA. This also works to reduce user abandonment.
Certain browsers even have built-in call-to-action-like teasers that remind visitors to download your app when they are at your site. This renders reliability and credibility to your app. One more advantage is that PWAs are of lesser size than native apps, hence consuming less memory on the device. Further, since the app can be accessed easily via an URL, the chances of shareability are also high.
8. Web push notification functionality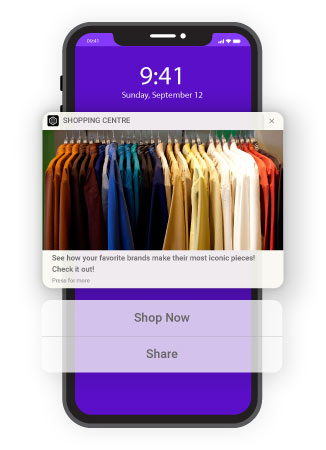 PWAs have access to push notification functionality just like native mobile applications. With this, businesses can advertise themselves to their users even when they are not on their site. Pushes are particularly efficient when it comes to PWAs because stats say that about 60% of users give their consent to progressive applications to send them notifications. This notably increases your opportunities to promote your services or products.
Additionally, since these notifications are flashed on their mobile device's screens, the likelihood of attracting users' attention is higher than that of other digital marketing mediums like social media, email, and blog posts. This way, your business can reach its target audience better and even make them respond better.
9. Security
Security is a very crucial factor that every user looks for. To minimize the chances of security issues and provide data safety, PWAs rely on HTTPS protocol, rather than the less secure HTTP. This enables preventing content tampering and snooping. Further, since the apps make use of Web Bluetooth technology, additional security attributes are also included.
This benefits your business significantly. For, your customers tend to feel confident of their security while entering their sensitive data into your PWA, and hence interact with you more. This can increase engagement rates, retention rates, and customer loyalty.
10. No updates required
The native apps which have been installed on the user's devices usually get updated automatically. And occasionally, these have to be updated manually through a Wi-Fi connection or mobile internet. Updating apps through mobile internet can significantly increase data consumption, which can be expensive for the user, who may consider uninstalling it at some point.
Thankfully, with PWAs, there are no such issues. For, just like websites, updates happen while the user is using them. This saves a user from unnecessary frustrations, which also contributes to the likelihood of them adhering to your business.
Conclusion
Progressive Web Apps combine the most useful features and functionalities of native mobile apps and websites. This works offline and is app-like, lightweight, lightning-fast, independent of app distribution services, secure, cross-device, cost-saving, cross-browser compatible, and support push notifications. These significantly enhance the user experience, increase session durations, lower bounce rates, improve user retention, and boost customer loyalty.
Many top players have adopted no wonder PWAs. And these certainly are the way of the future. So, do consider switching to a progressive application for your business too. If you would like expert help in this regard NotifyVisitors' PWA builder can help. Find more information in this regard.
Also Read: