A popup notification is a message that flashes across your users' desktop or browser. They are designed to grab the attention of your audience and engross them in some way. Popups can be informative, indicative, warning, or error messages. These can also be used to obtain some information about the user.
Since marketers have started using popups for many roles these days, you might have come across different names like embedded popups, sticky bar popups, toast popups, etc. This blog gives you detailed information on the importance and advantages of using popup notifications and introduces you to some of the leading popup notification software available in the market.
The importance of popup notifications
The most important reason why popups are great marketing techniques is that they are excellent at grabbing the user's attention. So, you can send a message directly to the users' internet device through its browser, and they have to have a look at it to swipe it away. Here are some stats that point to the importance of popup notifications.
A study carried out by MailChimp, an American marketing automation platform, and email marketing service shows that the average conversion rate for all popups is 3.09% and the email click-through rate for all industries is 2.61% only.
Entrepreneur, an American magazine and website for entrepreneurs and small businesses, says that popups helped it increase subscriptions by 86% and sales by 162%. Likewise, Copyblogger, a popular marketing education company, found that soon after launching a popup strategy, its email list opt-ins hiked.
iPaper, in its study of 2 billion popups, found that the average conversion rate of popups is 3.09%. This may not seem a huge number, but if the number of visitors to a site is 100,000, the subscribers resulting from popups would be 3,000- a significant number.
Hope these stats have convinced you that popups despite being widely considered as annoying and interfering are still great marketing tools!
The advantages of using popup notifications
Popup notification marketing can help your business in several ways including-
Targeting the right audience:
Popup messages based on the user's interests, previous searches, and current location can help you engage the audience with a high degree of relevance and personalization. For instance, Waze, a GPS navigation software app owned by Google, performs location-specific targeting by sending users reminders of nearby traffic situations, the current gas prices at gas stations, etc.
Building brand awareness:
Your popup notifications can find consumers when and where they are and engage them with your brand. Thus, you can increase brand awareness and expand your current consumer base with popups.
Engaging your audience:
Popup notifications can help attract your customers at various touchpoints in a meaningful way. So, you can send real-time reminders and updates with these to engage your audience with your brand regularly.
Increasing conversions: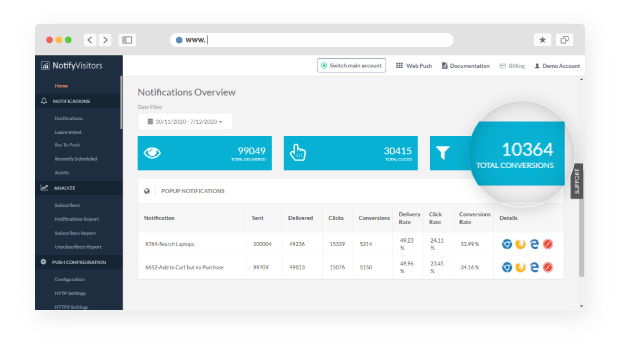 Popups allow you to send timely marketing messages, which are great at increasing conversions. To create a sense of urgency, eCommerce platforms can use these to inform your users about limited-time offers, special discounts, and abandoned carts.
Retaining users:
Popup notifications help you turn your inactive users into active ones. So, you can send them breaking news, personalized offers, and thoughtful reminders through these. You are more likely to retain users for the long term if your popups bear direct personal value to the users.
Collecting feedback from surveys:
You can use popup surveys to gather valuable feedback from your website visitors or app users in a non-intrusive manner. So, as these are hard to miss, these are successful in generating higher engagement.
Increasing page views:
By creating a popup campaign that redirects users to relevant content, you can increase your page views. That is, when a visitor to your site is reading a blog post of yours, you can send them to another blog post of their interest with a popup notification.
Enhancing user experience with transactional content:
Every transaction is an opportunity to continue your brand's relationship with a user. A bank can send popups with money transfer confirmations; a restaurant can send food delivery status, a social media app can send a message for each like and share made. Also, sending such transactional content through popups can directly link to your brand's main purpose in your users' lives.
Improving customer care strategy:
By sending popup notifications with useful information, you can improve your customer experience. Your messages also can include promotions, discounts, offers, and the latest arrivals and updates.
Increasing subscriber base:
You can increase signups to your email newsletters, webinars, etc. just by including an opt-in feature to your popup message. Popups are more efficient in this regard than filling up forms. The opt-in rate is 10 to 15%.
Tracking actionable metrics:
Pop-Ups also help us track user behavior. You can get valuable insights into your customer behavior data by employing popup notification software for complex data analytics. These data can include delivery rates, open rates and times, click-through rates, interaction times, engagement, etc.
How Can a Popup Notifications Software Help you?
A Popup Notifications Software helps you deliver personalized popup notifications to your mobile app users and web visitors in real-time. It can help you onboard, retain, and grow your user base. Though each software's feature suite may vary, the good ones usually have the following functionalities and features.
Easy installation:
A good Popup notifications software would be designed to make installation easier. It can be launched quickly and would provide you with documentation support throughout the process.
Creating push notifications:
Popup notifications software can help craft good-looking and personalized push notifications. You can customize these with colors, images, videos, fonts, and GIFs. So, you will be able to deliver unmatchable experiences to customers and increase conversions.
Organizing campaigns:
The popup notifications tool offers a single user-friendly dashboard, so that you can view and use every feature and organize all of your campaigns.
Analytics:
You can visualize customer journeys and calculate campaign performance in terms of delivery rates, open rates, click-through rates, and more. It can be can enrich your push notification campaigns with the insights derived from there. You can also engage them immediately with personalized popup notifications.
Segmenting users:
The software incorporates artificial intelligence for segmenting your audience automatically. You can categorize them based on their behavior, location, past purchases, etc. This will help you send each user with highly personalized popup notifications.
The software incorporates artificial intelligence for segmenting your audience automatically. So, you can categorize them based on their behavior, location, past purchases, etc. This will help you send each user with highly personalized popup notifications.
Reaching more customers:
By automating your campaigns, the software helps you reach more audience.
Setting triggers:
A good popup notifications software would help you set up notifications in response to different triggers. Also, these push automation triggers can be for an abandoned cart, a recently viewed item, completing a purchase, signing up for a newsletter, browse abandonment, etc.
Reducing efforts in the customer's journey:
The software lets you place deep links in your popup notifications that can direct users to a particular part of your webpage or app. So, this way, you can encourage users to engage with your app.
Personalized recommendations:
A popup notifications software would have the features for making personalized recommendations of content, products, and services. So, you just would need to sync your content, product, or service catalog with customer behavior, interest, buying patterns, etc.
Benefit from the user's location:
The software would help you take advantage of your audience's geographic location to deliver highly relevant and real-time messages that driver better engagement at physical touchpoints.
Integration with your current platform: A good popup notifications software can be integrated with the platform which you are currently using. This will facilitate running campaigns seamlessly and view your complete approach at once.
A/B testing:
A/B testing lets you test two versions of a popup notification to know which one brings better conversions. This helps you know what your users prefer and hence incorporate or remove a particular feature in your forthcoming campaigns.
A Leading Popup Notifications Software
A leading popup notifications software to help you automate your popup notification campaigns is that from NotifyVisitors. Also, notifyVisitors popup notifications software has served over 1354 million popups to date.
One exquisite useful feature of NotifyVisitors software is that you can modify your messages, which will reflect real-time in your popups sent. No code integrations are required for it, and so anyone with basic computer knowledge can use it.
Other exciting features include a gallery with many notification templates, visitor targeting based on specified rules, in-depth analytics and detailed reports, A/B testing, visual selector, and more. Also, you can engage your customers with your brand by sending pop-up notifications through multiple channels using it. It can also be integrated with platforms like Magento, WordPress, WooCommerce, Drupal, and many more.
Conclusion:
Rounding it all up, popups are digital marketing trends & techniques that never fail to grab the user's attention since they have to look at those to wipe those away. Also contrary to the widespread belief that these are annoying and intrusive, studies show that these effectively urge users to take actions in your favor. Several reliable popup notifications software with amazing features are available in the market. Businesses and brands can make use of these to automate their popup notifications.