If you are a marketer trying to make the most of WordPress, you have come to the right place. In this article, we will discuss the best WordPress marketing plugins, which would help you level up your WordPress site.
With over 43% of all websites on the internet running on WordPress, it is the world's most popular website builder. Marketing specialists can use WordPress plugins to increase sales and traffic to their sites.
Apart from automating your marketing processes, plugins can help you optimize your website for search engines. WordPress plugins add to your website's functionality by giving access to such capabilities and features that are not normally inbuilt.
Whether you wish to exemplify a blog post for SEO, upgrade your writing, or even analyze your site's ranking, there is the right plugin to help you with it.
Currently, there are more than 56,000 WordPress plugins available for all. Due to the overwhelming number of options available, it can be difficult to decide which ones to use – which is why we've done all the homework for you.
How can WordPress plugins help Marketers?
According to a report, marketing people use many marketing automation tools at the same time on average. 62% of the marketers use a CRM or built-in marketing software for marketing reporting.
WordPress plugins help marketers in many ways. Think of plugins as the foundation blocks of your WordPress site. They optimize the critical functions of your website.
Whether you wish to add the contact us details, improve the site's speed, increase SEO ratings, or even create an online store – plugins will help you!
WordPress websites are optimized for search engines, and marketing workflows can be automated. You can also automate certain tasks with WordPress plugins.
As a marketing person, you could save time by automating some of your tasks and then use that time to improve the business.
For instance, by using the right plugin, you can schedule sharing of WordPress blog posts on your social media handle. Overall, they make your life easier as a marketer.
Best WordPress Marketing Plugins
Here are some of the best WordPress marketing Plugins that every marketer should explore:
1. NotifyVisitors
Web push notifications are pop-up messages that are clickable and are displayed on the device screen while visiting a website or using an app. With push notifications, it is feasible to deliver your messages straight to your users' devices. Firefox, Chrome, and Safari are major browsers supporting push notifications.
It takes less than a minute to set up and requires no developer assistance. It works with all Woocommerce versions because it is simple to integrate. It employs numerous targeting rules, which means it sends Web Push Notifications based on various criteria such as location, device kind, and others.
NotifyVisitors offers a free plan you can use for as long as you wish. Other pricing options are available, each with its own set of features and capabilities. All paid plans come with a 14-day free trial period.

2. OptinMonster
OptinMonster is the #1 lead generation tool available in the market currently and also one of the best WordPress popup plugins. With the help of OptinMonster, you can multiply your email subscriptions, thus enabling you to flourish your email list and earn more conversions.
By using OptinMonster, you can make attractive signup forms and won't even have to hire developers. This plugin lets you add appropriate signup forms wherever you want: after content or in the sidebar. You can make slide-in forms, add lightbox popups, add countdown timer widgets or display a floating bar.
OptinMonster comes with inbuilt analytics and A/B testing. This would assist you in optimizing the efforts you put in for lead generation. Using its proprietary Exit-Intent technology, you can convert visitors just as they are about to exit from your website.
OptinMonster does not offer a free version. There are four plans:
The basic plan is priced at $14/month.
The Plus plan is priced at $19/month.
The Pro plan is priced at $29/month.
The growth plan is priced at $49/month.
3. HubSpot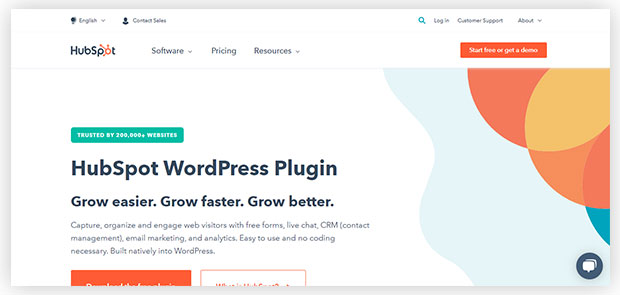 Another plugin that is widely used is HubSpot WordPress Plugin. The drag-and-drop form builder of this plugin will enable you to build contact forms effortlessly.
The plugin also consists of a live chat widget, a popup creator, and a contact database. Apart from this, it has previously written code that you can copy-paste directly into WordPress.
Hence, HubSpot has all-in-one plugins that deliver numerous and multiple functionalities. The HubSpot plugin integrates everything in one place, so you can be certain that it won't slow down your site, which is of utmost importance.
HubSpot WordPress Plugin offers certain free tools & the Starter plan commences from $45/month.
4. SeedProd
SeedProd is one of the plugins for building landing pages. Used by more than 1 million professionals, SeedProd is super-easy to work with and create all kinds of landing pages for WordPress.
It comes with a drag and drop builder and also offers prebuilt landing page templates. Apart from this, it also offers several customization options. Developers can add images, videos, opt-in forms, countdown timers, and more to their landing pages.
Using SeedProd, users can easily integrate with some of the best email marketing services. Thus, they can grow their email list easily.
The plugin also lets you set up a coming soon page for a new website or a new product launch. Additionally, users can work on 404 pages, maintenance mode pages, and many more.
The pricing for SeedProd is very simple. The Basic plan is $79/year, the Plus plan is $199/year, the Pro plan is $399/year, and the Elite plan is $599/year.
5. Elementor
Elementor is a very popular page builder. Users can easily drag and drop to build the page. Elementor currently has over 2 million downloads. Users can access 100+ templates plus premade sections to build call-to-action pages, testimonials, service pages, and more.
Customization features are available, such as Background Overlays, Hover Effects, Box Shadows, Animations, Headline Effects, and more. You can hold visitors' attention with these eye-catching effects that are inbuilt.
You can easily make any WordPress landing page with its powerful drag-and-drop page editor without needing to hire a professional developer.

The pricing for Elementor is fixed with one plan, which costs $99/year.
6. Gravity Forms
Gravity Forms is a great choice if you are looking for a plugin to help you add highly customizable and complex forms to your website.
Gravity Forms enables the users to easily assemble polls, quizzes, surveys, multi-step forms, and much more. Users can also create a diverse range of rules and conditions with the help of Gravity Forms.
Furthermore, you can easily integrate with several tools, including HubSpot and Zapier. Gravity Forms also integrates with PayPal and Stripe so that you can accept payments directly from your forms.
The Basic plan is priced at $59/year, the Pro plan costs $159/year, and the Elite plan costs $259/year.
7. WPForms
WPForms currently has more than 5,000,000 active installations and is one of the highly used form builder plugins. It is enhanced to give great speed and is mobile-friendly.
With the help of WPForms, users can effortlessly include custom forms such as polls, surveys, registration forms, newsletter signup forms, contact forms, and many more to their website.
Using WPForms is very simple; all one has to do is drag the form fields they wish to add and drop them where needed. There are more than 300+ ready-made form templates that the users can easily access.
Marketers would find other robust features useful: email marketing integrations, smart conditional logic, payment integrations, multi-page forms, and conversational forms.
WPForms offers a free version, while the Elite plan is priced at $599/year.
8. AdSanity
AdSanity is one of the widely used ad management plugins for WordPress. The plugin offers a simple and easy way to manage your site ads. Users can create as many ad units as they require. Furthermore, they can group, schedule, or rotate them to optimize their SEO ranking and earnings.
AdSanity also enables users to use advertising programs such as Google Sense simultaneously. If needed, users can sell their ads directly.
The Basic plan starts at $59/year, the Pro plan starts at $179/year, and the Lifetime plan starts at $499/year.
9. All in One SEO
All in One SEO is a good option when users want to optimize their WordPress site for organic search. The best part of this plugin is that all types of users, whether technical or non-technical, can use it easily.
You can improve your SEO and unlock maximum traffic using the SEO audit checklist, which analyzes your whole website for errors and provides actionable insight.
In addition, you can get an in-depth review of your content's optimization by using the TruSEO score. Users can also access image XML sitemap support, an XML sitemap, and get support from Google Analytics. This would prove to be very useful for marketers.
All in One SEO offers a free version; the Basic plan starts from $99/year, the Plus plan starts from $199/year, the Pro plan starts from $399/year, and the Elite plan starts from $599/year.
10. Smash Balloon
There is no better WordPress plugin for social media than Smash Balloon. You can use it to display content from your social media profiles on your WordPress website.
The plugin helps users create YouTube, Twitter, Instagram, and Facebook feeds in WordPress. You can customize the social feed of Smash Balloon to match the theme of your WordPress website. The plugin makes your website SEO-friendly and ensures its speed is not affected.
Smash Balloon has different pricing for social media platforms like Twitter, Instagram, and Facebook, while the All Access Bundle is priced at $299/year.
11. Just Writing
WordPress' Distraction-Free Writing Mode (DFWM) has been elevated to new heights with Just Writing. It is a WordPress plugin that may be of great use to marketers when removing distractions from their work.
As well as spelling checks, this tool improves the grammar of articles. The recent updates have continued to embed more features and commands to facilitate users' ease of use.
This plugin is free to use for all currently.
12. WP Call Button
With the free WP Call Button plugin, you can easily integrate a click-to-call button on your WordPress website without hiring a developer.
A click-to-call button is beneficial if your business relies on clients contacting you for information, quotes, or additional support. In this age of rising mobile traffic, users can effectively access your business number by clicking on a button.
A user-friendly plugin, WP Call Button requires just enabling the plugin, entering your phone number, and you're done. This plugin is free to use for all users currently.
13. Yet Another Related Posts Plugin
Of course, you would want your visitors to stick around as much as possible whenever they visit your site. This means you should divert them to other content which would be of high interest to them.
Yet Another Related Posts Plugin would display to the viewers a list of inter-related posts that would allow them to move on to other content, thus encouraging them to stick around a little longer.
Hence, you would have to do only one thing- publish high-quality content and bring visitors to your site. Yet Another Related Posts Plugin has 100,000+ active installations.
This plugin is free to use for all users currently.
14. TrustPulse
Plugins like TrustPulse are the best for social proof in WordPress. By leveraging social proof, you can boost conversions to your site.
There is no learning curve to using the plugin, and you can customize your notifications for different audiences. Additionally, it offers smart targeting, allowing you to choose how and when to display notifications.
When TrustPulse is live on your site, conversions can increase by as much as 15%. Stream any live action on your website, including demo registrations, purchases, signups for your email newsletter, etc.
TrustPulse is very moderately priced. The Basic plan starts at $9/month; the Pulse plan is priced at $17/month, the Pro plan is priced at $34/month, and the Growth plan is priced at $39/month.
Using the Akismet WordPress plugin, you can examine the comments left on your blog concerning Akismet's Web service, and it will explain whether those comments are spam or not. With the help of this plugin, the comments are automatically scanned, and the spam is filtered out as smoothly as possible.
This tool provides the status history of comments, so you can see if they are approved or not. This feature allows you to discard the most harmful spam, which would naturally speed up your site.
Akismet offers both free and premium plans. The Plus plan is priced at $10/month; the Enterprise plan costs $50/month while the Enterprise Plus plan costs $250/month.
Conclusion
All your marketing requirements can be met with our best WordPress marketing plugins. This would enable you to run your business more effectively and optimally. Using these plugins, you can increase the leads, get more sales and increase the business.
React in WordPress is also one of the most widely used practices as it helps solve complex problems. If you plan to use them on your website and are confused about how to do it, you can hire a dedicated development team to integrate these plugins into your website.