Referral marketing is becoming increasingly popular in the digital age, and it's easy to see why – when it comes to growing your business, referral programs are a fast, effective way to get more traffic, conversions, and leads.
But if you're looking for effective software tools to help you maximize the effectiveness of your referral program, there can be an overwhelming selection available on the market today.
To make it easier for you, we've taken the time to review some of the best referral marketing software solutions that should be on your radar heading into 2023. Read along as we give insight into their features and capabilities so you can determine which option works best for you and your goals.
Best Referral Marketing Software in 2023
InviteReferrals is a referral marketing software that makes it easy to maximize customer engagement without too much effort, with no setup fees, a user-friendly interface, and advanced analytics capabilities. Even better, its built-in loyalty program rewards customers whenever they refer a friend or share an offer with their social networks.
This automated system helps to make your company's referral marketing efforts more profitable and effective in driving sales.
Whether you're an experienced marketer or just starting, InviteReferrals' suite of solutions can help you streamline your referral campaigns for better performance. With forward-thinking referral software like InviteReferrals, businesses can grow quickly from referral sales.
Features:
In-depth analytics of the referral program and its channels with daily or weekly updates
Track shares, clicks, conversions, and more
Simple one-time integration
Full automation referral tracking and rewards
Spam and fraud prevention
Role-based collaboration
Integrations with WooCommerce, WordPress, and Bigcommerce
Run different referral programs, including a giveaway, contests, and goal-based
Pricing:
InviteReferrals is an excellent choice for businesses looking to create a referral network focused on social media sharing and referral events. You can try a 14-day free trial.
2. Friendbuy
Friendbuy is the next referral marketing software on our list. This software helps businesses and online retailers grow through referral campaigns. Its referral management platform allows users to tailor custom campaigns targeted toward specific audiences and customer segments while giving access to dashboard analytics to optimize the referral program in real-time.
With its powerful referral marketing solution, Friendbuy customers can expect greater engagement, a higher return on investment (ROI), and more sales through referral programs.
Whether reaching out to existing connections or offering new rewards for referring friends and family, Friendbuy provides a comprehensive referral solution for businesses of all sizes.
Features:
Custom reward options
Automatic reward fulfillment
Effortless A/B testing of components like offers and messaging
Personal referral links for advocates
Real-time referral funnel tracking and performance analysis
Comprehensive integration library, including Shopify Plus, Chargebee, and Attribution
Pricing:
Friendbuy is a suitable option for eCommerce and SaaS companies. The starter program is available at $249 per month with unlimited campaigns. For API access, pricing starts at $749 per month.
3. Extole
Extole is one of the best referral marketing software that enables businesses to harness the power of referral marketing. With one-click sharing through social media and email campaigns, businesses can quickly and cost-effectively acquire new customers without spending significant time or money on traditional advertising.
The platform allows users to automate the referral process, track referral performance in real-time, and measure success over a long period. With this powerful referral marketing software, businesses can increase their customer base significantly and gain insight into their customers' behaviors and patterns.
Features:
Rich and automated reward engine—coupons, loyalty points, gift cards, international rewards
Customize rewards for every campaign to test and see what works
A sophisticated rule set to detect and prevent low-quality referrals
Advocate profiles with precise segmentation and reporting
Real-time reports
Automatic discovery of influencers, brand advocates, and networks
Targeting and testing tools
Pricing:
For pricing, you need to contact them.
4. Referralrock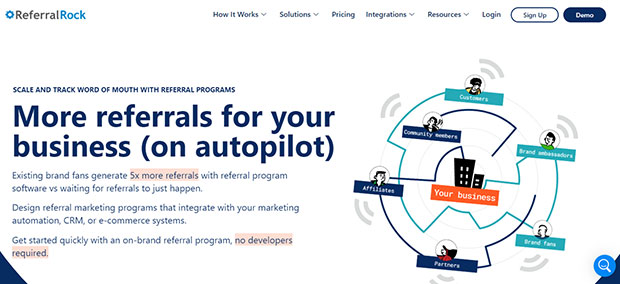 Referralrock is a referral marketing software that helps you turn customers into brand advocates. This referral automation platform allows businesses to seamlessly track, manage, and measure referral activities across their referral programs from one centralized system.
It offers peace of mind and an easy-to-use solution for connecting your product or service with new customers.
Not only does Referralrock streamline the referral process, but it also provides real-time analytics and valuable reporting tools that provide business owners invaluable insights about their referral programs.
In short, Referralrock makes referral marketing easier and more profitable for businesses by providing them with a comprehensive referral platform that drives performance and conversions.
Features:
On-brand customization for every step in the customer journey
Can run through widgets
Rewards options—coupons, gift cards, custom rewards, cash
Two-sided, tiered, and time-based reward structure
Create and automate email campaigns, promotions, and notifications
Customer support with a dedicated customer success manager
25 plus integrations, like Salesforce, Stripe, and Zapier
Pricing:
Referral Rock is suitable for businesses wanting a robust and flexible platform. Pricing starts at $200 per month with 500 members and one program.
5. Genius Referrals
Genius Referrals marketing software is the perfect tool for businesses of all sizes looking to grow their referral network and acquire more customers. It streamlines the referral process by allowing referral sources to quickly and easily refer new customers, making it easier to target specific referral audiences and track referral success metrics.
Additionally, the intuitive interface makes it simple for referral sources to see their progress in real-time, encouraging them to keep referring more leads. So, Genius referral marketing software is ideal for your business to expand its client base or give existing customers an easier way to spread the word.
Features:
Double-sided, fixed, and percentage-based rewards
Comprehensive dashboard with real-time analytics
Create multi-tiered and multi-level campaigns
Automatic payouts with methods like Paypal and Shopify discount codes
Loads of easy-to-customize templates, so your program is on-brand
Generate custom links and promo codes
Pricing:
Genius Referrals is specifically tailored for small and local businesses. Pricing begins at $49 per month for up to 10,000 advocates. Offers a 30-day free trial.
6. Amplifinity

When it comes to referral marketing, Amplifinity is an ideal software solution. The cloud-based referral program offers all the tools businesses need to track referrals effectively and measure referral performance.
By helping companies calculate ROI, set up targeting and incentive programs, build automated referral campaigns, track progress in real-time, and provide actionable referral insights, Amplifinity is the perfect tool to drive growth through referral programs.
Features:
Rewards management
Automation of referral tracking and rewards system
CSR portal and widgets
Employee referral management
Integrations for eCommerce, CRM, and online payment solutions, including Marketo, Amazon, and SilverPop.
Pricing:
Amplifinity is for large businesses and enterprises. Here is no free trial available.
7. ReferralCandy
ReferralCandy is a referral marketing software that helps businesses generate referral customers for increased revenue. It takes the stress out of referral marketing by providing automated referral programs and enabling easy tracking.
Whether you're a small business or extend your services to global markets, ReferralCandy equips you with the necessary tools to build successful referral programs.
With their user-friendly interface and customization options, ReferralCandy makes it easier for you to give better incentives, improve referral engagement, and effectively incentivize customers for valuable referrals.
Features:
Dedicated landing pages with templates
Campaign dashboards with real-time analytics
Gain newsletter referrals
Ability to create a waitlist for startup pre-launch
Contest giveaway referrals
Integrates with Shopify
In-app chat and email support
Pricing:
It starts at $49 per month, but you can sign up for a free trial.
8. Viral Loops
Viral Loops is revolutionizing referral marketing by setting a high bar for referral software services. With powerful automation and an intuitive user interface, it eliminates the friction between referral programs and the users participating in them.
Thanks to Viral Loops, referral marketing campaigns can be implemented easily, leading marketers to greater success and ROI.
Viral Loops has you covered, from incentivizing users to share your content through referral bonuses to tracking referral activity with data analytics. As a result, create referral experiences that boost engagement and increase conversions.
Features:
Dedicated landing pages with templates
Campaign dashboards with real-time analytics
Gain newsletter referrals
Ability to create a waitlist for startup pre-launch
Contest giveaway referrals
Integrates with Shopify
In-app chat and email support
Pricing:
It starts at $49 per month, but you can sign up for a free trial.
9. MentionMe
MentionMe is the perfect referral marketing software to help your business grow. You can turn your customers into brand advocates and supercharge your referral network with a simple button click. Our software helps to track referral links, create referral incentives, and measure referral successes.
As the leading referral platform for e-commerce companies, we believe in powering the next generation of referral programs and helping companies maximize their growth potential with viral campaigns.
You can craft more effective referral programs with MentionMe's referral tracking capabilities, powerful analytics dashboards, and marketing enrichment layers. Try out MentionMe today and watch your referral sales skyrocket.
Features:
Create highly targeted messages
Create thoughtful user experiences
Easy customer segmentation
Live support for onboarding and continual optimization
Bespoke reporting
Integrations with Magento, WeGift, Klaviyo, Dotmailer, and more
Pricing:
You need to contact them for plans.
10. Saasquatch
Saasquatch is an innovative referral marketing software that provides businesses with a new way to maximize their referral strategy. Through powerful automated tools and insights, Saasquatch allows companies to easily track their referral program performance, identify influencers and reward them appropriately.
The platform makes it easier to plan referral campaigns than ever before, as users can seamlessly capture leads, monitor progress, and make changes on the fly. With more referral activities, such as customer referral programs and contests, Saasquatch is emerging as the ideal solution for all referral needs.
Features:
Multi-program and multi-tier campaigns
Out-of-the-box designs and templates
Pre-configured growth programs
End-user rewards portal
Segmentation and dynamic rewards
Web and mobile deployment
Analytics, testing, and reporting capabilities
Customizable emails and widgets
Enterprise-grade security
Fraud screening
Pricing:
Pricing starts at $1750 per month with up to 200k participants.
11. GrowSurf
GrowSurf is a referral marketing software that helps businesses increase their customer base and drive sales. It provides referral programs with customizable features to create unique referral campaigns that result in higher ROI.
It makes it easy to get more people talking about your business and taking advantage of referral bonuses by automating the referral process.
With GrowSurf, you can track performance, create high-performing referral models, and reward customers for expressing interest in your brand. By quickly setting up referral campaigns through this referral marketing software, your business will get the extra boost it needs to reach success.
Features:
It automates the referral process from end to end.
It also offers plenty of customization for a unique out-of-the-box campaign solution.
It allows you to easily track referrals and measure the effectiveness of your marketing campaigns.
This allows businesses to maximize the potential of their campaigns while ensuring that each campaign is unique.
It offers a variety of referral portal templates to choose from that are aligned with your company name and brand.
Pricing:
It offers three paid plans: the Startup Plan for $200/month, the business Plan for $400/month, and the Elite Plan for $600/month.
12. Vyper
Vyper is a fantastic referral marketing software that helps businesses grow organically. As opposed to intrusive ads and other unrelated marketing, referral marketing allows businesses to use the power of their customers' voices to get the word out about who they are and what they offer.
With Vyper, referral programs can be set up quickly, and customers can be rewarded for referring friends or family members to shop with the business. Vyper makes referral marketing fun and efficient while also serving as a great way for businesses to ensure that their brand reaches the right people and continues to thrive amongst the competition.
Features:
Help you build one-off campaigns that boost consumer engagement and revenue.
It lets you launch evergreen loyalty, referral, or incentive programs.
The platform allows users to create beautiful campaigns in three display modes: a Thank You Dashboard, a Landing Page, Embedded Forms, and an intercom-style Widget.
You can award points for purchases, referrals, and social media activity as an incentive for referring clients. You can also offer discounts, free products, or other rewards to customers who refer others.
Pricing:
Vyper is free to use. You may select from any paid plans: their Enterprise Plan for $149/month or their Agency Plan for $299/month.
13. Referral Factory
Referral Factory is the referral marketing software solution businesses across various industries have been waiting for. Agile, user-friendly, and intuitive allows companies to drive referral marketing campaigns from inception to execution in record time.
With specialized features such as referral tracking and referral optimization, it helps you cultivate customer loyalty and generate valuable leads. And at an unbeatable price point, Referral Factory is the ultimate resource for referral marketing success.
Features:
Reward options include discount codes, coupons, cash
Dashboard with real-time data monitoring
CSV exporting
Automate communication for invites, referrals, and rewards
19 Languages for a broader reach
Integrations including HubSpot, Salesforce, and Intercom
Pricing:
Pricing starts at $95 per month for up to 2500 users, and you can sign up for a 15-day free trial.
14. Affise
Affise is a referral marketing software that helps businesses gain more leads and increase growth. It offers a powerful toolset and a variety of features to help optimize referral marketing campaigns. With Affise, businesses can track all referral partners in one place and launch referral campaigns quickly.
Its intuitive tracking system allows you to review metrics and adjust plans on the fly for higher impacts. Additionally, Affise even has strong commercial features like different pricing models, unlimited sources of traffic, instant payouts, transparent real-time data, and so on for more efficient referral program management.
Regarding referral marketing software solutions, Affise is an excellent choice for businesses of all sizes.
Features:
Software is fully customizable to fit brand style
Total budget control
24/7 support and a personal account manager
Integrations for CRM, billing, and much more
Convenient communication system to stay in touch with brand representatives
Secure payment system
Individual accounts for brand advocates
Each brand advocate has access to its statistics and performance reporting.
Pricing:
It offers three pricing plans Entry $500/per month, Scale $800/per month, and Custom $1500/per month.
15. Talkable
Talkable is a referral marketing software that can help businesses grow significantly. It allows companies to set up referral programs in a matter of minutes, increasing the reach and exposure of their brands by tapping into referral networks.
Companies can create rewarded referral campaigns for customers and provide rewards for sharing products or services.
Talkable's beautiful referral cards make it easier to keep track of referrals and monitor reward redemption anytime. In addition, the referral analytics dashboard provides powerful user insights, enabling marketers to measure the success of their referral marketing strategies.
Talkable is a great tool for any business looking to increase networking opportunities by leveraging referral marketing.
Features:
It delivers a fully automated referral program.
It lets you identify the best-performing campaign configurations using Talkable's statistical significance and powerful A/B test hypothesis algorithms.
It offers deep insight into campaign performance.
Using sophisticated segmentation, you can target distinct customer segments.
Easily integrated with the marketing and eCommerce tech stack, including Salesforce and BigCommerce.
Pricing:
It offers three structured, monthly priced plans: the Standard Plan, the Plus Plan, and the Premium Plan. Each plan includes varying operational check-ins and managed campaigns.
16. Yotpo
Yotpo is an industry-leading referral marketing software provider. It enables businesses to collect, curate and manage customer reviews, referral content, product questions, and even influencer campaigns.
Yotpo provides everything a business needs to create referral programs, email campaigns, and other strategies that drive loyalty and trust in the product or service. With Yotpo's referral automation tools, businesses can simplify their referral activities while improving how those efforts are tracked and measured.
In addition, its integration with popular online commerce platforms makes it easy to securely include referral links on websites, social media posts, and other digital assets.
There's never been a better time for businesses to take advantage of referral marketing technology with Yotpo, as it allows for efficient customer engagement and reliable insights into customer behavior.
Features:
It ensures that your referral program is incorporated into every step of the customer's journey, from post-purchase, to customer accounts and email notifications.
It lets you track individual customer behavior and actions to help optimize future campaigns relevant to your customers.
The ROI dashboard is easy-to-use and lets you see how much money your referrals bring in.
Its comprehensive segmentation capabilities, granular performance metrics, and customer-level insights help you better target your customers.
Easily integrated with marketing tools, including reviews, email, social media, and support.
Pricing:
Yotpo has a free Bronze Plan that lets you incentivize up to 100 monthly orders, customize rewards, and build a loyalty page. Silver ($29/month), Gold ($249/month) plans, or their more flexible Platinum and Enterprise plans designed for larger businesses and enterprises.
17. Influitive
Influitive is a referral marketing software that offers businesses and organizations an interactive, intuitive way to manage referral marketing campaigns.
It has a suite of features and integrations designed to create a complete referral program management system. Influitive's automated referral tracking helps you track, optimize, and report on referral program performance to continuously improve your program's success.
With advanced tools that enable powerful emails and gamification capabilities, Influitive helps create a lasting referral connection with current customers while giving rewards that can encourage more referrals in the future.
Whether driving new customer acquisitions or creating customer advocacy programs, Influitive provides meaningful solutions to drive results that matter.
Features:
It helps you measure relevant customer interaction and identify potential influencers that can help boost your marketing campaign.
It allows you to connect Influitive with Salesforce for a streamlined process and ROI tracking across both platforms.
Pricing:
Its Customer Advocacy price plan for $1,499/month, including reference automation, referrals, reviews, testimonials, social shares, pre-built campaign templates, and more.
They also offer a leveled-up Digital Community Plan, which includes everything in their previous plan plus the ability to have moderated discussion boards, a knowledge base, and a Q&A for advocates.
Conclusion
There are a lot of the best referral marketing software platforms out there that offer referral marketing functionality. But which one is the best? It really depends on your specific needs and requirements.
You might want to consider a platform like InviteReferrals, which is designed specifically for e-commerce businesses. Regardless of which platform you choose, make sure it offers features like tracking, automation, and reporting so you can get the most out of your referral program.