Knowing your company's NPS (Net Promoter Score) lets you evaluate the level of customer satisfaction and loyalty to your brand. The fundamental tool you need to measure NPS is NPS software. With a wide variety of NPS software available in the market, it becomes important to find the best NPS software that aptly fits your business needs.
This blog presents 15 of the best NPS tools to familiarize you with what each of them offers. But first things first.
Why is it important to have the best NPS Software?
Brands and businesses need to know whether or not their customers are happy with them. And one of the most effective ways to find this out is by measuring their NPS. NPS is a benchmark for customer satisfaction and loyalty. NPS software helps you measure and track your firm's NPS results.
The following are the reasons why a company should invest in NPS software.
Get an idea of how businesses perceive your brand and its offerings.

Find more valuable approaches to improve your brand's offerings.

Help minimize customer churn by taking quick measures to fix issues.

Measure customer loyalty in terms of how likely they're to recommend your brand to others.

Help improve business profit by motivating you to improve customer experience.
15 Best NPS Software and Tools in 2023
Here are some of the best NPS tools that offer the best value. If you're planning to invest in one, choose the one that would best suit your needs. For, each of these offer a set of features and functionalities to help you in specific ways related to measuring NPS.
NotifyVisitors helps you gain key insights into your customer base. Our robust NPS software makes it easy to create, send and analyze customized surveys, ensuring you get the most out of your customer's experience. Implementing our software gives you a clear understanding of what customers think about their journey, allowing you to make adjustments in real-time and continually optimize the user experience. With NotifyVisitors, staying informed is simple and satisfying.
Features
Customization
Multiplatform feedback collection
Deep analytics and insights
Security
Scheduling NPS
Enterprise solutions
Real-time dashboard
Logical NPS survey creation
Targeting rules
Report exporting
White-labelling
Customer support
Pricing: A 15-day full-featured free trial is available. Contact us for pricing details.
2. Delighted
This is an easy-to-use and easy-to-launch NPS software. It integrates with numerous platforms like Salesforce and Slack. Just like NotifyVisitors, it also works in real-time. It has features like sentiment analysis that help you know how your customers associate with your brand.
Features:
Survey management
Real-time dashboard
Sentiment analysis
Customer support
Pricing: A free trial and a free plan are available. The price plan costs $249 per month.
3. NiceReply
NiceReply integrates with multiple platforms including Help Scout, Aircall, Zendesk, Front, LiveAgent, Customer, Freshdesk, Pipedrive, etc. It allows you to send your NPS surveys through email. Using this best NPS software, you can also measure your company's CSAT (Customer Satisfaction) measure. It offers a variety of training resources.
Features:
Complaint monitoring
Customer engagement tracking
Negative feedback management
Detailed analytics
Customer support
Pricing: NiceReply offers a free trial. It is priced at $49 per month.
4. SurveySparrow
SurveySparrow allows you to create different kinds of surveys including NPS. It is easy to work with and works well on mobile and desktops. Though it can help you identify your promoters, retractors, and passives and analyze survey data, it is the best NPS tool for small businesses alone. Businesses would find it daunting due to the manual work involved.
Features:
Audience management
Smart surveys
Executive dashboard
Rich insights
Case management
White-labelling
Integrations and webhooks
Pricing: A free trial as well as a free plan covering 100 responses available. There are several tiers and the basic plan starts at $19 per month and includes 1000 responses.
5. Crowdsignal
Crowdsignal integrates with custom APIs, Google Sheets, WordPress, and more. Its surveys can be disseminated through websites (web embeds, web feedback widgets, and web links), SMS, emails, and mobile devices (iPad, iPhone, and iPod). Its reporting is detailed and can be categorized based on the device used, participant, location, and more.
Features:
Multilingual surveys
Data Exporting
Pre-built questions
CSS editor
Re-captcha verification
Customer support
Pricing: There's no free trial of this product. However, there's a free plan that lets you gather 2500 responses. The price plan costs $25 per month.
6. Qualaroo
Qualaroo is a tool for creating all kinds of surveys, including NPS. It is an enterprise-level survey management system that allows you to create and evaluate surveys. You can distribute the surveys thus created through website, mobiles, and apps. It offers AI-based sentiment analysis that simplifies your data mining.

Features:
Question branching
Customization
Multi-lingual support
Advanced audience targeting
Analytics
Pricing: A forever-free plan with unlimited responses is available. The priced plans start at $80 per month.
7. Qualtrics
Qualtrics is a cloud-based NPS software. You can create, disseminate, and evaluate online surveys. It provides over 100 pre-designed questions and 50+ ready-made survey templates. You can create intuitive, multilingual surveys with logical flows. You can distribute the surveys thus created through multiple channels.
Features:
Integrates with multiple platforms
Report exporting
Visual data analytics
Customization
Training surveys
Customer support
Pricing: Free trial is not available. However, there is a free plan. To know the pricing details of the plans of Qualtrics' priced plans, contact the vendor.
8. Wootric
Wootric is next on the list of best NPS tools. It is easy-to-use software used to measure CSAT and CES as well. It integrates with numerous platforms in a jiffy. It is a machine learning-based tool that learns and works in an autonomous way. So, it eliminates much of the manual work.
Features:
Multi-lingual support
Data Import and Export
Multi-channel management
Analytics
Mobile support
Customer support
Pricing: There is a free trial as well as a free plan offered. Both allow unlimited responses. The priced versions start at $99 per month.
9. Zonka Feedback
Zonka Feedback is a powerful NPS software that helps businesses engage with customers and enhance customer loyalty. It comes with a WYSIWYG editor that's extremely user-friendly and helps you build and run successful NPS surveys.
As one of the best NPS software, you get advanced analytics and reporting capabilities to view the Net Promoter Score and take instant actions to turn detractors into passives and eventually into promoters. You can send surveys across every touchpoint in the customer journey through channels like emails, SMS, website, in-product, offline app, and more.
Features
Multiple-channel NPS software
Close the feedback loop
Complete customization & white-labeling
Multilingual surveys
Hide & Skip logic and branching
CX automation
In-depth reports & analytics
Pricing
Zonka Feedback offers a 7-day Free Trial. The Starter Plan starts at $49 per month.
10. LiveChat
LiveChat NPS survey tool enables survey distribution through chat alone. It integrates with custom API, Google Analytics, Facebook Messenger, HubSpot, Mailchimp, Salesforce, Helpdesk, etc.
You can also measure the CSAT metric with it. It facilitates generating a variety of reports (Chat reports, Ticket reports, Customer reports, Agent reports, Ecommerce reports, Data export,) as well.
Features:
Customization
Livechat APIs
Chat widget customization
Analytics & reporting
Customer support
Pricing: A free trial is available. The price plan costs $16 per month.
11. AskNicely
The next on our list of the best NPS tools is AskNicely. It lets you measure your NPS and CSAT through mobile apps, SMS, websites, and emails. It integrates with several commonly used platforms. Its analytics helps you create logical surveys and determine the actions you should take to improve customer experience.
Features:
White-labelling
Customizations
Automated workflows
Customer support
Pricing: The tool is offered at $16 per month. There is a free trial that you can use before deciding whether or not to use the priced plan.
12. ProProfs Survey Maker
ProProfs Survey Maker offers 100+ easily customizable survey templates. Some of these include e-commerce NPS survey, Brand NPS, Post Sale NPS, Hotel Guest NPS, Employee Satisfaction NPS, etc. Its advanced analytics lets you group your customers into promoters, detractors, and passives. The reports facilitate data visualization in the form of bar and pie charts.
Features:
White-labelling
Multi-campaign management
Detailed reporting
Recurring survey management
Intuitive dashboard
Pricing: There is a forever-free plan. The priced plans start at $0.05/response/month.
13. YesInsights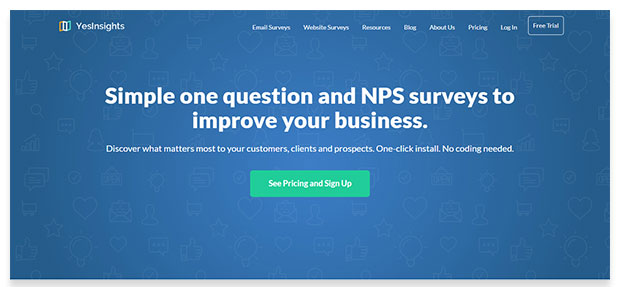 YesInsight is one of the best NPS software for easy administration. Its specialty is its ease of installation. It integrates with custom APIs, Marketo, Salesforce, Hubspot, and a lot more. It allows distributing your NPS survey using chat. It also provides detailed reporting that includes data trends, crosstab, global and industry benchmarks, word clouds, and more.
Features:
200 Pre-built survey templates
Report exporting
A/B testing
Email surveys
Website surveys
Pricing: A 7-day free trial is available. The pricing plan starts at $20 per month.
14. Promoter.io
Promoter.io is another feature-rich NPS tool. Designed exclusively for e-commerce businesses, it integrates well with BigCommerce and Shopify. The tool seamlessly gathers feedback on each customer's experience of the buying process. The surveys can be distributed through email, website embeds, or SMS. It also offers machine learning-powered analytics.
Features:
Multi-language surveys
Instant surveys
Recurring surveys
Internalization
Pricing: It comes with a free trial. The free plan allows 250 surveys per month. The pricing of the basic plan is $100 per month.
14. CloudCherry
CloudCherry is a customer sentiment mapping product that allows creating surveys and distributing them through channels including SMS, email, and website. The software can be used on tablets, smartphones, desktops, and Kiosk devices.
Features:
Remote Device Management
Template library
360 Degree Feedback/ Omni-channel feedback analysis
Analytics
Offline response collection
Popup Surveys
Customer support
Pricing: There is no free trial offered. The tool is priced at $300 per month.
16. TextLine
TextLine is the final product to be reviewed on this list of the best NPS tools. It is an easy-to-use tool designed to disseminate surveys through SMS. It integrates with many other platforms that you use for communication, e-commerce, sales, and more. Apart from NPS, you can also conduct customer satisfaction surveys with it. It forwards each response received to your customer service department so that you can take immediate action. Likewise, it enables tagging to facilitate the prevention of recurring issues.
Features:
Conversation dashboard
Customization
Survey scheduling
Reporting
Message personalization
Mass texting
Two way messaging
Pricing: The tool is priced at $ 59.97 per month. There is a free trial but no free version. 
Conclusion
While you went through our list, you would have found that each NPS survey software offers useful features to measure customer loyalty. Pick the best NPS survey tool that fits your unique business needs. With the right tool, you can enhance your customer experience team's engagement and productivity.
FAQs
1. What is the most common question asked by an NPS survey?
The question frequently asked by an NPS survey is "On a 0 to 10 scale, how likely are you to recommend us to a friend or colleague?"
2. How can you create an engaging NPS survey?
a) Keep it super short.
b) Keep it simple.
c) Segment your audience by sending a personalized survey and hence a better response rate. 
3. What is the formula for calculating NPS?
NPS = Percentage of promoters – Percentage of detractors