Lead generation is very crucial for business growth as leads can be transformed into customers and revenue. However, most marketers find lead generation a great challenge. Lead generation software facilitates generating high quality leads from various online platforms.
This blog presents to you more than 30 best lead generation software and tools available in the market today. But before that here's a peep into what lead generation software is.

What is lead generation software?
Lead generation software is a marketing automation tool that enables brands and businesses to gain online leads. It helps fill the top your marketing funnel. That is, it generates contact info from prospects so that you can market to them.

As you move the prospects down the funnel, some of them will convert eventually. So, by generating more leads for your business, lead generation software increases your conversions and revenue. There are different kinds of lead generation tools. These include-

Lead Capturing tools
Email Marketing Tools
Live Chat Tools
Prospecting and Outreach Tools
Sales Lead Generation Tools
Advertising Tools
31+ Best Lead Generation Software & Tools for Business Growth In 2023
Here are more than 30 of the best lead generation software and tools spanning across the aforementioned categories. You can use these for your business growth in 2023.

A) Email Marketing Tools
NotifyVisitors Lead Forms are ideal tools for capturing leads from your website and mobile site. These help you turn your visitors into email/mobile subscribers and customers. You can choose from a range of responsive, engaging, and attractive themes. You can also build your lead form from scratch if you prefer to.

2. VoilaNorbert
VoilaNorbert helps you find any email address, manage your leads and create a verified email list. It allows you to find leads, email addresses and contact information on any websites simply by clicking on a button.
All your leads can then be exported, added into custom-made lists and/or contacted directly from Norbert with advanced tracking tools to know if they opened or even clicked on your emails. VoilaNorbert also has a feature of verifying addresses in bulk and an email enrichment feature.
3. Sendinblue
Sendinblue is a cloud-hosted and mobile-friendly tool for email marketing. You can automate lead generation using this tool. It has smart features for segmenting users and scheduling emails. You can customize triggers based on the user's purchase date. It also allows you to A/B test email templates to find which is best appealing to your audience.

4. ActiveCampaign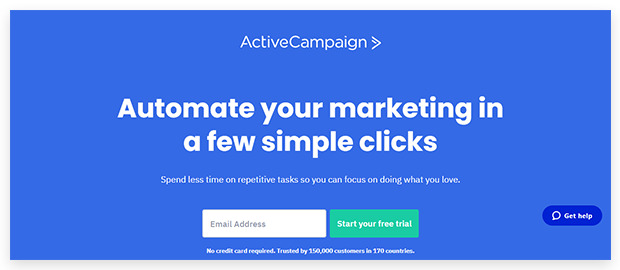 ActiveCampaign is also used for lead generation via email marketing. It has features for customer segmentation and powerful automation. Its other suite of marketing features is SMS marketing, landing page templates, contact scoring, Facebook custom audiences, etc.
A) Lead Capturing tools
5. Mailmunch
Mailmunch is a lead capture tool that facilitates businesses to easily engage website visitors and convert them into leads. You can make your choice from a huge selection of opt-in forms. You can easily launch these into your site immediately to start generating leads. It even lets you track exit intent and select triggers so that you can present your lead gen form in front of them at the right time.

6. Hubspot
Hubspot marketing tool is a comprehensive software for increasing site traffic, capturing leads, and marketing to them. This expensive tool has features including forms, landing page builder, live chats and conversational bots, analytics, and ad management. You can therefore create automated workflows with it.

7. OptinMonster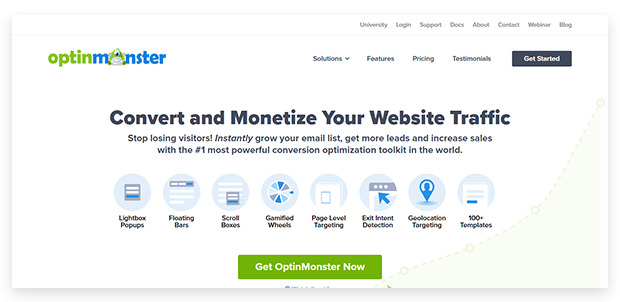 OptinMonster is a lead generation tool for converting website visitors into leads and customers. It allows you to build unique campaigns for your segmented leads and thereby increases your chances of gaining their attention. It also has features for email marketing, push notifications, slide-in windows, spin-wheels, etc.

8. WPForms
WPForms are lead gen tools that allow you to custom design forms for various online campaigns. You can easily embed its forms in blog posts, footers, and sidebar widgets. Its smart conditional logic enables high performance. It lets you view and manage leads in one place. It works well with WordPress sites.
C) Email address finder tools
9. Overloop
Overloop is one of the best lead generation software known. It lets you nurture your leads via collecting prospects' email addresses and verifying those. It presents templates and variables to help in your email marketing. It also gives you analytic info such as email signups, open rates, click-through rates, and bounce rates.

10. AeroLeads
AeroLeads also helps you generate leads by collecting email addresses. It enables qualifying leads by extracting the data. This data includes the prospect's name, company, contact details, and profession. It also has features for contact import and export.

11. D&B Hoovers
D&B Hoovers claim to have an all-inclusive business database. So, its users can get relevant lists so that they can build stronger relationships with their target audience. This increases their chances of converting a lead. It has a dynamic lists feature that automatically updates contacts with the latest details.
D) Live Chat Tools
12. NotifyVisitors Bot Builder
NotifyVisitors Bot Builder allows you to build your chatbot effortlessly without any coding knowledge. It facilitates lead generation by saving key details from user inputs. It also enables the nurturing of leads by striking human-like conversation and delivering better user experiences to your visitors.
13. LiveChat
LiveChat is considered one of the best lead generation tools that helps both customer support and lead generation. It can be integrated into your website to manage visitors, identify potential customers, and collect new leads. It provides multilingual support for live chats. It helps manage interactions from different marketing channels like mobile apps, WhatsApp, Messenger, etc. in one place.
14. Drift
Drift is a cloud-based lead gen and marketing automation software. It lets you gain new leads through AI-driven chatbots and live chat. It engages your site visitors to gather contact info (company's name, location, revenue, industry, and the number of team members), qualify the leads, schedule appointments, and hand over the chat to a human staff, if necessary.
15. MobileMonkey
MobileMonkey is an inquisitive chatbot builder that lets you create chat drip campaigns for Facebook messenger and website live chat. It also helps generate leads through opt-in questionnaires and subscriber forms.
E) CRM Tools
16. BigContacts
BigContacts is a renowned CRM platform. You can generate and manage leads using it. It helps reduce the risk of lead mismanagement. You can import your contacts from forms, email, webhooks, and spreadsheets to the platform and track all interactions there on a single screen.
17. Salesmate
Salesmate is a superior CRM with advanced functionalities. It enhances customer engagement, enables you to develop effective marketing strategies, accelerates your sales process and customer support, and keeps all of your customer data on a single platform. Moreover, it also offers powerful features such as sales automation, marketing automation, sales pipeline management, and more while staying within your budget.
The best part about Salesmate is that it seamlessly integrates with your favorite G Suite apps and can be used as CRM for G suite. A right G-suite CRM can eliminate the pain of app switching and manual data entry. It drastically improves the efficiency of your entire sales team.
18. Keap CRM
Keap CRM is an all-in-one CRM for lead generation. It has features for streamlining your conversion and sales processes across all channels. It has forms for letting you gather new leads, email and SMS marketing for qualifying them, and inbuilt CRM tools for nurturing them.

19. Overloop CRM
Overloop CRM is an all-inclusive CRM platform that is considered one of the best lead generation tools. It allows you to generate new leads through live chat and web forms. You can capture email addresses from professional networks, websites, and social pages using Chrome Extension and get those verified.

F) Social media tools
20. Mailchimp
Mailchimp is not only a platform for lead generation through social media, but also for social marketing, email marketing, and lead forms. You can create customizable forms to collect web visitors' contact details. It assists your visitors in filling up the subscription forms.

21. Genesys DX (Formerly called Bold360)
Genesys DX is a platform for managing all your interactions across different touchpoints like social media, emails, messaging, live chat, and SMS. It has smart AI-powered chatbots that employ Natural Language Processing (NLP) to help users and collect their contact details. These can proactively initiate a relevant chat with them to maximize engagement.

22. OnePageCRM
OnePageCRM is one of the best lead generation tools that help draw prospects' details from social media sites and include them in your contact lists. It enables this in several ways. One involves entering only a person's email address in the contact form. The auto-filler will fill in other details such as job title, company, and contact info.

23. Hootsuite
Hootsuite is a tool that lets you collect and analyze data from various social media networks in a single place. It not only helps you generate leads but also boosts your social media presence and gains influencers.

24. Discover.ly
Discover.ly is a browser extension that enables lead generation via displaying additional details about the profile you're viewing currently by pulling those from different social media networks. It also automatically generates more info about exciting leads. You can integrate Discover.ly with your CRM tool to export the contact list and market to them.

25. BuzzSumo
BuzzSumo is another popular tool that lets you generate leads from social media. It works by strengthening your presence in these networks. It helps you excel in your social media marketing by performing analysis to come up with new ideas and high-performing content, gather details, and engage your audience.

G) Prospecting and Outreach Tools
26. Limecall
Limecall is callback software for prospecting and progress tracking. You can strike a one-on-one conversation with the leads and convert them into qualified leads. It also has features for call recording and monitoring.

27. RightHello
RightHello is a lead generation tool that employs cold email marketing. It has been designed for SaaS agencies, marketing firms, and the B2B tech market. You just need to come up with a series of cold emails in your niche and schedule campaigns to the segmented list to get qualified leads.

28. Datanyze
Datanyze is an advanced prospecting solution. It helps marketing and sales teams find and associate with B2B prospects. It pulls contact details such as mobile number, email id, etc. of leads from company websites and LinkedIn profiles after some level of prospecting.

29. Lead Forensics
Lead Forensics is a tool that helps you get detailed info about your anonymous B2B website visitors in real-time. You can use the info to gain profitable leads. For, apart from website visitor identification, it also has features for account management, marketing, and sales operations.
H) Sales Lead Generation Tools
30. Salesforce
Salesforce is one of the easy-to-use and best lead generation software for sales teams. It helps come up with personalized sales campaigns. It has features for robust CRM, lead handling, flexible bidding, and support.

31. Pipedrive
Pipedrive is a CRM tool with an energetic approach towards sales leads. It helps sales teams get more done using its features such as task automation, sales pipeline building, BCC email inbox, revenue forecasting, activity tracking, and more. Thus it helps in making actual sales.

I) Advertising Tools
32. AdRoll
AdRoll is a tool that helps put your business in front of our target audience. It lets you display your ads on those websites and social media pages where your potential leads are browsing. Its analytics delivers campaign insights so that you can continually improve your future campaigns accordingly.

33. Google Ads
Google Ads is the most popular tool for placing your ads on search engines. This free-to-use tool brings in leads by letting up come up with your custom ads and delivering them in front of a broad target audience. You just have to pay per click.

Wrapping up
When you use the best lead generation software and tools, you can easily generate leads, fill your marketing funnel's top and move them through it with your nurturing strategies. We've discussed over 30 of the best tools available in this regard. Do go through those to understand which ones will best suit your requirements.