There is no doubt that the eCommerce industry is growing rapidly, with more and more people looking to get their business online. The internet of things is one of the best eCommerce tools to help you scale your business in 2023. With devices constantly connected to the internet, companies can tap into a whole new market for their products and services.
There are many different ecommerce tools available on the market today. The best ones for your store will depend on the needs of your business. In this blog, we will discuss some of the best Ecommerce tools for your online business.
25+ Ecommerce tools You must try
Geared toward marketing automation tools, NotifyVisitors helps you to create marketing strategies that are proven effective for online stores. Using our tool, online sellers can use numerous channels to connect with their customers. They can also leverage it for precise targeting through personalized texts and emails.
Features:
It helps you build automated email campaigns.
Seamless integration with other eCommerce platforms
Pricing
Startup plan starts at $49
For the Enterprise plan you need to contact us.
2. InviteReferrals
InviteReferrals is one of the best Ecommerce tools as it ensures that more customers learn about your business through referrals. It helps you build a referral program that rewards your customers for their referrals while enabling you to track them for insights.
Key Features:
Different types of rewards are available 
Help you prevent and manage referral fraud
Pricing
Basic plan starts at $99/per month
Standard plan starts at $249/per month
For the enterprise plan you need to contact the vendor
3. Shopify
Building your online store using Shopify is highly suggested if you enter the eCommerce industry. Shopify is easy to navigate, straightforward, and intuitive to set up. Also, it lets you connect to external selling platforms and third-party apps. 
Features:
Optimized for use on mobile devices
Website and shopping cart creation tool
Unlimited product inventory
It supports all popular payment modes.
Pricing
Basic plan starts at 1499 Rs/ per month
Shopify Plan starts at 5599 Rs/ per month.
Advanced plan starts at 22680 Rs/ per month 
4. Dash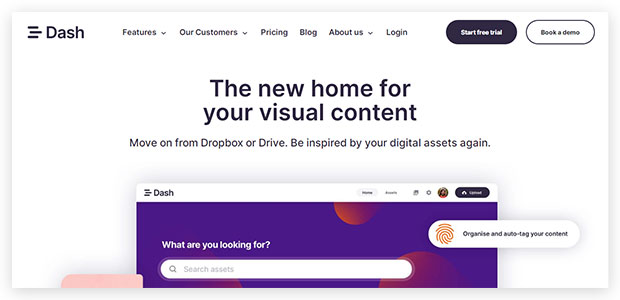 Your product images and marketing graphics are key to growing your brand.  But when you save them in your shared drives, nobody can find them again. Instead, use Dash as the home for your visual content. Quickly find your assets, share them with your teams and deploy them to your channels. 
Features: 
Quickly search for all your brand content 
Organise assets with custom fields like 'influencer' or 'product' 
Have content creators upload new shots to Dash, ready for approval
Create portals for resellers to find the content they need
Crop, resize and send images to social or your online store
Pricing: 
5. Statusbrew
Social media is eCommerce vendors' most powerful marketing, advertising, and customer support medium. But managing things at scale is not easy, especially if you're working with a small team. Statusbrew enables such businesses to streamline their social media processes by empowering you to create & schedule content in advance, respond to customer queries across social from a single inbox, and provide clear actionable insights. 
Features
Automatically hide all spam, troll, and negative comments on Facebook/Instagram ads and posts.
Set up automated & saved replies for people asking about product prices, discounts, order details, etc.
Automatically route planning to the right people i.e. All shipping queries go to the Logistics team
Create custom labels based on product categories, customer feedback, etc. 
Get AI-backed brand sentiment analysis to understand customer emotions better. 
Plan and run campaign across social from a single dashboard
Get a holistic overview of your ad spending and ROI
Pricing
The Lite plan starts from $69.00
The Standard plan starts from $129.00
Premium plan starts from $229.00
Enterprise plan has custom pricing
6. Richpanel
Richpanel is an omnichannel customer support software designed especially for eCommerce businesses. Its comprehensive self-help features reduce ticket volumes so agents can concentrate on complex queries or revenue-generating opportunities. Richpanel's intelligent automation positively impacts the bottom line profitability and improves customer and agent experience. 
Key Features: 
An amazon-like customer portal that offers high personalization and improved customer experience
Intuitive Backend that resembles popular social media apps like Facebook and Linkedin chat features. 
Deep integrations with eCommerce platforms like Shopify, Woocommerce, and Magento
Deep integrations with eCommerce tools like Klaviyo, Returnly, Aircall, etc. 
Pricing: 
Enterprise Plan- custom-built to suit your business needs. 
7. BuzzSumo
BuzzSumo is one of the best Ecommerce tools. Its content insights make it easier to develop relevant ideas and create high-quality content like blog articles and social media posts. It also shows tips on how best to share your new content.
Features:
Pricing
Pro plan starts at $99/per month
Plus plan  starts at $179/per month
Large plan starts at $299/per month
8. Convertkit
CovertKit is explicitly designed for bloggers, creators, and eCommerce marketers. It is a customizable platform for boosting your audience, creating your community, and yielding revenue. It offers many tools for email marketing, landing pages, commerce, email sign-up forms, email automation, and integrations. 
Features:
Customizable product pages
Comprehensive dashboard for sales
Integrated payment processing
Pricing
Free plan starts at $0/per month
Creator plan starts at $9/per month
Creator pro starts at $ 25/per month
9. Mailchimp
Mailchimp boosts your email marketing efforts by automating email marketing campaigns, designing emails, and connecting with your audiences utilizing personalized email content. You can also use the software to send reminders to customers who have abandoned shopping carts.
Features:
Pricing
Essential starts at $ 9/per month
Standard Starts at $14/per month
10. SurveyMonkey
SurveyMonkey helps you collect valuable feedback from online shoppers. Also, their sample survey templates and questions help you get started quickly and acquire all the necessary information. You can improve your website experience, customer communications, and even A/B test marketing campaigns with customer feedback.
 Features
Design surveys, polls, and quizzes for your online audience
Connect with Salesforce, Tableau, Marketo, and other tools
Share Surveys via weblink, social media, email, mobile chat, and other channels
Export survey outcomes and data in multiple formats
Cooperate with team members while creating surveys.
Pricing
Individual Advantage starts at 1999 Rs/per month
Team Advantage starts at 1550 Rs/per month
Team premier starts at 3800 Rs/per month
11. Canva
Consistently producing content is one of the biggest challenges for brands. Canva aims to make content creation more convenient and easier through its drag-and-drop graphic design platform. You can use its primary tools to create posts for distinct social media platforms and make your brand kit to keep content consistent.
 Features:
A plethora of photo editing and content creation tools
Short video creation tools
Automatic resizing for social media platforms
Pricing
Canva Pro starts at 3999 Rs/per month
Canva for teams starts at 6590 Rs/per month
12. Hellosign
Hellosign is among the best Ecommerce tools that help you sign agreements with your suppliers and contracts with employees. It replaces paper contracts (that might get lost) and makes your digital agreements legally binding.
Features
Drag-and-drop builder to create your legal documents
Build credibility by making custom branded forms
Documents templates that need to be frequently signed, such as employee contracts.
Let people sign these documents from their devices.
Pricing
Essentials plan starts at $19 USD/per month
Business plan starts at $49 USD/per month
For the Enterprise plan you need to contact them
13. Drift
Live chat has become an indispensable part of Ecommerce and helps you answer customers' questions, solve their problems, and increase real-time sales. Drift has automated this process to save time and money.
Features
Help you create customized conversations with shoppers based on their browsing pages and products; it even tracks return visits.
Integrates with existing tools for improved functionality.
Shows you a metrics report to show you how well you're doing.
Pricing
Free plan starts at $0/ per month
Basic plan starts at $11.99/per month
Pro plan starts at $39.99/per month
Growth plan starts at $79.99/per month
14. Wix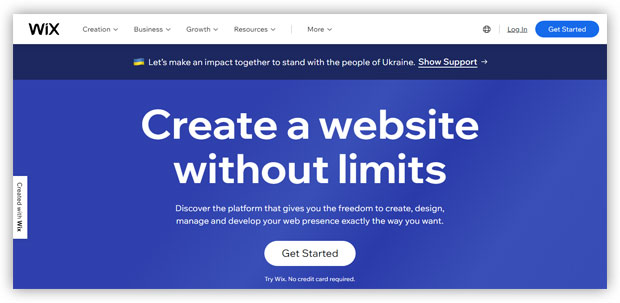 Wix is another best e-commerce tool to manage your online presence, showcase your portfolio, open a store, or start a blog. 
It allows you to customize it according to your needs. Moreover, you can use the mobile editor to optimize your website for mobile and other small devices. 
Features
Select from more than 500+ customizable website templates
Use a drag-and-drop website builder and save your valuable time.
Get a Wix Partner to help you build, design, and promote your website.
Add design features such as videos, custom animations, and vectors to your website.
15. Google Analytics
Google Analytics allows you to monitor your website traffic and engagement and delivers rich insights into customer behaviour. It detects and reveals insights from your data related to new trends, significant changes, and development opportunities. 
You can also see your ad spending return on investment (ROI) across all channels and make the right decisions regarding budget allocation. 
 Features 
Anticipate future actions that users might take on your website
Visualize the steps users take to complete tasks on your site
Comprehend how different customer segments relate to each other
Observe the lifetime value of every customer
Integrate with Google ads to observe the performance of your online ads.
Pricing
Paid plan starts at $12,500/per month
 16. Semrush 
Semrush is one of the best all-in-one Ecommerce tools. Semrush offers actionable tips to produce and publish SEO-friendly content on the internet. You can also constantly audit and adjust your content based on real-time metrics. 
Features
Find relevant keywords for your online business
Schedule and post content on social media for better engagement
Observe your competitors' PPC ads and landing pages
Structure and share SEO-friendly content with customers
Analyze your domain's backlink profile and other relevant parameters.
Pricing
Pro plan starts at $ 119/per month
Guru plan starts at $ 229/per month
Business plan starts at $ 449/per month 
17. Hootsuite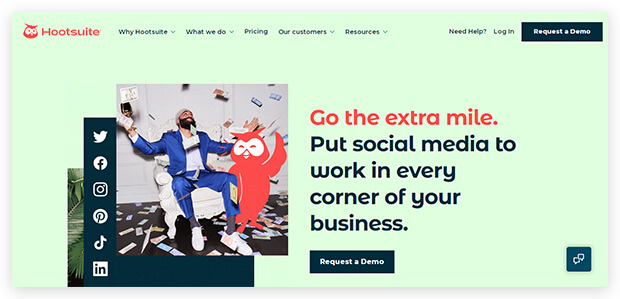 Nowadays, ecommerce stores have different social media accounts, and you need to do more to stand out. Ecommerce brands with significant social media presence don't depend solely on running ads or a PPC Calculator for their products. They listen, network, and share helpful content with their followers to engage with them and build awareness about their products.
Features
Schedule social media updates on various accounts to go live at the right time
It enables you to track engagement and see what's performing
Lets you monitor brand mentions so that you respond on time
It allows you to manage other users on your team through different levels of permission
Pricing
Professional plan starts at 1915 Rs/per month
Team plan starts at 7540 Rs/per month
Business plan starts at 45000 Rs/per month
For the Enterprise plan you need to contact the vendor.
18. WordPress

WordPress is a popular content management system as it helps you start a blog and publish content to enable your readers to learn more about the solutions you offer. Moreover, it also lets you build dedicated product landing pages.
These landing pages can improve conversions by targeting a specific customer segment and needs.
Features 
Lets you use plugins for landing page builders
Help you optimize your landing pages for search
Pricing
Hosting: from $2.95/month.
Pre-made themes: $0 – $200 (one-off charge).
Plugins: $0 – $1,000 (ongoing or one-off charge).
Security: from $50 (ongoing or one-off charge).
Developer fees: $0 – $1,000 (one-off cost).
19. Moz

While executing inbound marketing campaigns, SEO plays a crucial role. Moz helps you track essential metrics at the top of the funnel to help you understand how well you're doing.
Features
Audits your web pages and recommends what you should do to improve your on-page SEO
It allows you to analyze your competitors' backlinks to know who is linking back to them
Offers report showing you how well your keywords are ranking
Pricing
Standard plan starts at $79/per month
Medium plan starts at $ 179/per month
Large plan starts at $ 299/per month
Premium plan starts at $ 599/per month
20. Kissmetrics
A tool like Kissmetrics helps you run relevant marketing campaigns and show up at the right time on your customer's radar. It offers you a quick view of everything going on, so you modify your strategy to align it with customers' needs.
Features 
Get reports to know more about your marketing efforts to know what's working and what's not
It supports you during the setup
Pricing
Silver plan starts at $299/per month
Gold plan starts at $499/per month
For the Platinum plan, you need to contact the vendor. 
21. Squarespace

Squarespace is a tremendous website-building tool. However, all of its plans offer ECommerce capabilities and help you improve online selling. Additionally, this is the platform for you if you prefer your websites to have a more sleek and modern feel.
Features:
Easy integration with popular payment platforms
Best for portfolio creation
Shipping calculator feature
Inventory management tools
Unlimited product selling capability
Pricing
Personal plan starts at $16/per month
Business plan starts at $23/per month
Basic Commerce plan starts at $27/per month
Advanced Commerce plan starts at $49/per month
22. LimeSpot
This eCommerce conversion platform allows you to create unique and personalized shopping experiences that cause conversions. Its AI-driven platform will enable you to create a custom experience at every stage of your customer's buyer's journey and helps them find the right products at different touch points.
Features:
Fully automated AI algorithms
Templates for segmentation
Support for all major email service providers
Pricing
You need to contact the vendor for its pricing.
 23. SearchSpring
SearchSpring is a search and merchandising platform that provides intelligent site search, superior site navigation, and eCommerce reports. It allows your site to deliver dynamic search results to your audience without compromising personalization.
Features:
Deep analysis (indexing) of product data
Personalized product recommendations
Pricing
Essential starts at $599 USD/ per month
Advanced starts at $799 USD/ per month
Expert starts at $999 USD/ per month
24. AdEspresso
AdEspresso by Hootsuite enables you to find the right audience for your ads through split testing and optimization. With it, you can make Facebook, Instagram, and Google Ads campaigns, manage your advertising channels efficiently, and cooperate with your clients.
Features:
Lets you handle the timing and placement of your ads
AdEspresso University for enhancing your marketing skills
Pricing
Starter plan starts at $49 USD/ per month 
Plus plan starts at $99 USD/ per month
Enterprise plan starts at $260 USD/ per month
25. CS-Cart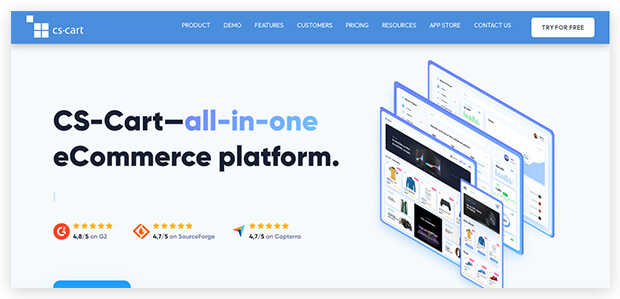 CS-Cart is the best Ecommerce tool for building multi-vendor marketplaces like Etsy, eBay, and Amazon. An admin controls the marketplace; other users are sellers with customizable micro-stores on this website.
Features
Advanced order management system
Individual mini store for every vendor
Customer-to-vendor communication
Pricing
You need to contact the vendor for pricing
26. Fishbowl Inventory
Fishbowl is an online inventory management solution that helps you track all inventory in one place. This tool can support your team by automatically generating purchase orders and speeding up the picking, packing, and shipping processes. 
Fishbowl combines robust solutions to help you speed up your order fulfillment process. Moreover, your business can perform regular batch picks and generate barcodes to streamline inventory management. 
Features
Automate tax calculations and sell to international customers without any problem
Integrate with payment systems such as PayPal 
Produce automated purchase orders to never run out of stock
Track inventory on the move with dedicated mobile apps for Android and iOS
Pricing
You need to contact the vendor for its pricing.
27. Hiver

Team communication is essential to keep everyone on the same page. While running operations, it becomes crucial to know what's happening and any problems the team encounters. If you fail to streamline it, then delays, disputes, and confusion will hold you back.
Therefore, use Hiver to avoid these problems. You have to integrate it with Gmail, and you are good to go.
Features
Use it to handle different departments, such as email customer support, operations, or accounts
It helps you collaborate with everyone else by assigning tags and mentions.
Pricing
Lite plan starts at 800 Rs/per user/ per month
Pro plan starts at 2200 Rs/per user/ per month
Elite plan starts at 3300 Rs/per user/ per month
28. Prepostseo
Prepostseo is an all-in-one toolkit that offers multiple online tools such as a paraphraser, plagiarism checker and so on. You can use these tools to create and optimize your e-commerce content for maximum quality and SEO-friendliness.
Key Features
Gives access to a wide range of free tools
Provides simple-to-understand tools that even beginners can utilize
Offers a paraphrasing tool to paraphrase content that has a large number of errors in it
Provides a reliable plagiarism checker to check the originality and uniqueness of your content in just a few moments
Manage your domain and website with a wide variety of analytical tools
Pricing
29. Magento

Magento helps you manage your eCommerce store as it allows you to build your store from scratch, track orders, and manage operations all on one platform. You also get reports on insights and analytics to notify your marketing strategies, personalize customers' shopping experiences, and optimize how you deliver products and services online.
Features:
Built-in shipping solutions
Inventory management tools
Pricing
Contact the vendor to know more about their pricing plans.
30. Ubersuggest

Ubersuggest helps you improve your search engine visibility and offers insights into how your competitors perform online. You can also utilize it to study marketing strategies and adapt accordingly.
Features:
Pricing
Individual plan starts at $12 USD/per month
Business plan starts at $20 USD/per month
Enterprise plan starts at $ 40 USD/per month
31. Bitly
Bitly is a great URL shortener that helps brands with a limited marketing budget. With Bitly, you can build branded links to build brand awareness. It's also a helpful tool for campaign management and analytics by tracking and optimizing all your digital initiatives from one dashboard. 
Features:
Campaign management and analytics
Pricing
Starter plan at starts $8
For the Enterprise plan you need to contact the vendor.
Conclusion
After reading this blog, you may know about some of the best Ecommerce tools that can help businesses scale their operations. These tools can help companies to grow their online presence, decrease costs associated with online marketing, and increase sales. 
Also, if you wish to expand your business, considering marketing automation is a great idea as it streamlines the whole process. NotifyVisitors offers an extensive range of tools to help you engage and retain online customers. To know more about us, schedule a free demo
FAQs.
1. What is an Ecommerce?
An eCommerce is a business model in which a company sells items online. This could be anything from a website that sells books to clothes.
2. What are some of the best ecommerce tools?
Some of the best Ecommerce tools are:
1. NotifyVisitors
2. Semrush
3. Kissmetrics
4. InviteReferrals
5. Moz
6. Shopify
7. Magneto