In our previous post about Web Push Notifications, We explained how Marketers can boost customer engagement by sending push notifications which have a copy of few words with emoji and a small 192 * 192 brand image logo. But from Chrome 56 on wards, Marketers can now add rich content within a push notification including big images, GIF s, videos. Both Desktop and Android versions of Chrome browser provide support for this feature.
Google Chrome rich push notifications have been used for a while in both Android and iOS native apps. But now this is the first time that this feature has been extended to Chrome Push Notifications.
Why Marketers Should Use Chrome Rich Push Notification
Every Marketer Knows Push Notifications are better in performance as compared to emails and old methods of user engagement. Push Notifications are now being used extensively by marketers, as they are getting more customer engagement and can boost added interactivity.
After Chrome announced the launch of Rich Push notification, chrome push notification got more visually interactive as marketers can now add images/gifs.
With Chrome Rich Push Notification, Marketers started seeing the increase in CTR(click through rate), ROI(return on investment) and customer retention.
In an Experiment, two notifications were sent one with rich image and another one without image with the same content. Results were shown better in push notification with the rich image. Chrome Notification with rich images generates as much as 68% higher CTR. Click Through Rate is defined as Clicks / Impressions for a Web Push Notification.
Success Stories of clients Using NotifyVisitors, Chrome Rich Push Notifications
Health-kart uses web push notifications extensively to alert their users about new medical/herbal products, offers on any product, etc. The notifications that were sent with rich images showed a little more impact and got through higher CTR. Push notifications with rich image denoted 24% increase in CTR on an average.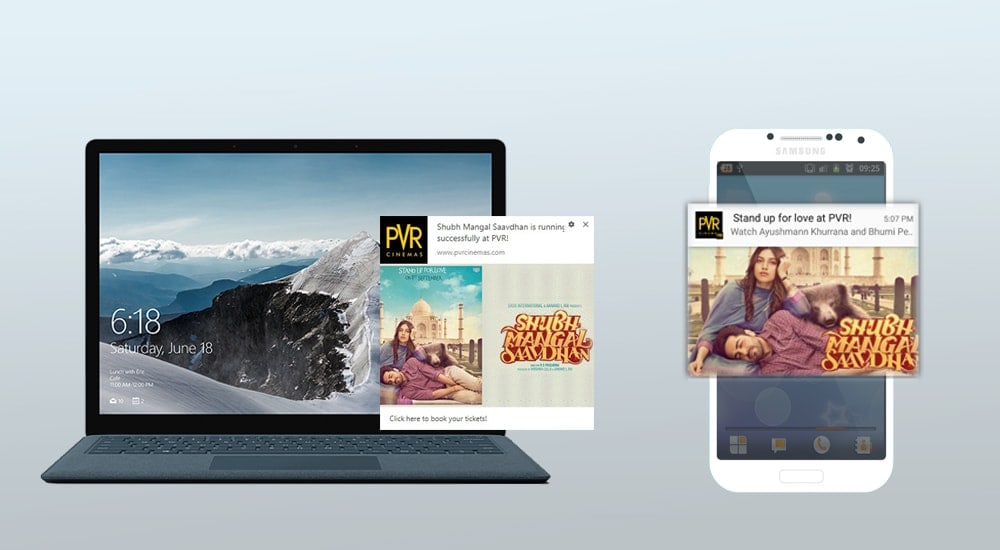 With Rich Image, PVR show posters of newly released movies and movie stars which are eye catchy and attract more user to click on them. A simple plain message does not provoke any user to watch a movie trailer. But, a notification with a rich image of a movie poster will definitely make you click and book tickets.
Axis and IndusInd banks are using Rich Web Push Notification to show credit card offers and news alerts with some relevant images and getting a good response from their visitors.