Attention all business owners and marketers! Are you looking for a powerful marketing strategy to supercharge your campaigns and drive better results? Look no further than segmentation!
Segmentation involves dividing your customers into distinct groups based on shared characteristics, such as demographics, behaviors, and preferences. By doing so, you can tailor your marketing messaging and efforts to address the unique needs and preferences of each group, resulting in more effective campaigns and better customer experiences.
With customer segmentation, you can create more relevant and engaging marketing messages that speak directly to your audience, using language and imagery that resonates with them.
Moreover, segmentation marketing helps you optimize your marketing efforts and allocate your resources more effectively. By focusing your efforts on the most profitable and engaged segments, you can avoid wasting resources on ineffective marketing tactics and better allocate your budget and time to areas where it is most needed. This can help increase the overall efficiency of your marketing campaigns and drive higher returns on investment.
New/Updated Segmentation features
We're excited to announce some new and updated segmentation features that will help you take your campaigns to the next level. These features will allow you to create even more detailed and specific segments, track their performance, and ensure that they're always up to date. Read on to learn more about what's new.
Endless Segment Rules
With our advanced segment builder, you have the freedom to design and create highly granular and laser-focused segments based on almost any criteria you can think of.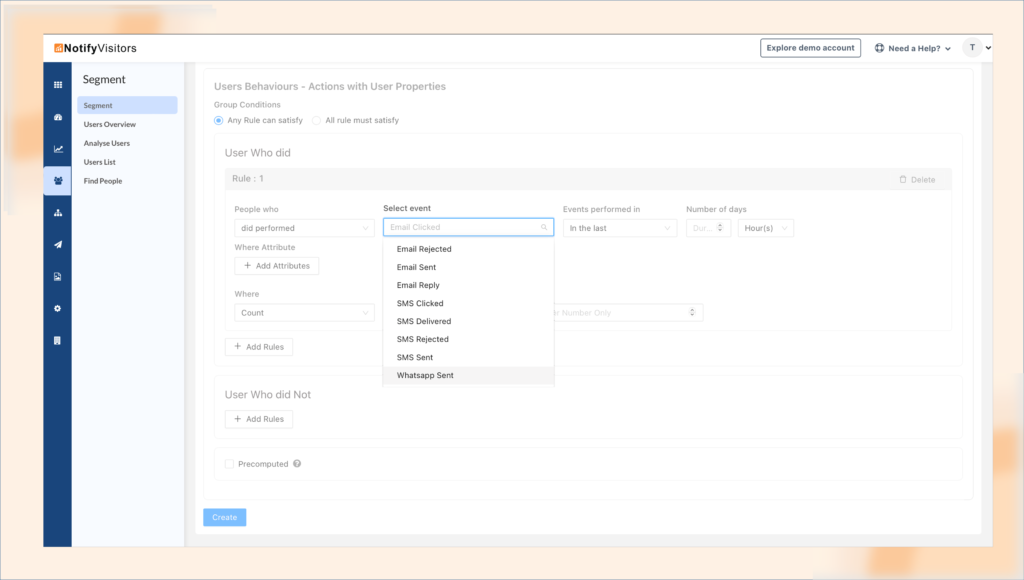 Want to target people who purchased Item A but not Item B? No problem.
Need to identify customers who bought from a specific product range within a certain date range? We've got you covered.
Want to segment based on the quantity of items purchased or whether they have or haven't purchased upsell or cross-sell products? Our segment builder can handle it all.
Duplicate Segments
Creating multiple segments from scratch and adding new rules can be a time-consuming process, but we've made it easy for you to create variations.
With our advanced segment builder, you can duplicate an existing segment and make the necessary tweaks to suit your needs. This feature allows you to save time and streamline your marketing efforts, so you can focus on producing high-quality content that resonates with your audience.
Pre-Built Segment Library
We know that having the freedom to create a large number of segments with advanced rules can be daunting. To help make things easier, we've introduced a segment library where you can browse through our extensive collection of pre-built segments.
Similar to our email and form templates, each segment in the library is fully customizable to fit your specific needs. Whether you're pressed for time or looking for inspiration, you can choose a pre-built segment and modify it to align with your goals. Say goodbye to the stress of starting from scratch and hello to the ease of our pre-built segment library.
Auto-Updated Segments
Did you forget to update your segments before sending a campaign? Well, not anymore. Introducing Precomputed option for segments.
With this feature enabled, you no longer need to worry about forgetting to update your segments before sending out a campaign. Your segments will be automatically updated every time you send a new campaign, saving you time and ensuring your messaging is always targeted to the right audience.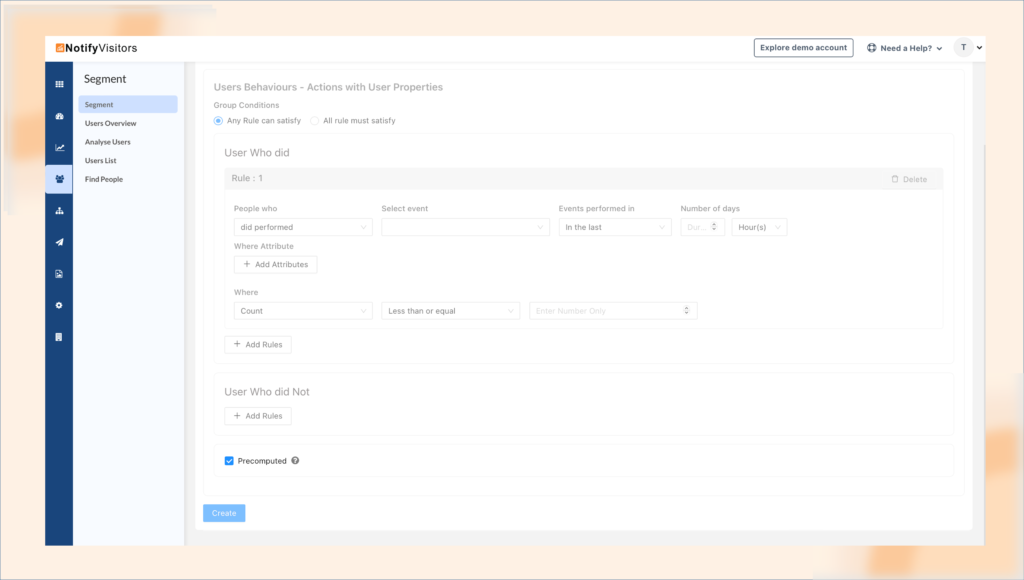 It's important to note that if you're sending multiple campaigns in a short period, the auto-updating of segments requires a 4-hour gap between two email/SMS/push broadcast campaigns and a 24-hour gap between two onsite campaigns.
Say goodbye to the hassle of manual updates and streamline your workflow with the Precomputed option for segments.
Segment Analytics
Want to see how your segments are performing? Check out our segment analytics feature. With this tool, you can track and analyze your segments' performance to make data-driven decisions.
Get insights into your segments' trends, size, and reachability to better understand how they're impacting your campaigns.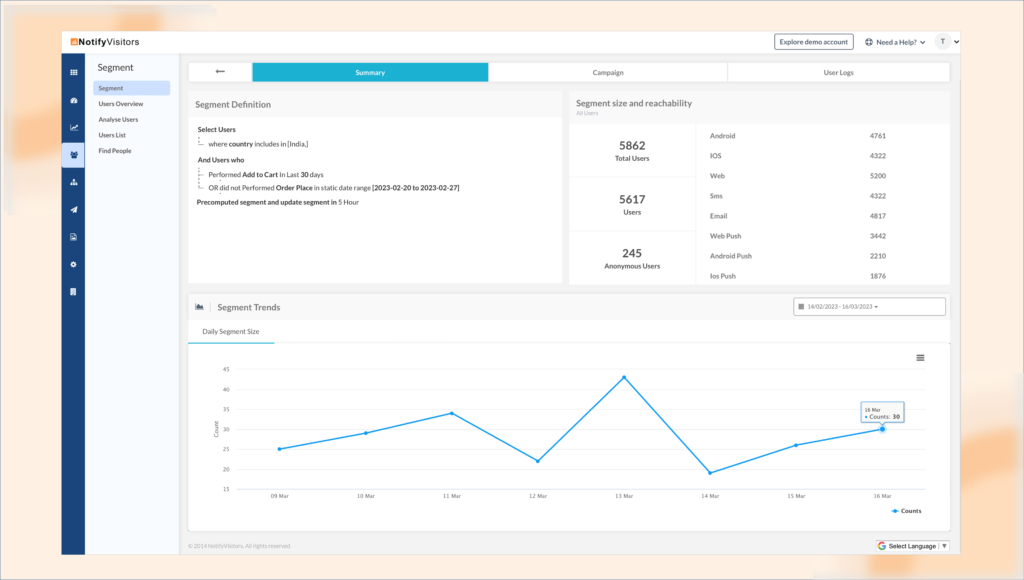 With Segment Analytics, you can also review the rules of each segment you've built to ensure they're optimized for maximum impact. This new feature is available now, so log in and start exploring your segment data today!
If you're interested in learning more about segmenting your email campaigns, our support team is always available to assist you. We can guide you through the process of setting up your segments and creating targeted messages that will resonate with your subscribers.
Now, let's take a look at the campaigns you can send this month:
› Winter Blues Got You Down? Cheer Up with [Brand Name]!: As the winter season winds down, many people are feeling down and in need of a pick-up. Use persuasive copy and engaging visuals to showcase the value of your products and help your subscribers shake off the winter blues.
› New Season, New [Product] with [Brand Name]: Spring is a time of renewal and new beginnings, and it's the perfect time to launch new products or share exciting announcements. Use this opportunity to showcase your latest offerings and build excitement among your subscribers.
› Rewards For Reviews: Reviews and testimonials are crucial for creating trust and credibility with your audience. Encourage your subscribers to provide feedback by offering exclusive benefits, rewards, and discounts in exchange for their reviews.
We hope these campaign ideas inspire you to create targeted, personalized messages that will resonate with your subscribers and drive results for your business.
Thank you for choosing our email marketing platform. We're committed to helping you achieve success in your marketing campaigns.
---