Engage visitors and increase sales with up to
100k FREE Web Push notifications impressions
Per month on Shopify store
Retarget Your Visitors Instantly
Leverage the full potential of omnichannel marketing by implementing push notifications into your automated workflows.
Recover more from carts by reminding store visitors about abandoned items – reach their browser instantly.
Engage and retarget your online store 'window-shoppers' with real push messages based on their visited pages.
Offer an outstanding customer experience with automated web push notifications notifying about order & shipping statuses.
Boost sales while showcasing urgency
Encourage sales for your flash deals and special offers by employing this effective medium. Deliver value to your targeted customers by segmenting and sending relevant push notification campaigns to them.
Push notifications increase your users' engagement, by sending them personalized notifications and improve the CTR by 4 times. Offering a personalized experience make it effective as you are using their personal data. Your users will like getting push notifications that contain useful, personalized, and relevant information.
Segmentation is crucial when it comes to targeting as it helps you generate better results from push notifications. Make sure you send appropriate push notifications to the right users, based on their
Acts as a boon for eCommerce
If you still wondering about its relevance then– we've got the numbers. The number of push notifications being sent has skyrocketed over the last year, this channel just keeps on giving: push conversion rates average at a jaw-dropping 30%.
Push Notifications are brief and delivered immediately, so make sure you use the best combination of title, image, and message to make the most out of it. A/B Testing allows you to create two variations of your notification with a different image, title, or message. After that, help you see which notification is doing better from a subset of your subscribers, and push it to the rest, leading to more conversion as well as revenue. With every test, you better know your audience and enhance your notification strategy.
Test & check what's working best.
Keep a tab on your campaigns' performance with real-time sales tracking and attribution. See how your audience engages with your push notifications, and how many clicks they get, and quickly spot the best performers.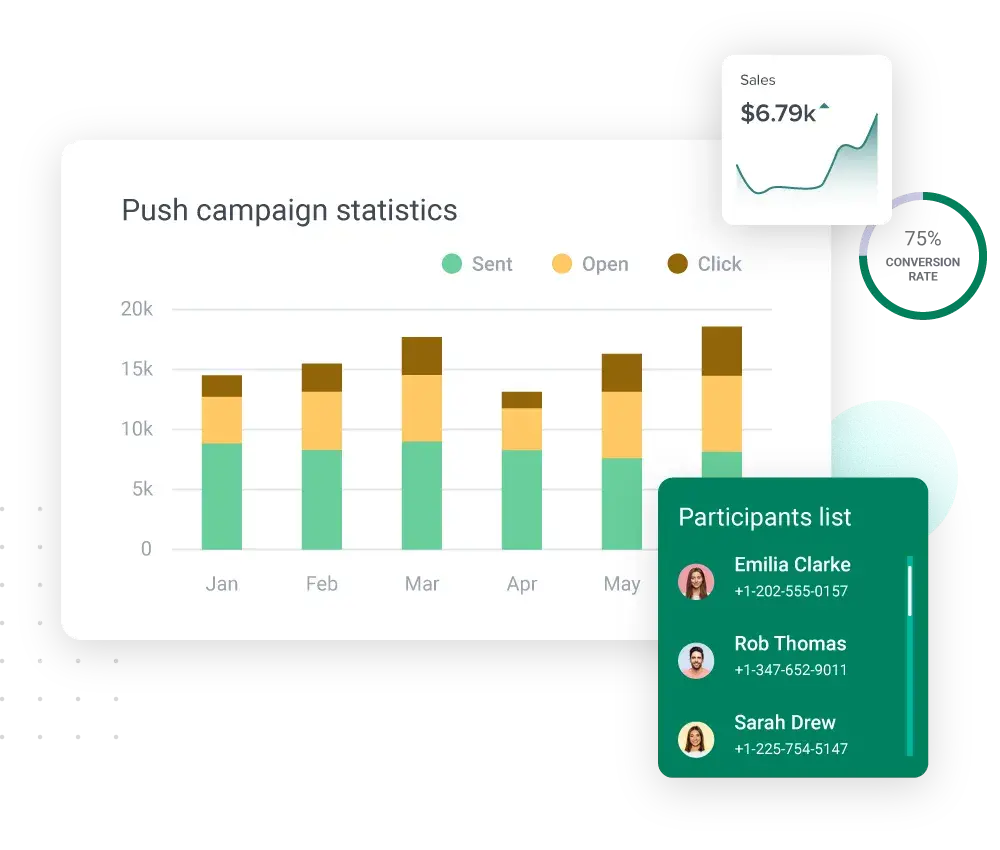 NotifyVisitors Shopify App Features
A wholesome pack of features is what you needed. No extra programming efforts are needed.
Triggered Notifications
Detect your visitor's behavior to send automated push notifications to the right person at the right time.
Cart Abandonment Reminder
Recover lost sales and quickly boost revenue with automatically triggered abandon cart push notifications.
Custom Domains & Branding
Build recognition and trust in your brand while boosting engagement with custom domains and branding.
Dynamic Segmentation
Segment push notifications to target the right subscribers at the right time so you can maximize your results.
A/B Testing
Easily experiment with any element and unlock the full potential of push notifications to grow your business.
Goal Tracking & Analytics
Get all the actionable data you need to grow your traffic, sales, and revenue with confidence.
Automatic Drip Campaigns
Send a series of web push notifications and turn casual subscribers into paying customers.
Personalization
Drive more traffic, sales, and revenue by sending push notifications that are custom tailored to your users' needs.
Deep Ecommerce Integrations
Send ecommerce-centric push notifications to unlock maximum revenue from each visitor.
TurboSend & Scheduling
Promote time-sensitive offers by sending push notifications in your visitor's time zone.
GDPR Compliant
PushEngage offers several tools that make it easy to comply with GDPR and other privacy regulations.
Offline Notifications
Send a push notification any time and your subscribers will see it as soon as they come online.
Our Push Notifications Are Supported in All Popular Browsers and mobile Devices
…and it seamlessly integrates with your favorite website platform and marketing tools
What Our Clients Speak About Us!
Hear about our latest customer management technologies, tools, products and services, straight from the perspective of our renowned clients and customers.
"NotifyVisitors cart abandoment feature helped us win back around 15-20% lost sales. Great support by
team."
Aman
HealthKart
"NotifyVisitors helped us to show different messages to visitors based on multiple targeting rule like traffic source."
Ankur
TimesJobs
"NotifyVisitors completely automates the Popup Notification based on visitor behaviour. They also provide great support."
Nitin
ShopClues
Trusted by 6000+ Ecommerce Brands
Best multi-channel Customer Engagement Software
for your eCommerce Store.
Trusted by 6000+ Ecommerce Brands
Best multi-channel Customer Engagement Softwarefor your eCommerce Store.