Subscription form templates
Subscription form templates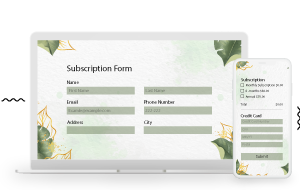 Subscription forms are a vital part of collecting leads and turning them into loyal customers. Want to attain more subscribers or catch more leads? Choose Peppybiz subscription form templates and customize them.
Add engaging elements to the forms such as images, GIFs, and more to capture visitors' attention and prompt them to subscribe to your newsletters and blogs. They are easy to create and easier to embed on your website. An HTML code is all you need to begin with!
Still, finding it complex to create a subscription form? Know how to begin with building and customizing the form with the form builder. 
We'll get you going in a matter of minutes
We'll get you going in a matter of minutes